Archive for December, 2017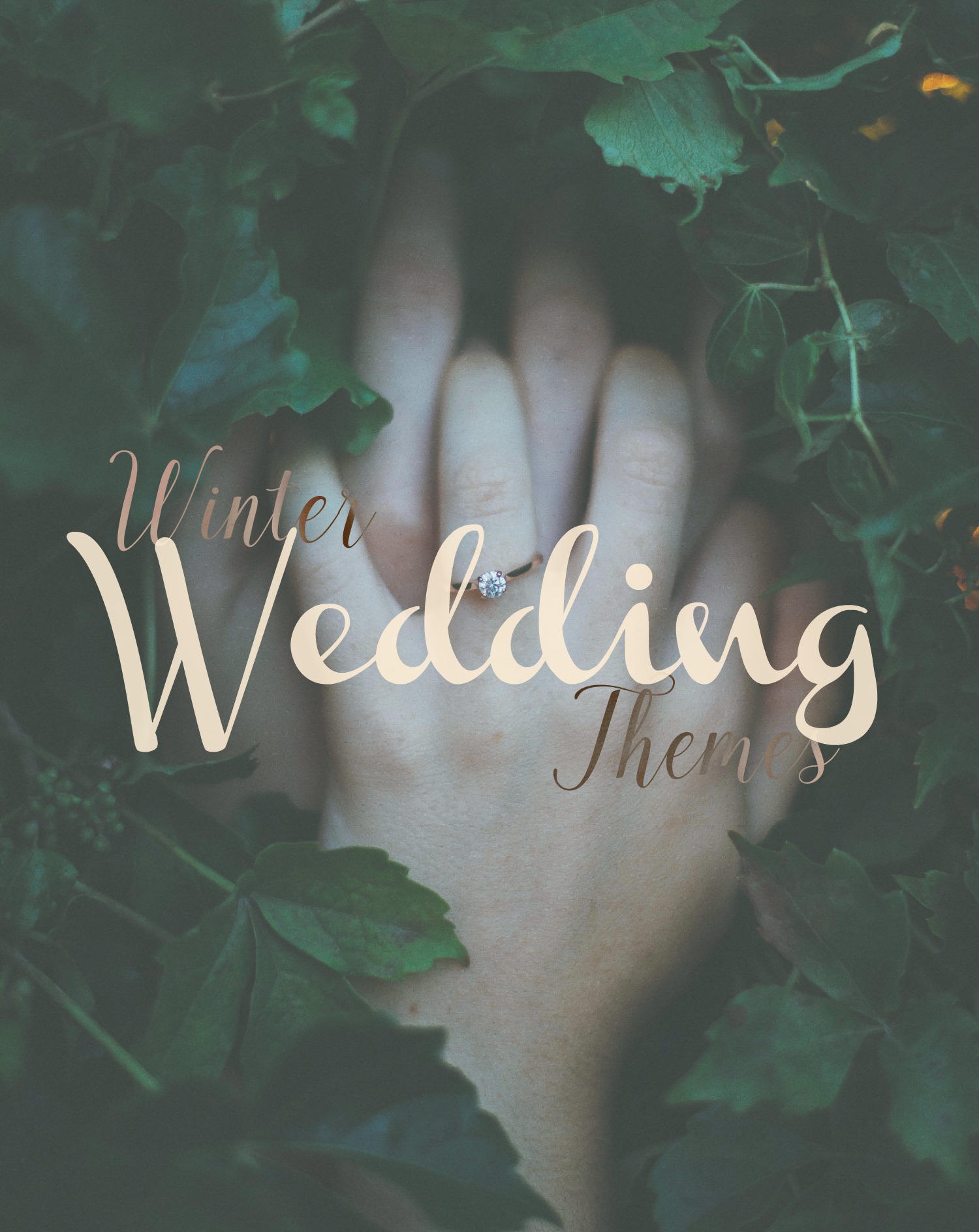 Are you planning for a winter wedding? You can't go wrong with the following 3 timeless design themes. We've come up with some great inspiration to inspire your wedding day!
---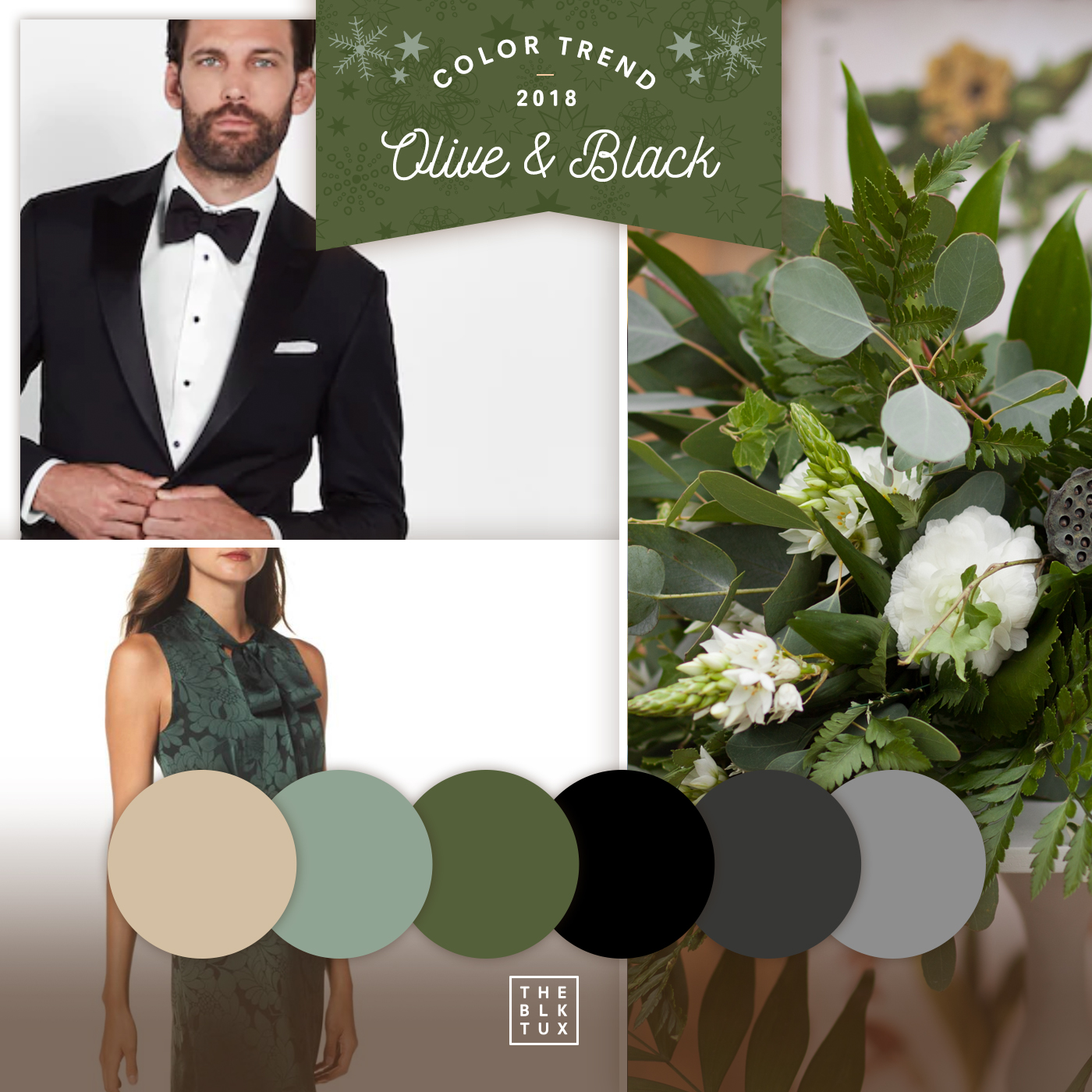 Nothing is more classic than greens and cremes at the holidays!It is naturally inspired, and classically driven! For fashion, Style an ivory bridal gown with a classic black tie worthy Tux or Suit like the ones found at The Black Tux. Have your ladies where olive gowns with ivory bouquets to tie it all together! Pair these fashion ideas with lots of warm candles, creme colored linens, and dark green accents. If you are just dying to add some sparkle, go with a Champagne glitter color. Stay away from the yellow or rose gold colors, as that will quickly take away from the warmth and rich vibe you've got going with the olive and creme!
Fun Ideas:
Want to spruce up your sweetheart table setting? Add some olive green glassware, like these found at Target's Hearth and Hand (Magnolia) Collection from Joanna Gaines (oh how I love her style!)
Instead of small votives, don't be afraid to go a little bigger on your candles. No need to hide them away in lanterns, since this is all about a clean, natural look. Try these plain glass church candles- pour your own, or find them at the dollar store!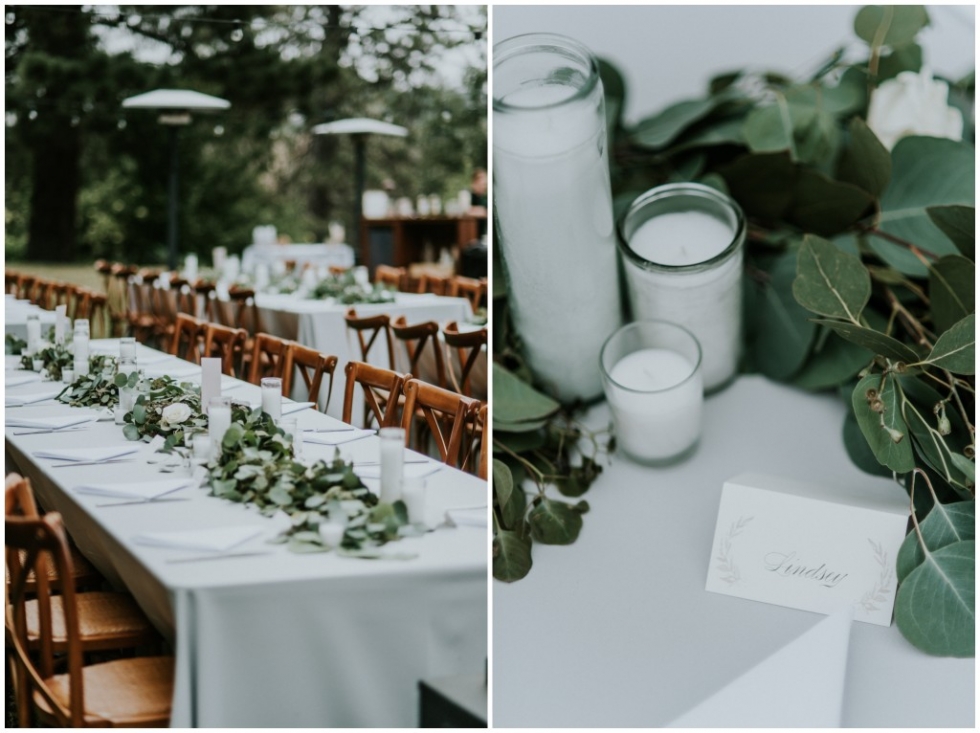 ---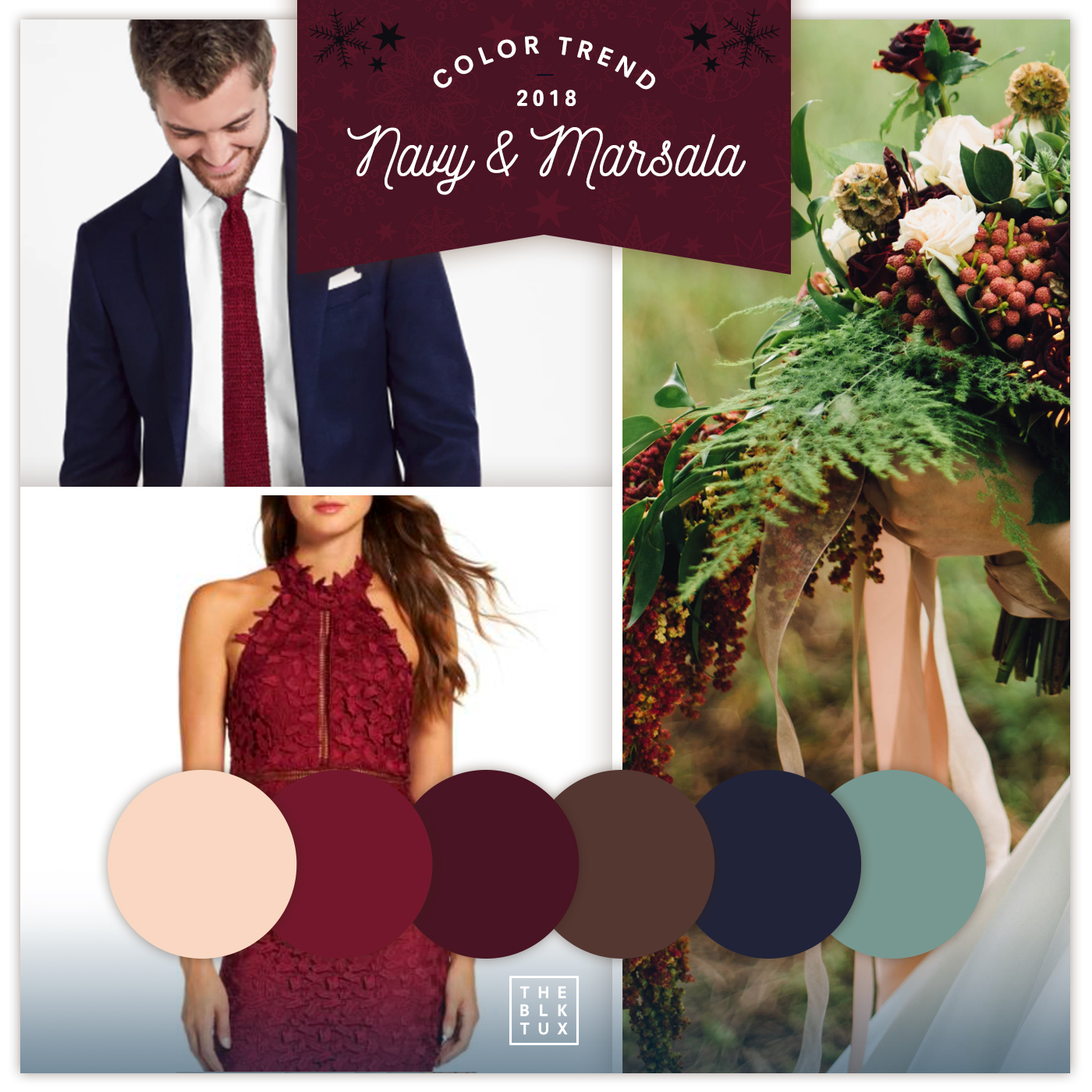 This color scheme feels a bit more modern, but is still a good look now and forever. Even though it still feels warm and inviting (key winter wedding traits), it will pair nicely with a modern venue, if that's what you've decided upon! The warm tones of the wine colors and the coolness of the navy blue brings sophistication and class, while adding a layer of contrast to the mix which is always a bolder/youthful move. Whether its an all glass/sharp angled venue like the new Central Library in Downtown San Diego, or a clean lines and reclaimed wood backdrops like at Booze Brothers Brewery in Vista, this is going to be a beautiful design theme with a wintery feel!
Fashion: Have your groom dress in a simple fitted blue suit, or instantly take him to the next level with this fly blue tuxedo rental. Have your ladies lead you in with these beautiful wine inspired bridesmaids dresses from Blush Fashion Boutique!
Fun Ideas:
If your venue doesn't already have a lot of wood on the walls and such, bring in some wood elements with Farm Tables either as all your guest tables, or just for a dramatic long head table.
If you're set on having linens on your tables, go for a dark navy blue, with Marsala or Creme colored napkins folded flat under a wood charger.
Add in modern (dark) wood elements with calligraphy wooden signage on iron easels.
---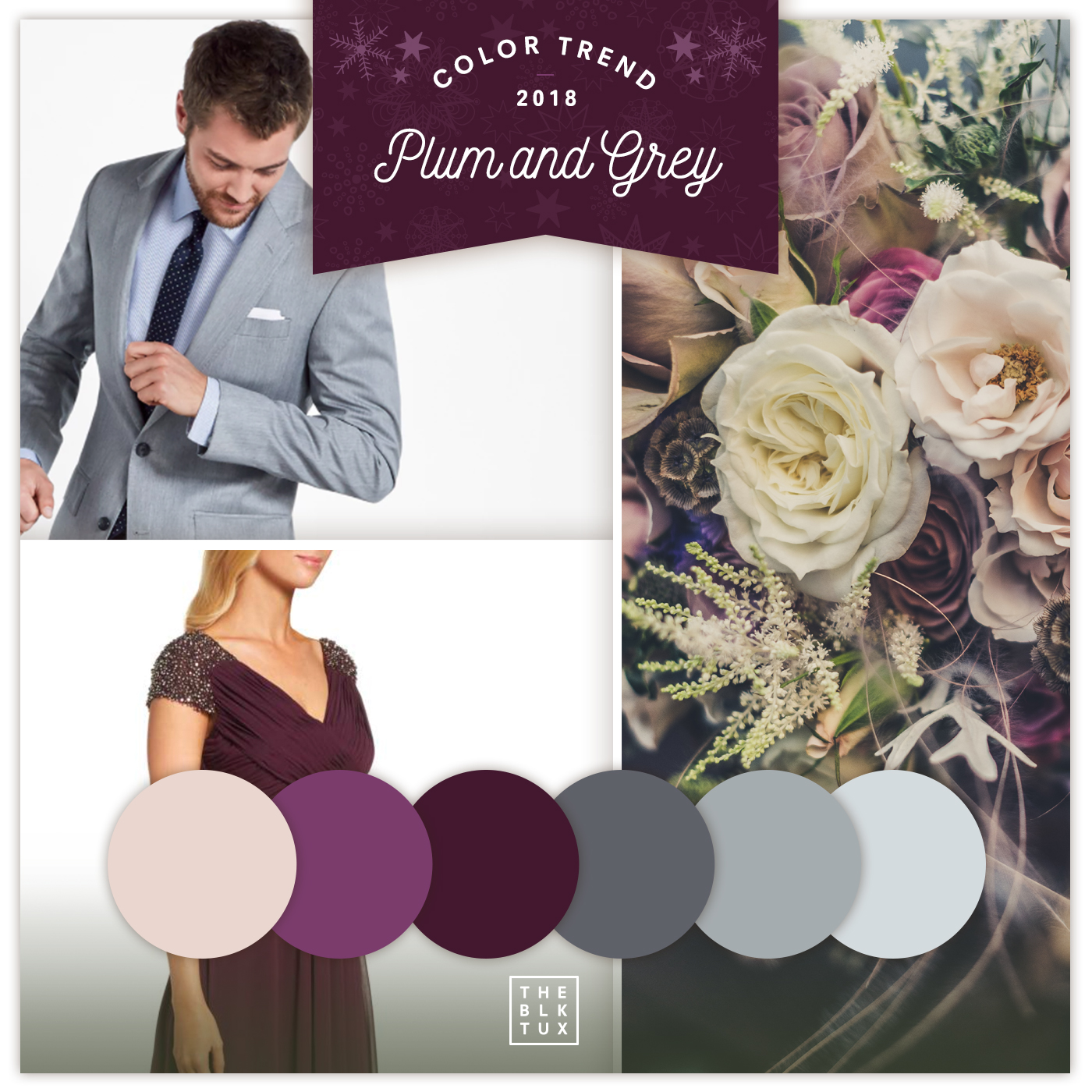 Pantone has spoken. Ultra Violet is 2018's color of the year, so there's sure to be a lot of purple items on sale this upcoming year! Take advantage. Even though people may not associate Purple hues with the winter season, it is surely always a crowd favorite and a timeless look. Pair plum and violet with a light blush pink and neutrals of grey and black, and you have a well balanced design plan, that can't go wrong! For winter weddings, the richest color in your pallet should be the most visible. Letting all the other colors act as supporting roles and neutrals that will help that deep color shine. In this pallet, let that plum color soar by dressing your wedding party, tables, and florals in the most royal color of them all!
Bump this theme to the next level, by splurging a little on some Marble Top tables from To Be Designed San Diego. Check out photos on their Instagram here: TBD San Diego Marble Tables
Or if table cloths are more your style, go for a deep plum purple linen with grey napkins!
Don't hold your florist back. Ask for purple hues of all shades in an ombre style arrangement.
---
Winter is coming ladies and gentleman! Let me know your thoughts and other winter color inspiration by commenting below or on our Instagram posts!
And if you or your groom are looking for a suit or tux that would be perfect for the wedding day, send them to TheBlackTux.com/VIP, and enter my business name Simply Elegant Weddings to be set up with a personal concierge to take them and their groomsmen through the entire process! It's brilliant!
Happy Planning,
-Juliette

Why does a wedding cost so much?
I get asked this question ALL THE TIME! Mostly from family members, parents, and friends of a newly wedded couple who spent a small (sometimes large) fortune on the wedding of their dreams. Most engaged couples have already done their research before they get around to booking a planner, so I don't hear it much from them. Until they are asked to sign contracts and put down huge down payments, then it becomes real. And rightfully so!
In 2015, the average cost of a wedding in California was around $32,500 (based on The Wedding Report, Inc.). That's as much as a down payment on a starter home!
Why?
Let's look at real life equivalents for a sec. If you walked into a crowded restaurant of 100-200 individuals, and shouted at the top of your lungs, "hey everyone, drinks and food are on us! Have the kind of night you'll remember forever!" first, I hope that I am sitting at one of those tables. But for real, you're not going home with a just couple hundred out of your account. More like $10,000 or even more, depending on how much they drink, and how good the food is! But wait, you don't want to get married in a crowded restaurant full of strangers, you want a party! So you want to add that party atmosphere by setting up your own decor, in your own style. Basically creating the dining room of your dreams. Whether that be in a hotel ballroom, or a private estate, you are still looking at a space rental ($2500-$6000). But you don't just need the space, you need it to be set up for you… add in rental companies and staff members to set up/clean up/and manage your event. And that is just dinner…
Average cost of a ceremony (complete with space rental, musicians, professional officiant, flowers, chairs, arch/chuppah) is about $3500.
Average cost of a florist (centerpieces, bridal bouquet, wedding party & family flowers, boutonniere, light ceremony decor) about $2000.
Average cost of a wedding photographer in San Diego ranges anywhere from $3000-$5000.
Videographer average in San Diego is $2000-$4000
Average cost of a DJ/MC: $1400
Full Planner (so you don't go insane): $3000-5000
Wedding Cake: $500-$1000
Wedding Dress: $1300
Invitations/Stationary: $500
Etc.
Etc.
Etc.
And you are looking at a grand total of: your first born child or $30,000+. I wish it weren't true, but it adds up real quick!
So what can I do to NOT spend than much?
For starters, Throw out the Pinterest expectations! I'm not saying that you can't have a beautifully styled wedding! But be realistic about what things cost. There are some blog images that cost 1000's of dollars to create just one table. So be realistic about what you can afford. DIYing crafts will help you, but it still doesn't mean that your $10,000 budget is going to get you what you see on the front page of Style Me Pretty! Be okay with it looking different than the picture, and put your own spin on everything (it's YOUR wedding after all, right?)!
Look for discounts. Here in San Diego, we LOVE our Military! So if you are in, or marrying into the armed forces, start throwing that weight around and take advantage of the saved cash! If you aren't that fortunate, sign up for newsletters, LIKE your vendors pages on social media, and look on their Yelp pages for special offers.
Coupons are awesome, whether you're getting married or stocking up on dish soap!
Cut the guest list! If your parents start complaining, just tell them that if they want to invite aunt X, Y, and baby Z, then they need to pay for those additional guests. To put it into perspective, about 60% of your budget is based on per person amounts. More people = More money, it's as simple as that!
For more tips and tricks to save you money on your wedding, just keep reading! I do my best to help stretch your budget as far as it can go… I love saving money!
Happy Planning!
-Juliette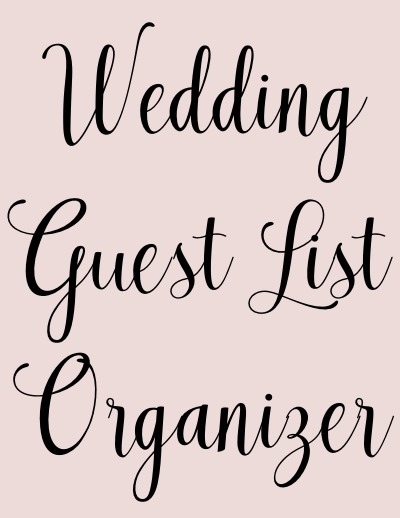 Let's talk guest list! Warning: This is likely going to be one of the toughest tasks of your wedding planning journey. But it is essential to the process and thereby, unavoidable! However, it doesn't have to be super hard!
Tip #1:
Eliminate ALL distractions! Designate a night, alone, with just you and your fiancé. No one else is invited to this meeting! If you hear yourself or your partner start to say something like,"my mom said…." or "my parents want to invite…" SHUT IT DOWN!!! Those people are not in the room this time for a reason! This first go through is strictly about what YOU (the couple) want. Write down your decisions to the following questions:
#1: BIG or small?
#2: Kids or no kids?
#3 Local or far away?
Tip #2:
During this (↑) meeting, start writing down everyone that you BOTH know together. Start with CLOSE family members. Build to extended family members/childhood friends. Then discuss friends you know now who know you both, and see you regularly!
Tip #3:
Once you have this list (↑) written down, count how many people that is. Does it match your big or small answer? Big is typically categorized as over 100, Small is under 100.
Does it not match? If you have too many names, consider a destination wedding. Want to have a local wedding anyway, choose a venue that only allows a limited number of guests. Still have some room in the guest list? Ask your parents for some names of people they would like to have included. (see how this suggestion only comes after you've established who YOU want to be there!)
Tip #4:
Remember to consider your budget! You're buying everyone their dinner and drinks, more people = more money!!!
Tip #5:
Keep it all organized! When you're ready to make your scribble marks official, Use a Guest List Organizer to keep your wedding plans organized. Make sure to include Names of EACH guest, Mailing address, email, phone number, number in party, if the invite has been sent (and what number you put on the back of the RSVP card to keep it organized), how many will attend, meal choices (if applicable), and Food restrictions or allergies.
To Make it easy, you can download this one (↓) that I give to each of my full planning clients! Enjoy!
Happy Planning,
xoxo, Juliette