So every once in a while I have a church ceremony that ends way earlier than the guests are supposed to arrive at the reception venue for cocktail hour. You know, the ceremony time at the church is from 2-3, but the bar doesn't open at the venue until 5pm. For me and most other planners, its an immediate panic attack, cause we just KNOW that the guests are just going to go straight to the venue, and be trapped outside, cause we can't let them in, nor is the venue even done being set up by 3pm (cause as far as the venue is concerned, it's not supposed to be done till 5pm!) So my brain goes straight to panic mode AHAHAAAAAAH! Because my set up rule ALWAYS is to not allow any guests to see any set up happening EVER. Now sometimes, we have absolutely no control over this. I can't control Aunt Carol from showing up 2 hours before the start time of the ceremony, just cause she doesn't want to be late! I get that, and no matter what is happening or what is going wrong, we try our darndest to keep our cool around Aunt Carol so that she doesn't feel like she needs to help in any way! But if all 100 guests are done with the ceremony, and they have no where else to go except straight to the venue, you better make sure to move up the start time of your venue to include that gap hour. Or have a really smart coordinator who knows ways to detour the crowd. Now I'm going to tell you best thing that I've learned to do, when there is a gap of time between the 2 big events.
I make these cards, and it usually buys me some time to get everything set up by the time the guests arrive.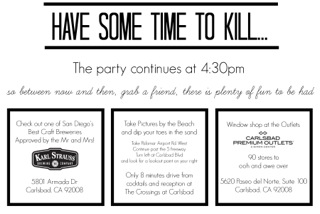 I ask my clients what other things they enjoy doing in the area. Is there a restaurant they frequent? A place nearby that is significant to their relationship? These are awesome suggestions to give to your guests. Maybe they get to see for themselves the spot that he proposed. Or a place that like to go to on a regular date night. Give them an added glimpse into your lives together. They will want to go, and it will buy some time so that they aren't bored and at the venue for way longer than they need to be, getting tired and hungry!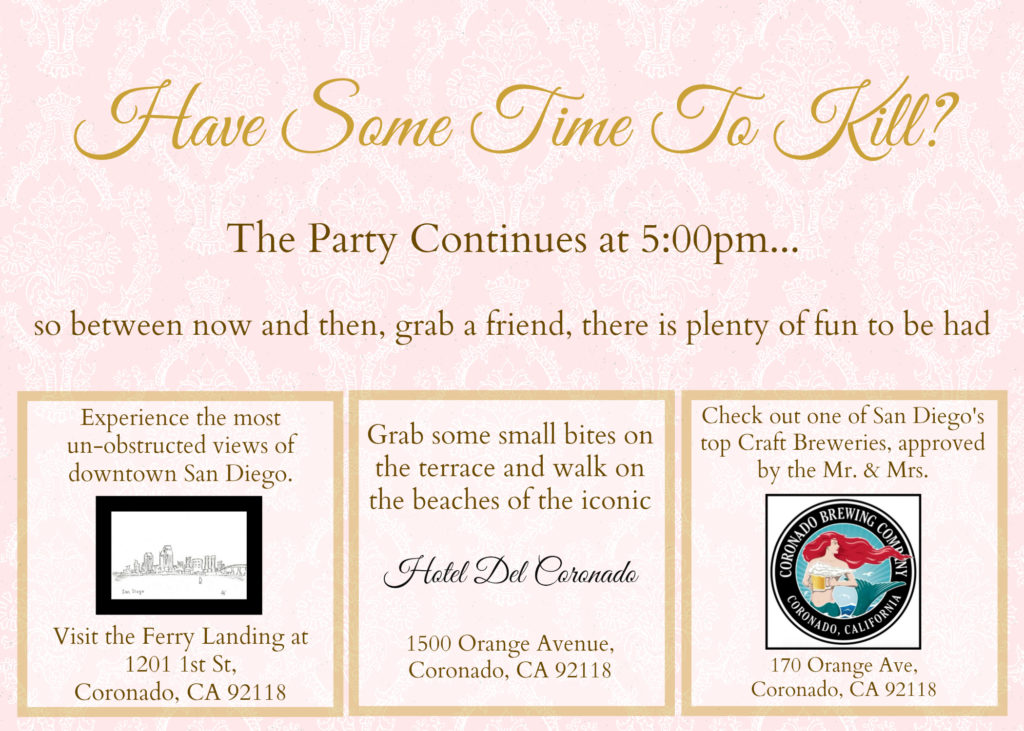 My top things to do are these, if you need some help thinking of ideas for your guests to do:
1. A restaurant, brewery, or bar close to where the second venue is, so there is limited driving or a very short shared UBER ride. A popular one in Carlsbad is the Karl Strauss Brewery. Or in Coronado there is the Coronado Brewing Company. Maybe it's a place to get amazing wings, or a good brew, or good wine. But either way, they have something to do.
2. Always include a kid friendly option, for the parents in the group, or those who just need some good wholesome fun in their day! There's plenty of time to eat and drink later, right! Is there a park on the way? Is there a restaurant with a good arcade near by? In Point Loma, you have the Corvette Diner, they can go in, get a milkshake, and spend some time playing their awesome arcade games!
3. Is there a fun ice cream or frozen yogurt shop in the area? Or maybe a bakery? Your guests will enjoy being able to satisfy their sweet tooth and feel a little naughty by eating dessert before dinner! In Kearny Mesa, there's Bing Haus, and awesome and super swanky rolled ice cream shop. Super fun, simple, and a pure slice of heaven!
4. A quick little stroll on the beach? A quick trip to a iconic landmark? Is there a beach or good view point some where between your ceremony and your venue? Have them go take a selfie with a view of downtown or beautiful La Jolla cove in the background, and #yourwedding!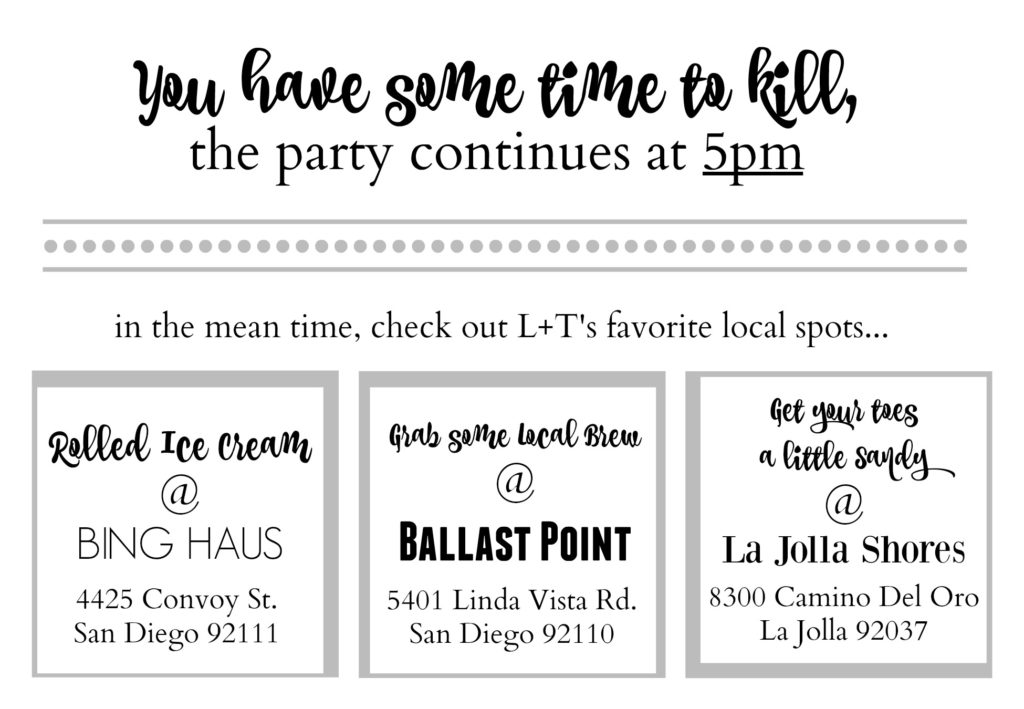 Most importantly, get the word out. Have this hand out printed for your Ushers to hand out at the ceremony while they seat people. Have your wedding party or coordinator handing them out and talking it up before/after the ceremony. Make sure to mention that the BAR Don't Open till 5pm!!! That should keep people away, haha!
Include a copy on your wedding website, so people know ahead of time!!! And can make plans ahead of time if they want to!
Hope this helps close the time gap!
Happy Planning!
xo,
Juliette