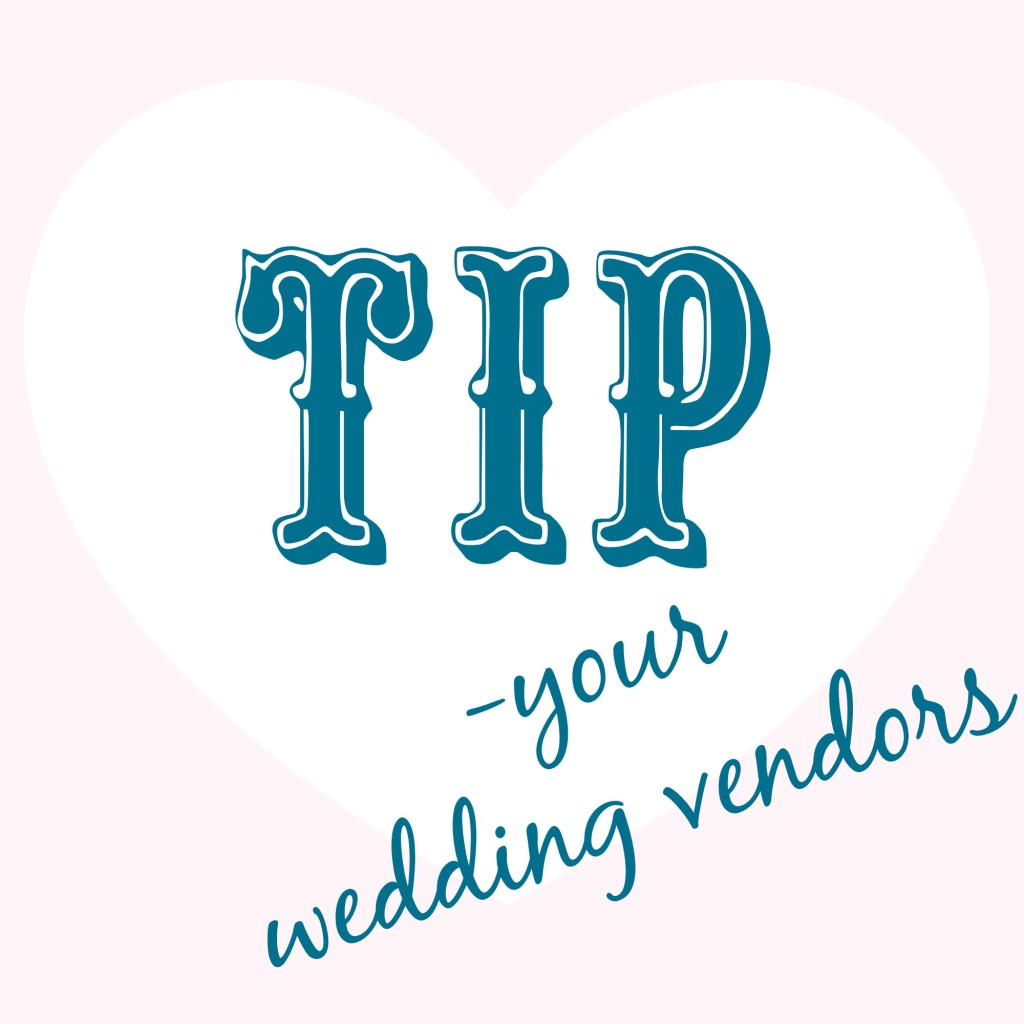 Tipping wedding vendors can be a tricky subject, and one I get asked about regularly. There is a lot of mixed information on the main wedding blogs. theknot.com, weddingwire.com, loverly.com, all of them have articles on the subject, but nearly all of them contradict each other. And that's what is confusing! Actually tipping your vendors does not have to be that complicated! So here's an honest, straight forward approach from someone who has seen all sides of the issue! 
My general rule with the "who do I tip?" question is -Anyone who has provided you a service. The service based industry differs greatly from retail. So if you are simply purchasing a product from someone, that product is priced accordingly. However, services require a variable level of effort, commitment, and skill (especially with weddings) that are not always accounted for in the up front pricing. So if you feel that your service provider did an above and beyond job with your event (including the hours they put in before the actual wedding date), you should make sure that they know that you appreciate their extra effort to make your day awesome!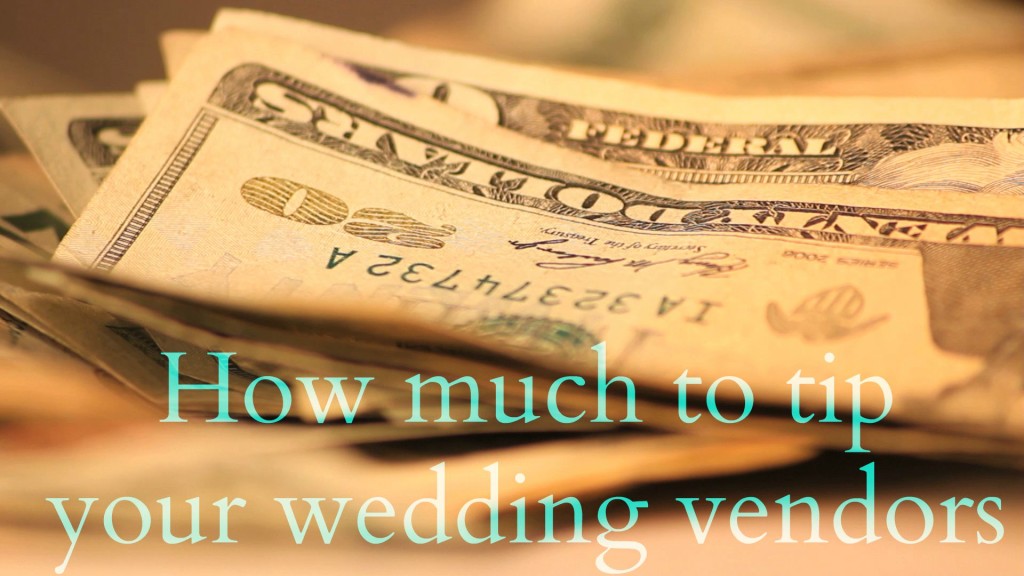 Here's a list of vendors with an estimated amount that should be given. (Just like going out to dinner, if you think their service sucked, then tip them less. If you felt like (metaphorically speaking) your glass was always full and your table was constantly cleaned appropriately, then tip them more!)
Hair/Makeup Artists
Should you: Expected.
Tip your hair and makeup artists as you would if you were getting yourself done up at the salon. Tip them More if they came to you and didn't charge a travel fee!
How much: 15-25 percent
When to do it: After the work is completed.
Photographer/Videographer
Should you: Not required, but always appreciated!
These vendors don't expect a tip, but thanking them with a monetary gift or some other present is a nice way to show your gratitude if the service provided exceeded your expectations.
How much: $50-$100 per shooter or 10% to the team.
When to do it: Either when they first arrive, or when they are finished.
                **Note: whenever you tip someone before they begin a job, it will help them to try as hard as they can to please you! Especially when it is not required that you tip, because they know that you already think highly of their services. Just the fact that you are giving them something, will lift their spirits and help them to go the extra mile for you when it counts (which is during your wedding!) This is not just for the Photographer, but for all your vendors! 
Delivery/Set-Up Staff
Should you: Expected, but rarely done
You can expect the florist, cake baker, and rental companies to send delivery or set-up staff. These individuals will care about pleasing you, if you are the one handing them cash directly. Otherwise, they are just there to do the job that they were assigned by their employer-to drop and run.
How much: $10-$20 per person, depending on how intense the set up is.
When to do it: The day before your wedding, leave envelopes with the person who will be receiving deliveries. Let's be honest, you wont be around when the rentals are dropped off, so pass this on to your coordinator. Include a note that says thank you from the happy couple, to add the personal touch it needs! Your coordinator should give it after everything on the order is accounted for.
Caterer/ Venue Banquet Staff
Should you: Expected, however might be included already
This one is tricky, cause there are all these different charges and fees on your contract. Most of the time "Gratuity" means that that it is an actual tip built in for the staff. "Service fee" means that it will go to the company, not the staff members. Best way to decipher what the wording means for the specific caterer is to ask the catering manager how tipping works at their company.
If the Gratuity or Service charge does not go directly to the staff of your event, always be sure to tip the onsite banquet manager in easily dividable cash so that they can disperse it to their staff (wait staff, bartenders, chefs, etc)
How much: 15-20 percent of the total bill, or $50 to $100 for the manager and $20 to $30 for each cook or server.
When to do it: when clean up is done
Band/DJ
Should you: Not required, but always appreciated!
Tipping your wedding musicians is optional, but a nice gesture if they really provide outstanding service.
How much: $75 to $150 for a DJ, $20 to $25 per musician for a band.
When to do it: When they arrive to set up, or immediately following the event
Wedding Planner
Should you: Not required, but always appreciated!
Though wedding planners don't expect anything, it's a nice gesture if the service provided was exceptional (or you received a large discount either from them or because they helped you get one elsewhere). Take into account how many hours they are working for you on your wedding day and any last minute tasks you may have had them do for you.
How much: anywhere from $75-150 is standard for coordinators, if the planner has been with you through the planning process 10-20 percent of the planner's fee.
When to tip: the morning of or immediately following the event
Officiant
Should you: Expected
Thanking your officiant with a tip or gift for performing one of the most important jobs of the day is customary. Especially if it is a friend or family member that knows you personally. If this is the case, and they needed to travel to the wedding to do it, you should offer to pay for their travel. It's the least you can do, they are marrying you!
How much: $75 to $150 for an individual, or a donation to the house of worship.
When to do it: If you are hiring a professional, include the tip when you pay your ceremony fees before the wedding, or have it waiting for them at the venue before the ceremony. If it is a friend or family member, send the tip/gift to them before the wedding day.
Driver
Should you: Expected
As you would with a taxi, tip your driver unless gratuity is included in your contract.
How much: 15-20 percent.
When to do it: After the last ride of the night has been given, or the last time that you see the driver.
A couple things to remember:
Remember when tipping a team of people, use cash so that it can be easily split up at the end of the evening.
If you are getting married at a community hall/center, where your contract is with a City or County, the venue coordinator or manager of the facility can not be tipped or given a gift since they are a government employee.
Unless you feel strongly about handing these things to the vendors personally, it is perfectly acceptable to pass on the task to someone else on the day of the wedding. Your coordinator, best man, mom or dad, are all people that should take this on, so you don't have to worry about it! Make sure the person you leave this to is responsible, even when drunk (because if they are waiting to hand things out after the party, they need to remember to actually do it!) This being said, most vendors expect the tips to be coming from the coordinator, and will find us to ask for them after clean up. Place the tips/gifts in sealed envelopes with the name of the recipient on the front, so that they are easy to hand out, and will get to the correct people when the time comes.
That's all the advise I can give on the subject! Now you know as much as I do 😉
Happy Planning!
-Juliette