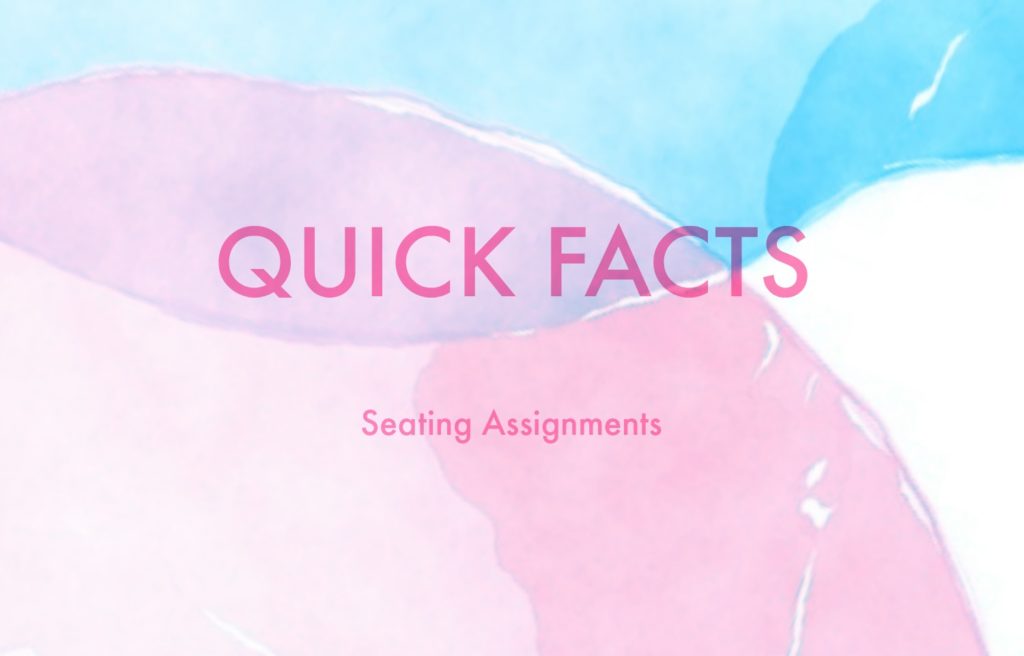 1.
If you are having a buffet, you don't need assigned seats! You can totally get away with open seating (if that's your style)!
2.
If you are having a plated meal, you MUST assign guests to a seat. There should be either an seating chart or a table of ESCORT CARDS near the entrance of the reception. This is in addition to the PLACE CARDS at the guests seat, telling them which seat at the table is their's. The catering staff will need to have the seating chart sent to them in advance, with notes on which guest will be served which meal and any food allergies.
3.
On the PLACE CARD, there should be some symbol that illustrates which meal the guest has selected. In case the cards get mixed up in placement (or let's be honest, a guest moves themselves to a different seat), the guest will still be served the correct meal.
4.
A Place Card is the one that is at the place setting. An Escort Card is the one they pick up at the entry, telling them which table to find.
5.
Escort Cards or Seating Charts should be arranged by ALPHABET, NOT TABLE NUMBER. None of your guests know what table number they will be sitting at until they find their name! It will create a huge line and back up the entire reception.

6.
If you have a large guest list, your seating chart or escort card display should be accessible during the cocktail hour (after the ceremony). This will give your guests something to do during that time, other than drink. It will also help the transition to their dinner tables run smoothly and quickly.