Archive for 'Wedding Inspiration'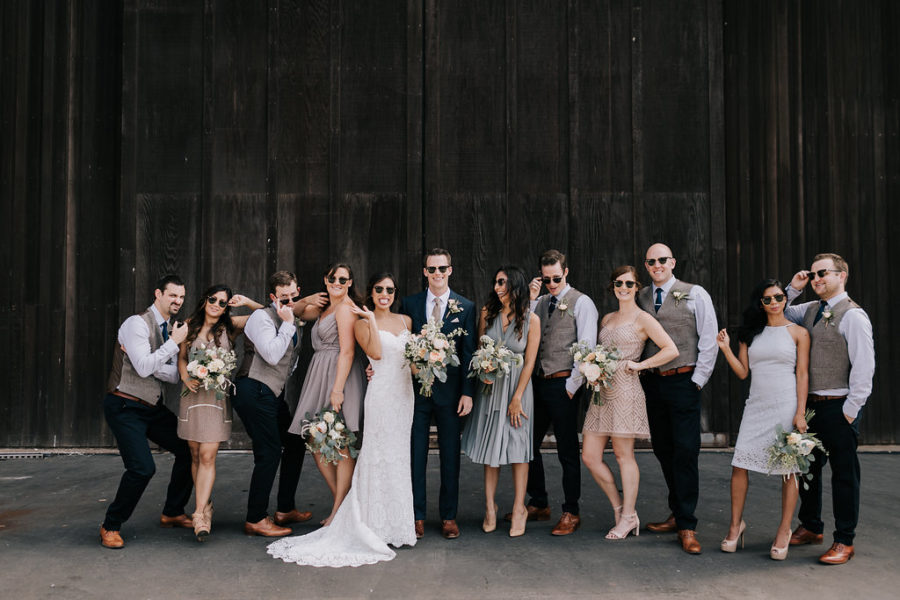 #NMSundayFunday
First of all, that #hashtag has to be the freaking coolest wedding hashtag ever used! Can I get an AMEN?!?!
This chilled out, coastal vibe wedding was on a Sunday. Now, Sunday weddings always have some unique challenges. A lot of them end earlier than planned and it's hard to get guests to let loose, since the responsible part of their brain stays reserved and drinks less, because Monday is lurking! However, Nat and Mike's Sunday Funday mindset and attitude was just what the doctor ordered for their closest 100 friends and family members. And with some sick calls the next day (just assuming!) guests were on the dance floor till the very end, and then some (Props to DJ Sage, of Sage Productions- San Diego)!
Check out these Gorgeous photos from the super talented Michelle Lillywhite (Lillywhite Photography- San Diego)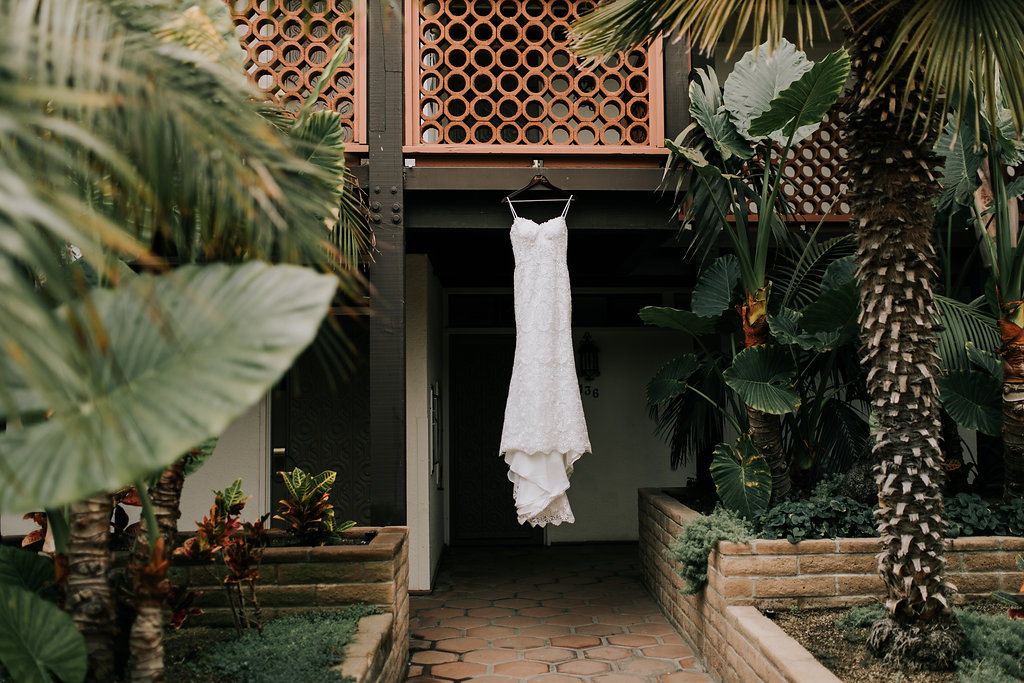 Hotel: La Jolla Shores Hotel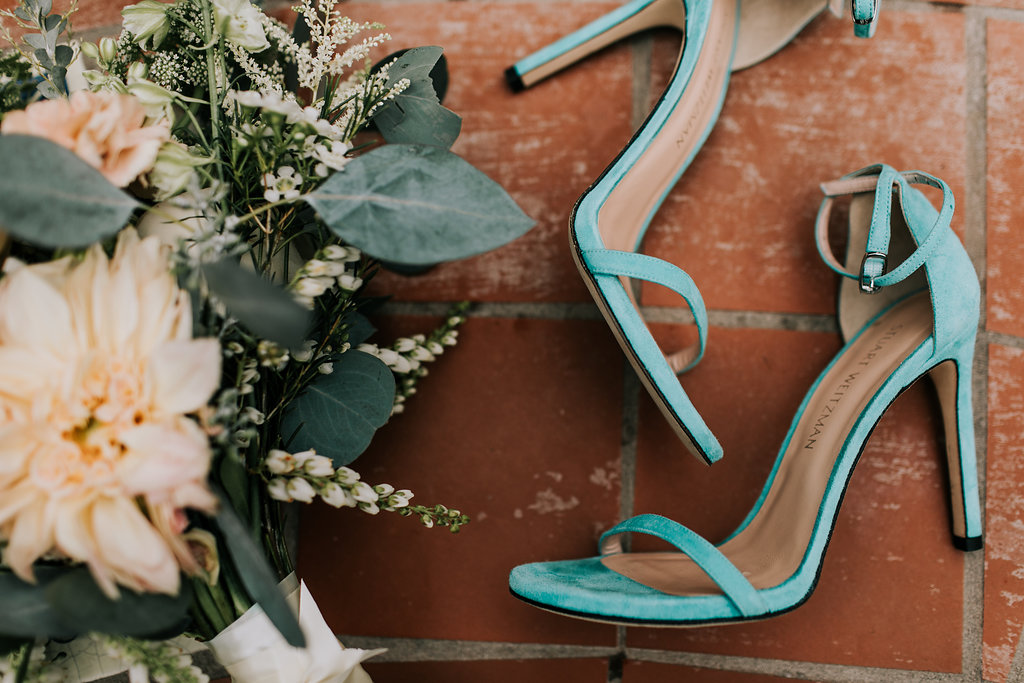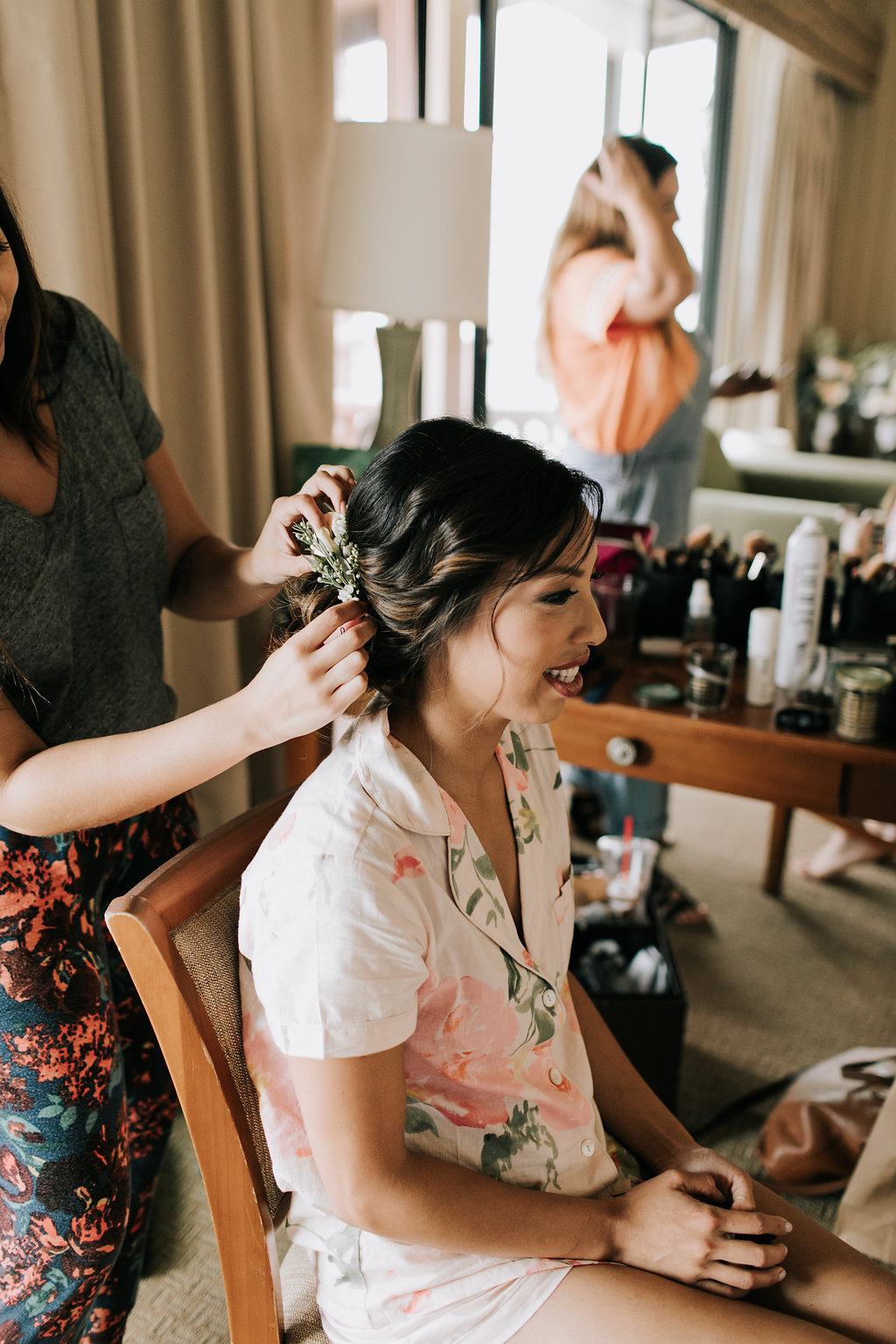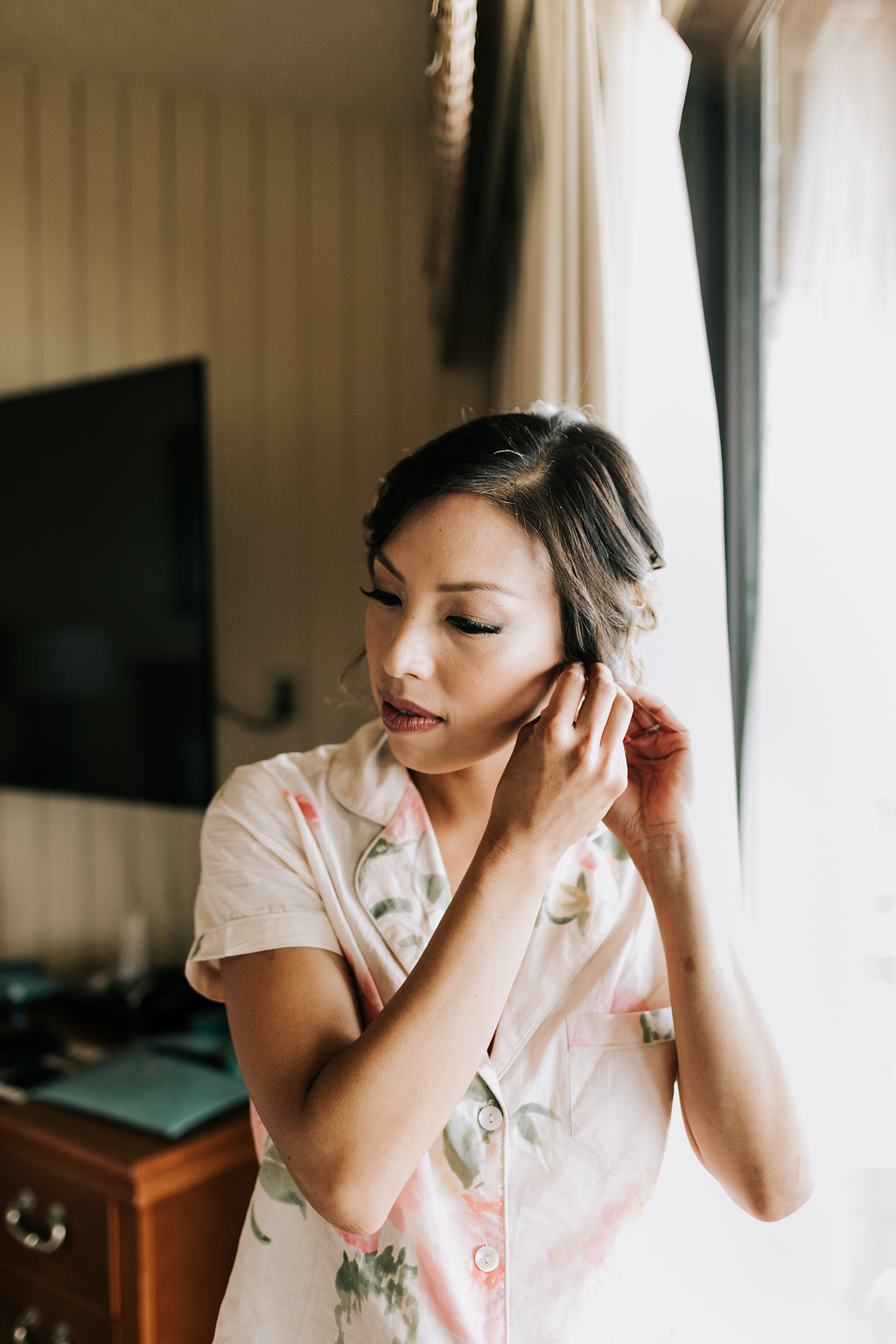 Bride's Gown: Maggie Sottero Designs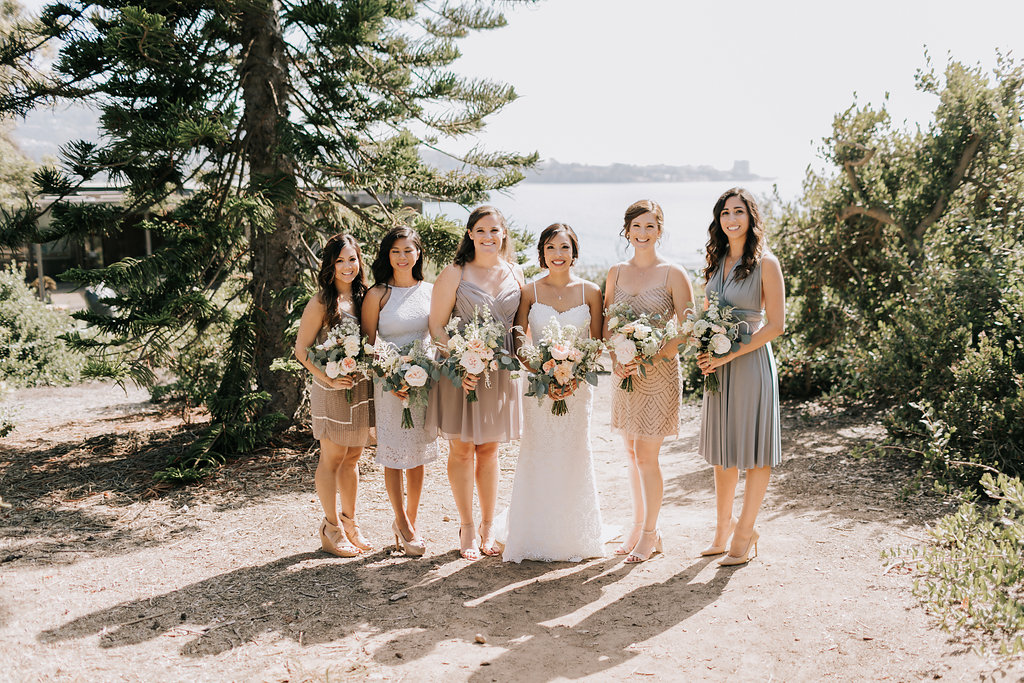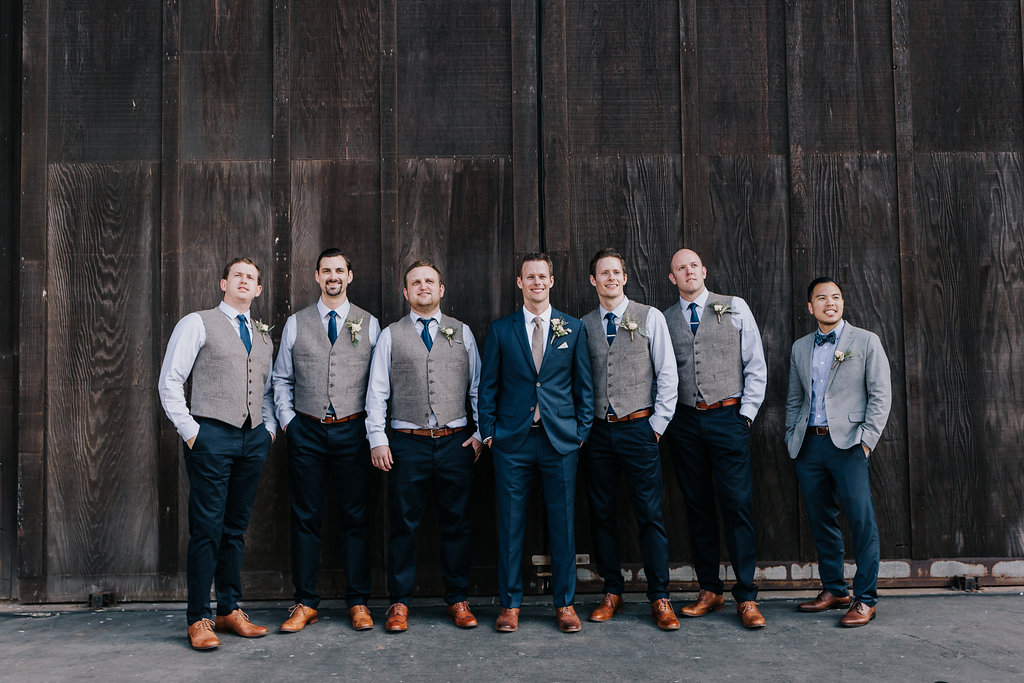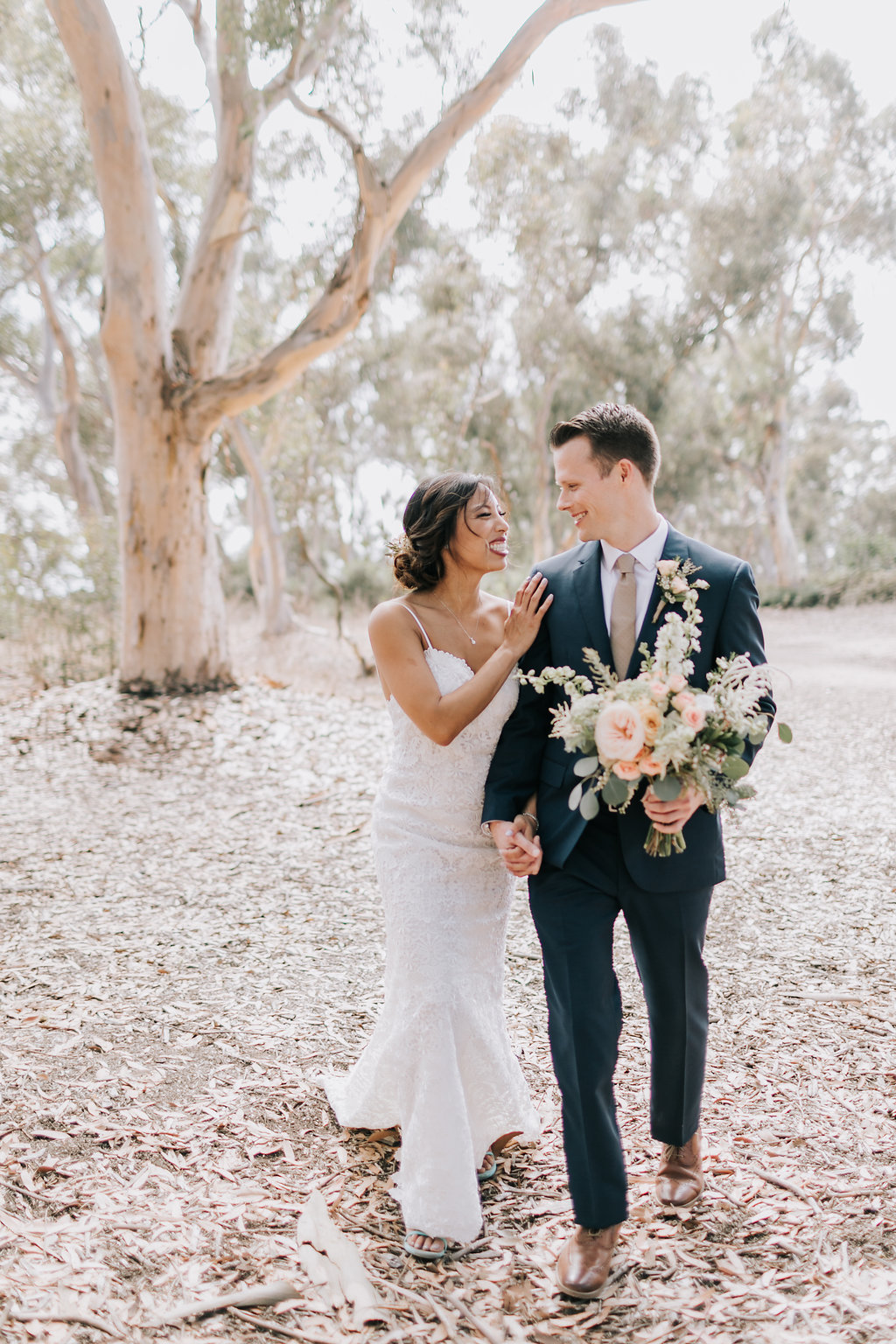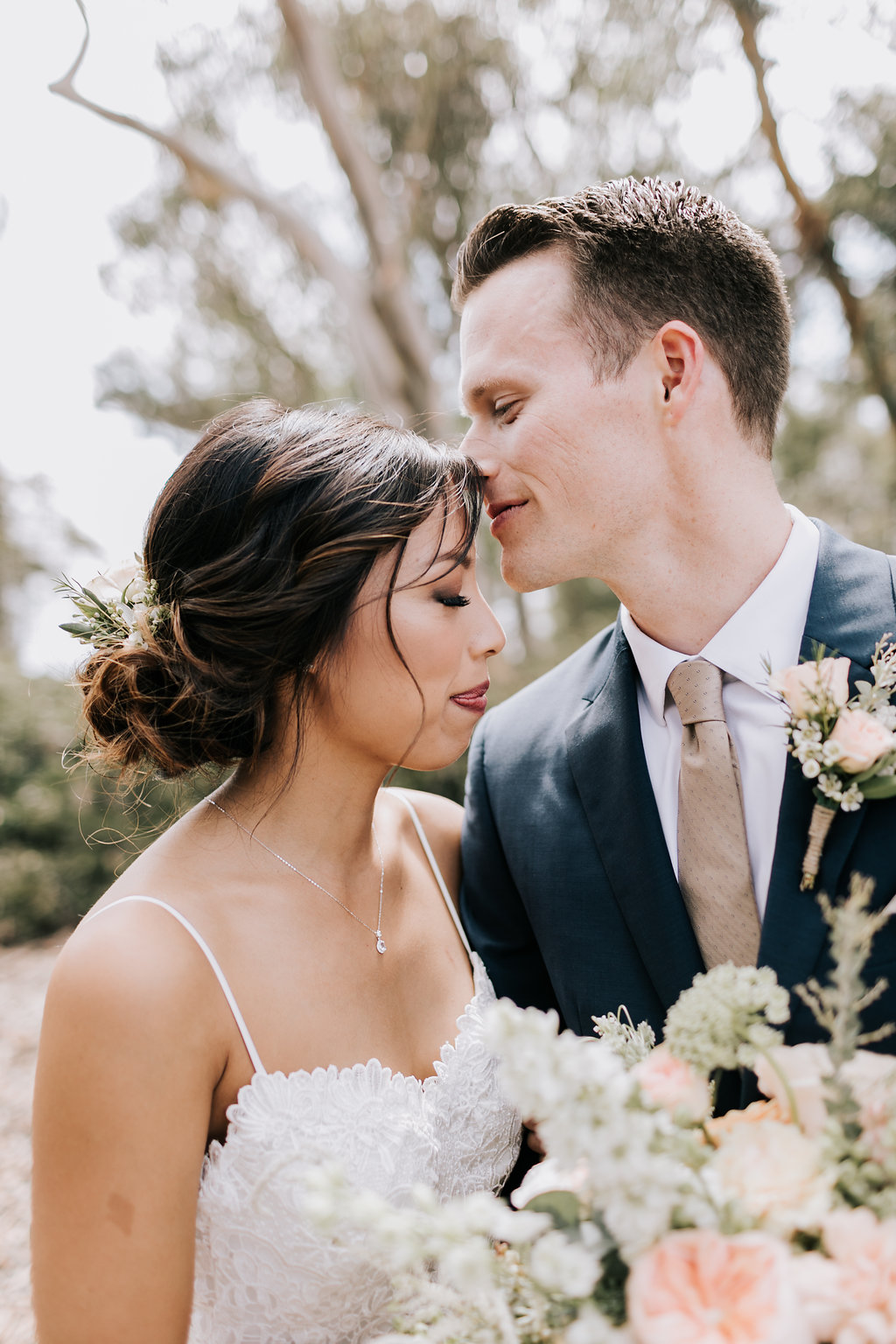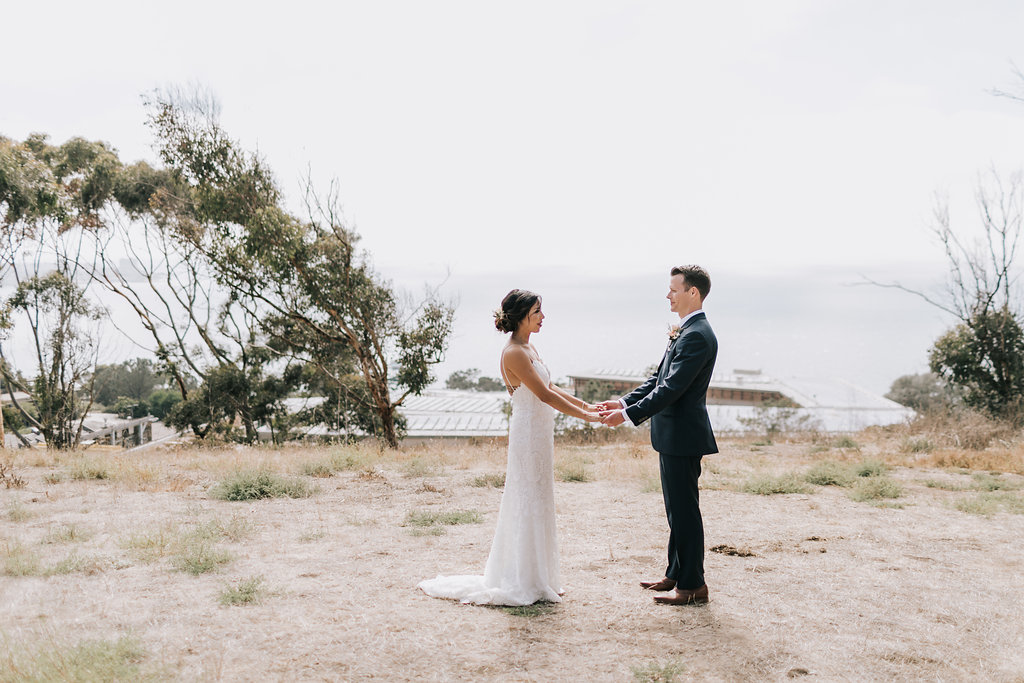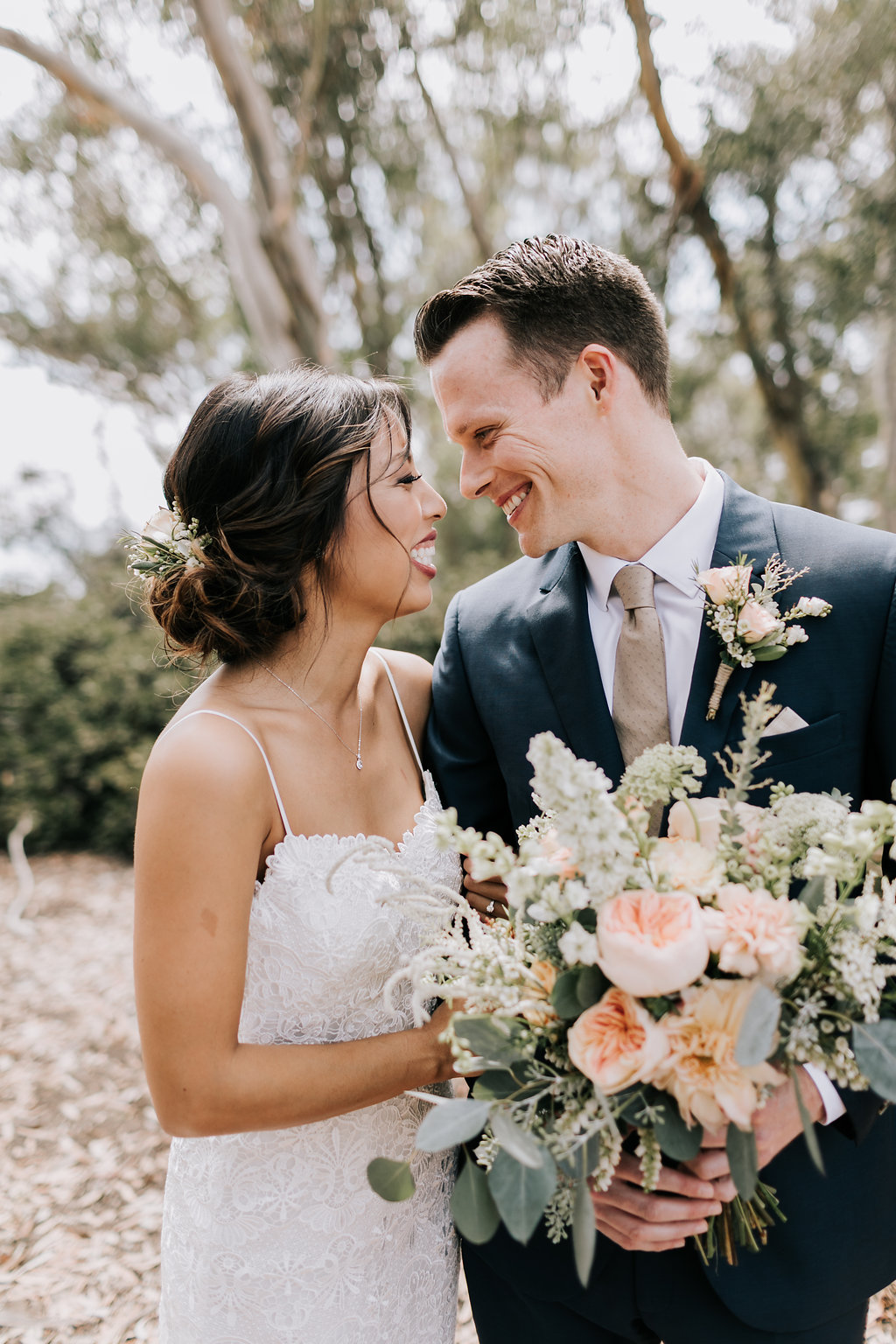 And if you're wondering where this amazing venue is, it's just up the cliff from La Jolla Shores. A little UCSD owned venue called The Martin Johnson House. This place has had my heart since I found it a few years back! It's got to be my Favorite beach side venue with views to DIE FOR!!!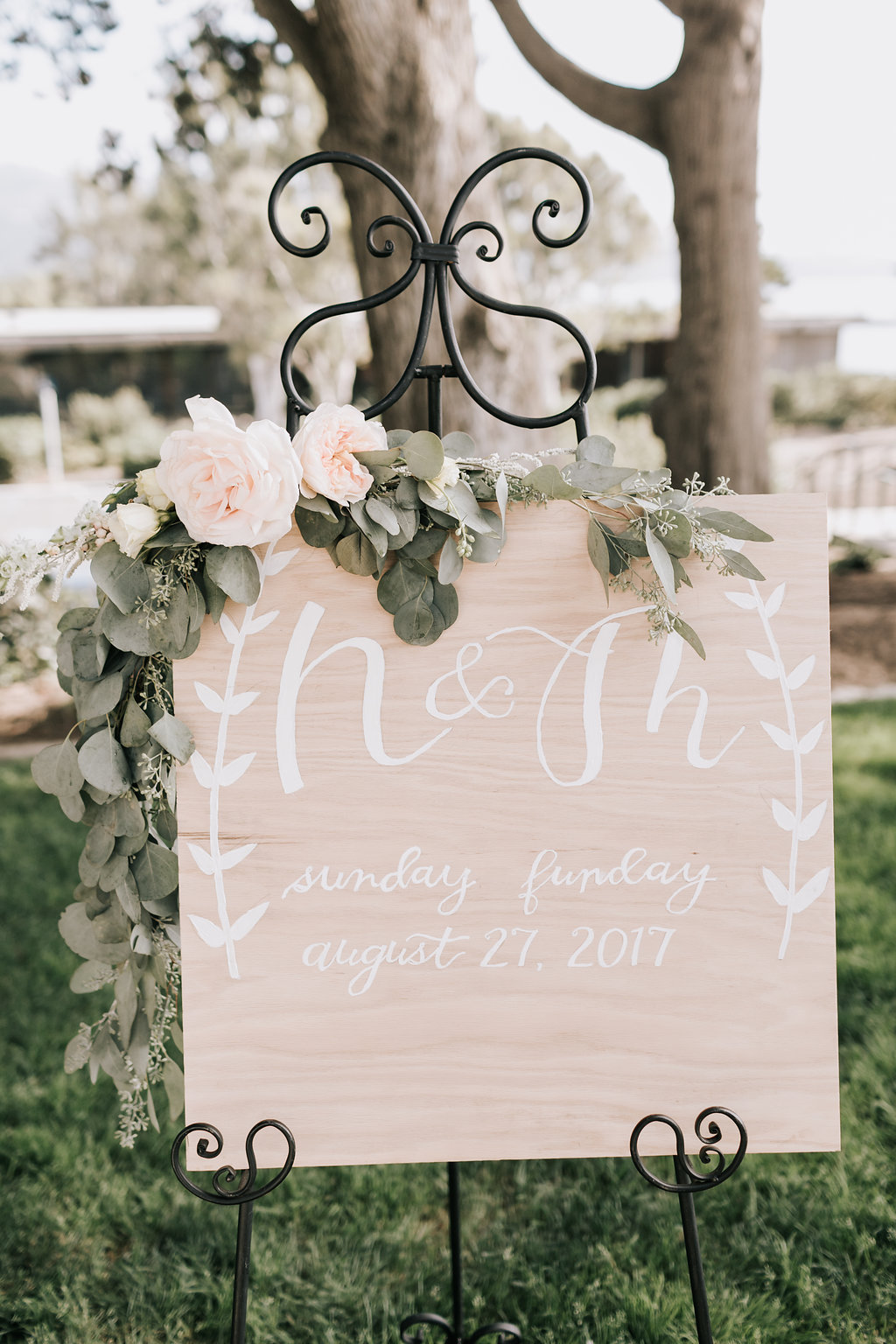 The arch was provided by us (Simply Elegant Weddings). But I can't take credit for the amazing florals that brought it to life. Petals and Pollen supplied and artfully crafted the beautiful flowers you see in this post, especially the amazing arch arrangement below. Along with the flowers that adorned every table top, sign, and everything in between, this wedding was simply stunning!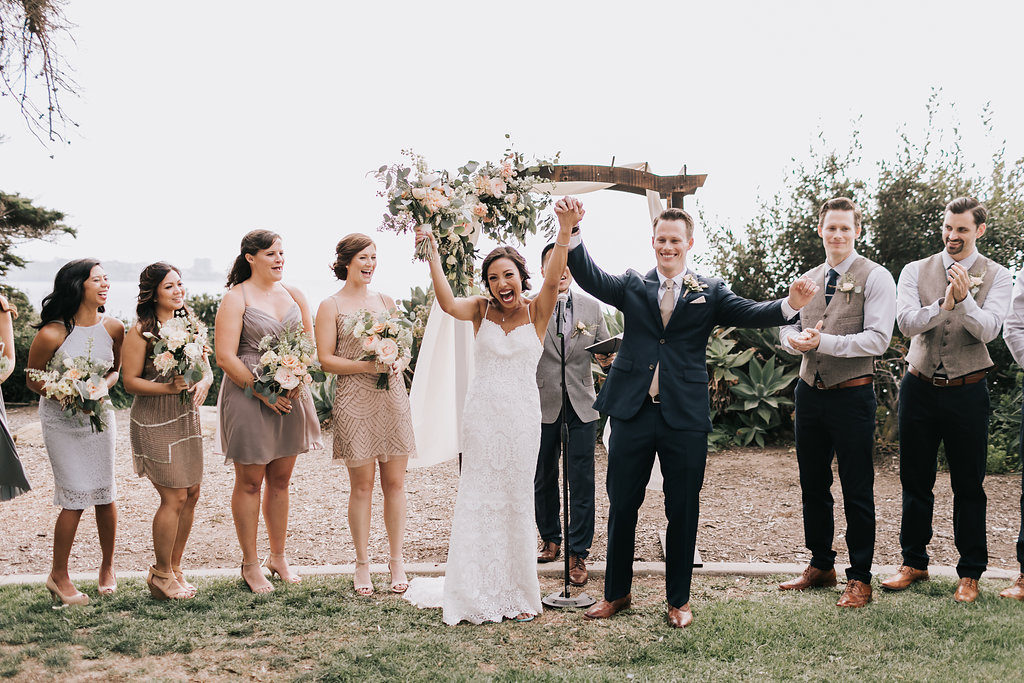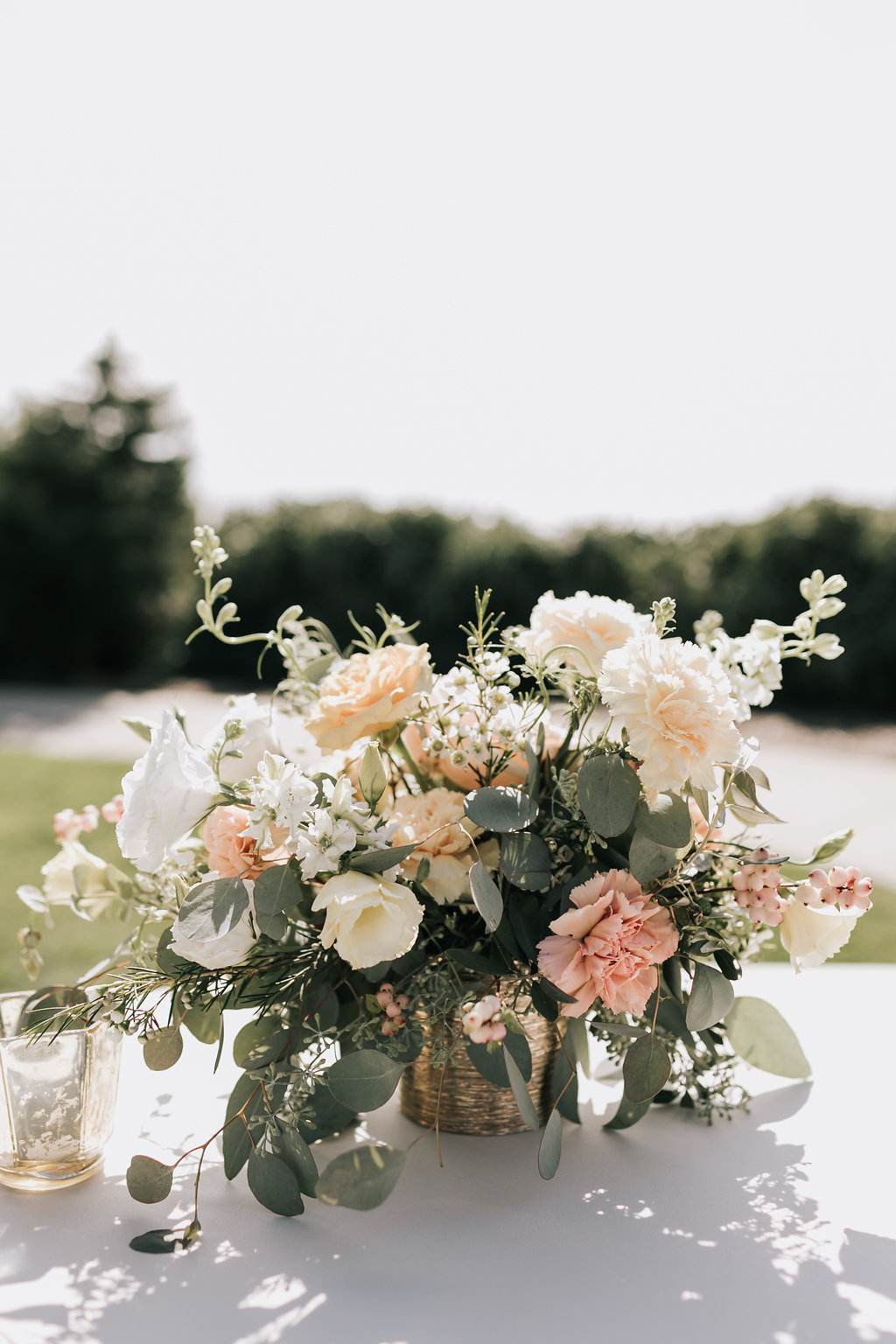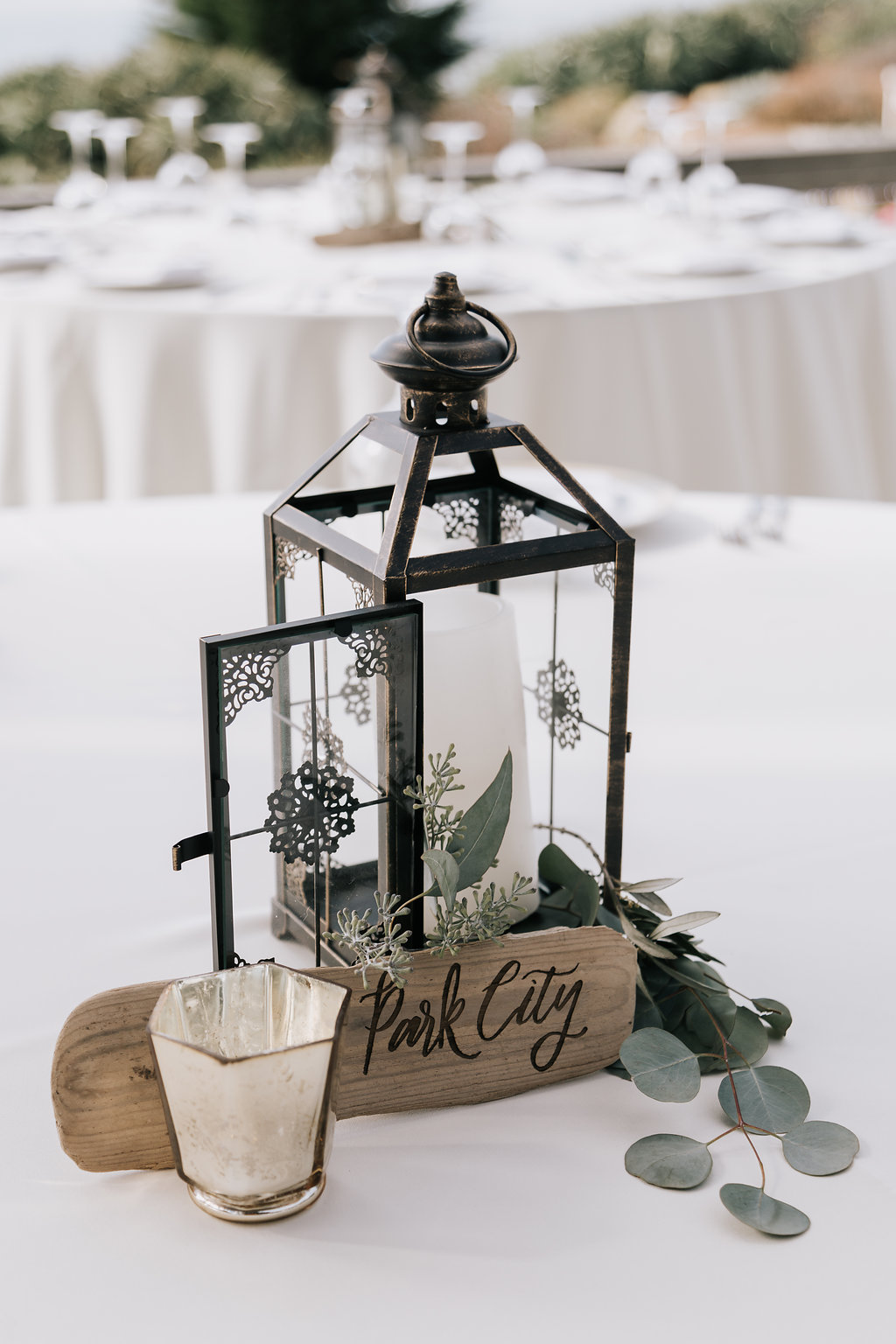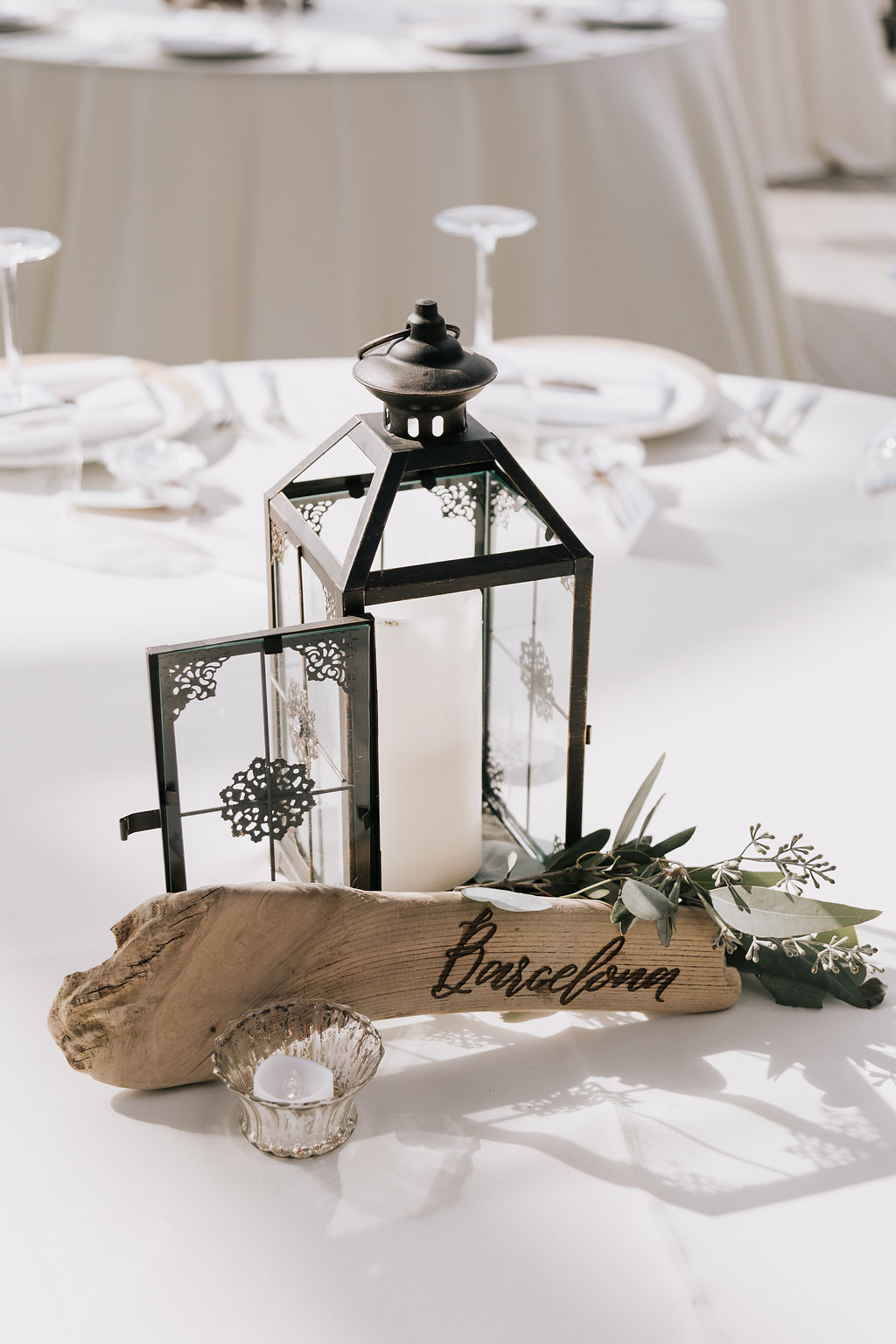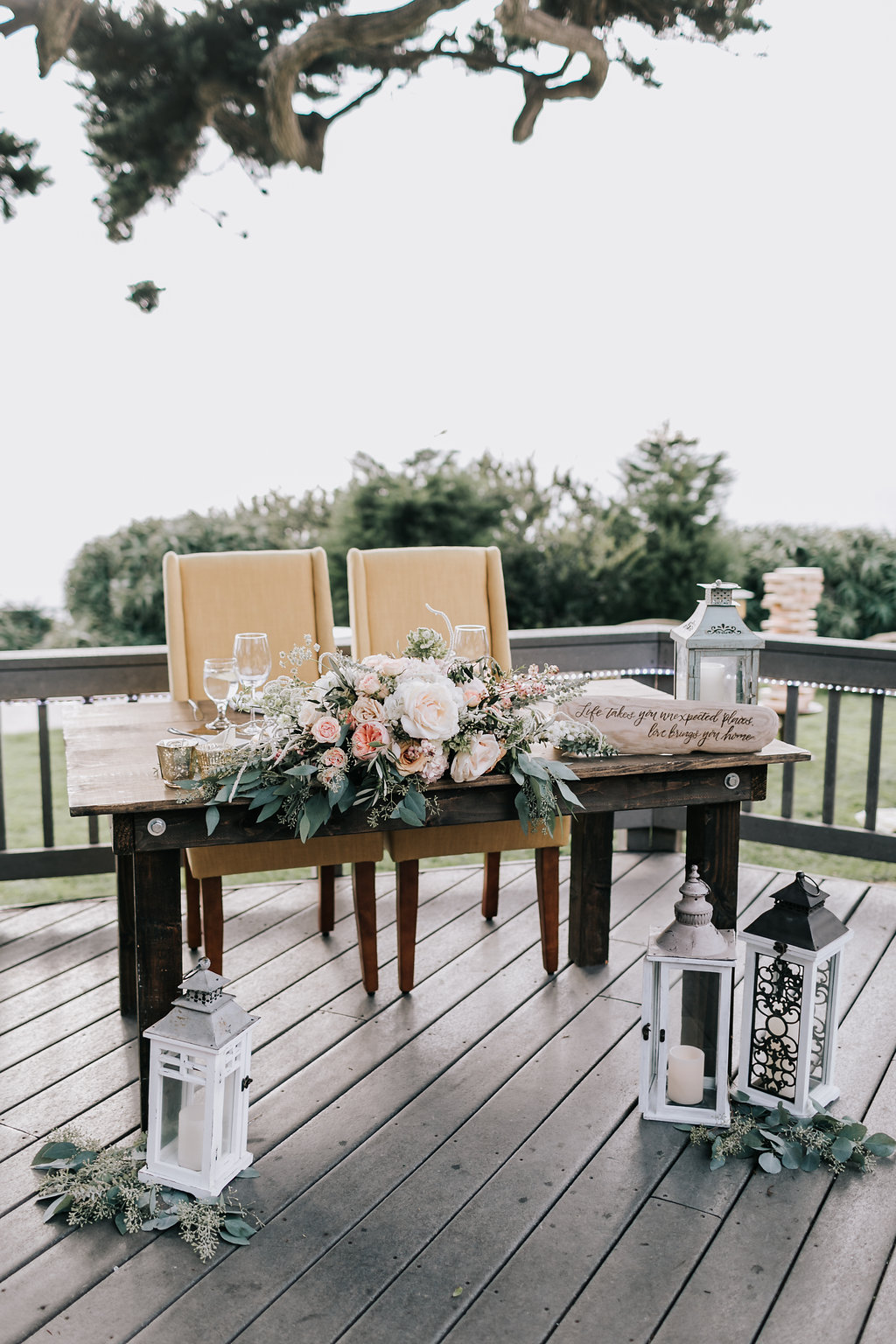 This Beautiful Farm Table and most of the Lanterns and Candle votives rentals were provided by CC Vintage Rentals! Cristina is so easy and fun to work with! Plus they have so many fun items to drool over (not literally, that would be gross!)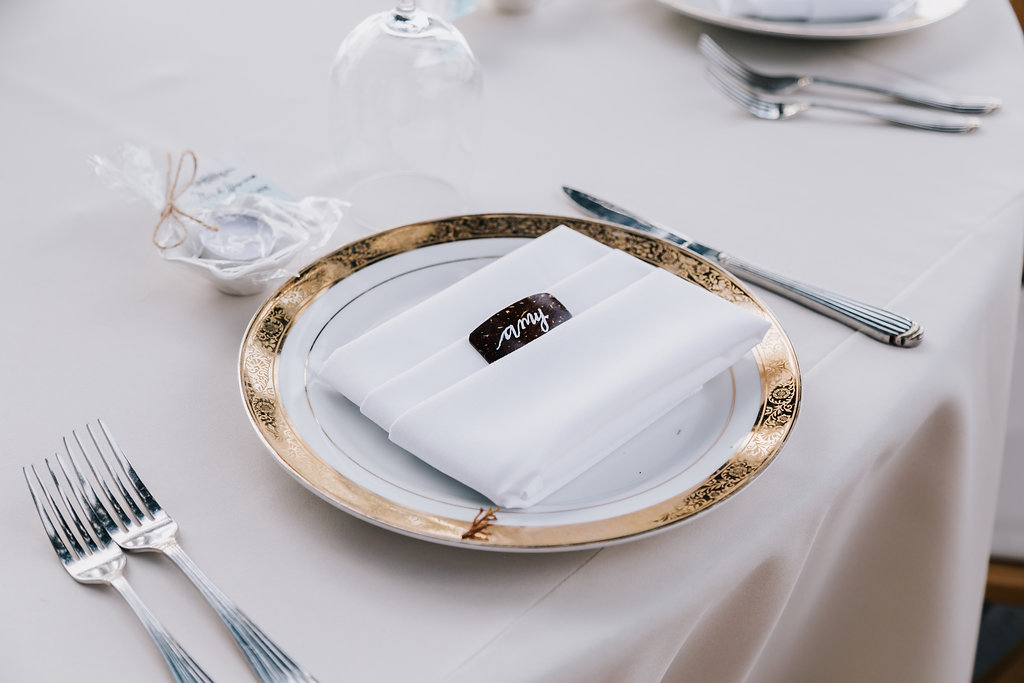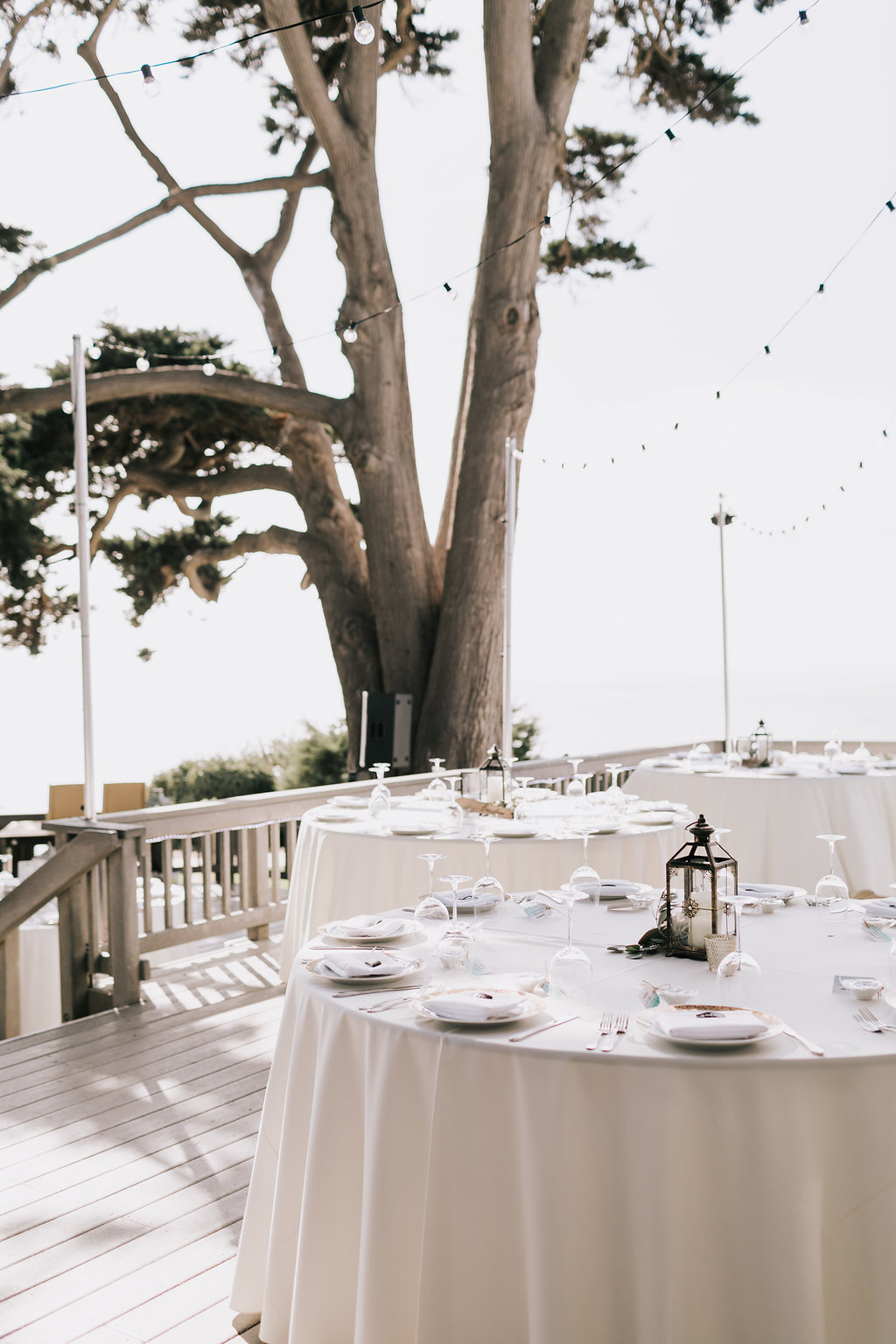 Catering and Placesettings were provided by The French Gourmet. They took care of almost everything! It was so nice to be able to focus on coordinating, and not have to also be thinking of folding napkins, setting the tables, and bussing too! Hooray for full caterers, I love you with all my heart!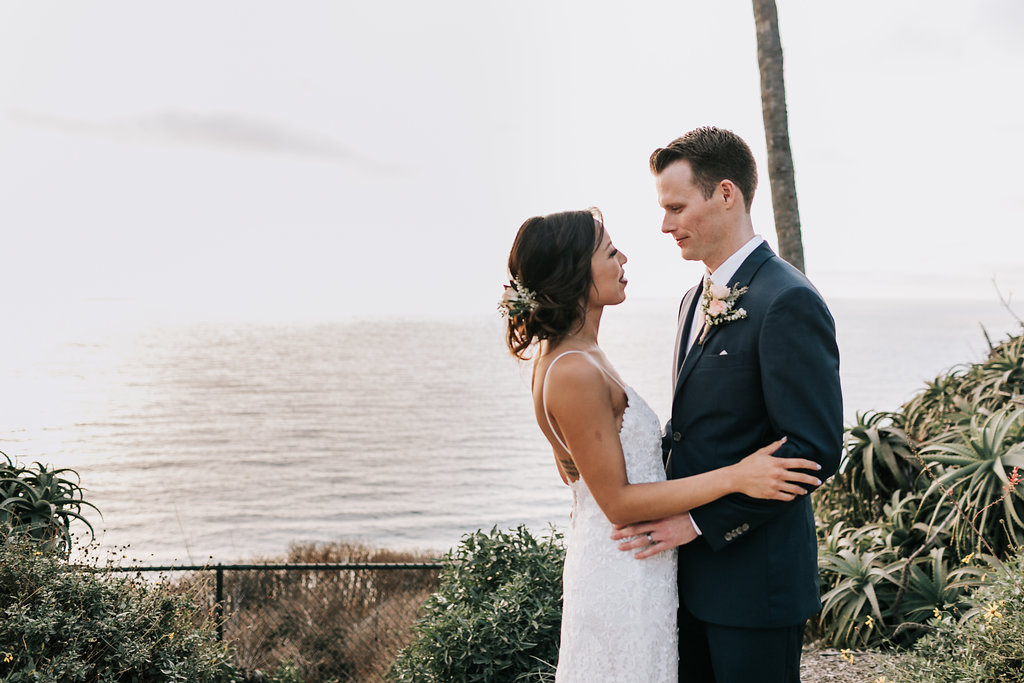 Congratulations Nat and Mike! We were so thrilled to be part of your special day, and we can't wait to see what the future holds for such a sweet and special couple like yourselves!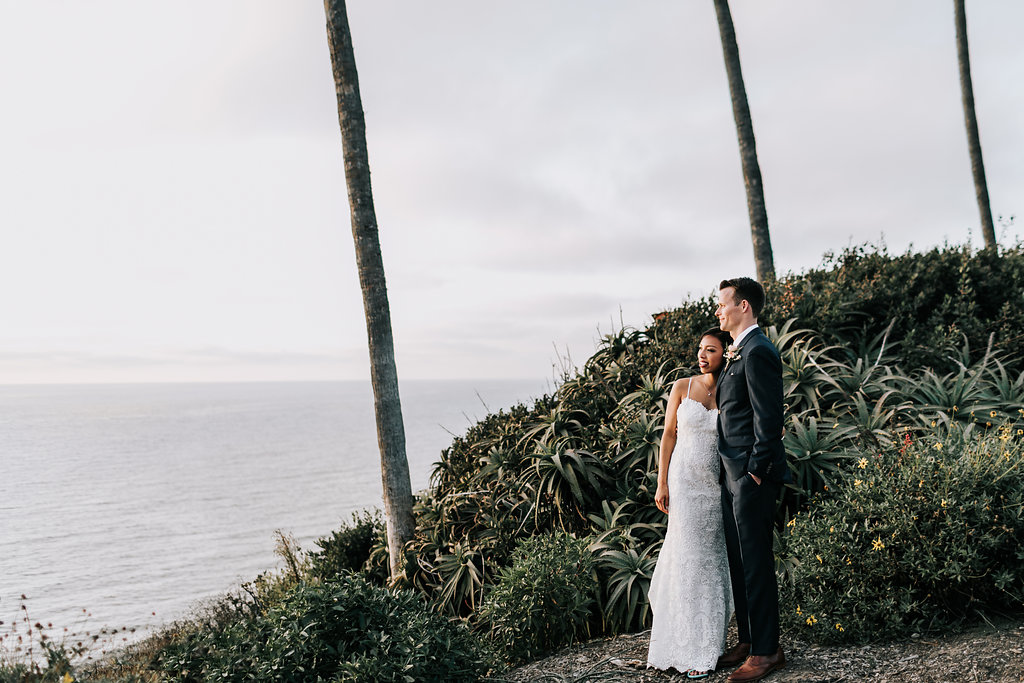 Mid-Century Modern meets Organic Elegance for this super intimate Elopement Photo Shoot
Planned, Designed, Styled, and Coordinated by Simply Elegant Weddings 2016 Interns: Jacqueline Wurzer and Kaylie Gutierrez
This year, the interns of Simply Elegant Weddings had a very large project to put together, and we couldn't be more proud of the outcome! Together, Jackie and Kaylie split the duties, helped each other where needed, reached out to vendors, and put together an entire styled shoot basically by themselves!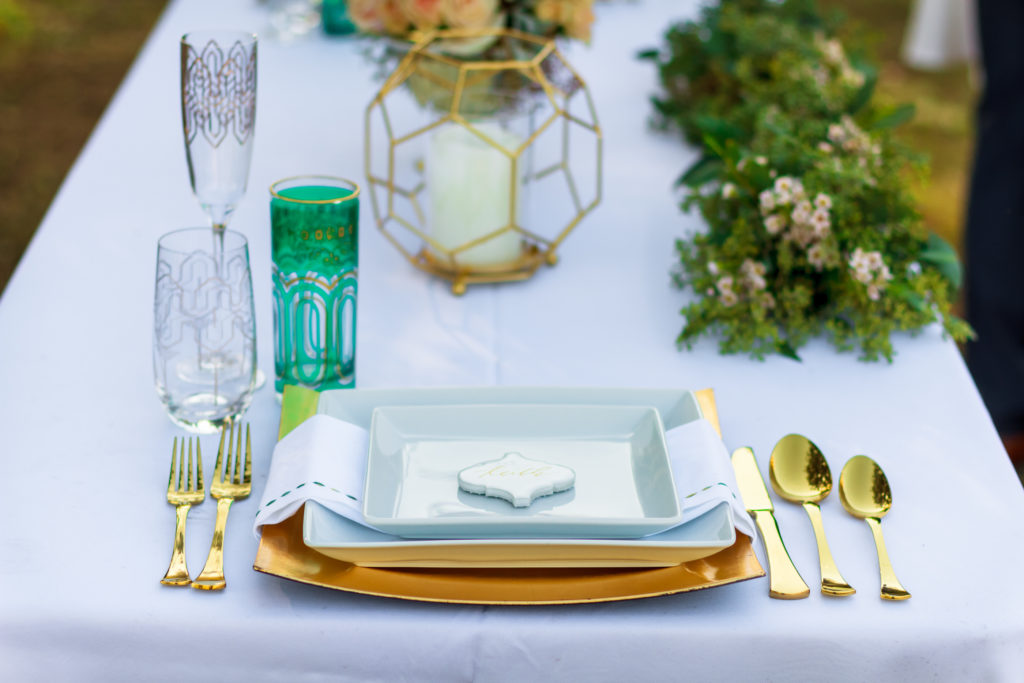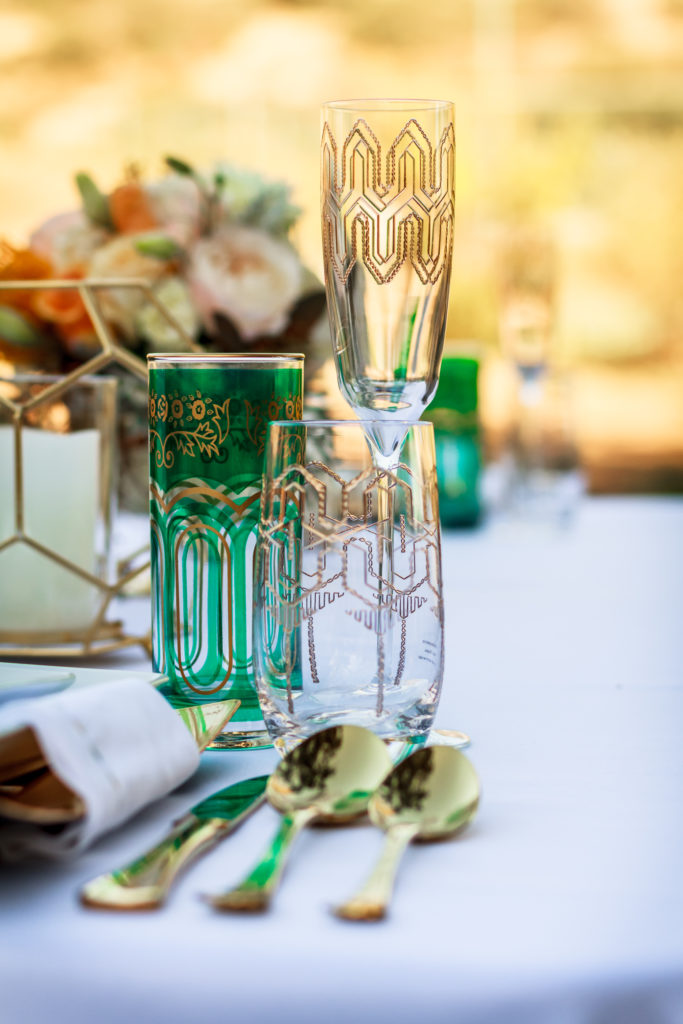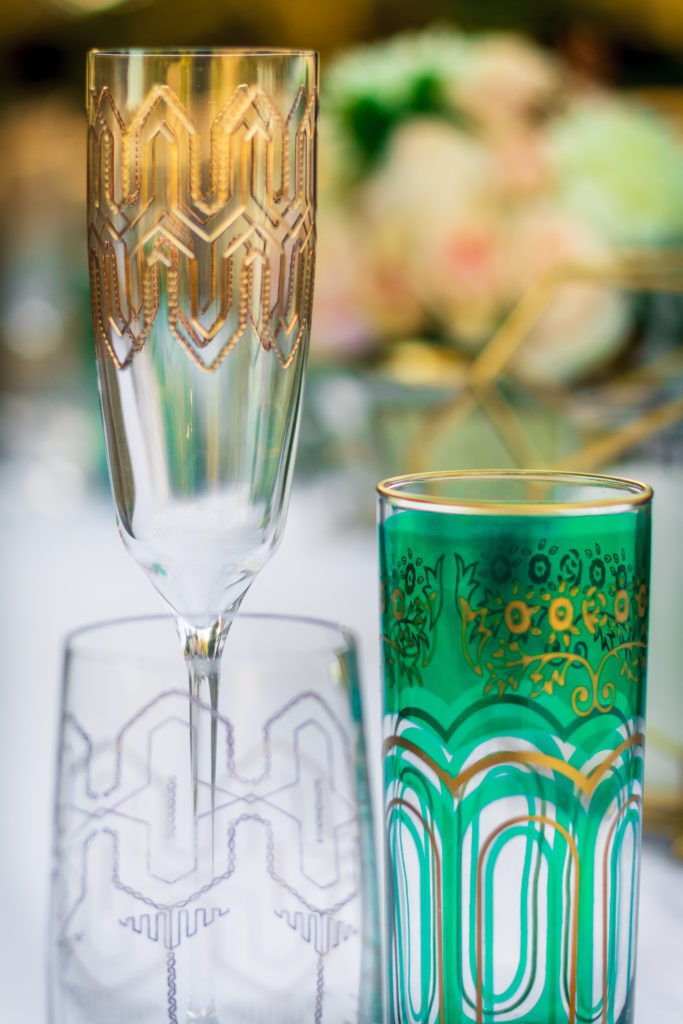 Jackie designed and planned the majority of the details. She had a clear vision from the beginning. Came up with the Mid-Century Modern theme, figured out how to incorporate more organic elements to fit the venue's surroundings (Venue: The Bradford Ranch, San Diego), and styled the details and decor to perfection.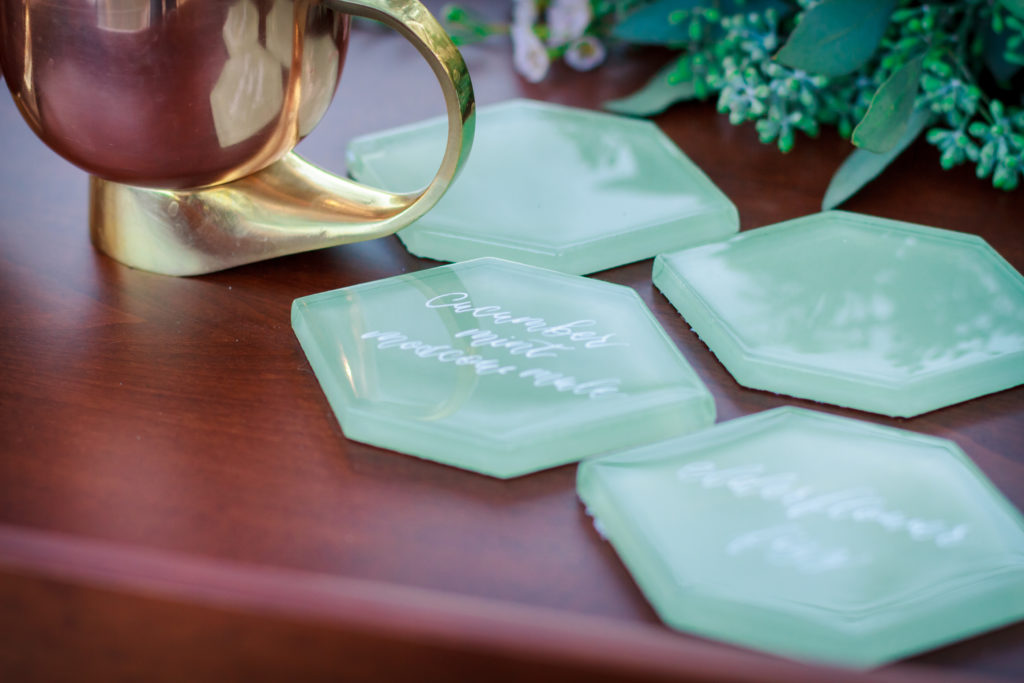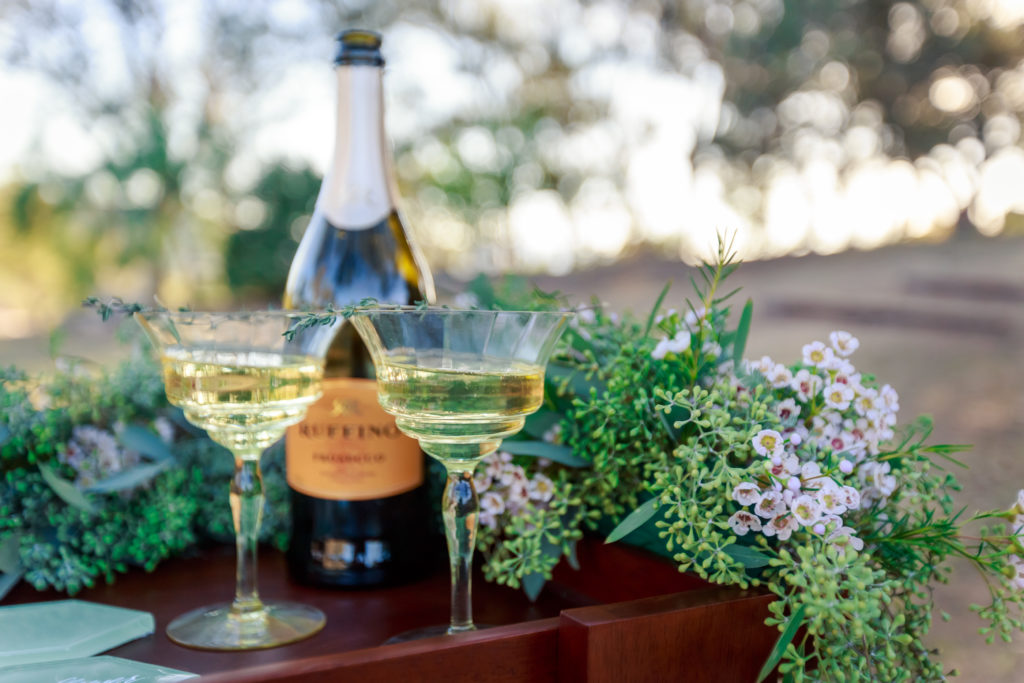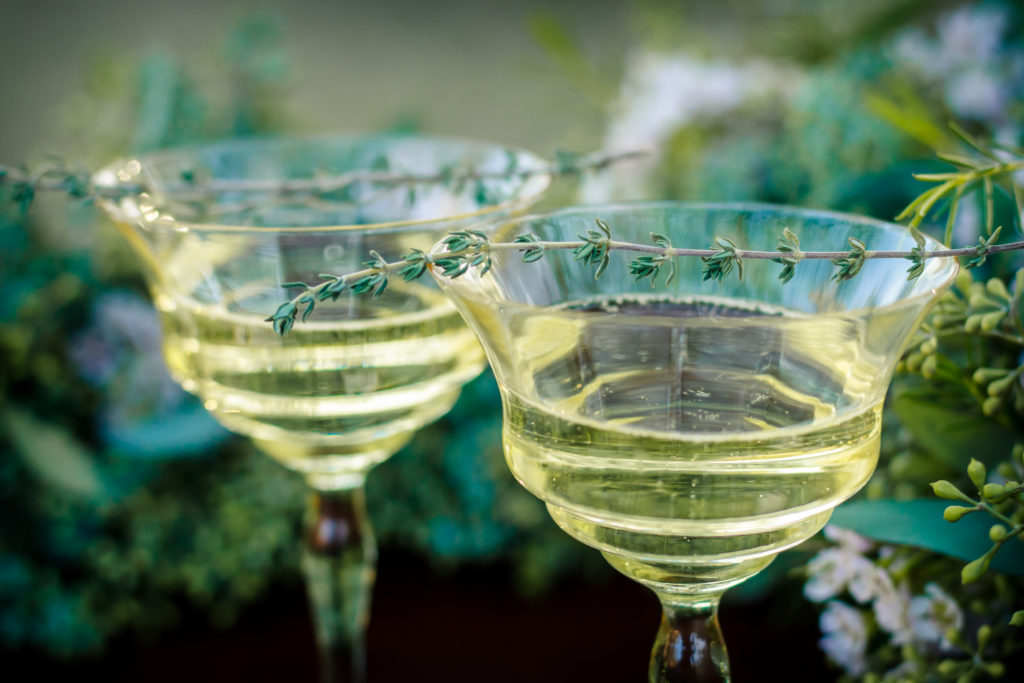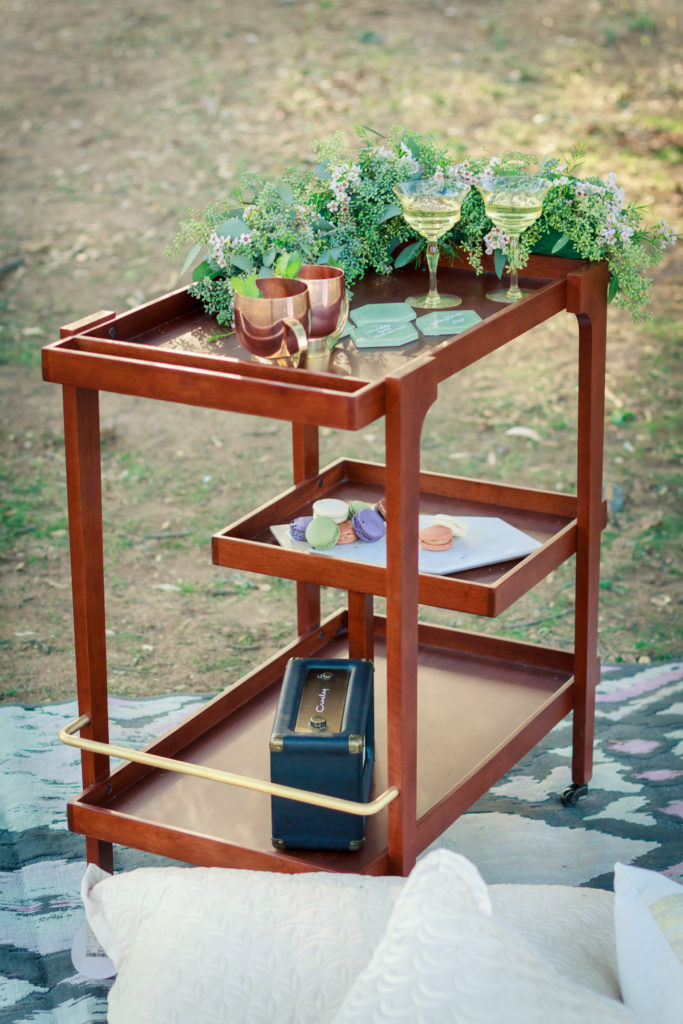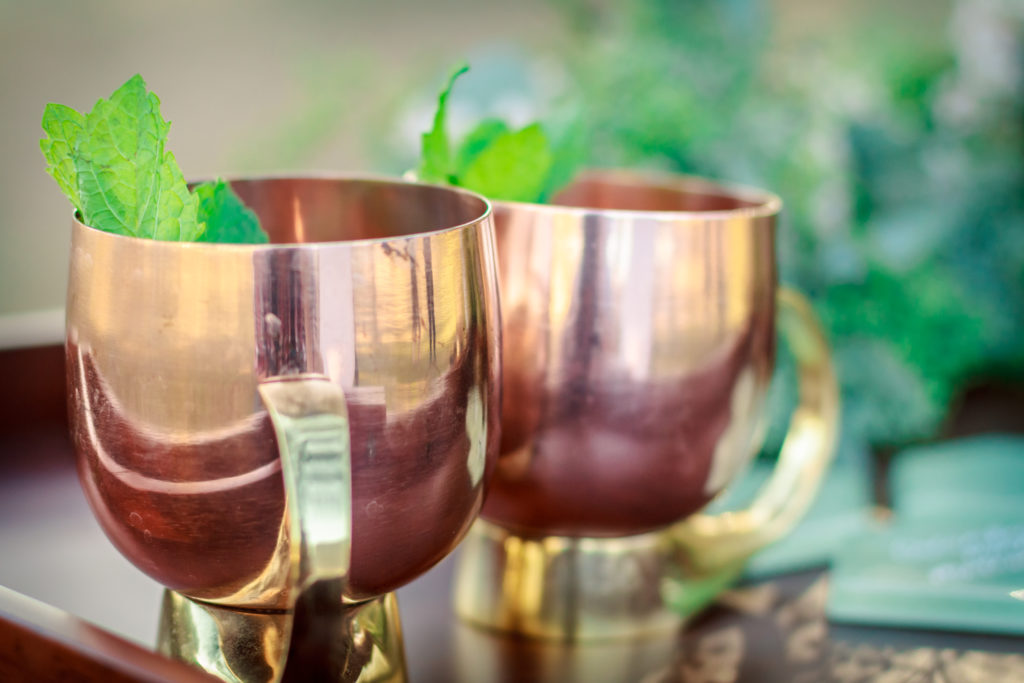 Kaylie helped with finding our models, coordinated the timeline, organized the logistics from behind the scenes, and helped with direction during the shoot. This all helped the day to run smoothly, allowed the couple to feel confident and comfortable in front of the camera, and made sure that we got all the shots we could possibly need!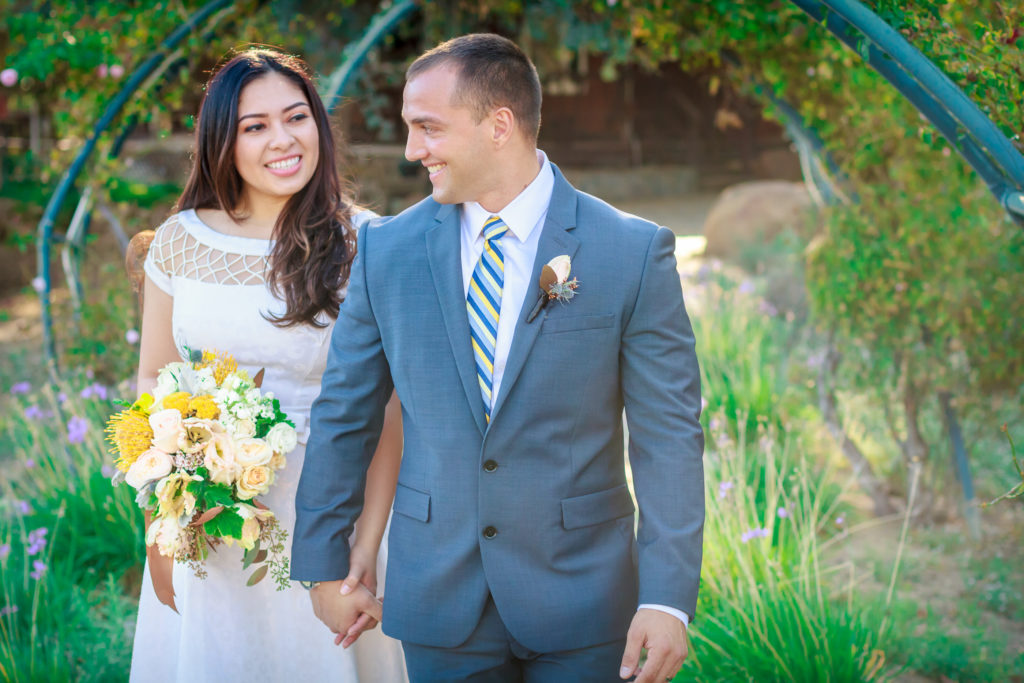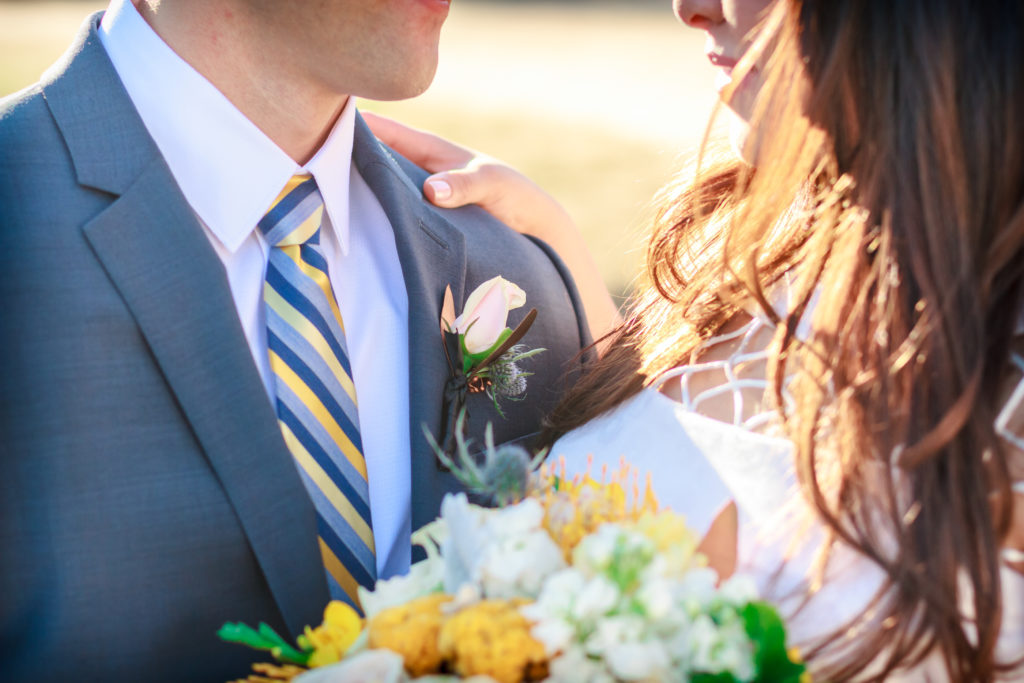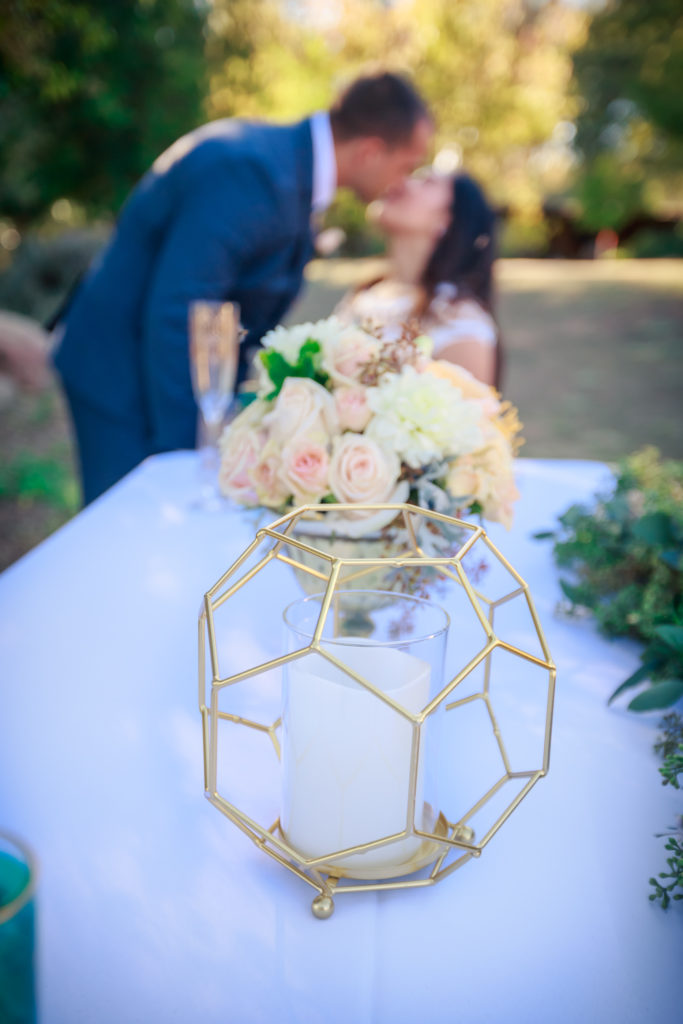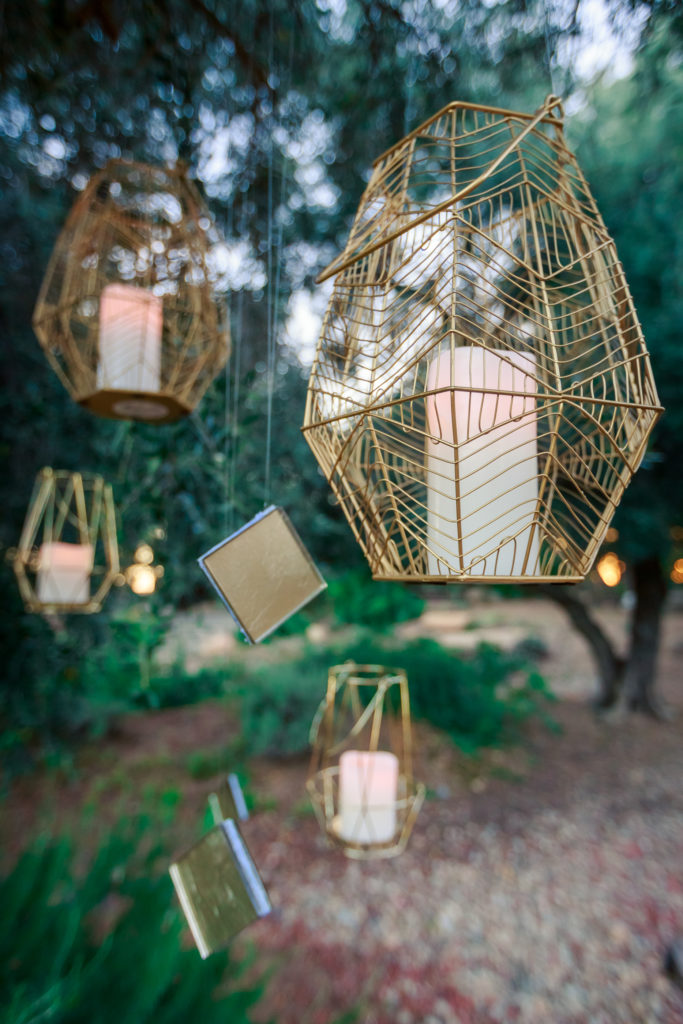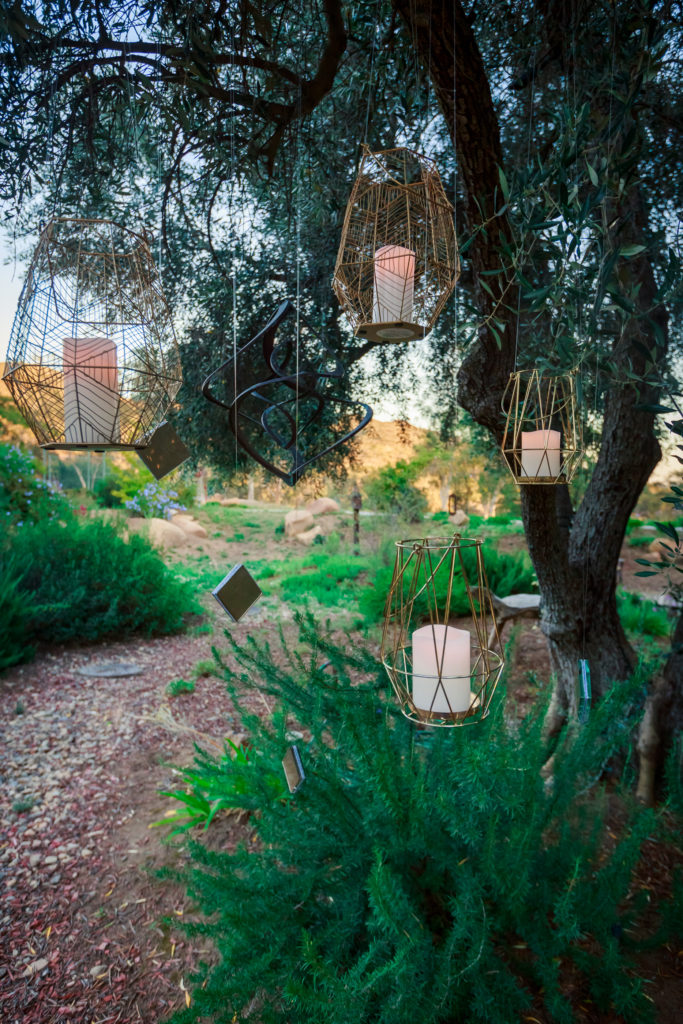 They both reached out to several vendors, hunted down the people they thought would be the best fit for the shoot, and executed planning and coordinating with the vendors like absolute pros. The both grew tremendously from this experience, and are ready to take on more of what the event planning world has to throw their way! They survived over 10 weddings each this season with Simply Elegant Weddings. They have learned what it takes to work as a team with other vendors, coordinate behind the scenes set up, clean up, and everything in between, and have learned to think on their feet faster than ever before; because as an event planner you have to do all of this and more without missing a step!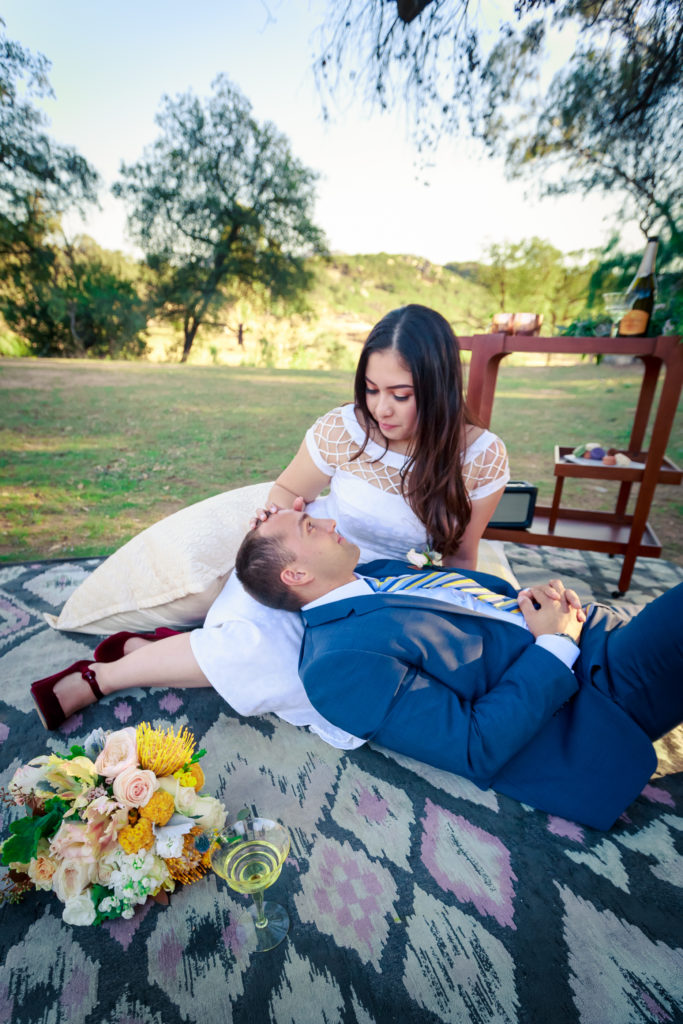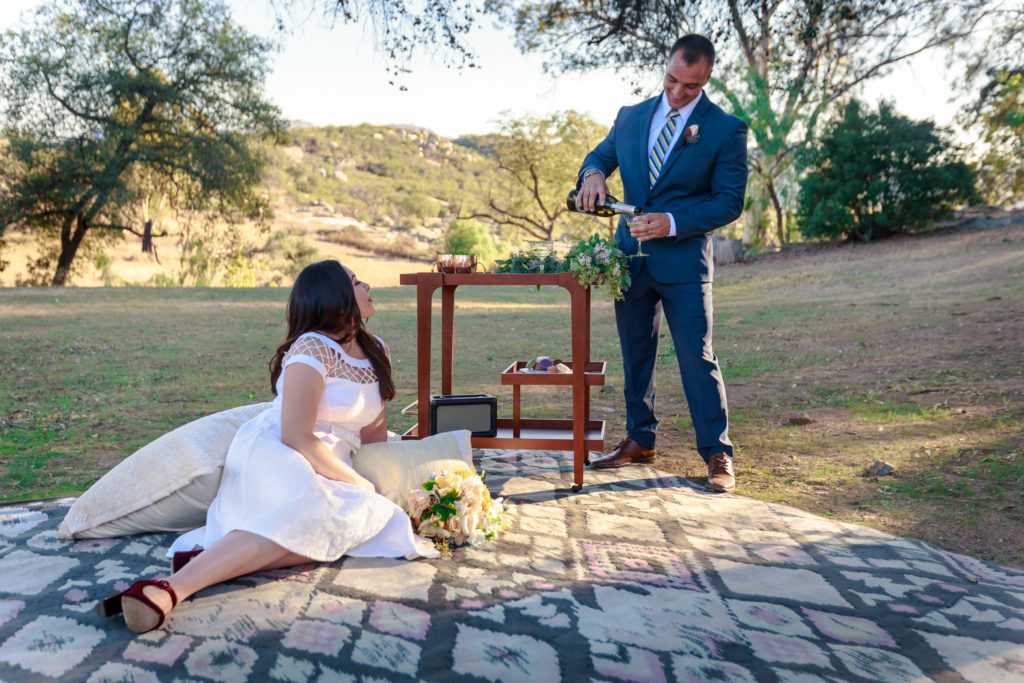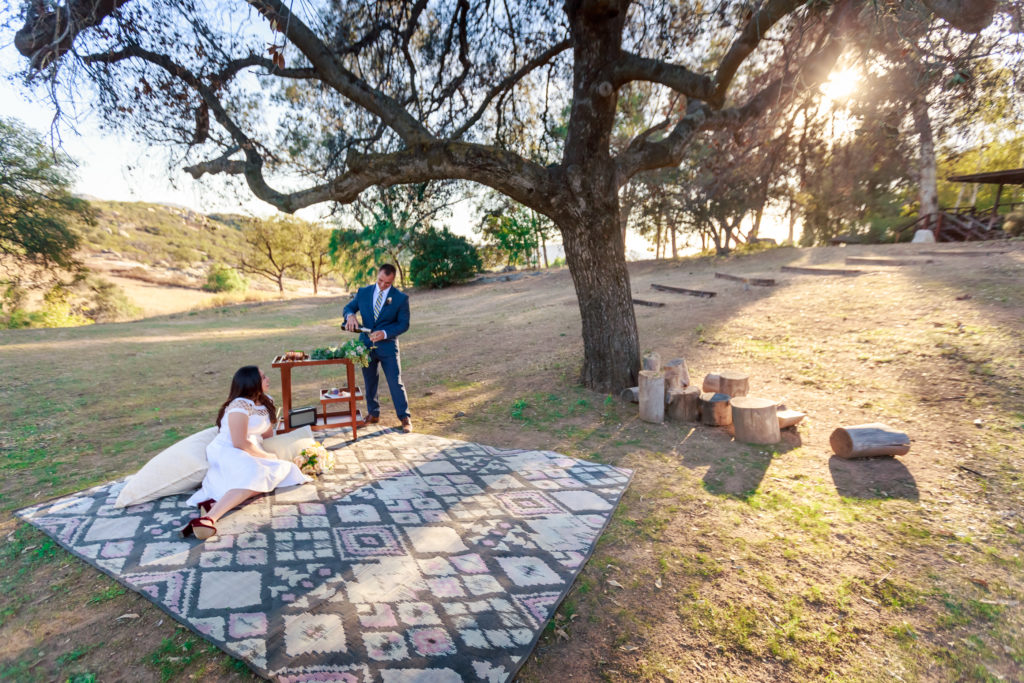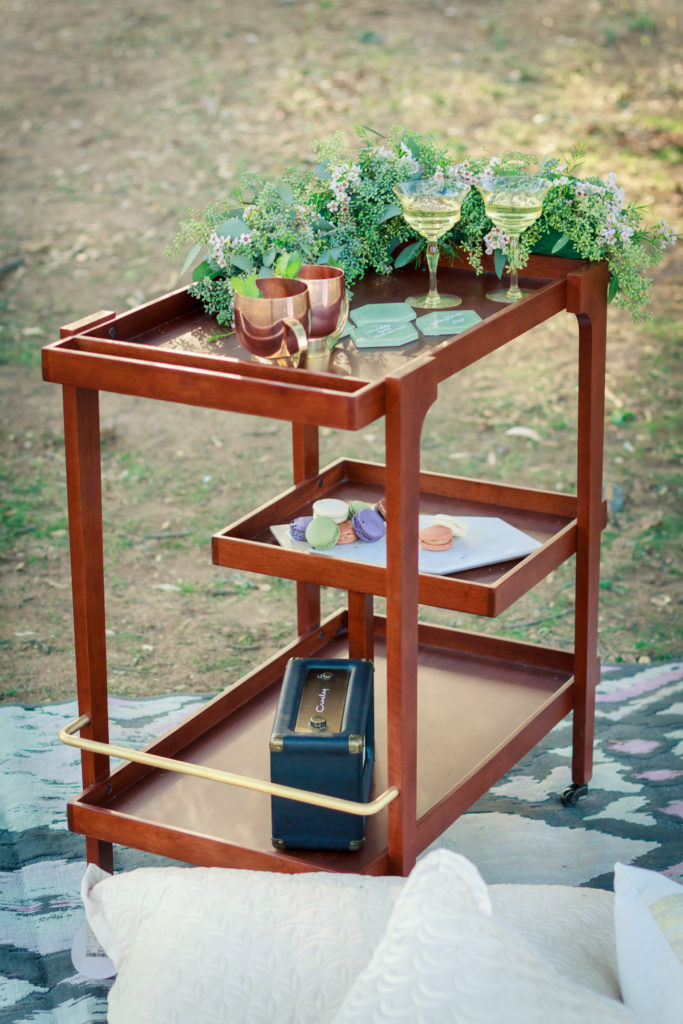 The beautiful photos were done by Christopher Simon, from PicSergs Photography. The amazing florals: the bouquet, boutonniere, centerpiece, and garlands were created by the very talented Fatima Kelley from San Diego Floral Design. The rentals of the amazing geo print picnic rug and the chairs came from To Be Designed Event Rentals. And the Linens are from The Linen Lady event rentals.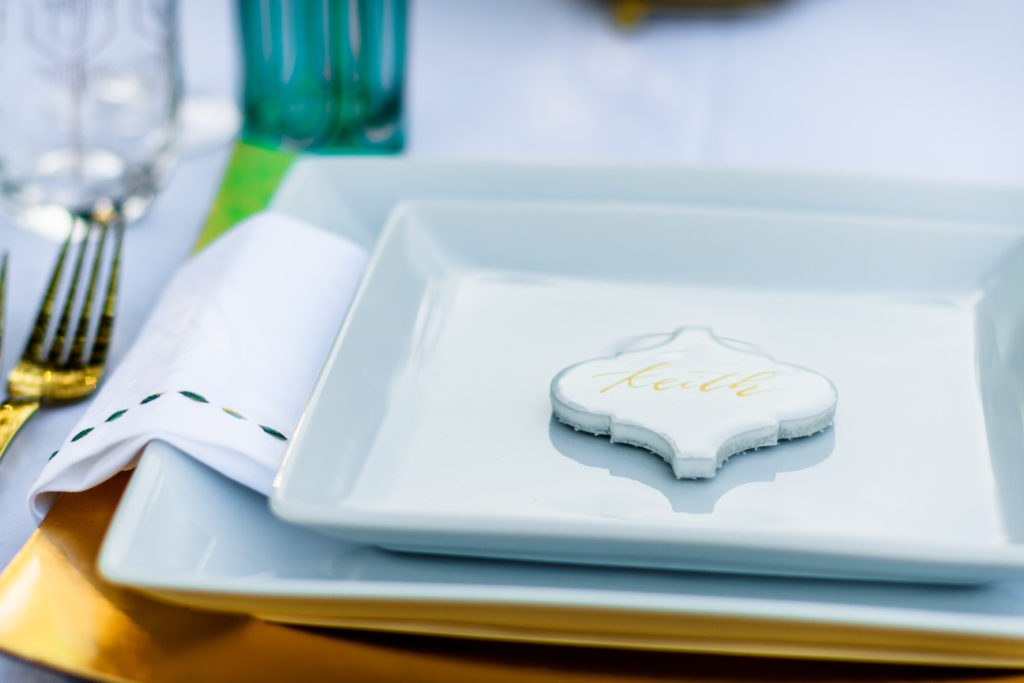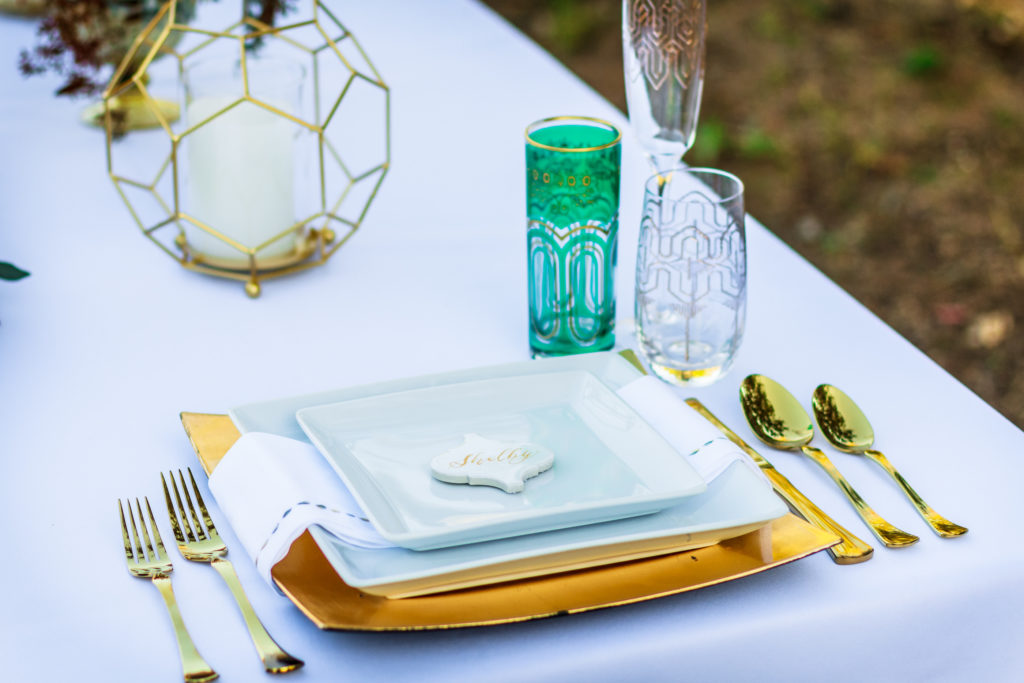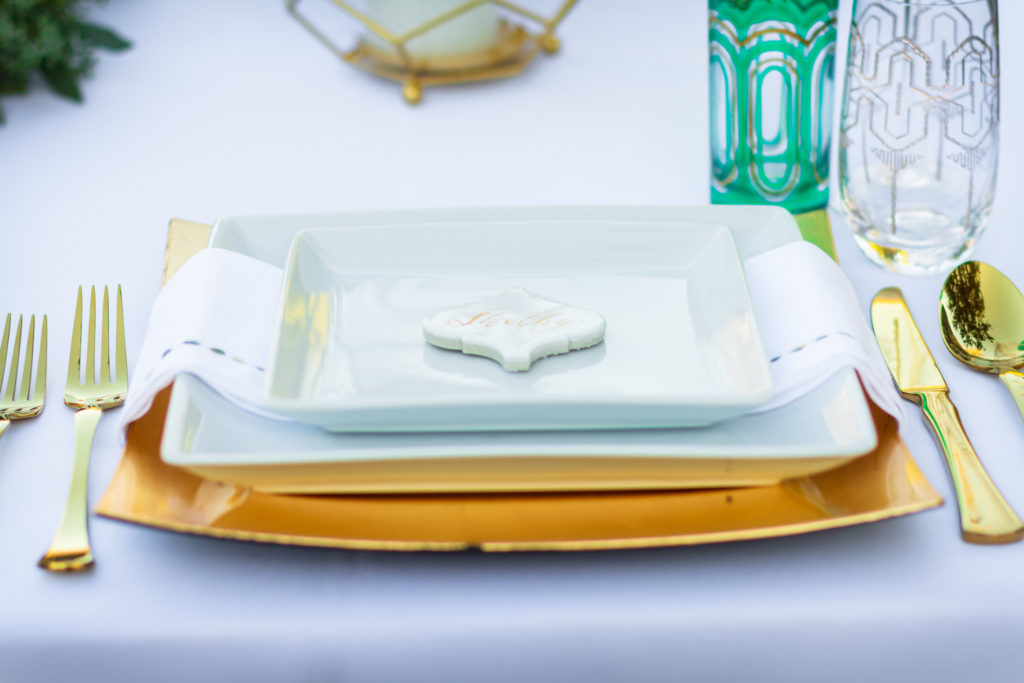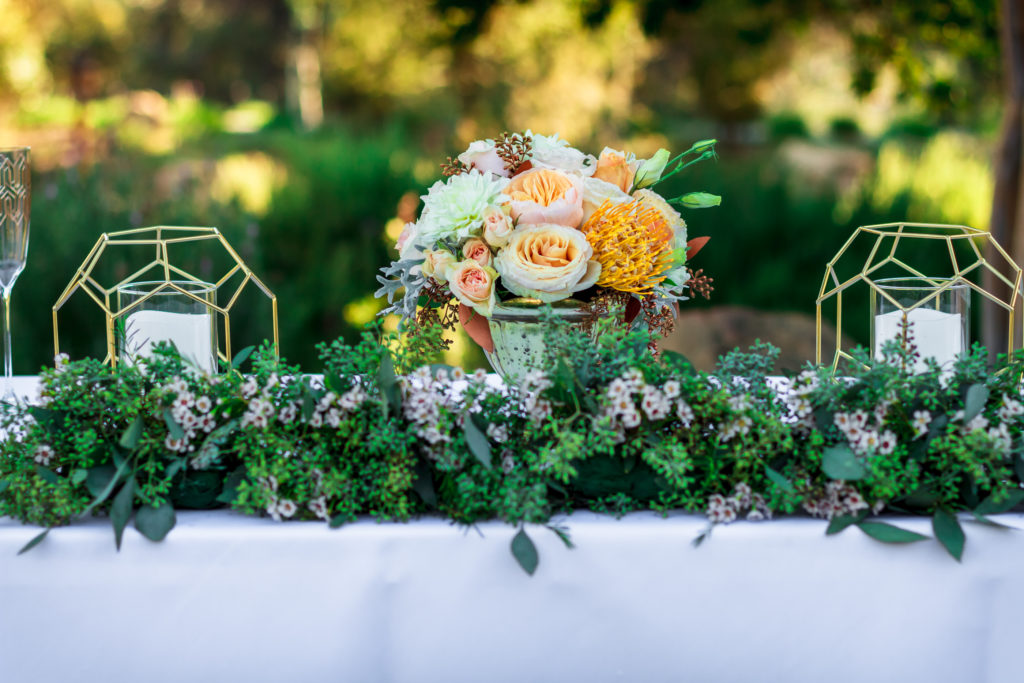 The theme behind the styled shoot, is that it is a romantic intimate elopement between just the couple, with a casual picnic and toast just between the two of them. The stationary from Yours Truly Calligraphy, represents the announcements they would send to their friends and family to announce their marriage.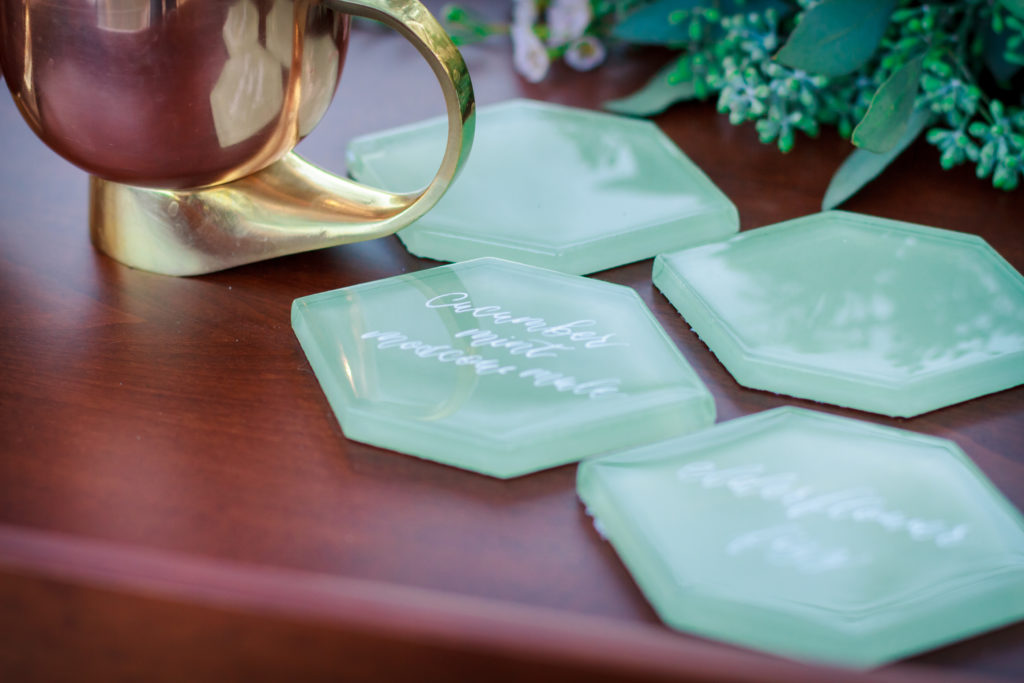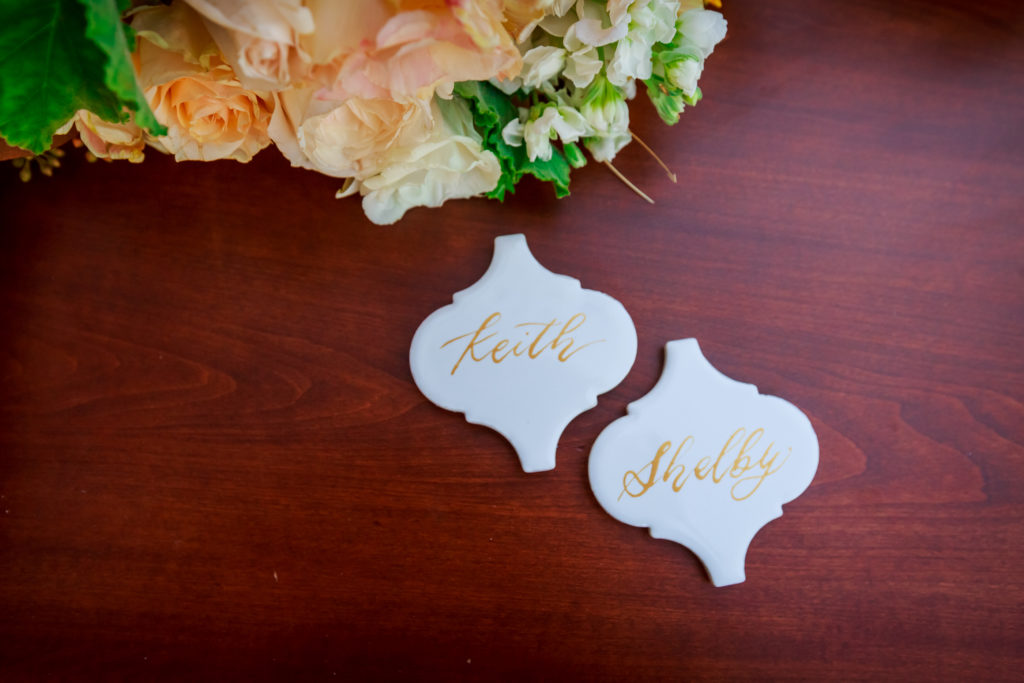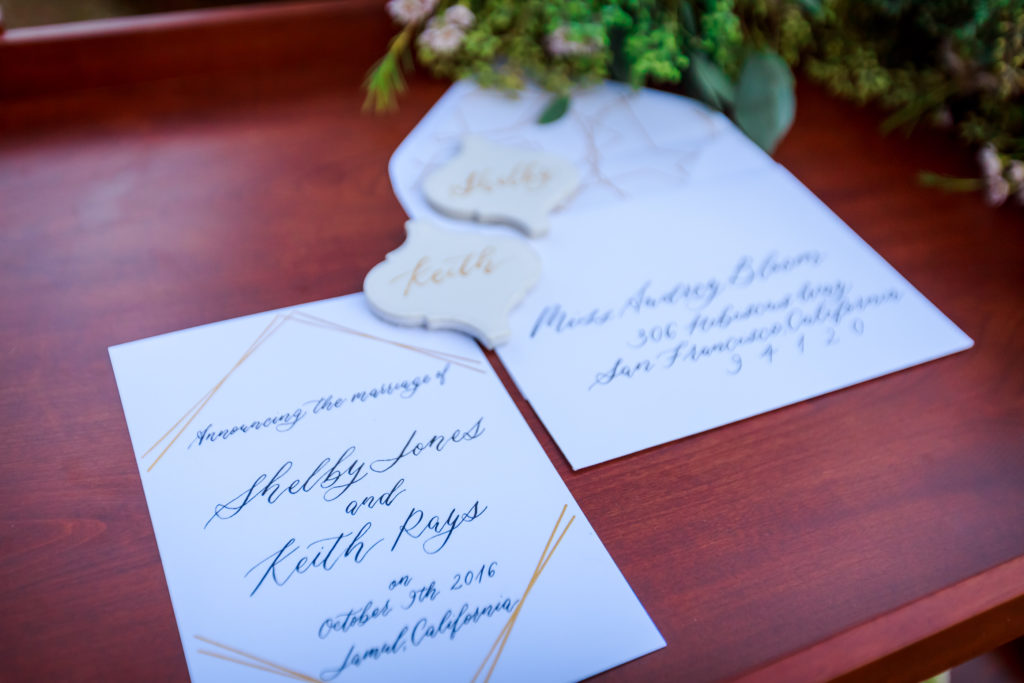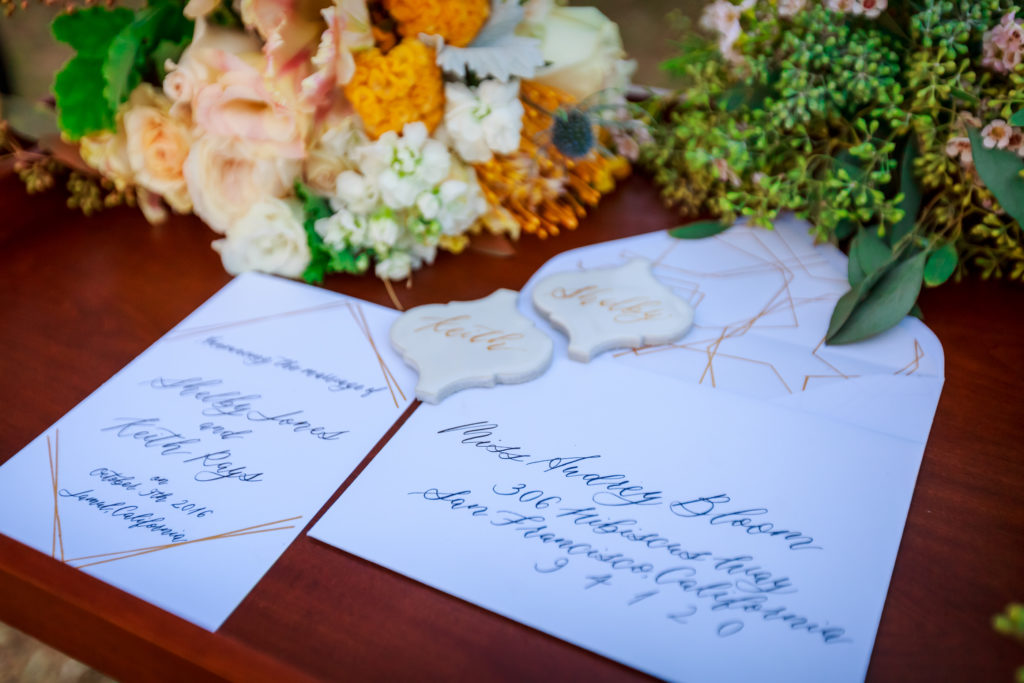 As their mentor, I am so proud of what they have learned and accomplished this season! This styled shoot is months of brainstorming, planning, and work. Congratulations on the amazing outcome ladies!!!
Photo Credit: Aaron and Samantha Wedding Photography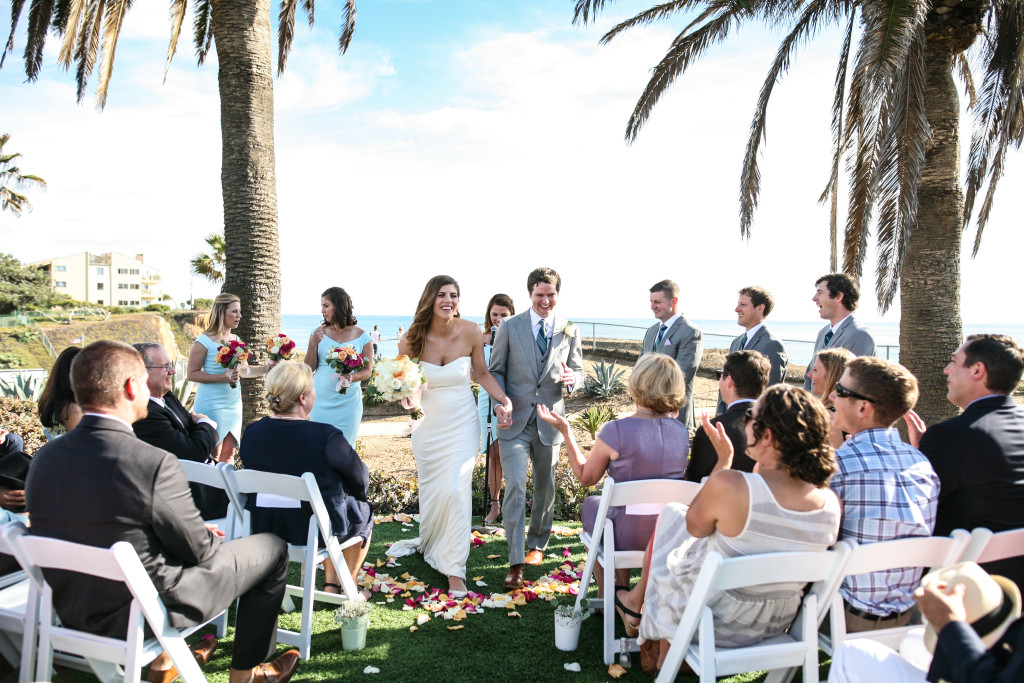 I knew the groom by his actual first name, David. But on the wedding day, surrounded by so many family members and friends, I soon realized that he doesn't go by that name at all! Instead, they call him Wave. So this photo, just seams so fitting! I think he's looking up on his phone how to fold a pocket square. I'm pretty sure I get asked from every groom and groomsman how to do this at every wedding I do! haha!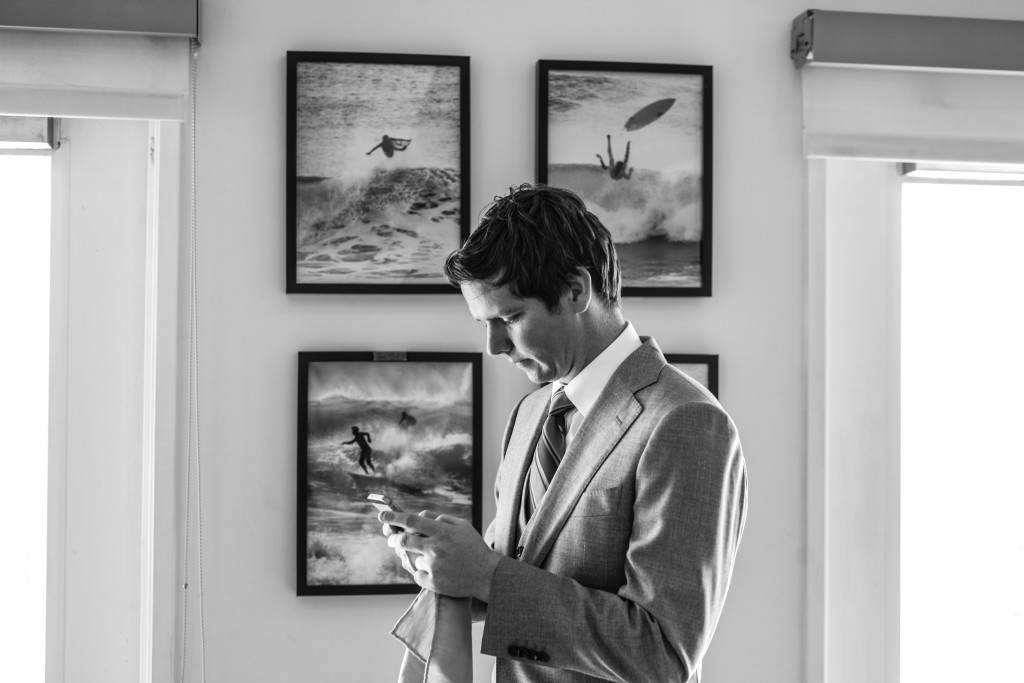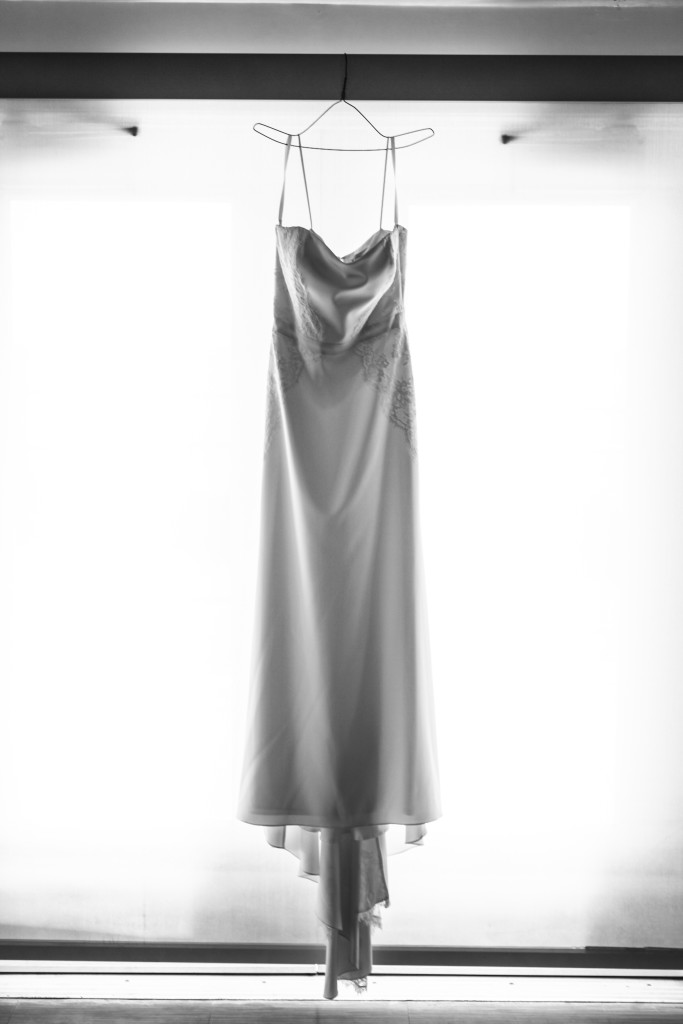 The Ceremony took place at Fletcher Cove community center in Solana Beach, CA. Not only did the couple used to live just up the street, but the beach was popular site for many of their dates from the beginning stages of their relationship! And Wave, the groom, let me know that he surfs at a spot just around the corner! For their families and childhood friends coming to see them for the first time in San Diego, this was the perfect wedding to show them all their favorite spots and give their guests a glimpse of their fun local life that they've built together!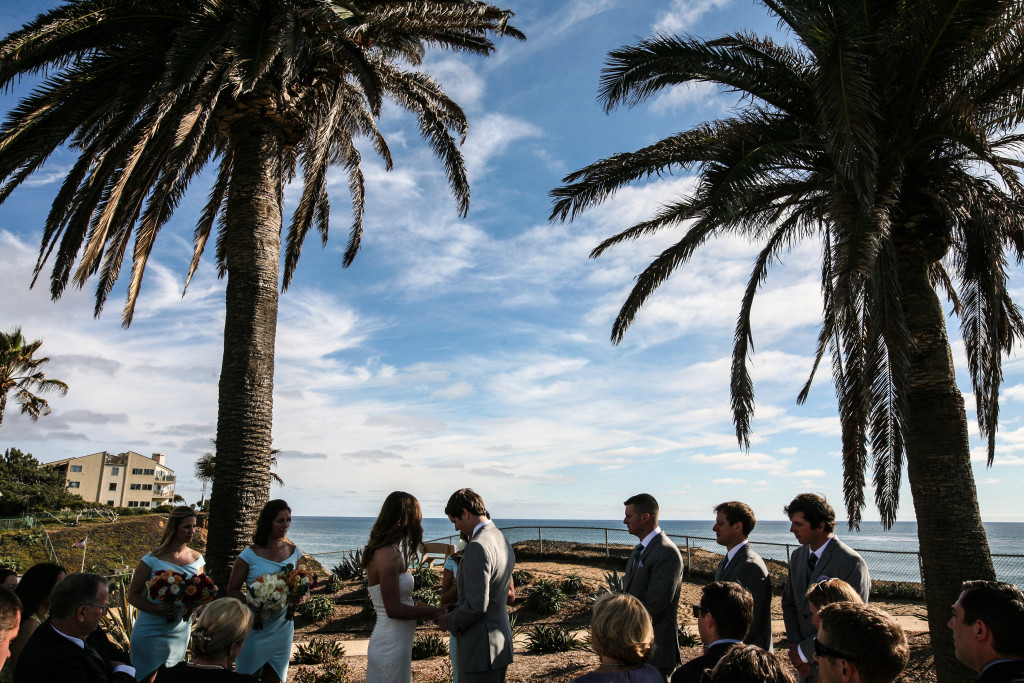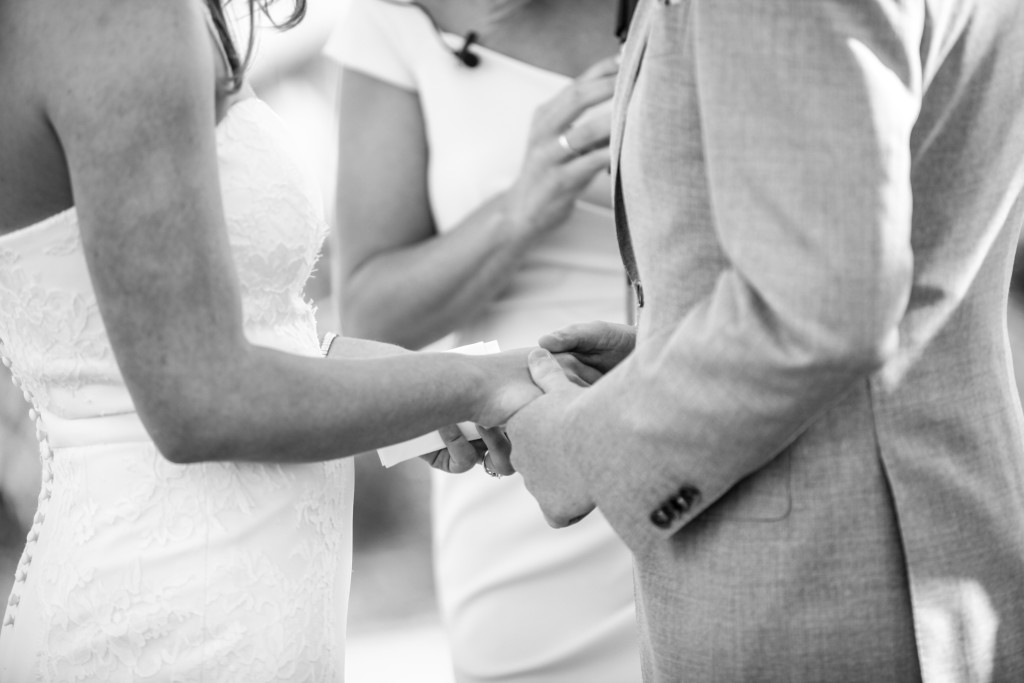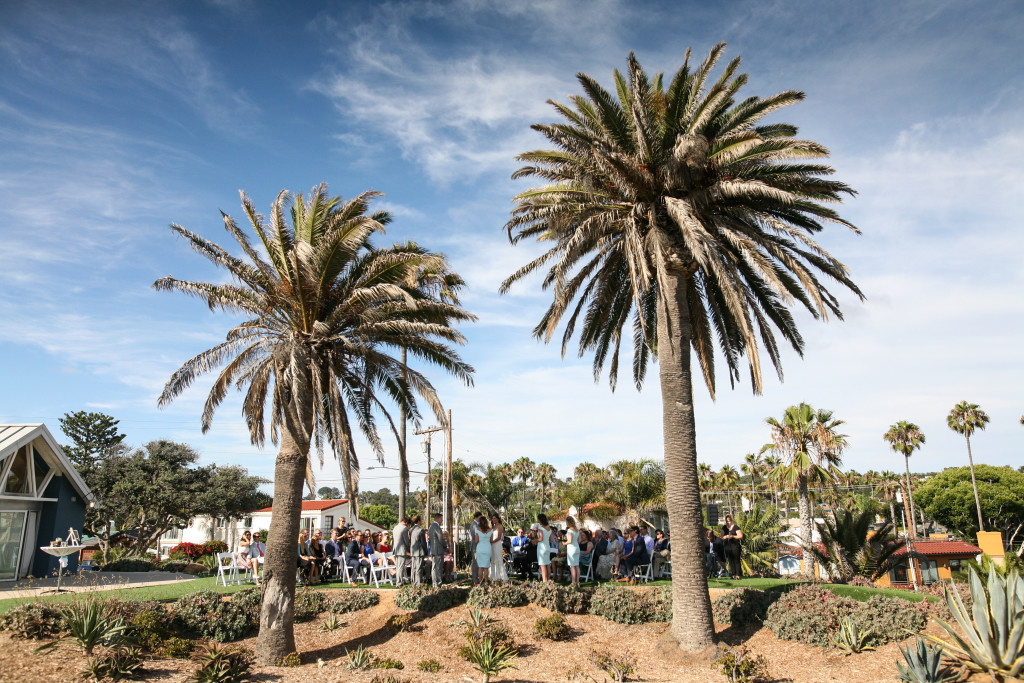 It was a challenge to get the petals to stay on the ground because of the wind, but we did it! The Bride and Groom got to stand in the heart to seal their love to each other!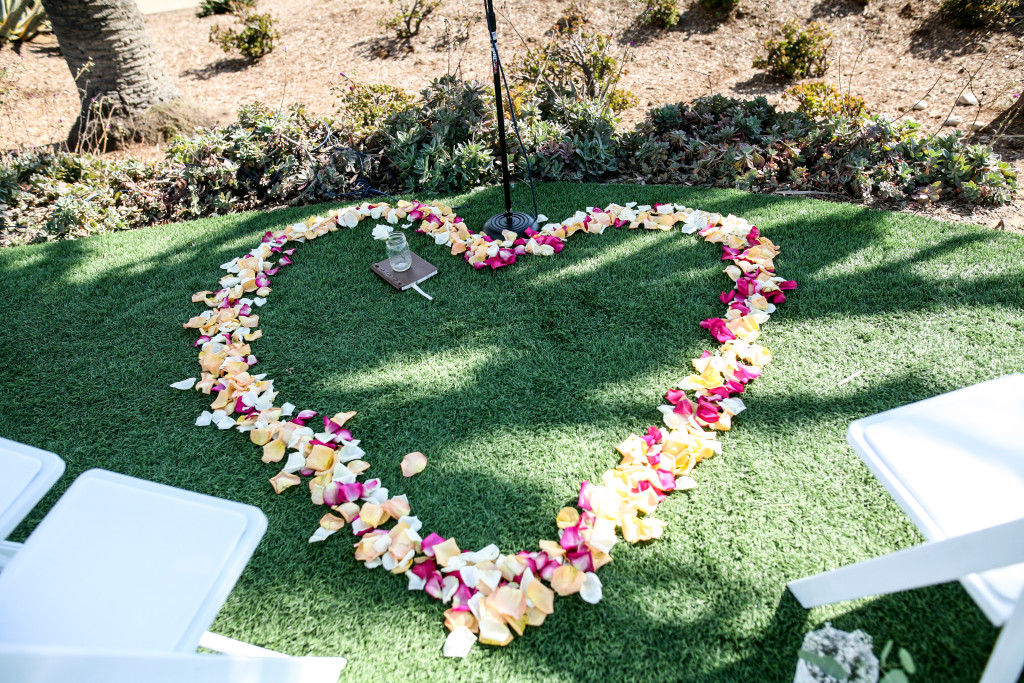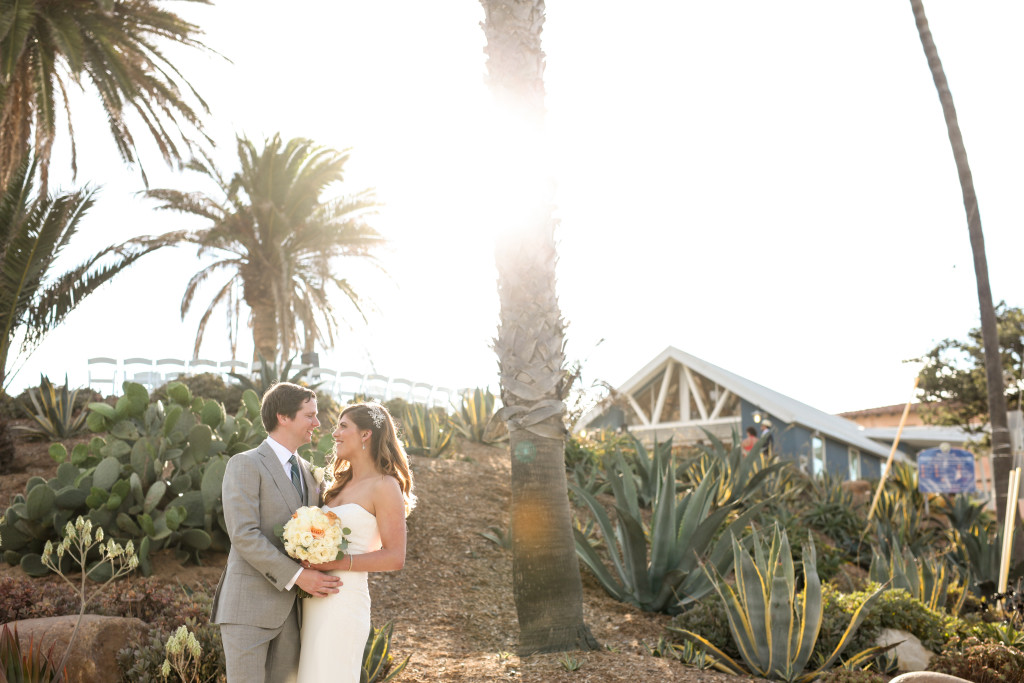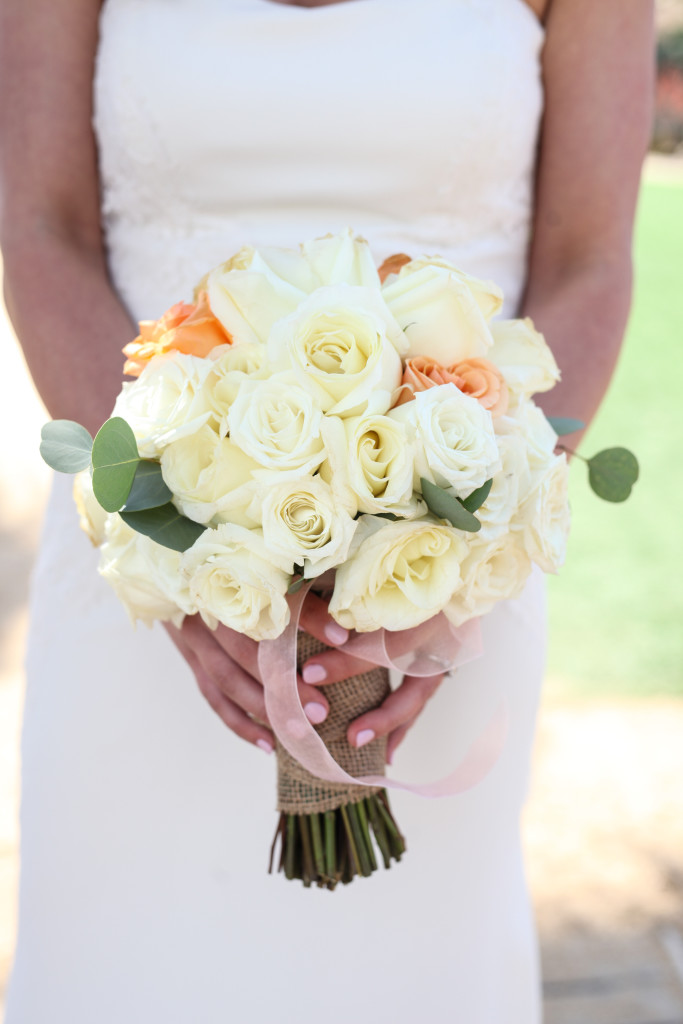 These homemade Limoncello Favors were a #1 hit with all the guests! So easy and so fun!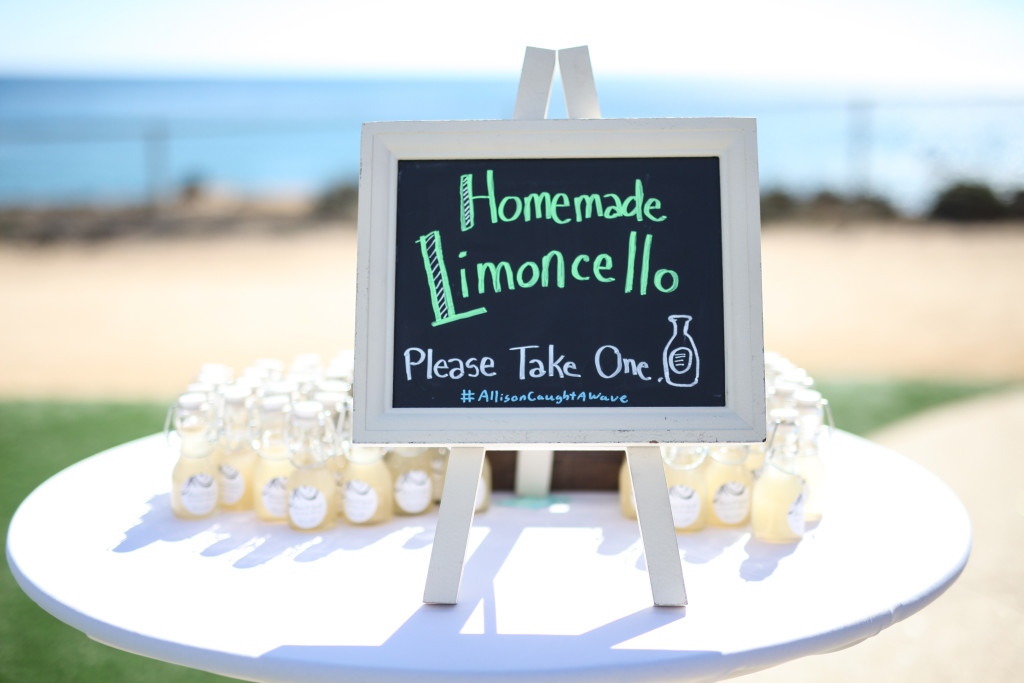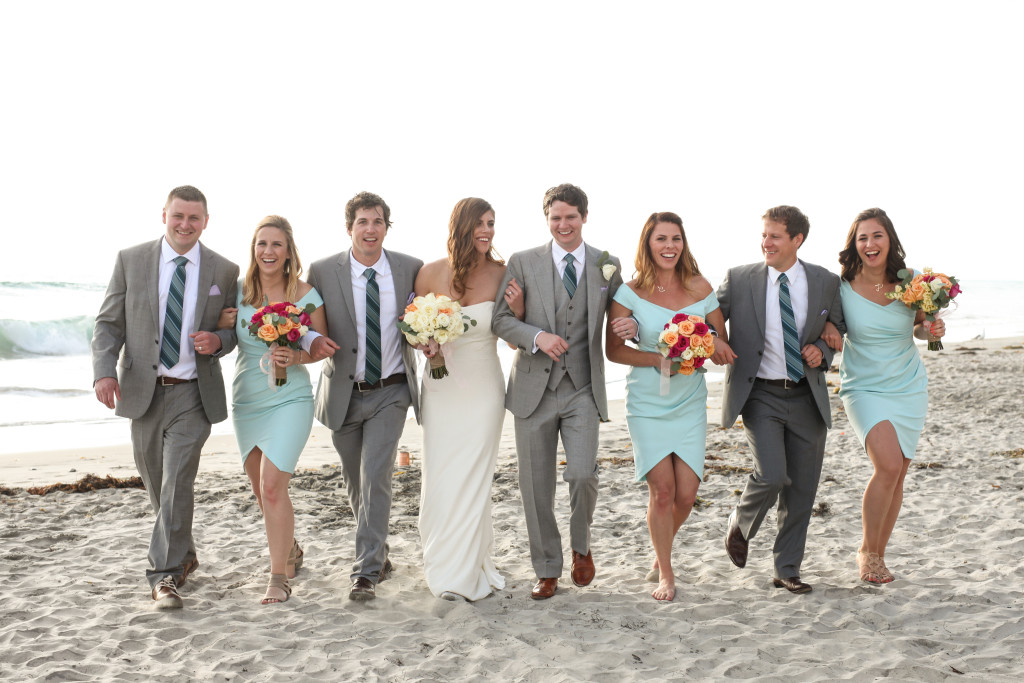 Dinner and the reception continued at the couple's favorite local restaurant/bar, Wine Steals in Cardiff. They got to share all the best things about their life together with the 65 guests who came to their wedding. By the end of the evening, I knew everything about the couple, from what beach they surf at to the bar they go to, and their favorite deserts.
The best part, is that the bar has a reward card, and applied every dollar that they spent on their food/beverages for their wedding guests toward reward points that the couple now gets to use on their weekly outings to Wine Steals for trivia nights! They practically get to eat and drink for free for a good long while!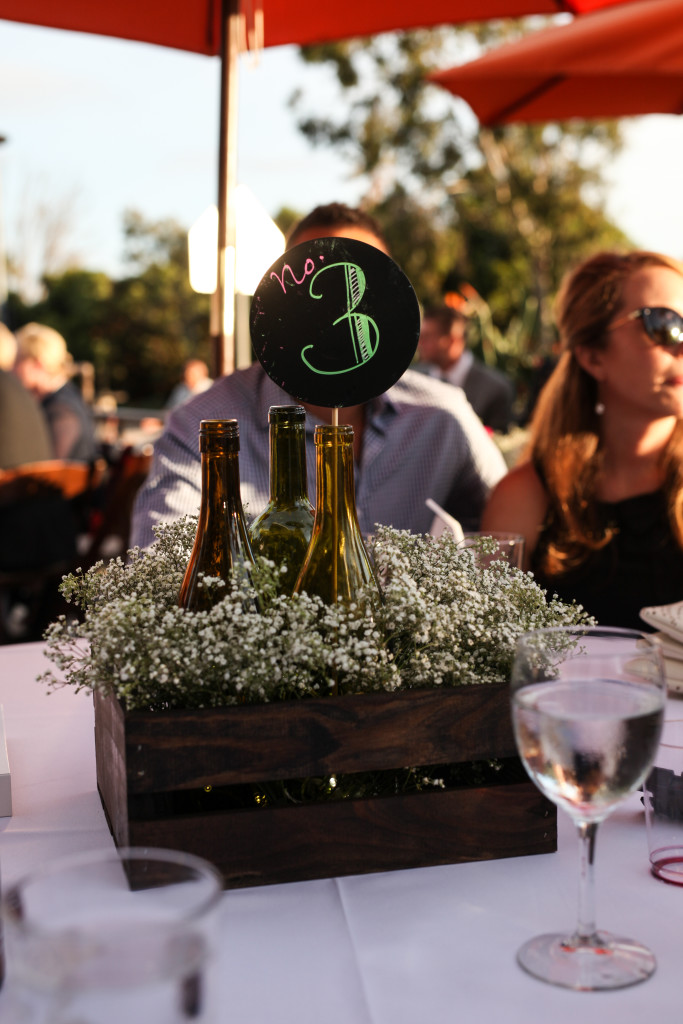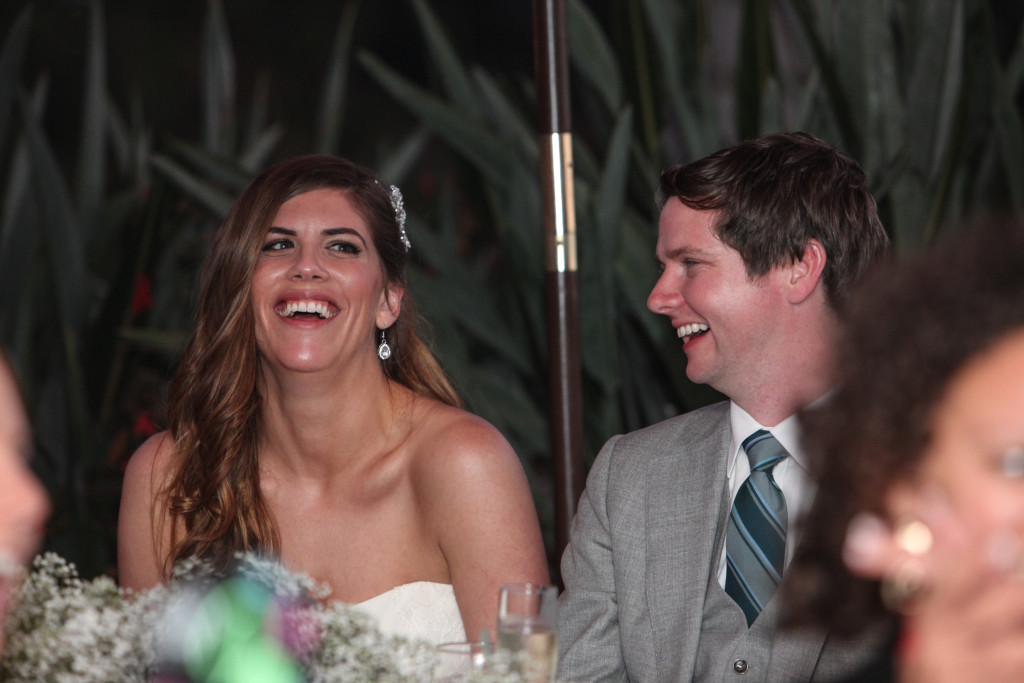 And I'll never forget the awesome Karaoke that Allison and Wave did to kick off the super fun evening: Drunk in Love by Beyoncé and Jay-Z! It was down right epic!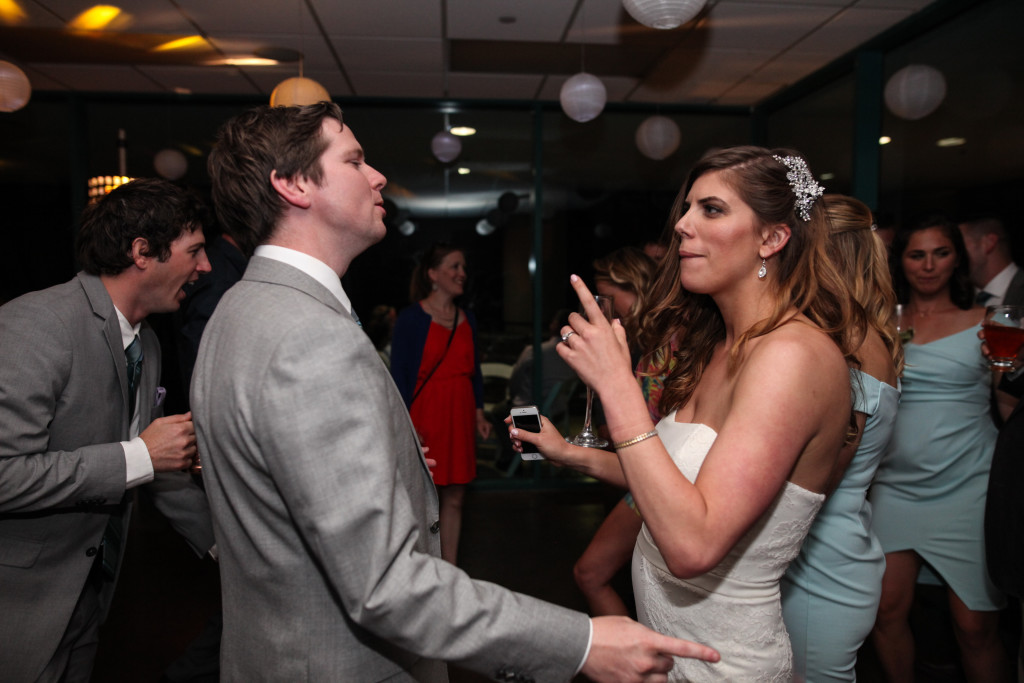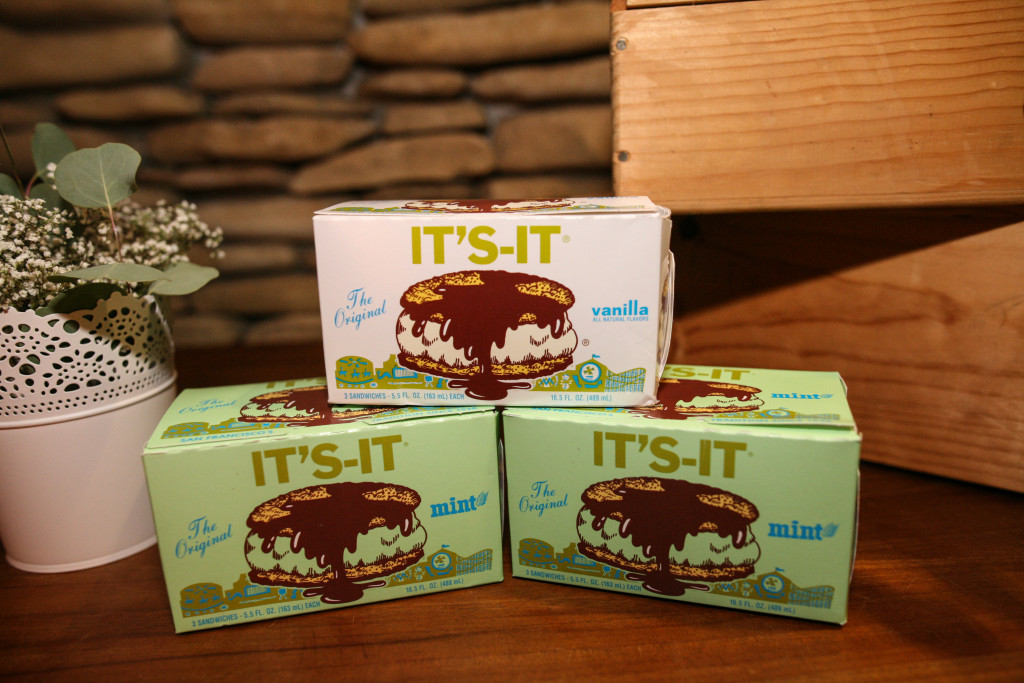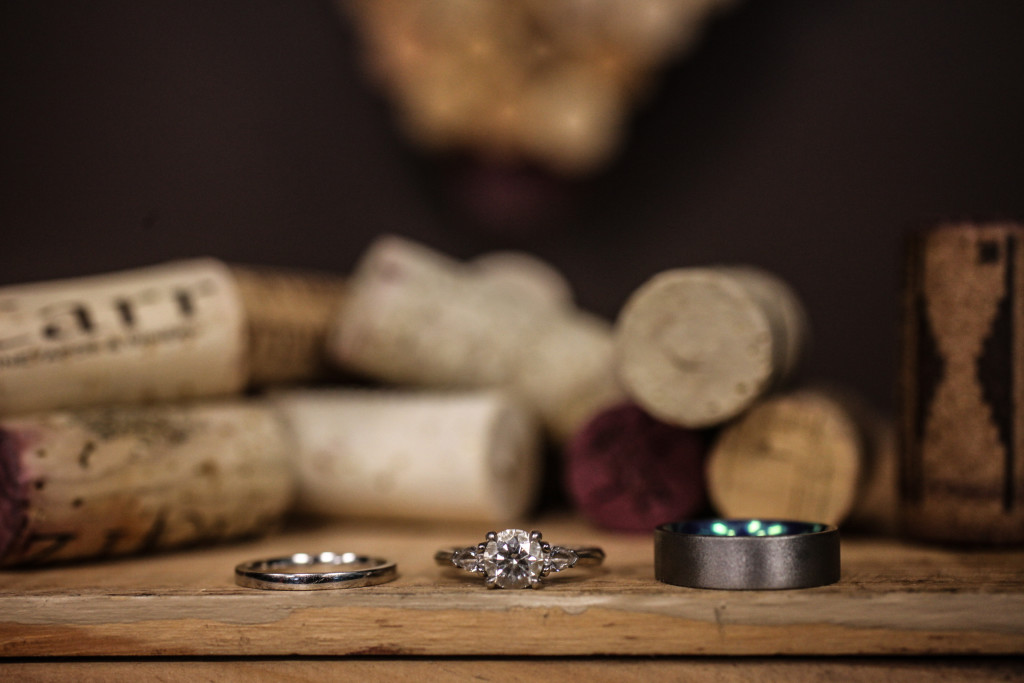 Overall, mostly everything they incorporated was DIY'd. The bouquets were made by the Bride and bridesmaids. They signs they made themselves as well. The centerpieces and ceremony flowers were given to me that morning, and I quickly put them together. Since there were only 6 tables and super simple elements, I didn't mind at all! However, a site note to DIY'ers, Baby's breath is not as easy as just throwing it into a vase or jar! If you want the big rounded look that you see on most blogs, there is a technique to it, so do a few test runs and give yourself plenty of time to get it done! Since baby's breath comes in so many layers and heights all in one bunch, if you just shove it into the jar, it will look funny.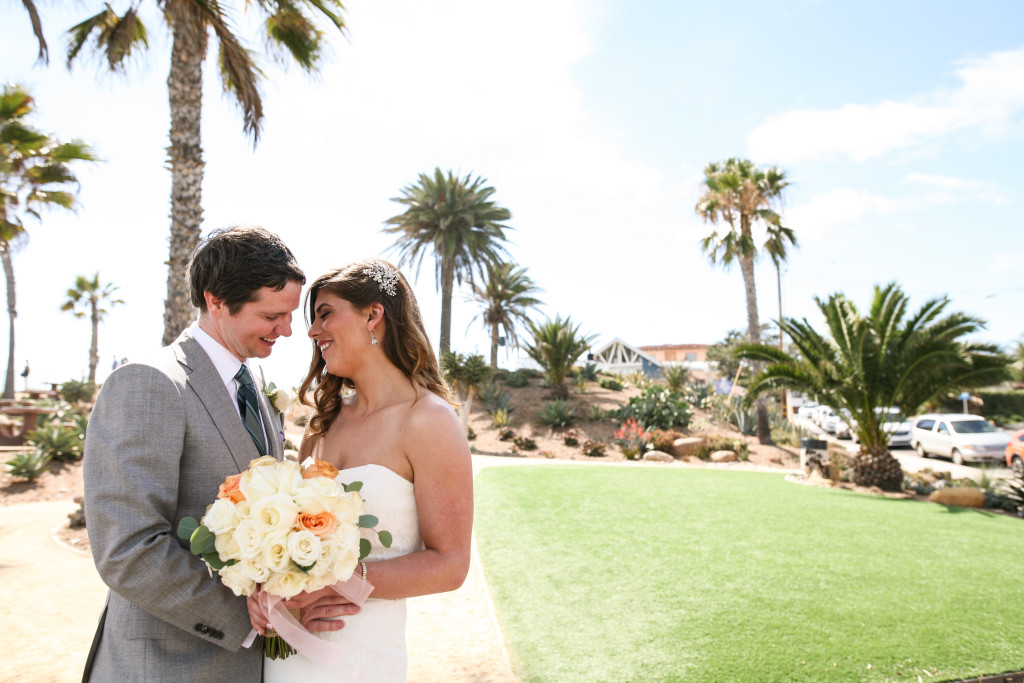 Happy Planning!
Juliette
So last week I showed you part one of Beth and Andrew's beauty and the beast inspired wedding. So here is part two!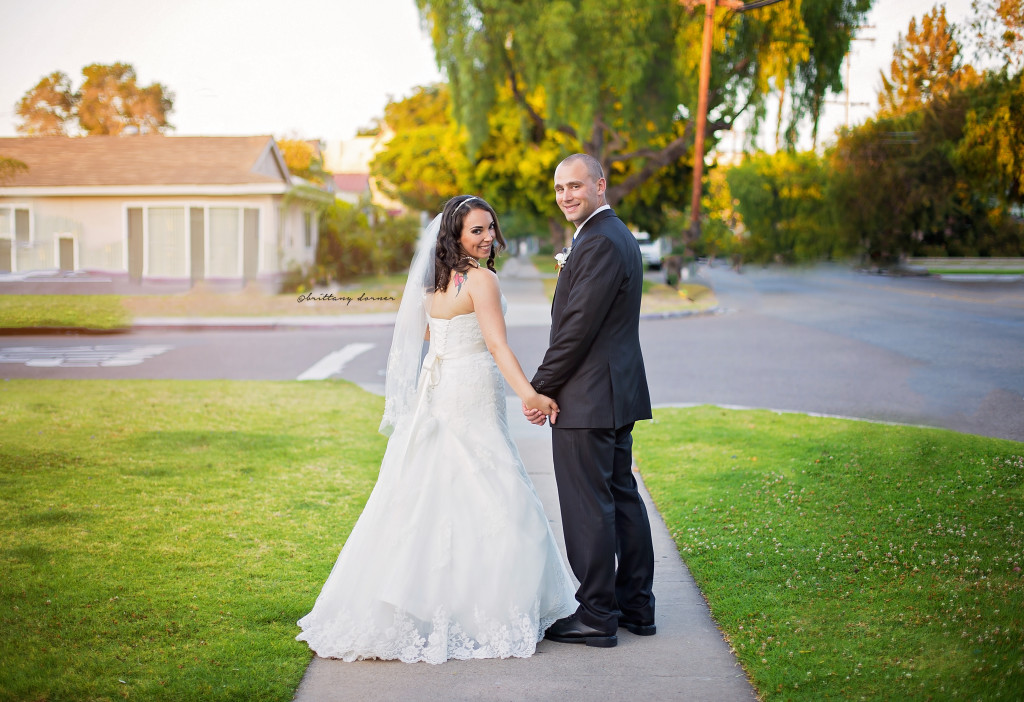 The Bride had a great vision for her bouquet! She wanted to carry it in a basket, just like Bell in the beginning of Disney cartoon. I love this look, it's beautiful, simple, yet so unexpected! And this wasn't the only great idea that she had for her bouquet. She wanted to be able to share it with the very special women in her life. So this basket actually held 6 different mini bouquets, one for each of the women in attendance whom she treasured. Since it was such a small and intimate affair, she opted out of a bouquet toss, and instead took the time to share a piece of her bouquet with them and acknowledge her gratitude for their support and love throughout her life. The flowers were created by the oh, so, talented San Diego Floral Design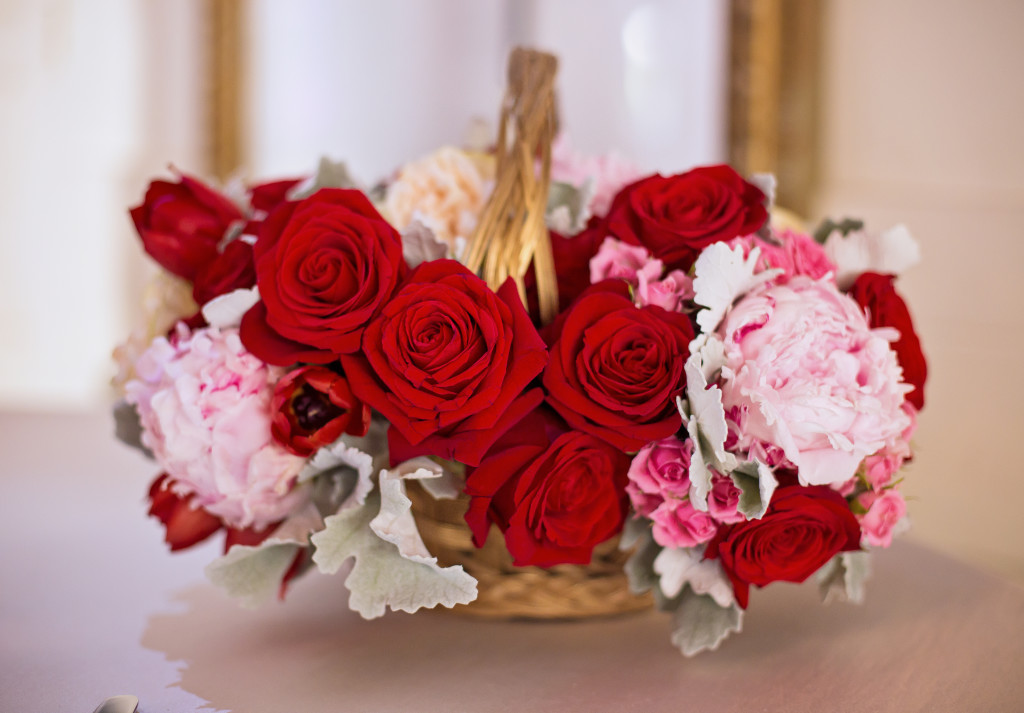 Keeping with the Beauty and the Beast essence, Red Roses were a must. The Bride DIY'd this amazing floating rose for their sweethearts table.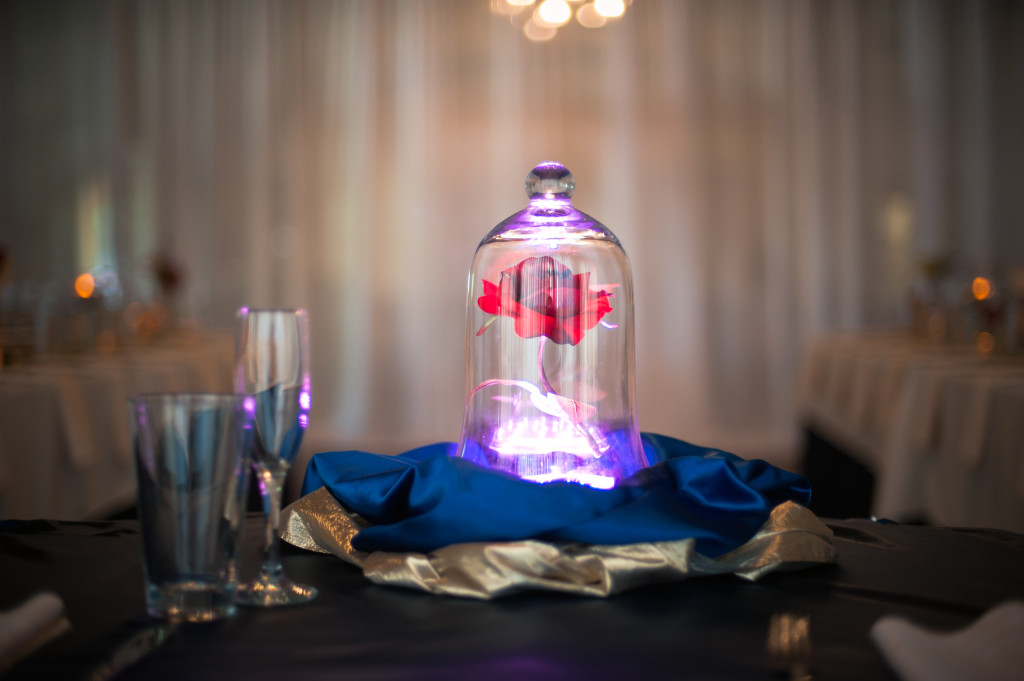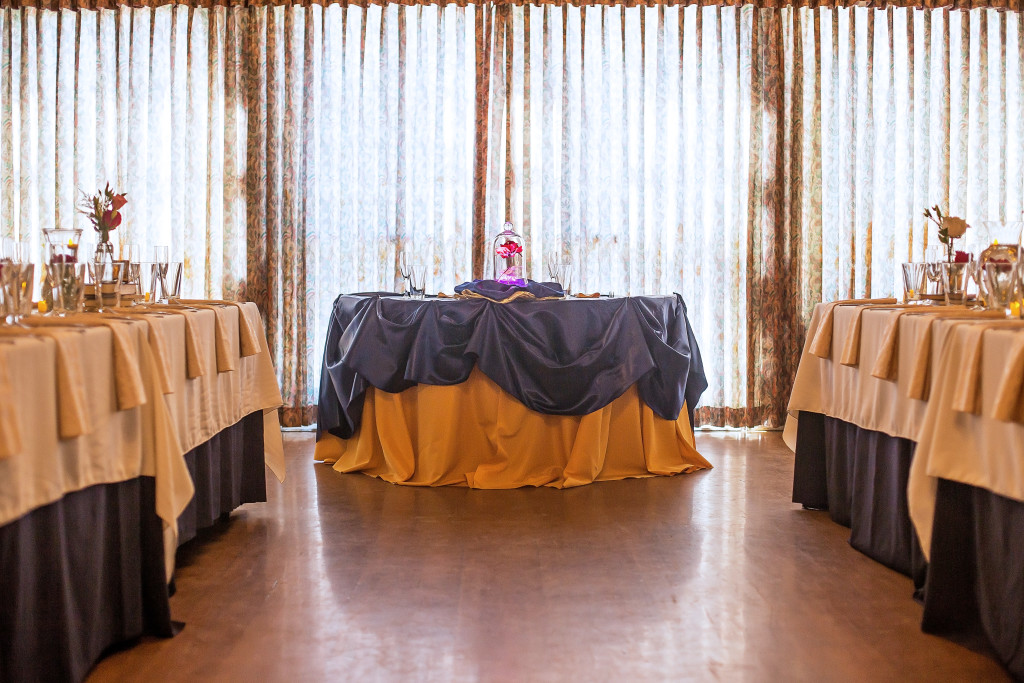 Not only was it important to have red roses, she also wanted flowers that looked like they were picked straight from the french countryside to decorate the tables. Knowing that I had to marry the two looks together (pardon the pun), I picked up a bundle of red roses on my way to the venue, brought some mini but vases from home, and added tiny pops of red to the tables. This tied everything together, and the outcome was exactly what the bride didn't even know that she wanted!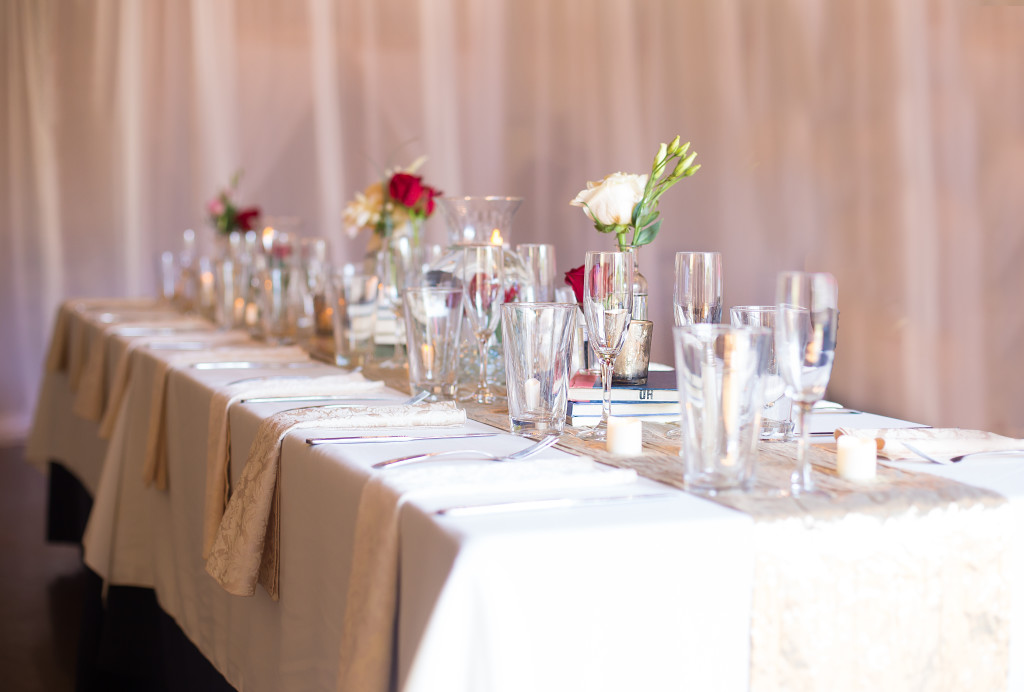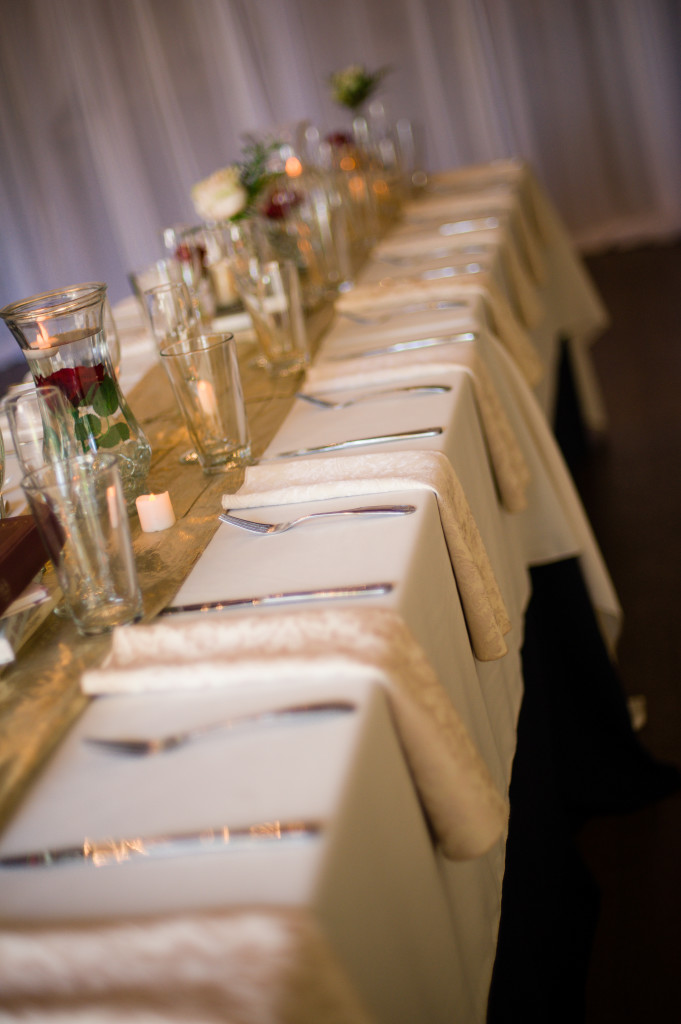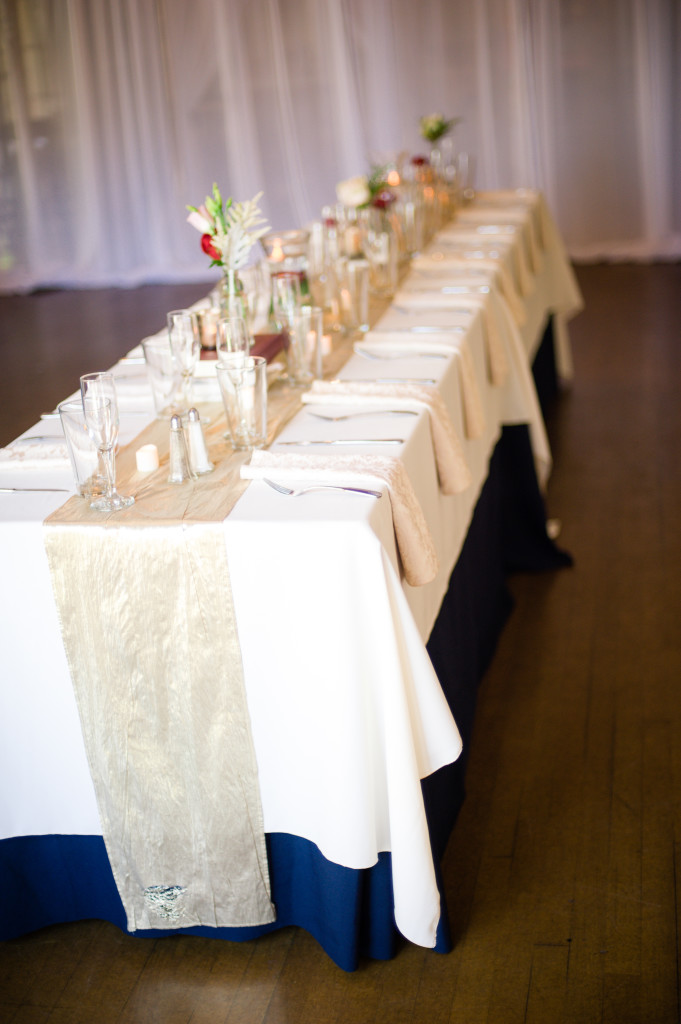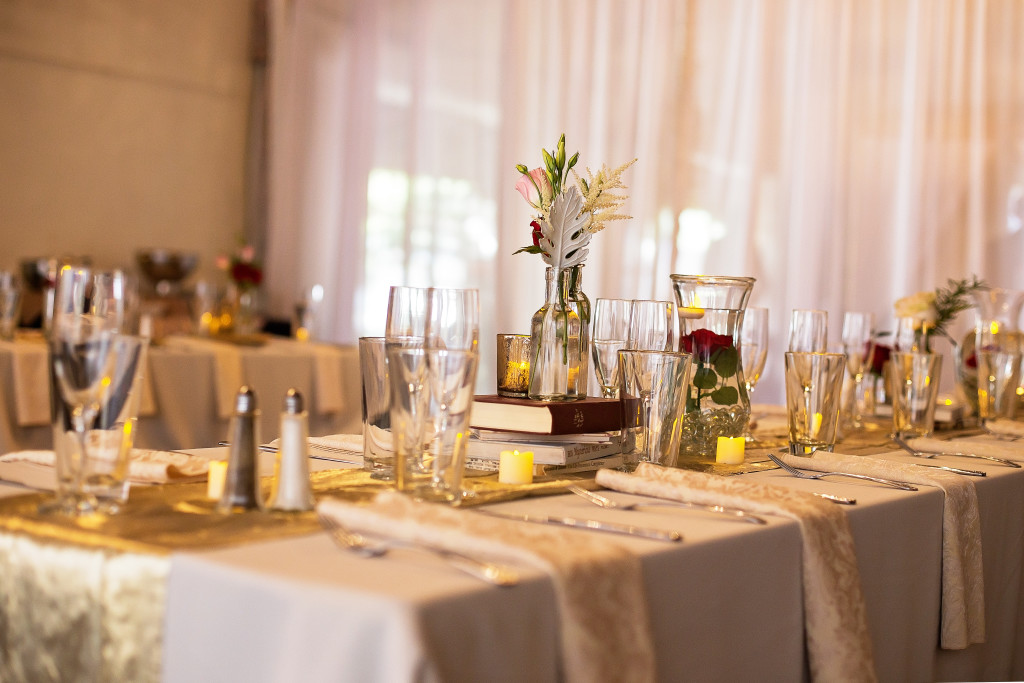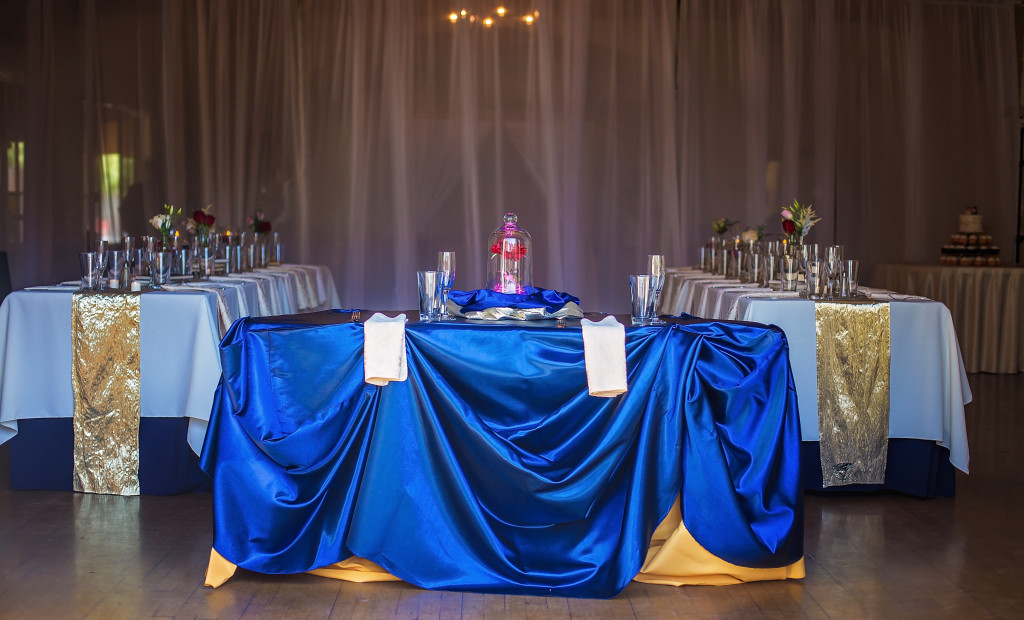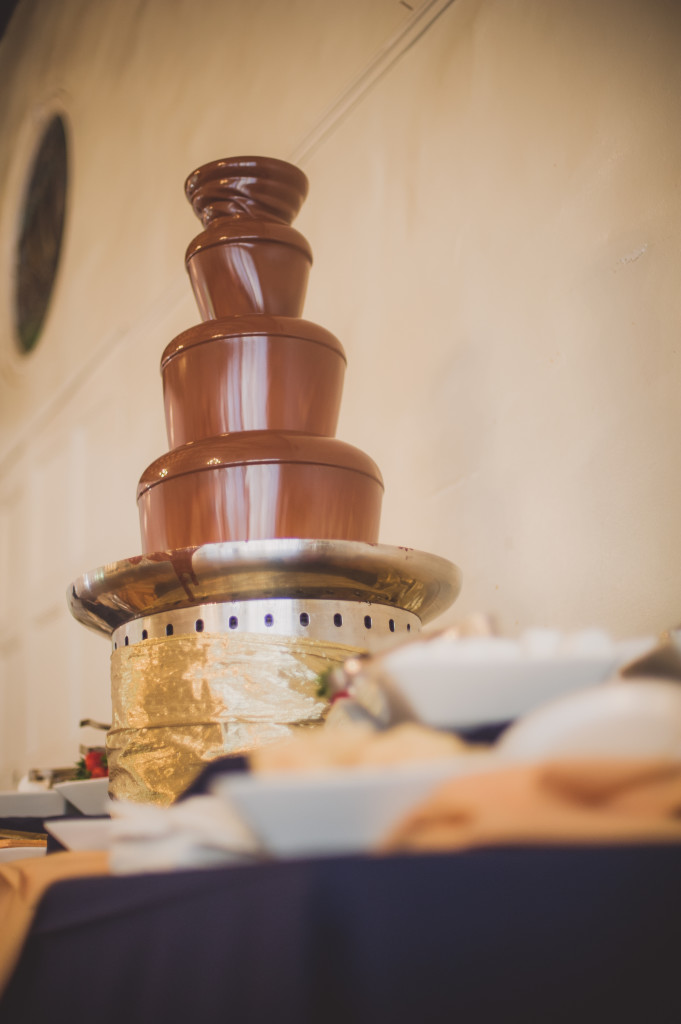 Splitting one large room in half can be tricky, especially when you still need the whole space after the ceremony is over. We came up with the idea to add pipe and drape directly in the middle of the space. We couldn't break it down during the short cocktail hour, when the guests would be outside, so instead we split it in the middle and created a pulled curtain look allowing the guests to see into the "ceremony" half where the dancing would take place later that evening. This mimicked the arch that the couple built together to use as their ceremony arch. (you can see the photos here: http://simplyelegantweddingplanning.com/beauty-and-the-beast-wedding_part1/)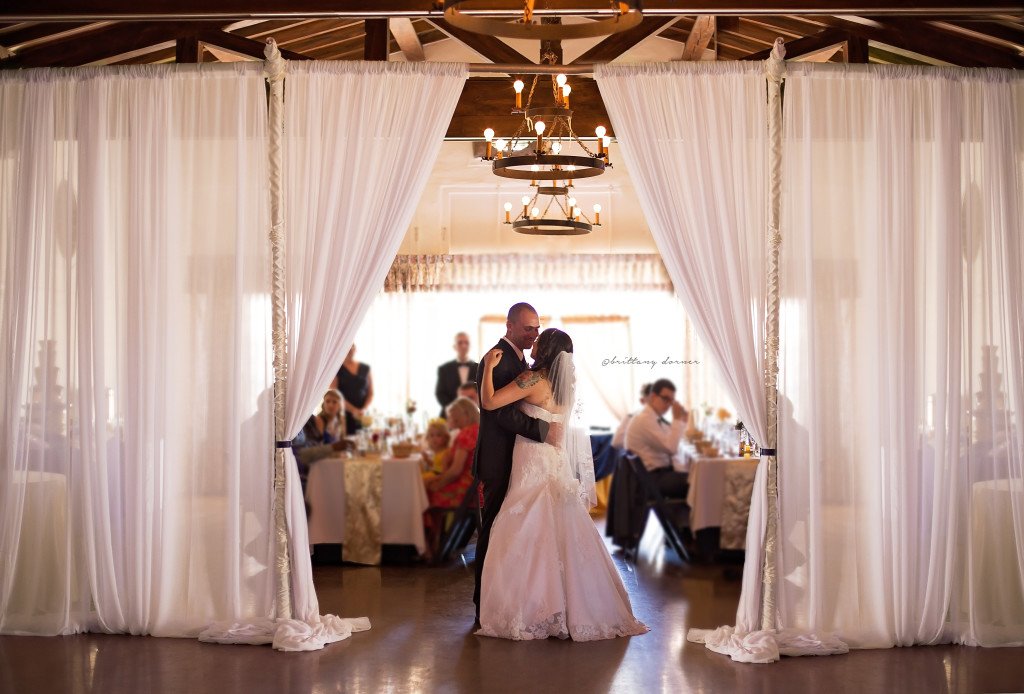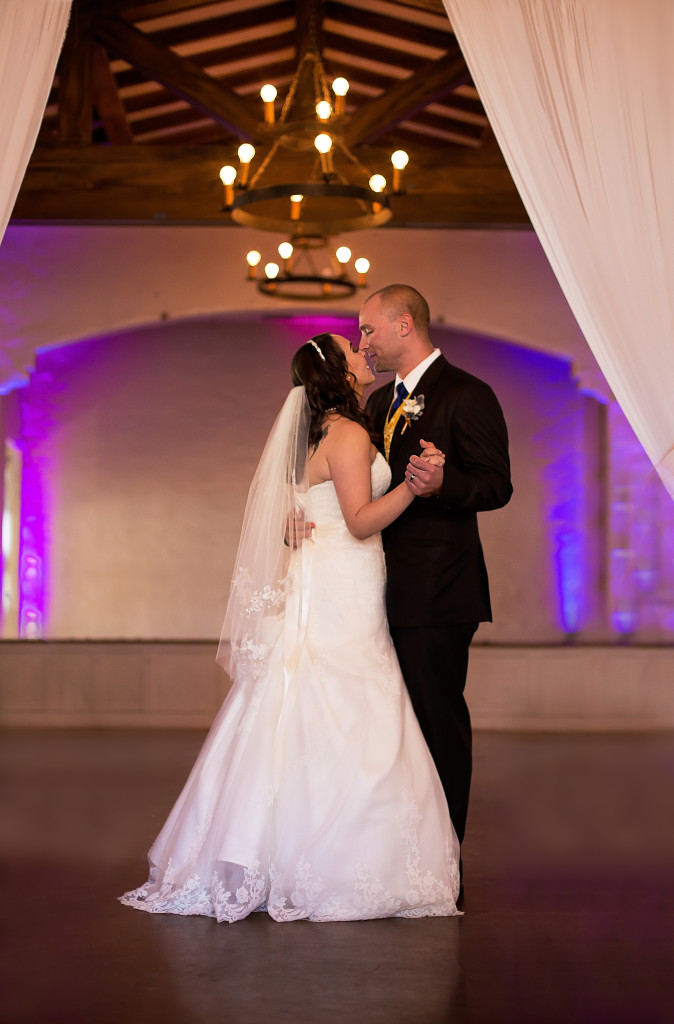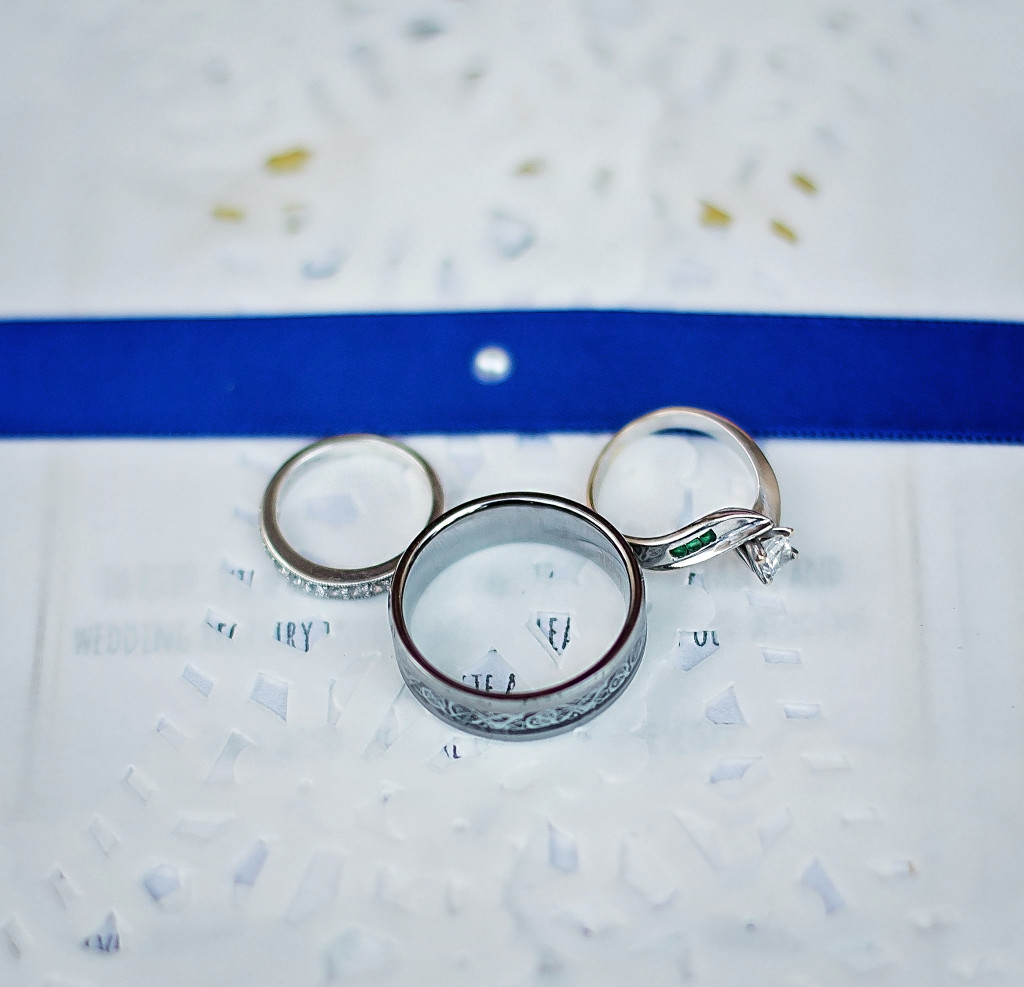 Vendors Credits:
Photography: Brittany Dorner Photography
Flowers: San Diego Floral Design
Invitations: DIY by the couple
Design/Planning: Simply Elegant Weddings
Linens/Catering: Ranch Events
Venue: Chula Vista Women's Club
Uplighting/DJ: HVK Entertainment
Happy Planning!
-Juliette
I remember the very first email I ever received from Beth! Her bubbly voice shined though the computer, and I knew this was going to be an amazingly fun couple to work with. However, I was definitely hesitant when I kept reading and realized she wanted a Disney inspired, totally princess-ed out wedding! If you know me well enough, you know that this is pretty much the opposite of my personality, and even though I can appreciate a good cry from a rom-com marathon, and I always get sappy during toasts and first dances during weddings, the Disney fairytale has just never hooked my heart. At least not the same way that it had with Beth! But I reserved judgement, and went to meet her with an open mind! Thank goodness I did! She made me a believer. And once she told me that she wanted it to be inspired by Disney, and not a literal Disney take over, I knew I had to help her and Andrew pull it off!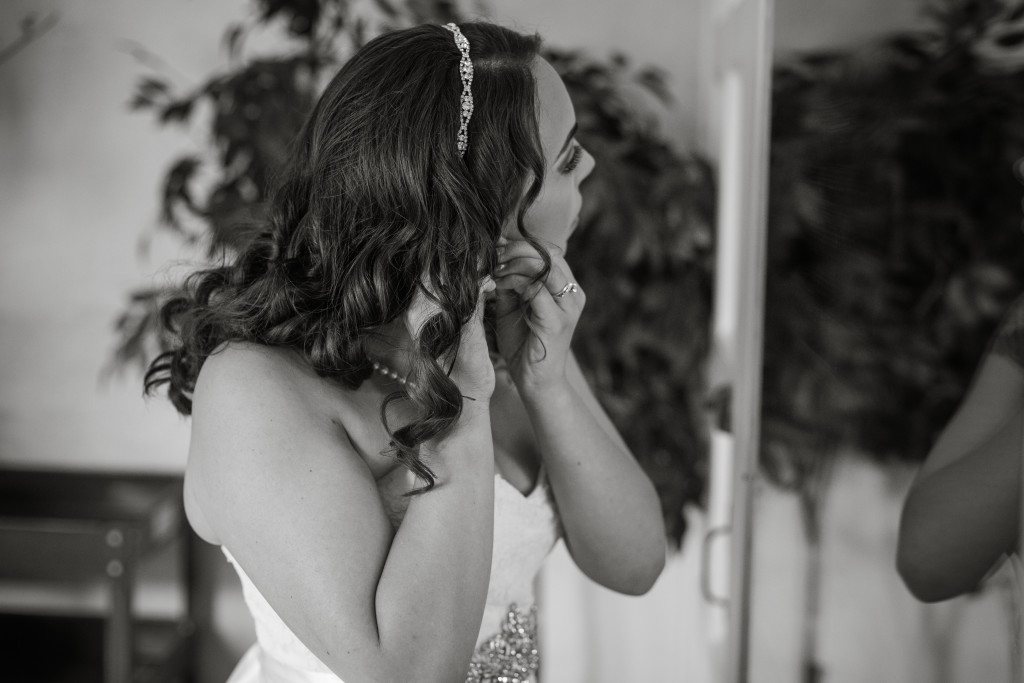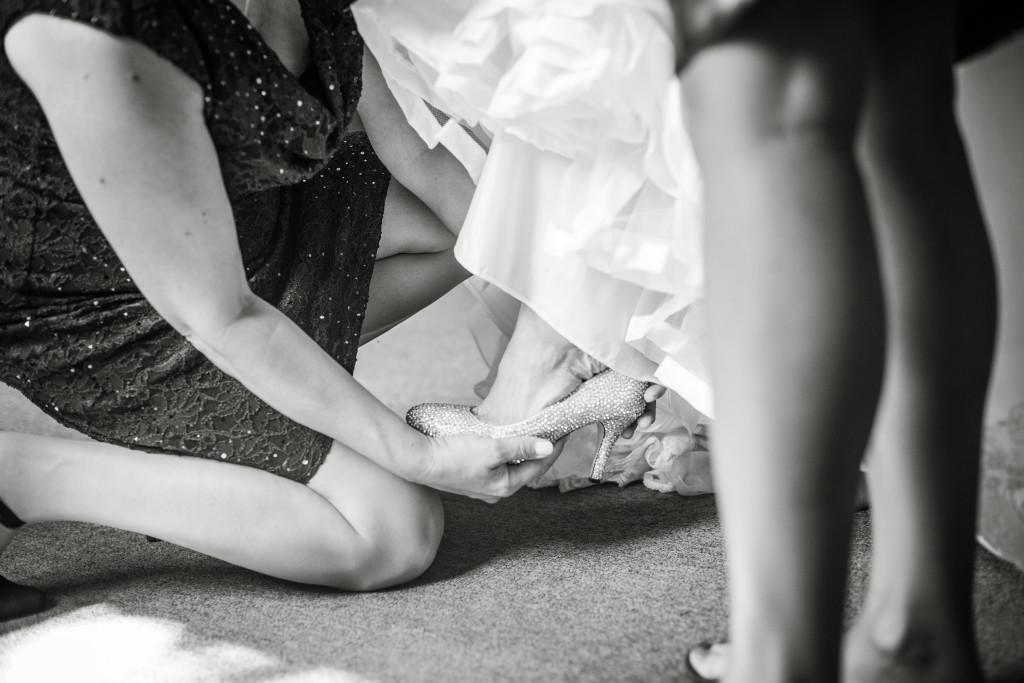 Complete with the most b-dazzled cinderella shoes I've ever seen! Enjoy scrolling through these beautiful images by Brittany Dorner Photography.  There is lots of wedding inspiration to be had, and most of the decor was DIY'd by the adorable Bride and Groom.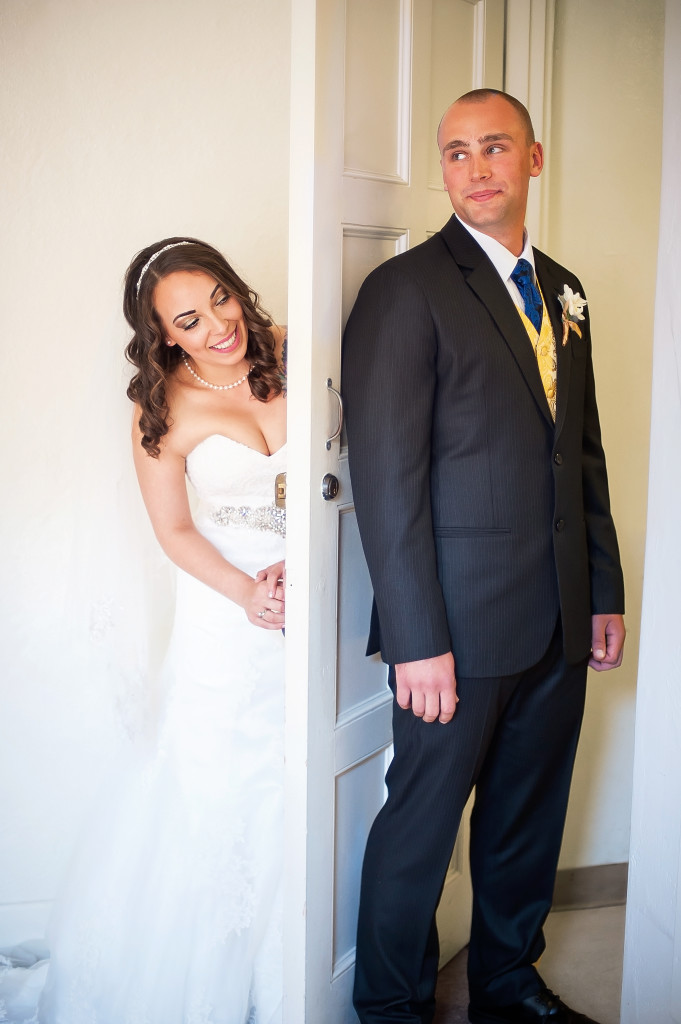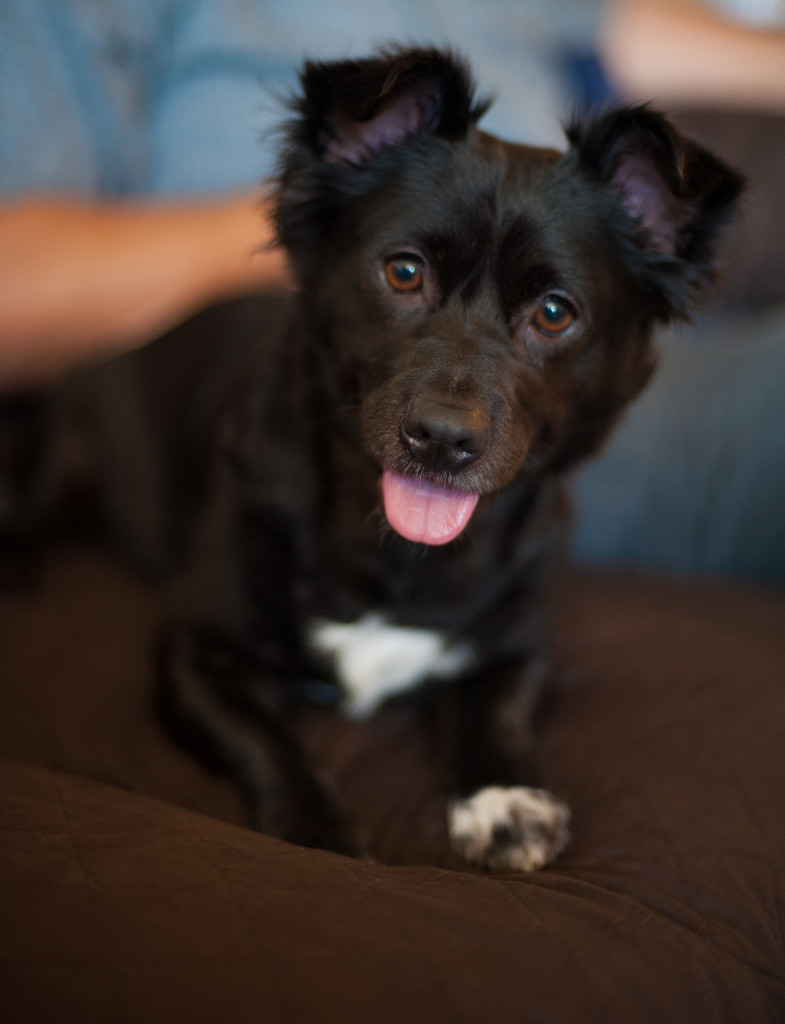 Oren, the couple's fur baby was involved in nearly the whole day! He had to the high responsibility of being their doggy ring bearer. And even got a special dance with his mommy later in the evening before his bed time! My team did not mind playing babysitter to this adorable little guy! #thatface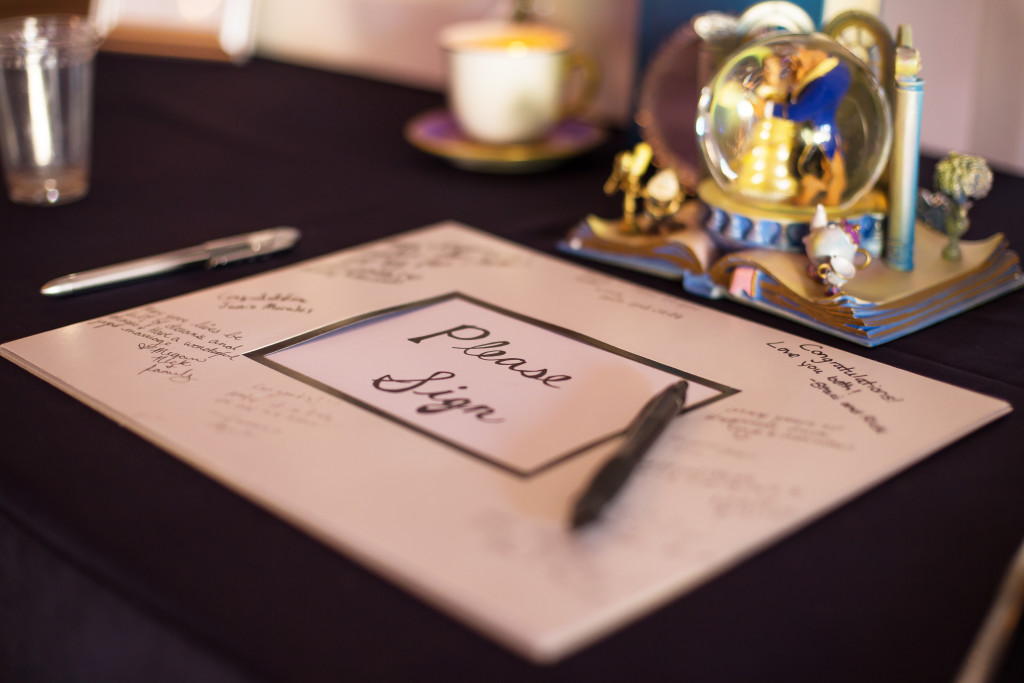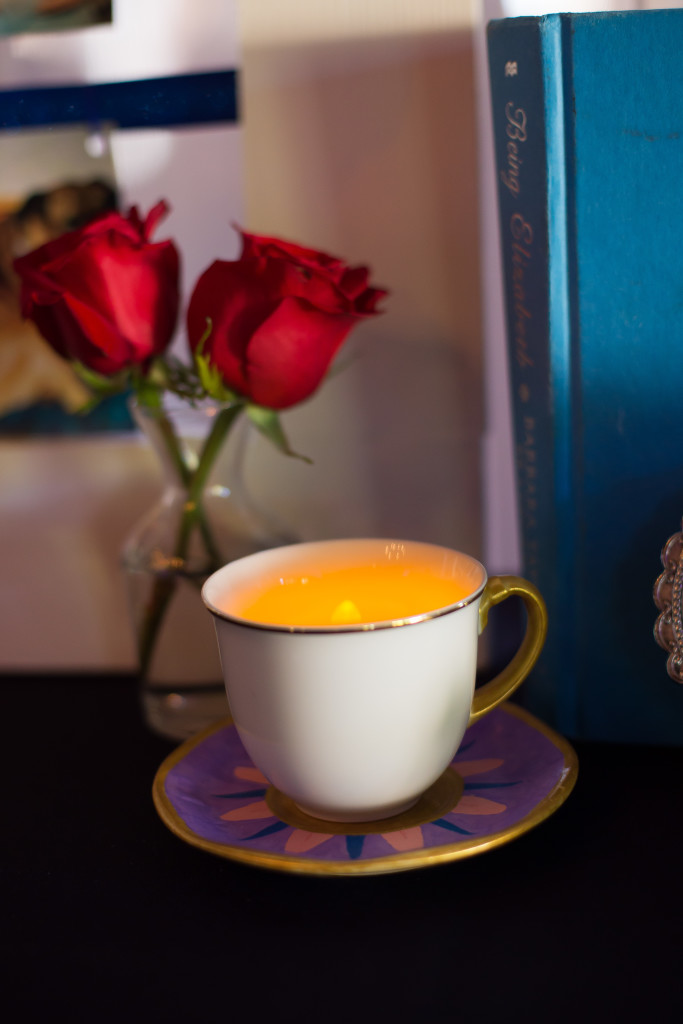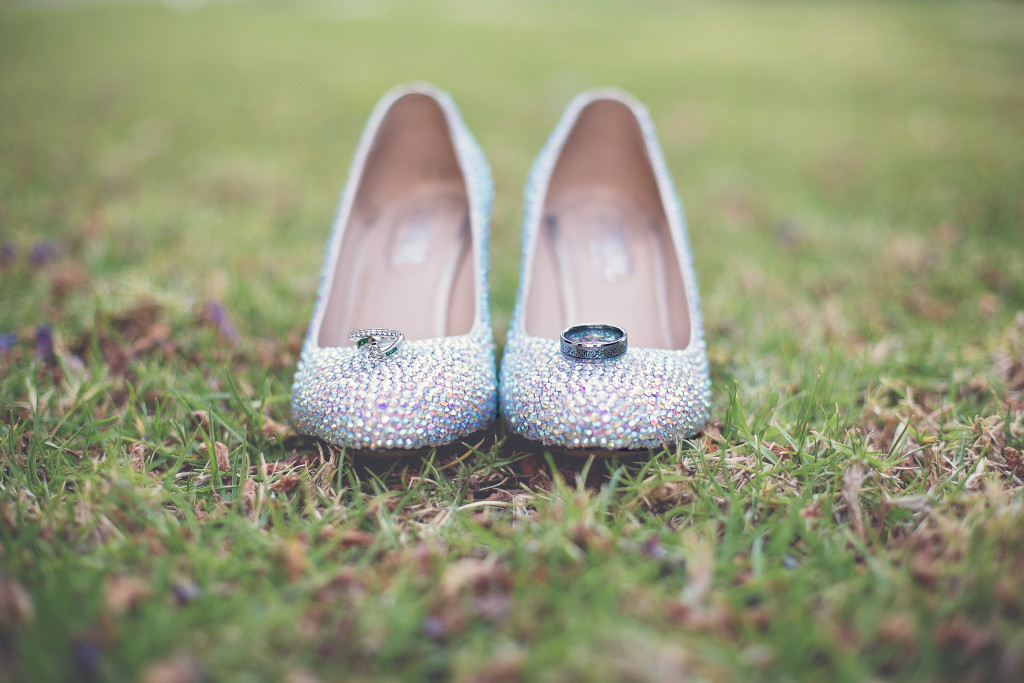 Staying true to what Bell would do, Beth thought to have her bouquet in basket. As if it were all picked fresh from her french country garden! The thing weighed a ton, but goodness it was stunning! She even had the bouquet tied as several smaller bouquets, and instead of doing the traditional bouquet toss, she took the smaller tied bouquets and gave them to the important women in her life! Everyone was so surprised, and it was such a touching moment to see the bride recognize each of the women whom she looks up to and admires! The flowers were done by San Diego Floral Design, with some added touches by Simply Elegant Weddings to help the whole look tie together. We make a great team!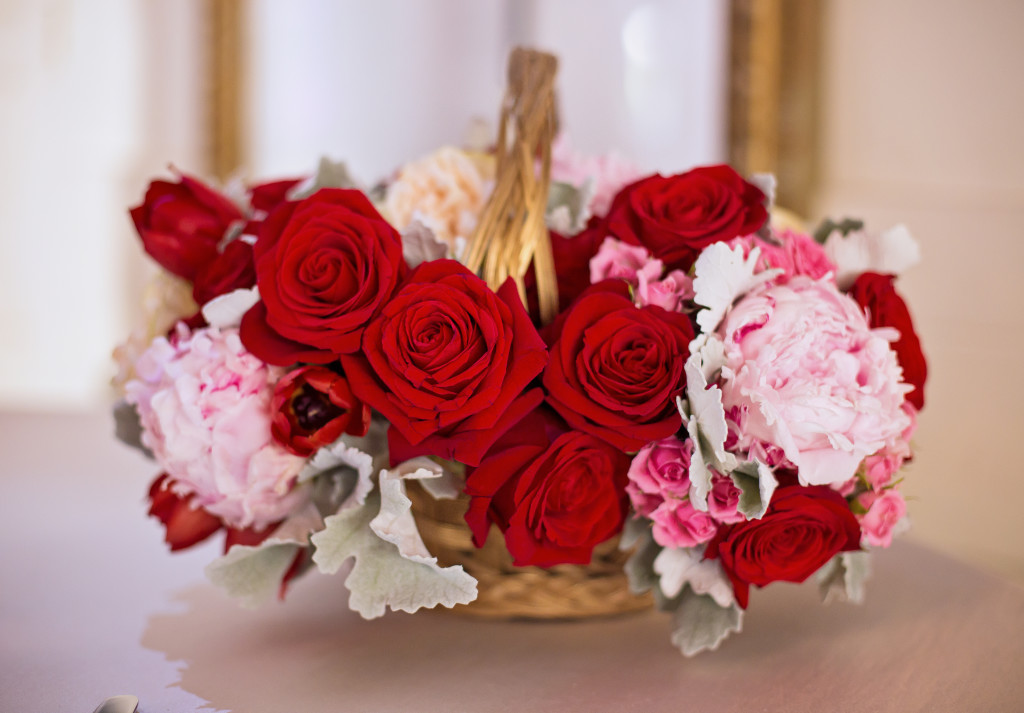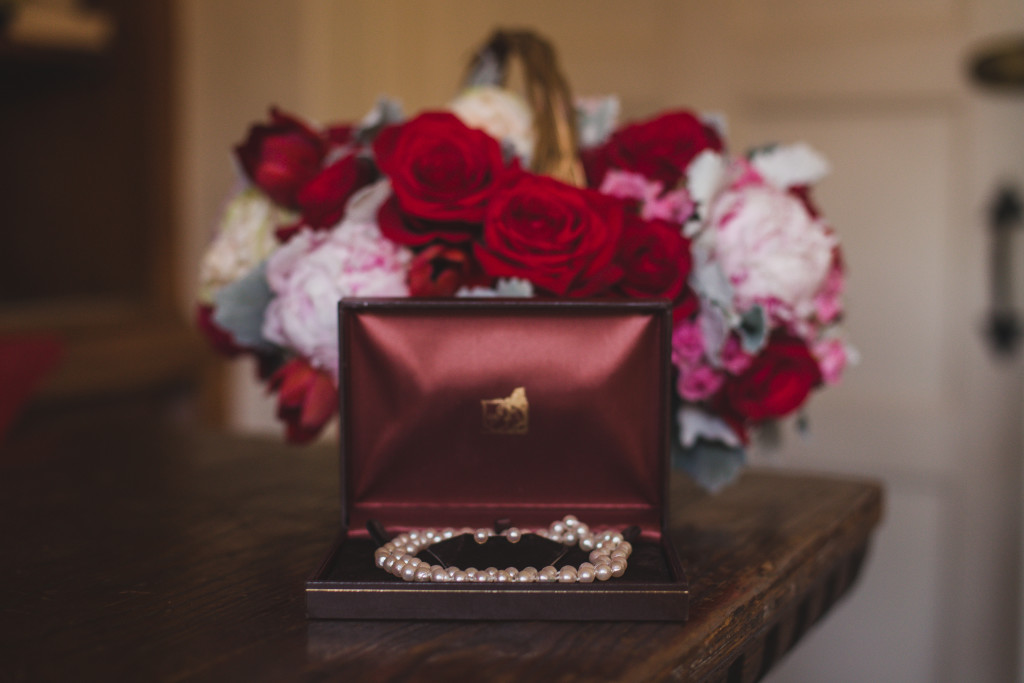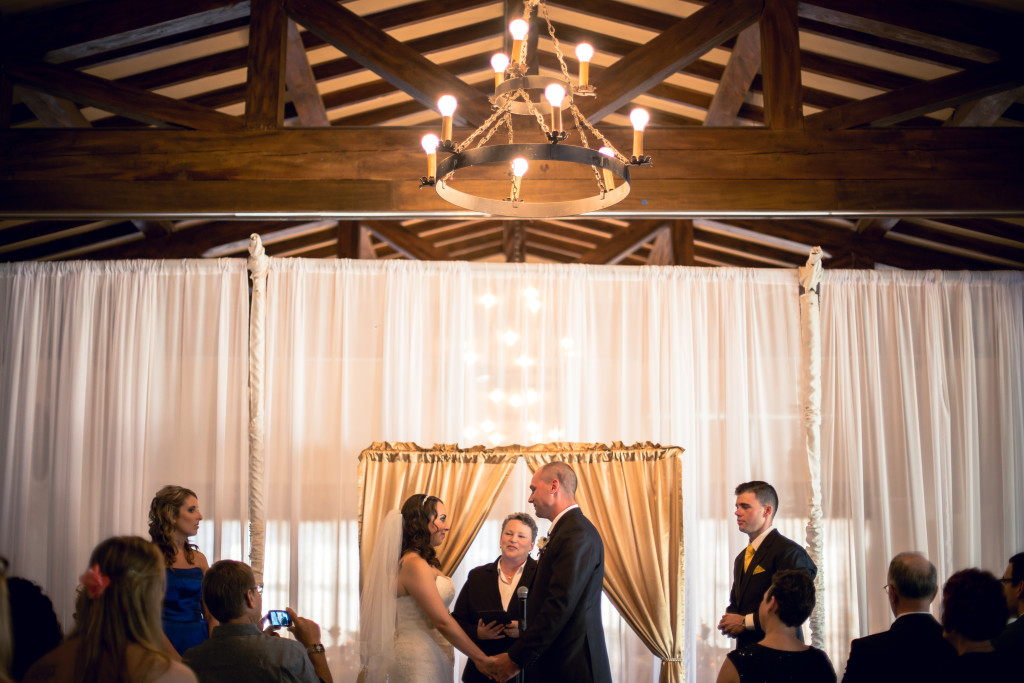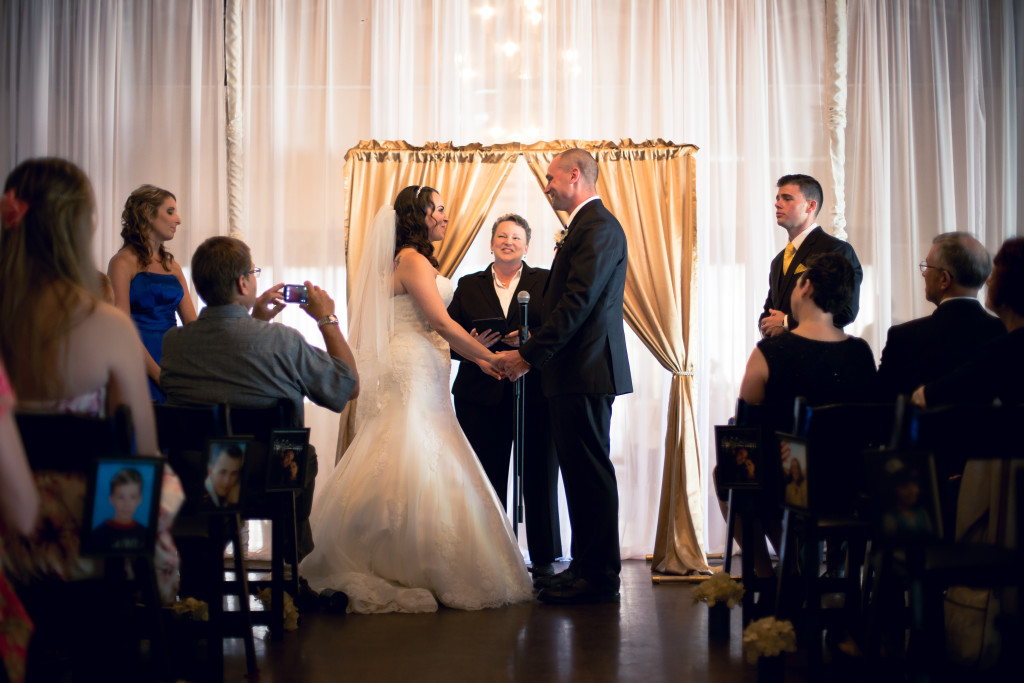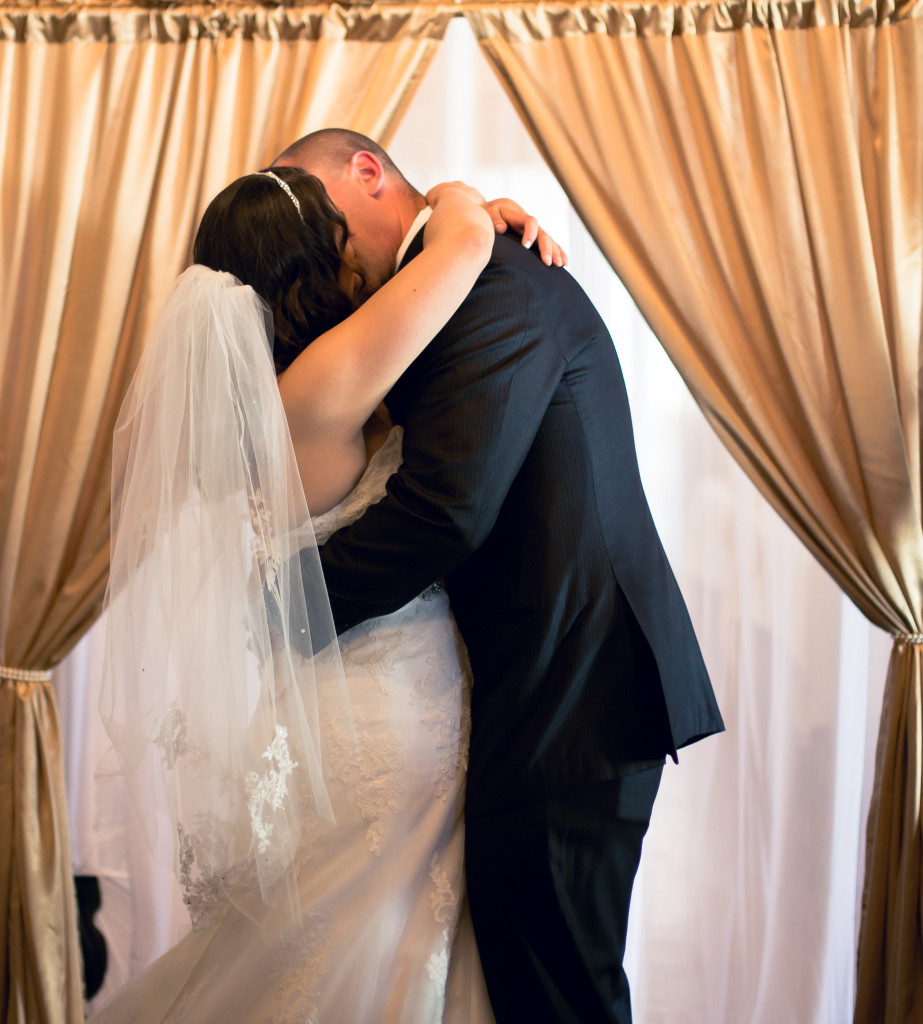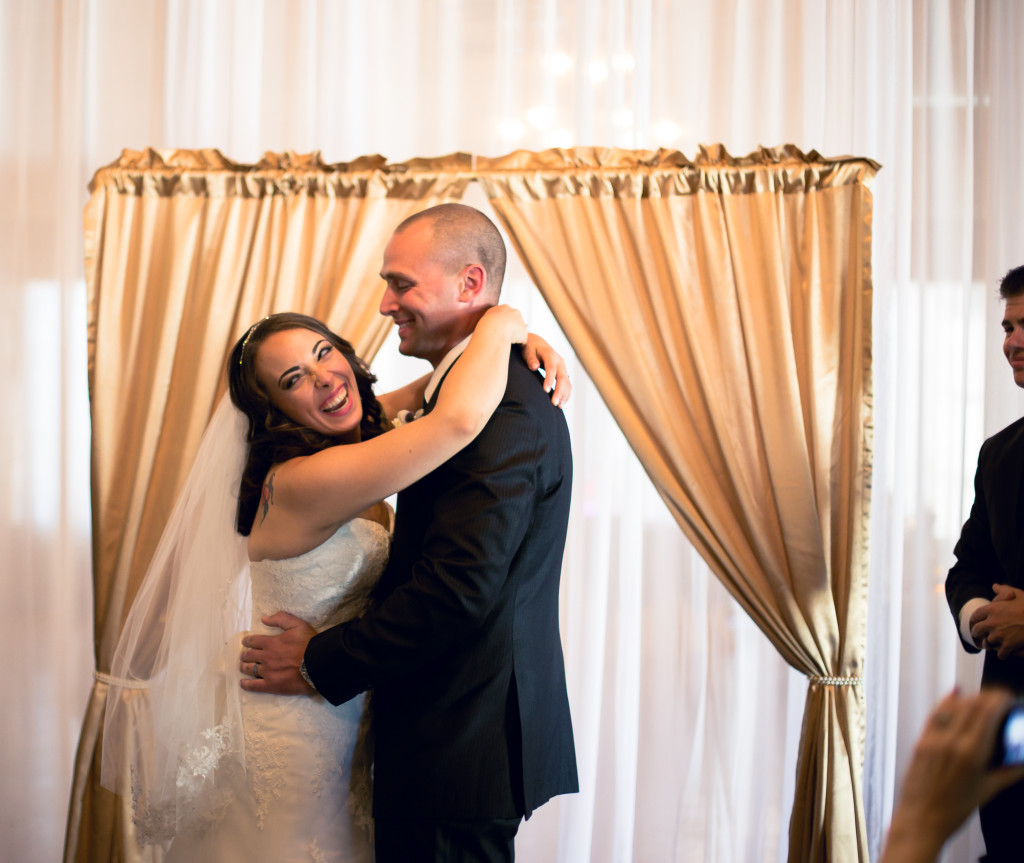 And even though they went with a Disney inspired theme, they still remembered to make it personal! They lined the aisle with photographs of them as children, young adults, and eventually their engagement photos, as a symbolic reference to the journey that had got them to this point in their lives together.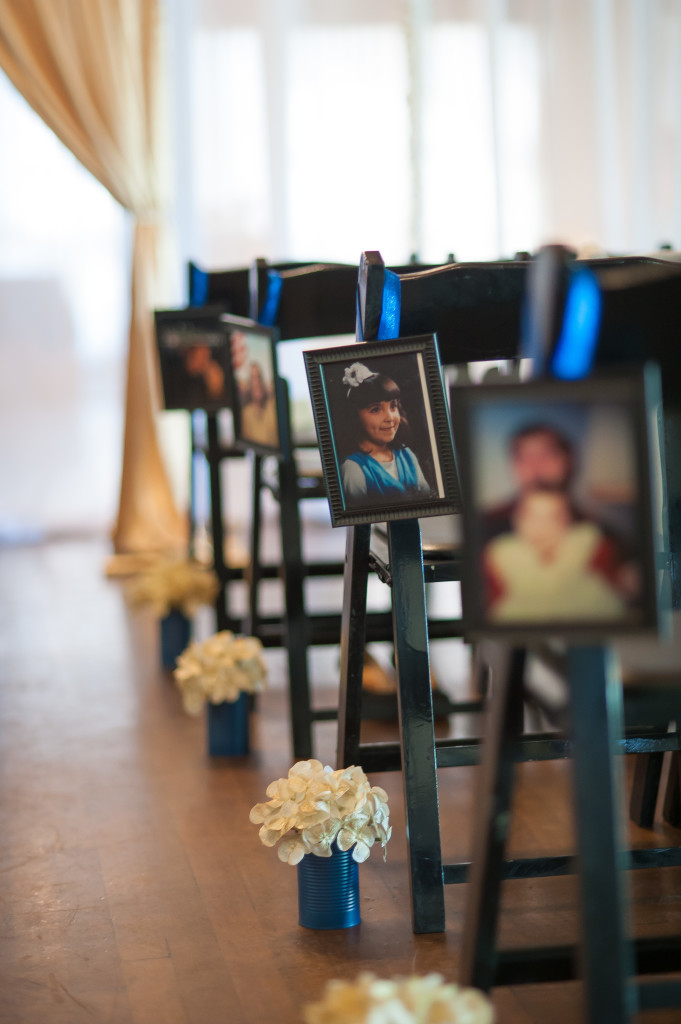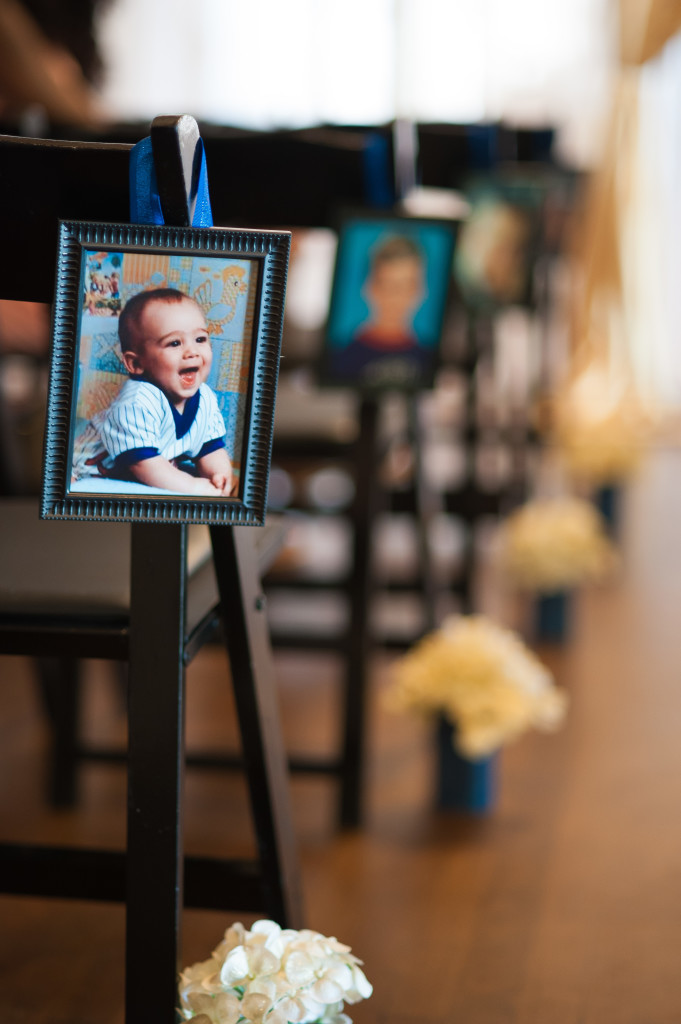 In a couple days, I'll reveal the second part of the wedding! So stay tuned to the blog to see the rest of the fun (and design!)
Even though winters in San Diego are hardly comparable to winters everywhere else, it still can get rather chilly (for us) here at night. And although it's tempting to ditch your outside wedding dreams and head for the refuge of an indoor venue, you should probably check out these adorable outside wedding ideas first. Below, I've listed the must haves to keep your guests just as warm and cozy as if they were inside a boring ballroom!
Must haves for an

awesome

outdoor winter wedding party:
1. a tent- they come in all shapes, sizes, and colors
2. heaters- rent some heaters from your event rental company. Wondering how many heaters to order? 1 patio heater per every 2-4 tables (depending on how cold it will be)
3. blanket favors- cause their just so darn cute and appreciated by guests
4. real candles on the tables- candles can give off some serious warmth, especially when there are a lot of them clumped together.
5. wooden tables and lots of fabric accents- this design combination screams warmth
6. serve HOT drinks. Obviously, you'll still want to have a standard bar. But maybe after dinner, you put away the cold beer and wine, and opt for spiked coffee drinks, hot toddy's, and a specialty hot cocoa bar!
7. if you decide on an (outside the tent) lounge area- first of all, that is highly encouraged! second, add a campfire instead of a coffee table and maybe even a telescope so your guests can star gaze while they snuggle (it doesn't get more romantic than that!)
So before you head inside, think of all the amazing possibilities! As long as you're realistic about the temperature in January, your guests can still have a great time, being warm and enjoying your wedding!
I'd love to hear your ideas, please comment below or send me an email at juliette@simplyelegantweddingplanning.com
And as always, Happy Planning 🙂
-Juliette
The collage at the top is an inspiration board, made of ideas from other blogs, sites, and vendors. Credits on the photos used in the collage: From right to left, top to bottom-
colincowieweddings.com, intimateweddings.com, intimateweddings.com, projectwedding.com,
ruffledblog.com, stylemepretty.com,
intimateweddings.com, bridalmusings.com, stylecaster.com,
buzzfeed.com, glamourandgraceblog.com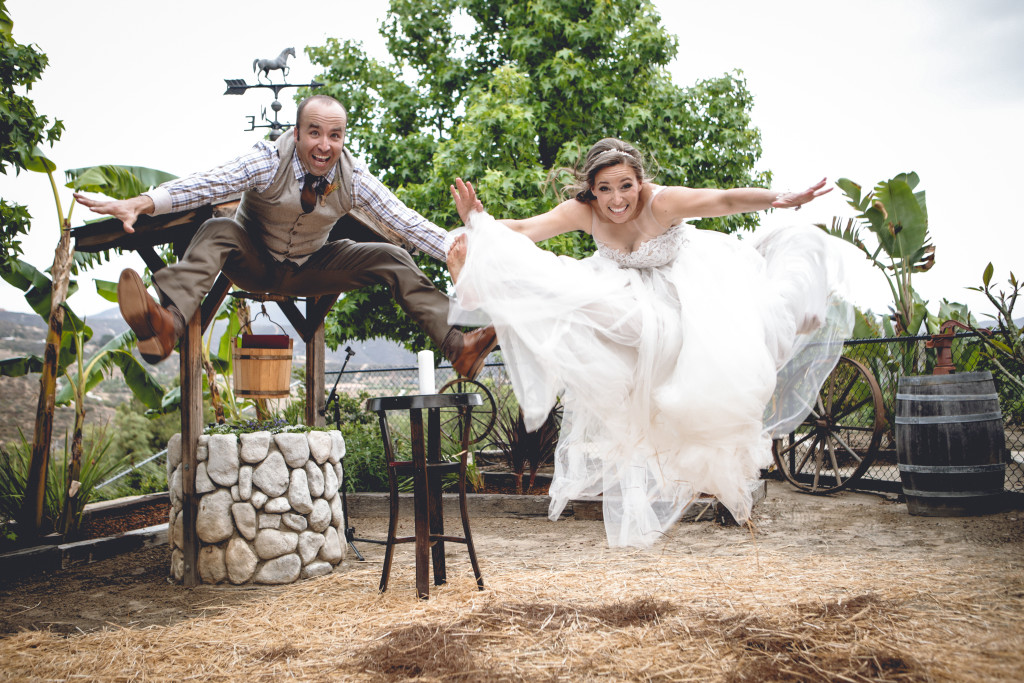 Meet Lindsay and Corey! This picture is a perfect description of who they are and the love that they share. Helping them with their month of coordination was a treat to say the least! They were both so involved, and both so in love. Spending time with them leading up to their wedding, you could feel just how strong their partnership was, and how much they truly, madly, deeply cared for each other. Their awesome sense of adventure, importance of family, and true spirit of fun were all dominant themes of their wedding.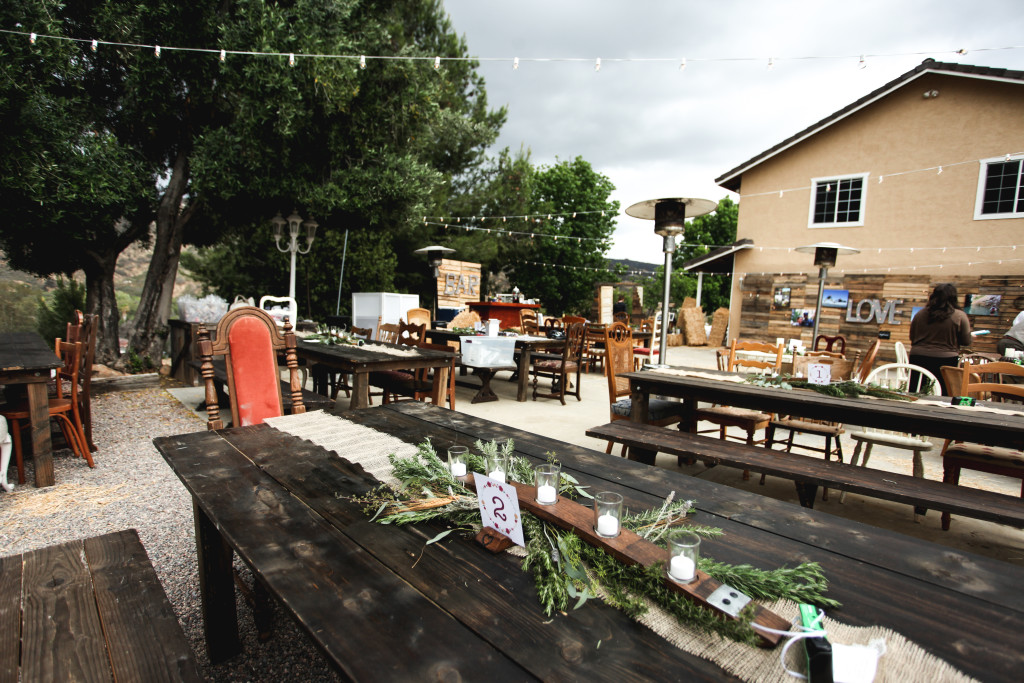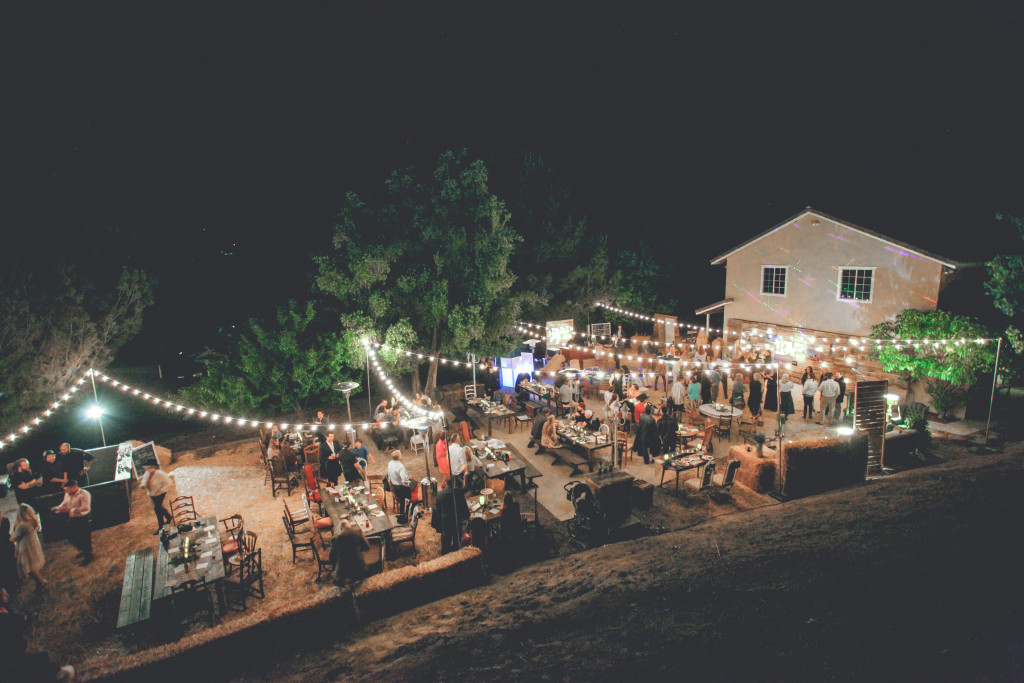 Corey's parent's home (where he grew up) was the backdrop for this amazing day. He and his family spent months preparing the property to be just right. The days before the wedding were filled with so many hands to help, it felt odd to me not to have a million things on my to-do list! Everyone was there to help, including the groom on HIS WEDDING DAY! I couldn't get him to stop and take a break, assuring him, all day, that we could take care of it! He insisted. His mother even brought out lunch for all the vendors who were setting up all day. Seriously, the sweetest family you'll ever meet!!!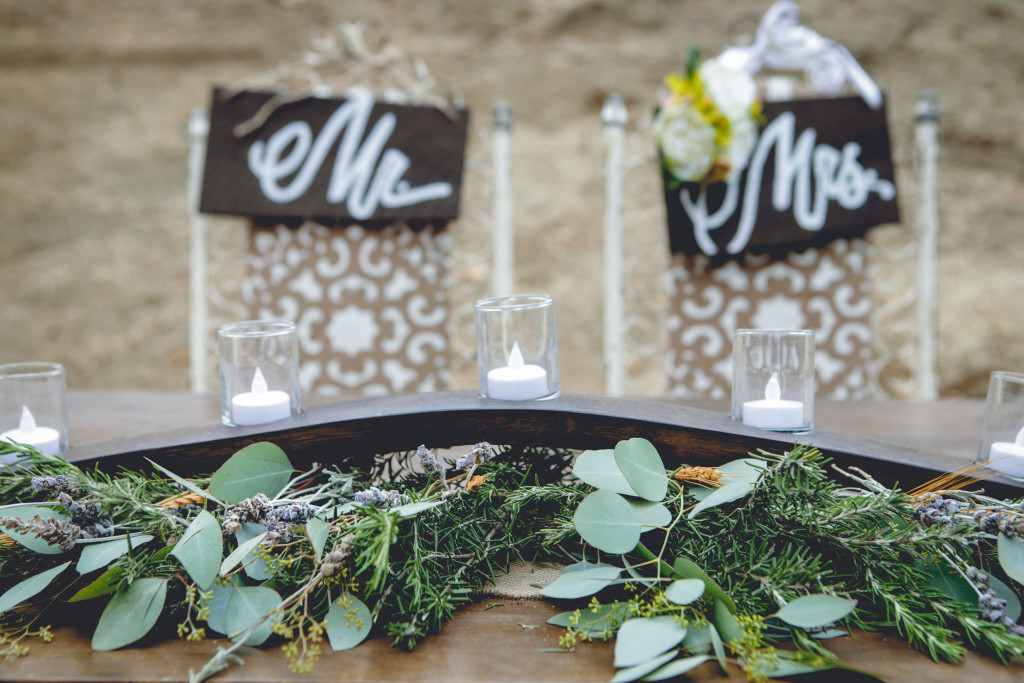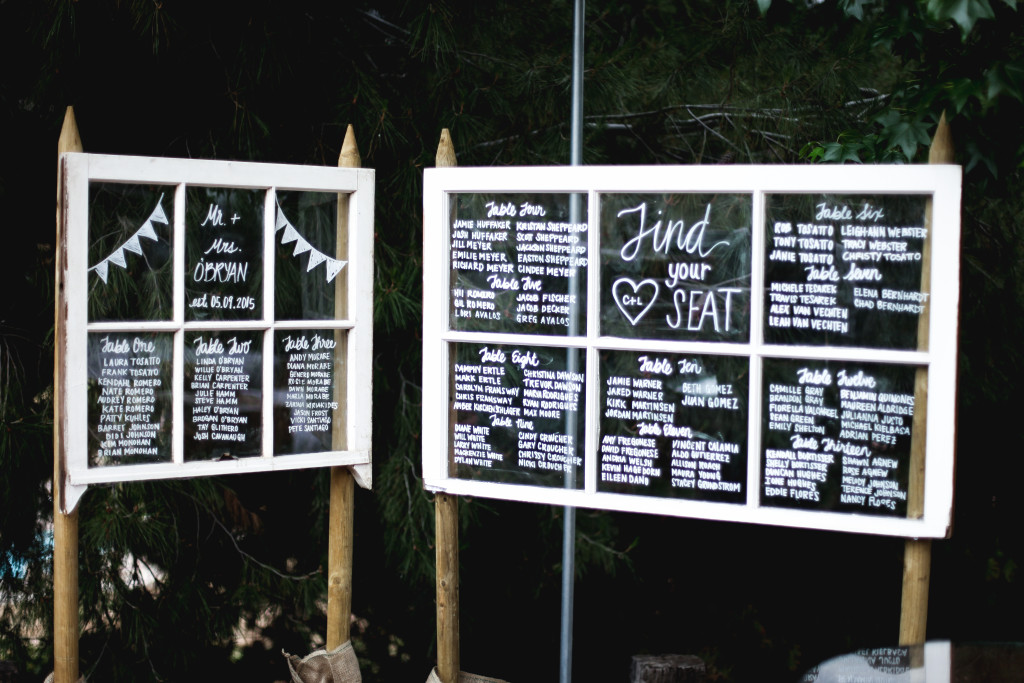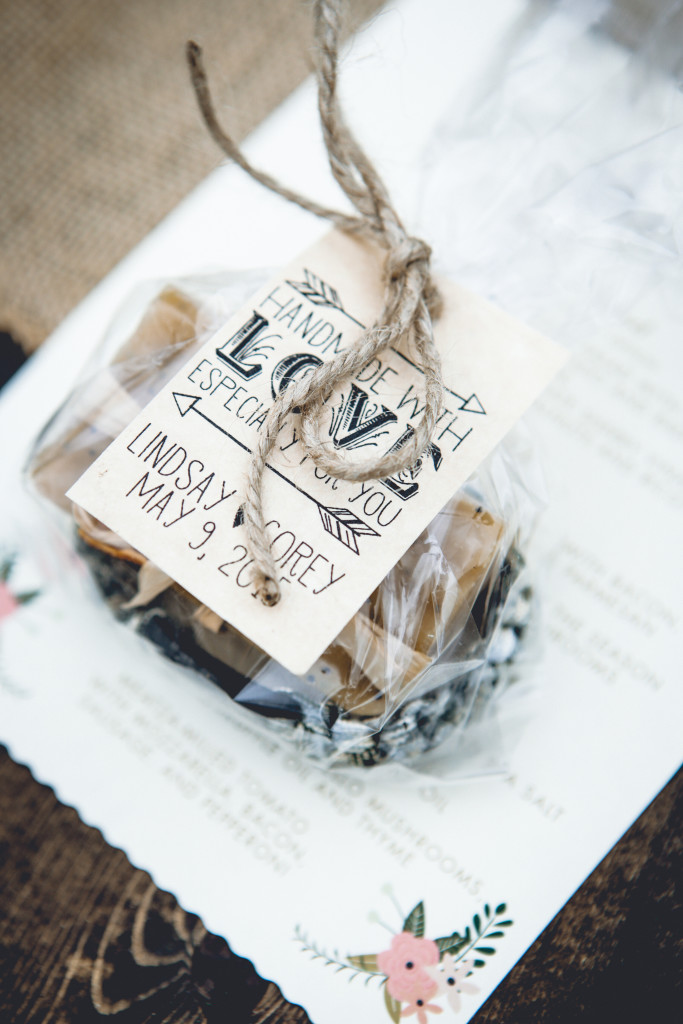 Lindsay and Corey handmade most of their wedding details and decor. Lindsay handmade lavender soaps for favors to their guests. And Cory shaped the candle holders that were part of the centerpieces. Everything that was included in their wedding was a reflection of them. It was great to be a part of a wedding that actually reflected the couple and their interests together!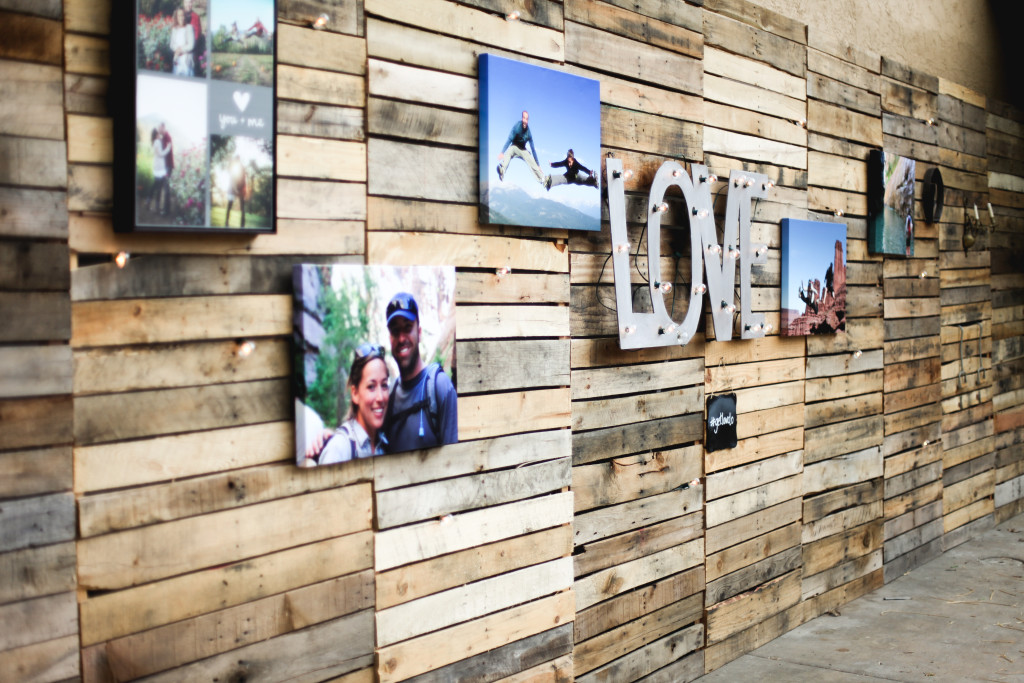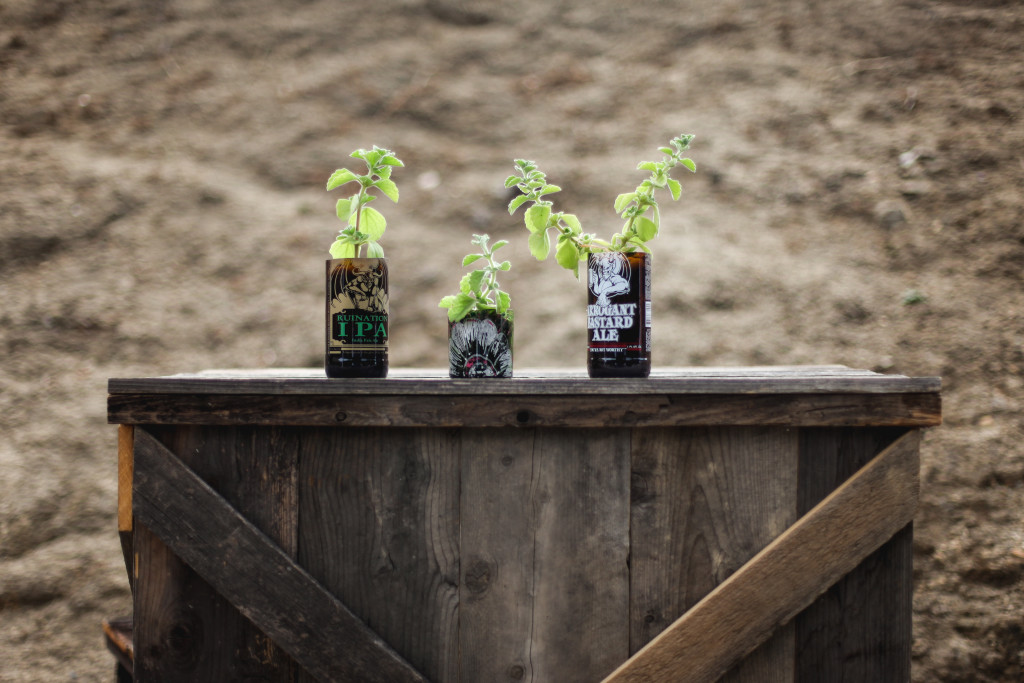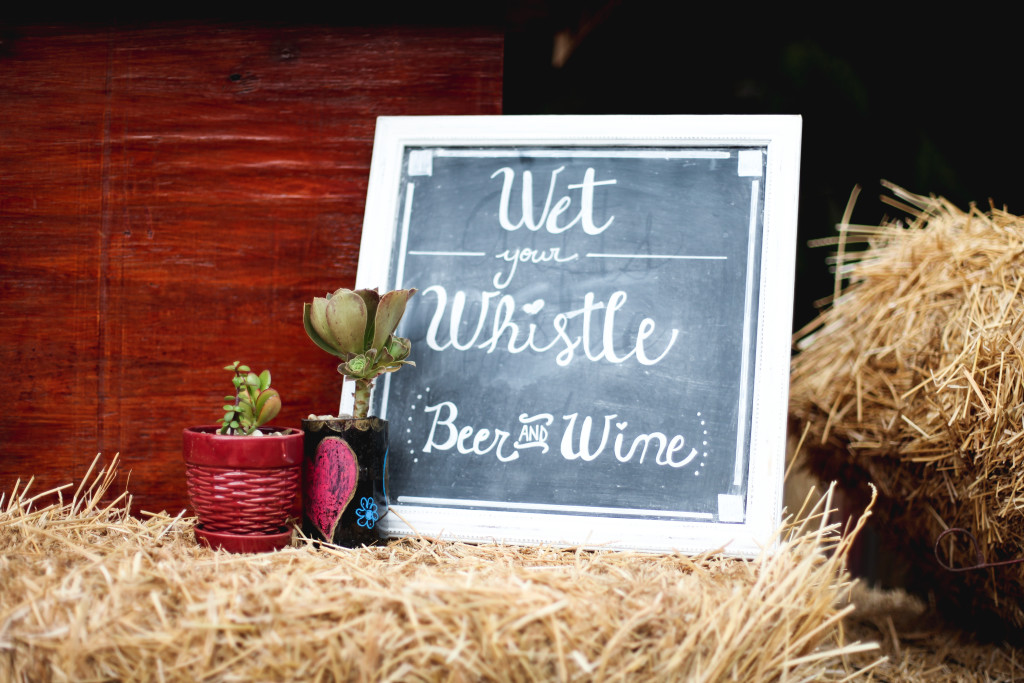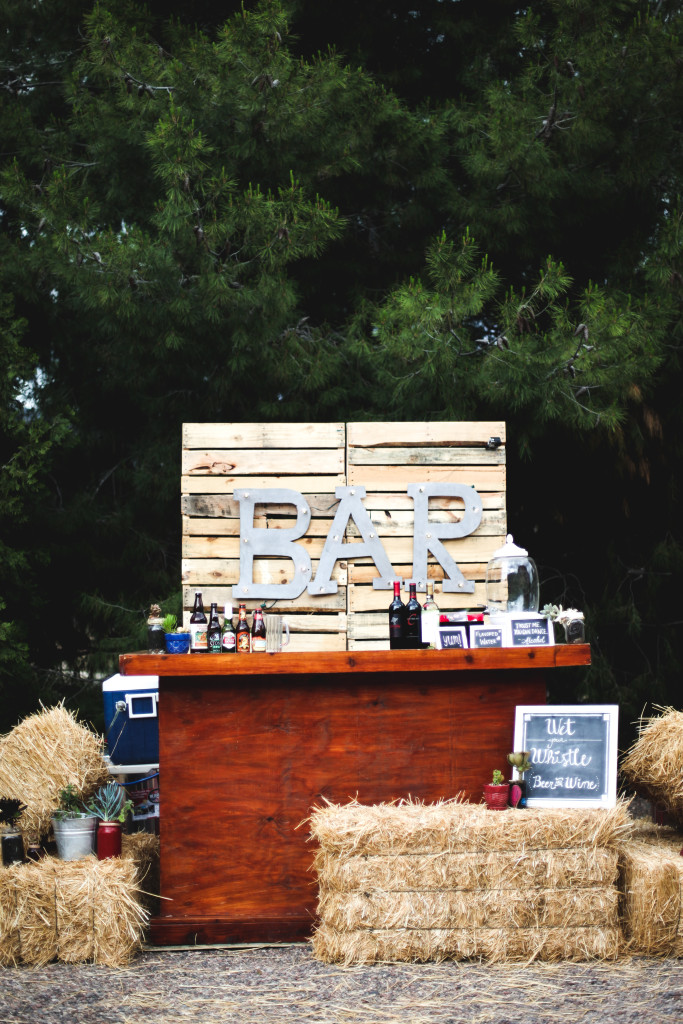 They wanted good food that people would feel comfortable eating (not some stuffy fish or chicken option)! So they opted for a pizza truck, and man was it great! Everyone got food, but when the caterer left, they were definitely tapped out of supplies! Everyone loved it!
And good Beer selection was a must for this IPA/craft brew loving couple! There was no shortage at the bar! But opting to only provide beer and wine helped to keep costs down, and the party tame.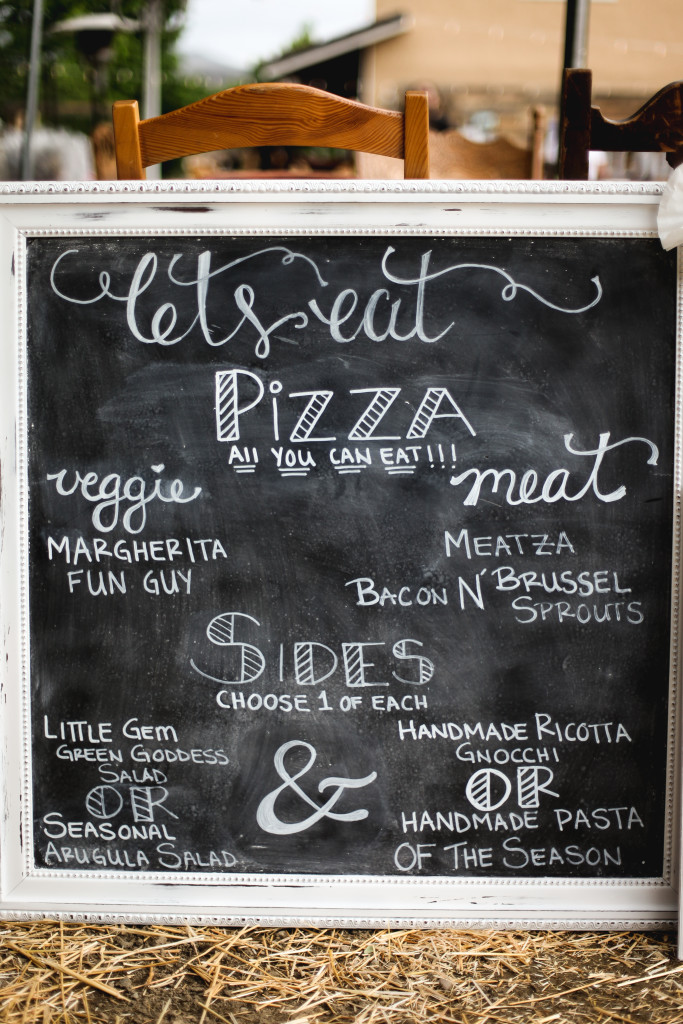 From the moment Lindsay stepped out of the town car when she reached the venue for their first look, she was in tears. You could tell she was just so excited to see Corey, and to get married to her best friend. Their first look had everyone tearing up!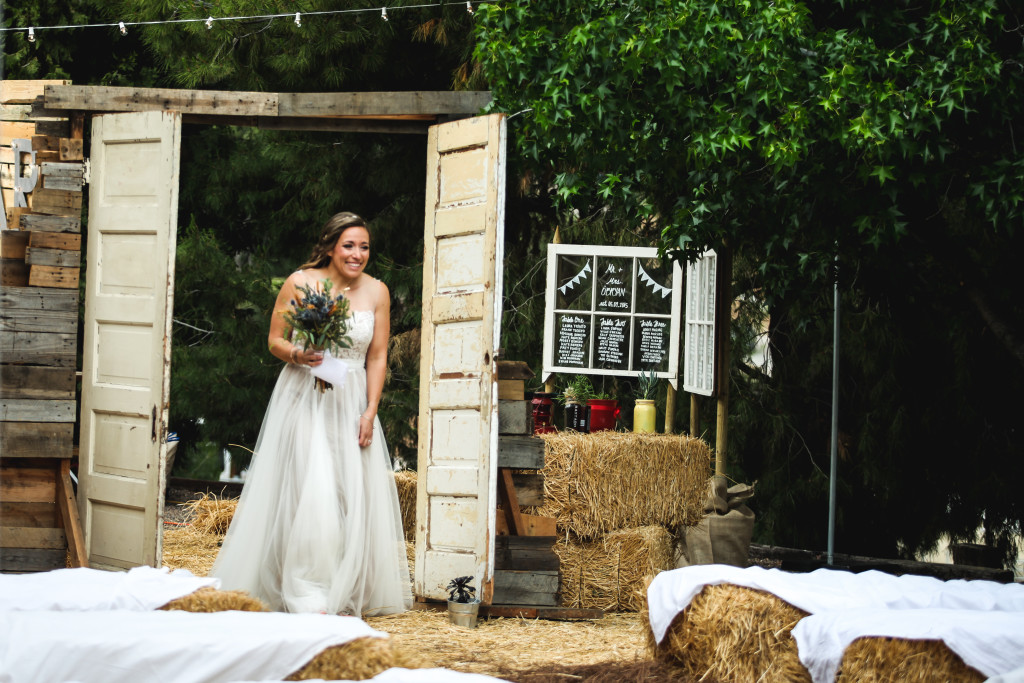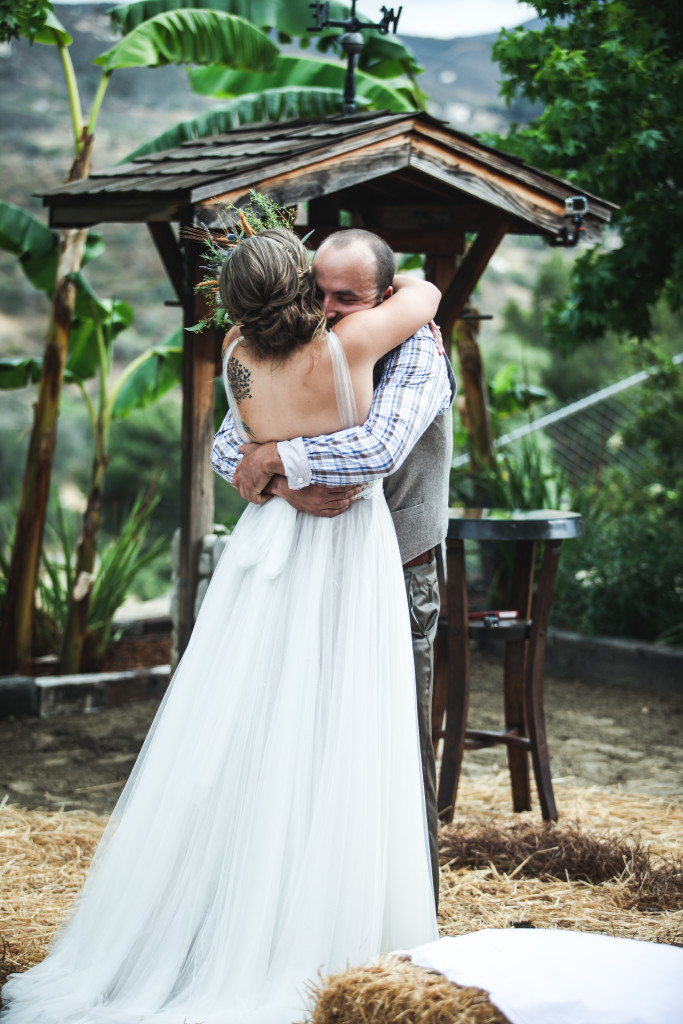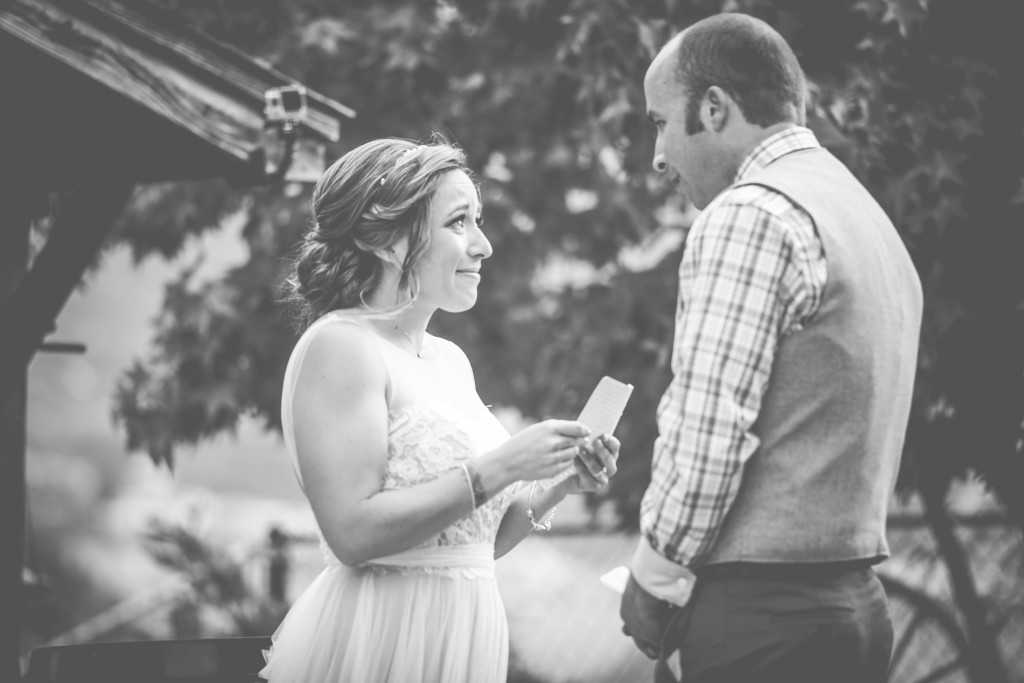 They wrote love letters to each other and read them to one another during their first look. It was a very intimate moment just between the two of them, with their photographers shooting from a distance. A private moment that the two of them will share for the rest of their lives. I love this idea more than I can express! The entire wedding day is filled with so many people, it is so important for couples to take even just a few minutes alone to anchor the whole day around their love. Spend time together, experience the day together, take time to think together! Isn't that what the day is all about anyways.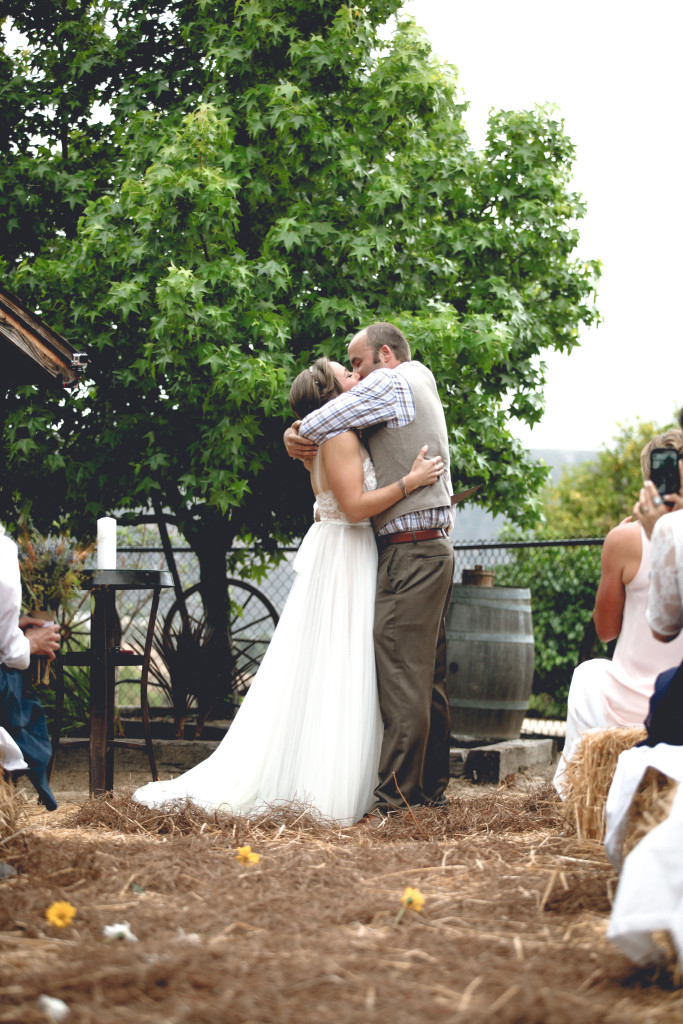 If there is one thing to-be-married couples can take away from Lindsay and Corey's wedding it is to focus on each other! The details don't matter as much as the love that you have for your soon to be spouse. So think about your spouse on your wedding day. Let the details fit in where you planned them, put someone else in charge of making the event run smooth, trust the vendors that you've selected, and Let it all go! The ONLY thing that truly matters is that you are getting married! If you switch your focus, it will show- in your pictures, in your guests eyes, and in your memories!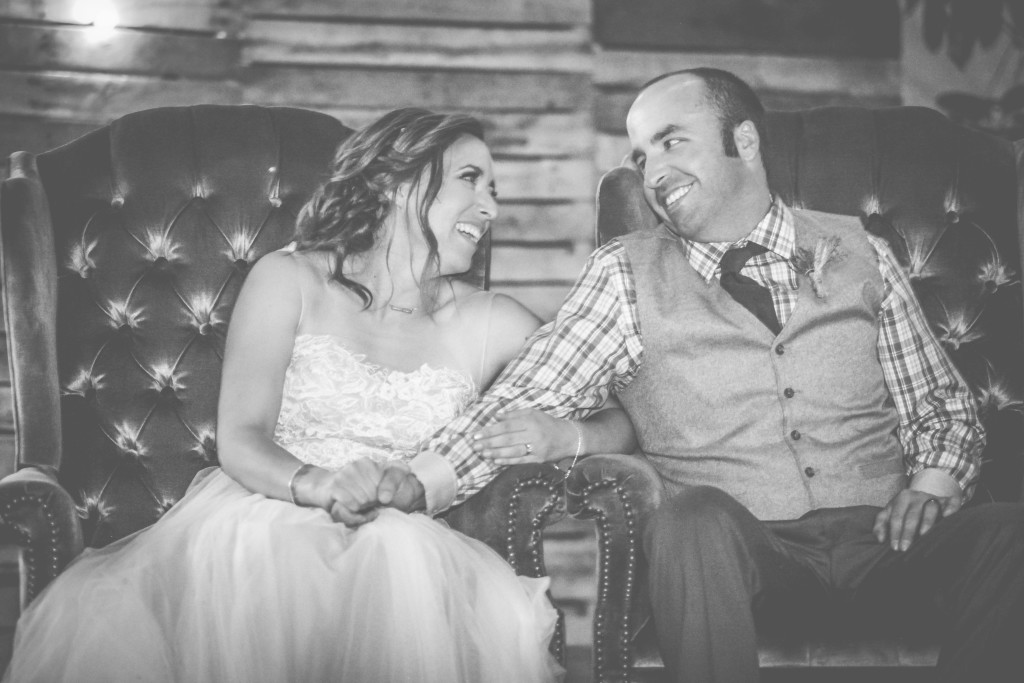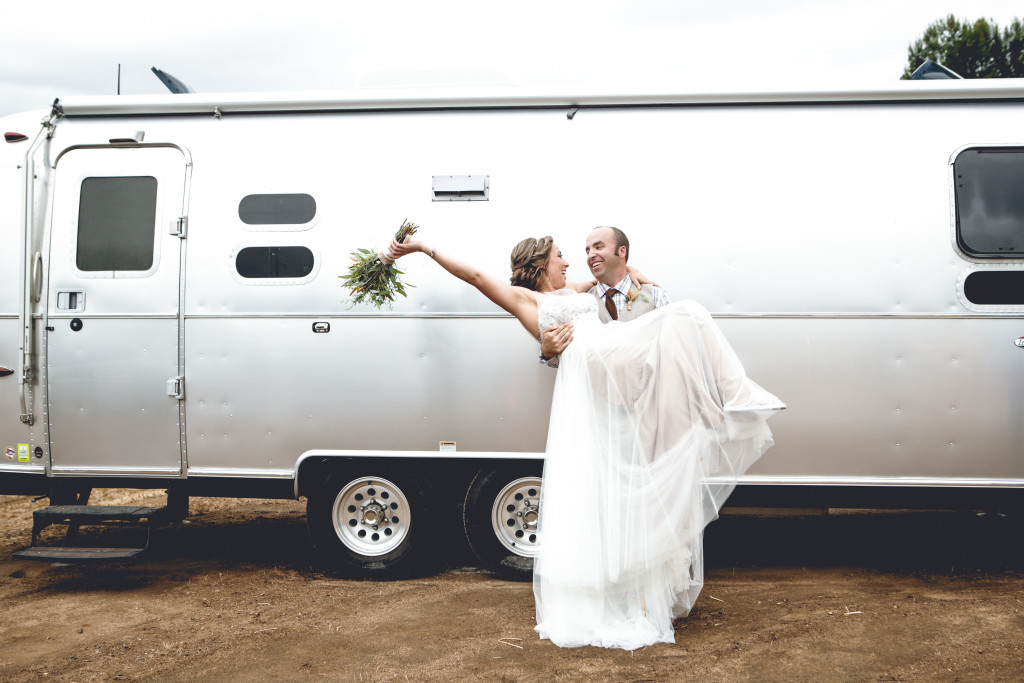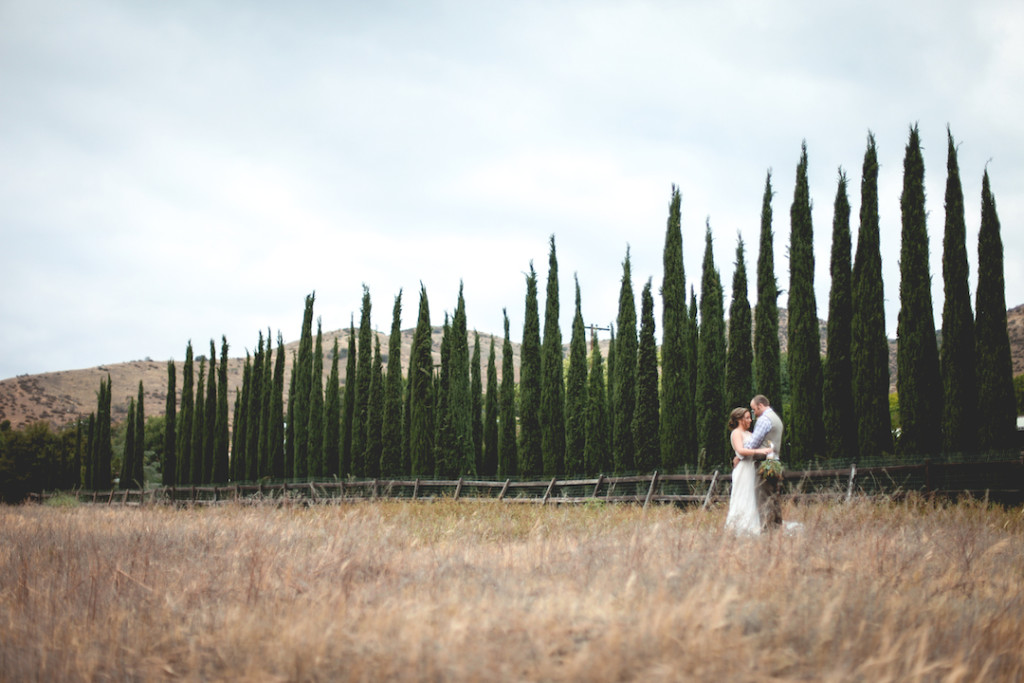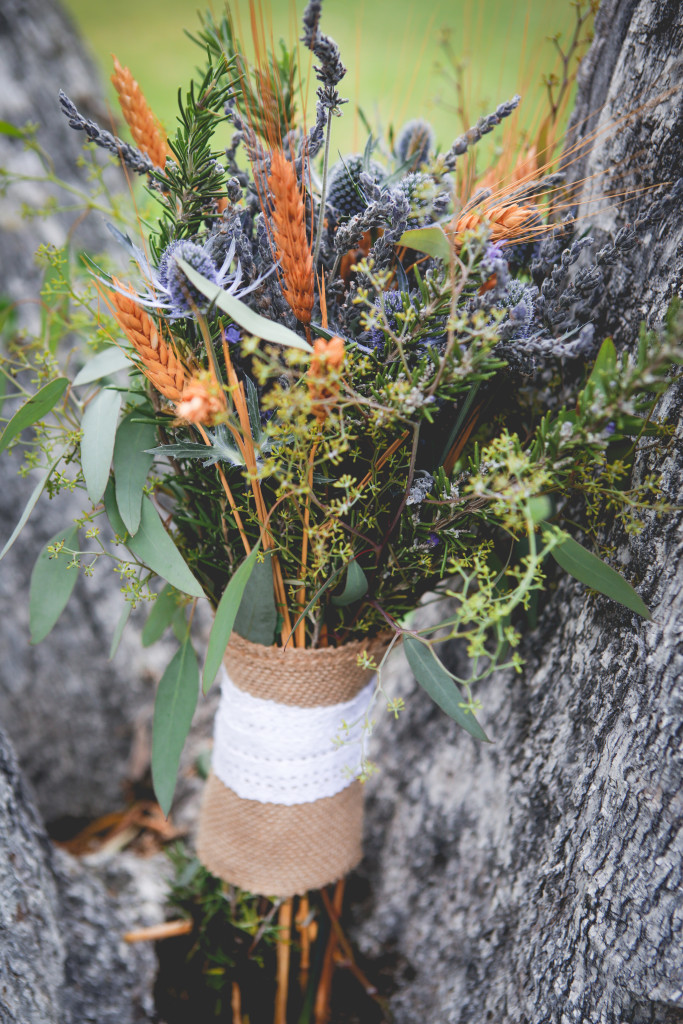 Vendor Credits:
Photographer: Matt + Jess
Flowers: Jamul Flowers
Month of Coordinating: Simply Elegant Weddings
Vintage Rentals and Design work: Lauren Sharon Vintage Rentals and Design (LSVRAD)
Lighting: SD Socialights
Catering: Urban Pie
Bar: Build Your Own Bar (BYOB)
DJ: JD Musik
Hair and Make up: Hair by Aubree
Town car: Elite Image Limo
Happy Planning
– Juliette
Last week I had the great pleasure of creating a wedding table design for the Chula Vista Golf Course's fall wedding show in San Diego. I met a lot of great vendors, great brides, and got to show off a new wedding centerpieces idea that's been cooking in my head for quite a while!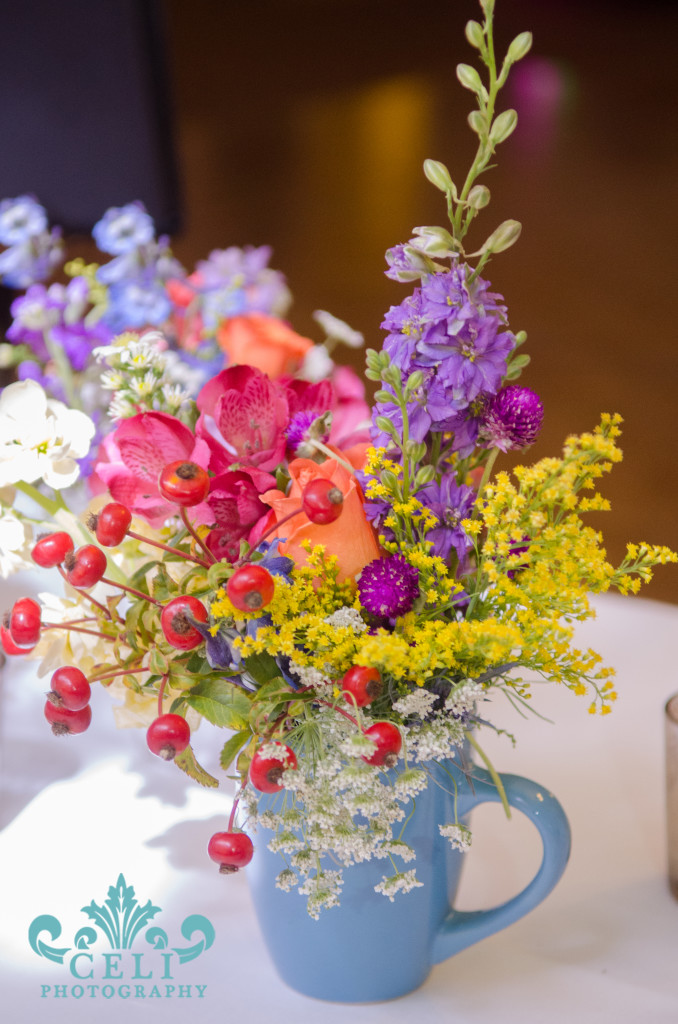 I know mason jars are still a crowd favorite among brides-to-be for their wedding design, but if you're like me, I am ready for a change! I've seen mason jars done some many times in so many different ways. One wedding this past June had over 200 mason jars for their wedding of only 80 guests. Jars to drink out of, 9 jars per table with either candles or flowers, jars with favors in them… it was a little overkill!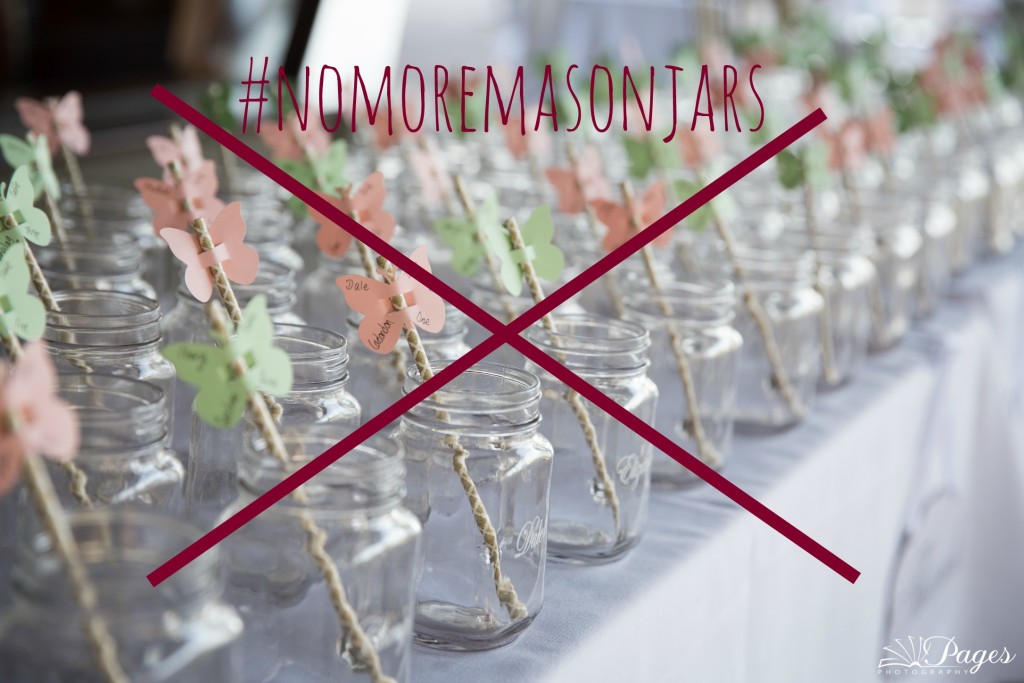 Break out of the rut and get the same collected vibe with coffee mugs. Besides, your guests are a lot more likely to keep a coffee cup and use it often, than they are to use a mason jar.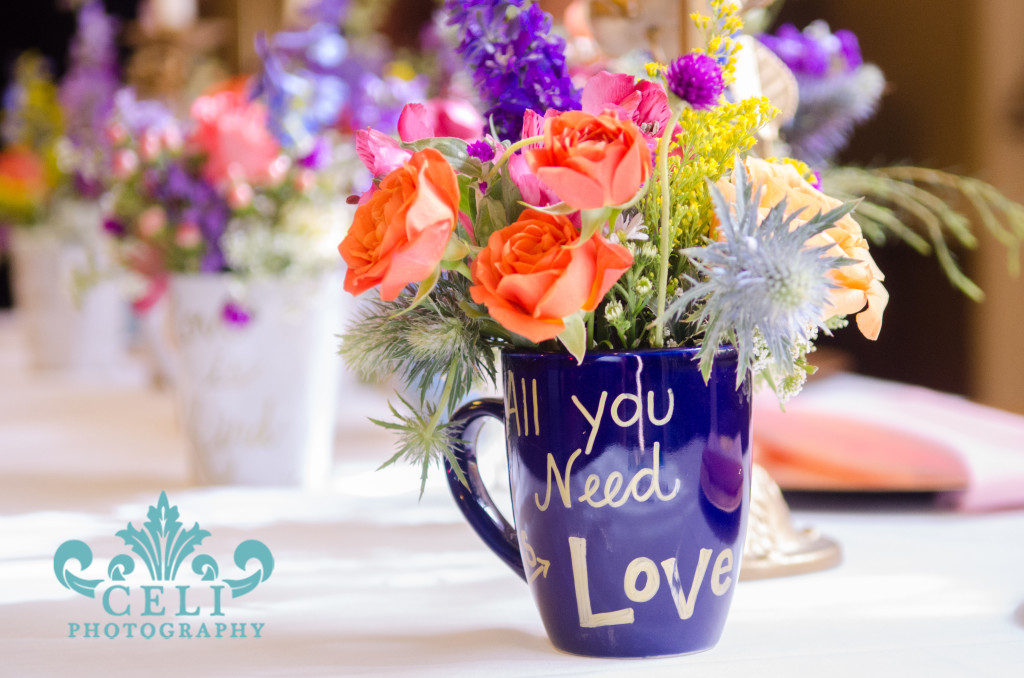 You can write on them like I have with quotes/songs/scriptures about love. Or you can even print them with a beautiful wedding logo or monogram so they remember your wedding forever. This coffee theme can be significant to your love story: like my cousin who's first date with her fiancé was as a local coffee shop. Or you can relate it to your wedding by having a specialty coffee/espresso bar late at night to help your guests warm up. Or it can just be for fun, since I'm pretty sure that's all a mason jar is good for anyway!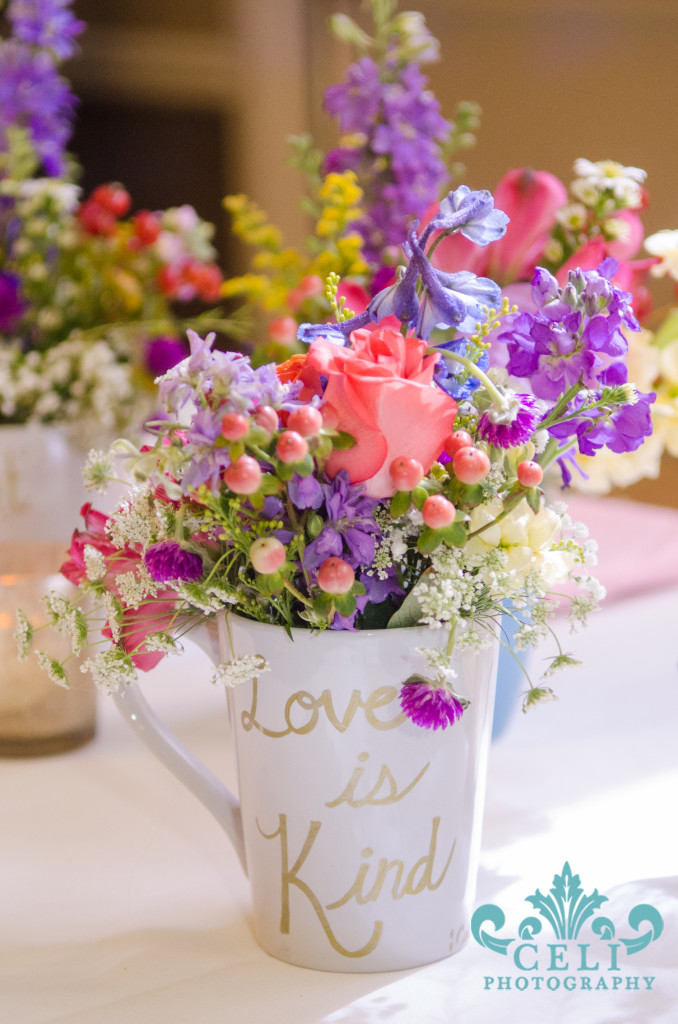 For more info about our wedding design packages and consultations, visit our package and pricing page and email us at juliette@simplyelegantweddingplanning.com
Happy Wedding Planning!
-Juliette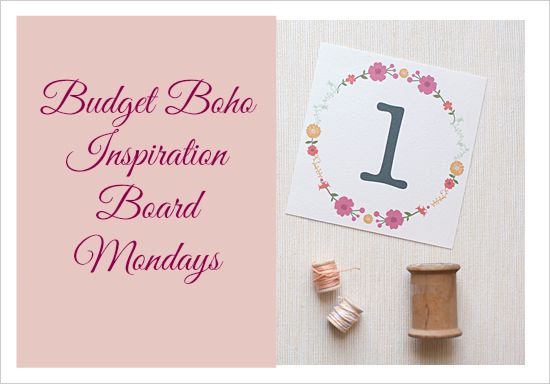 Starting a new thing! Inspiration Board Mondays. The whole board is located on Pinterest at http://www.pinterest.com/jfagerwold/budget-boho-wedding/ with clickable images linking to tutorials and shops for easy access to exactly what you see on the board! Leave a comment below of a style you would like me to explore next!!!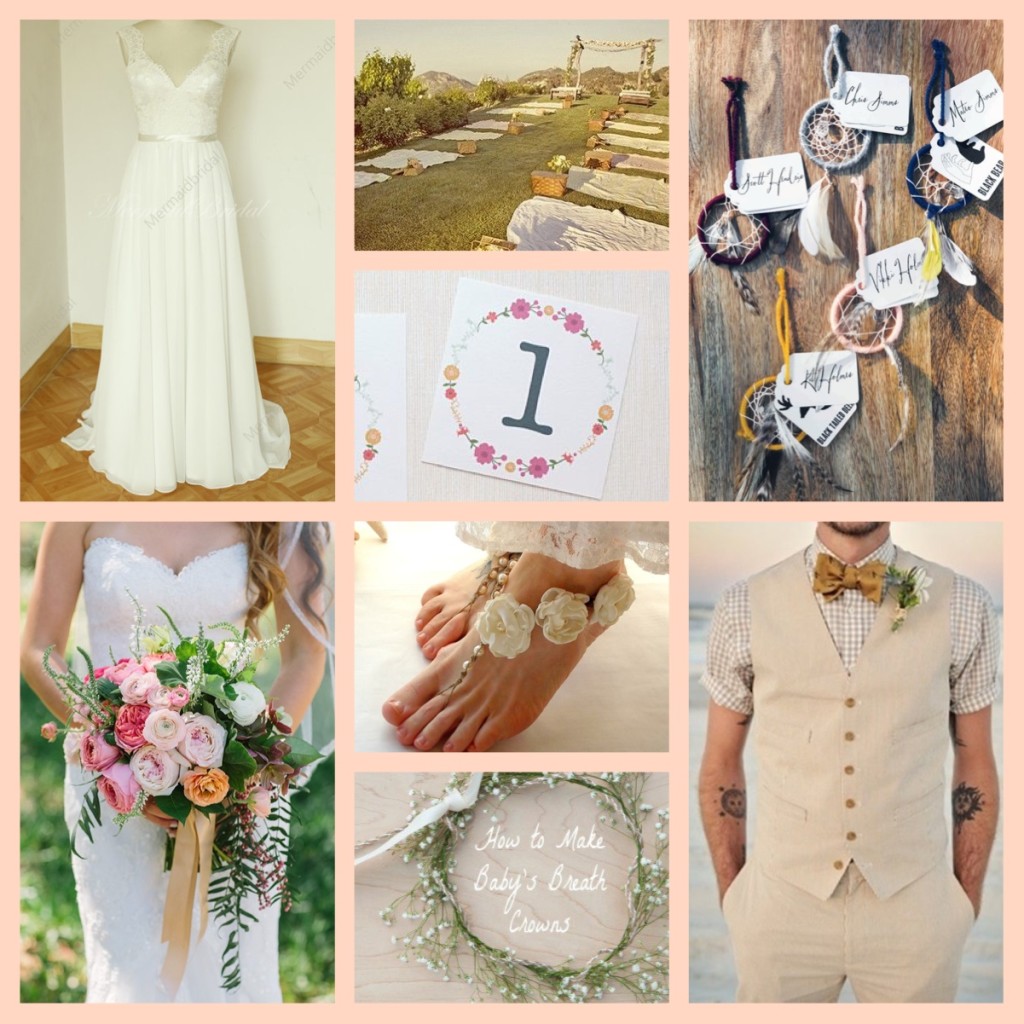 Addison's 2nd Brithday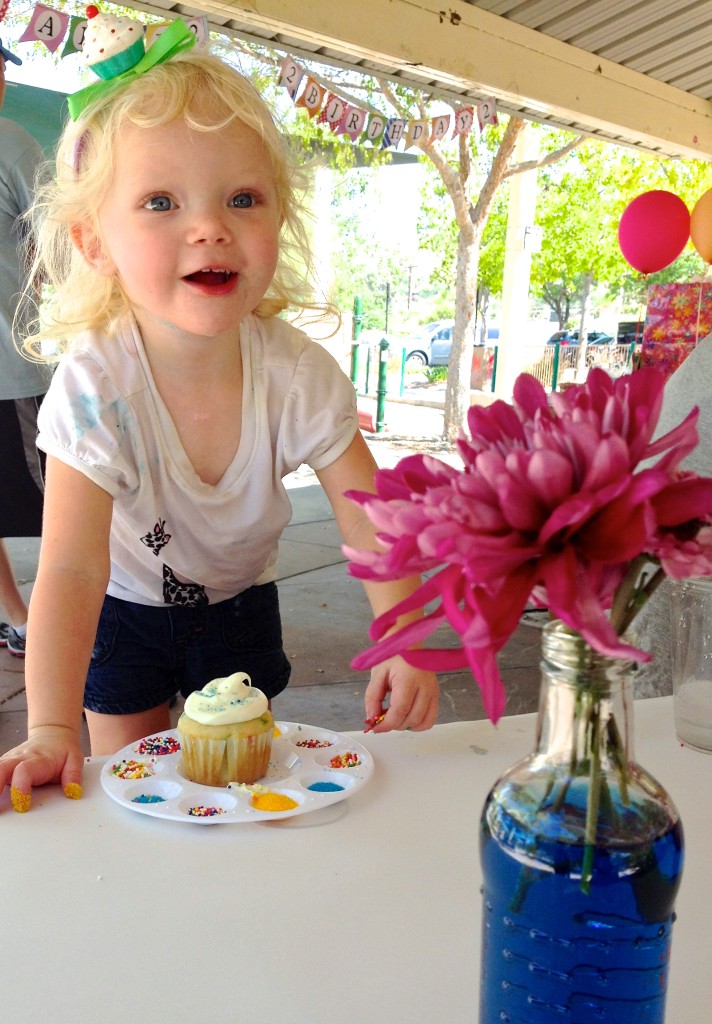 It's hard to believe that this little punky lady is two already!
Her Favorite:
Movie: Dora the Explorer (much to my dismay!)
Song: Everything is Awesome from the LEGO Movie. She loves to dance and jump when she hears it, so it's a go to you tube video
Toy: Her stuffed animals, especially a Panda that she stole from her cousin Ella
She can:
Run, jump, climb on Anything, spit out water, shake her hips, tap her toes, kick a ball, tell you how old she is, and color the heck out of a pad of paper!
Addy in a nut shell at Two years old:
Independent, Sassy, Love's the words No and Hot (even when things aren't actually hot), Loves to have random dance parties, and loves making messes of any kind! She will even clean up (unprompted) just so she can make a mess again!
So when it came to what kind of party she should have, I knew that it wouldn't hold her attention if there weren't some serious messes to have! And what better way to get dirty, than to Paint! The idea for a toddler style art party was born!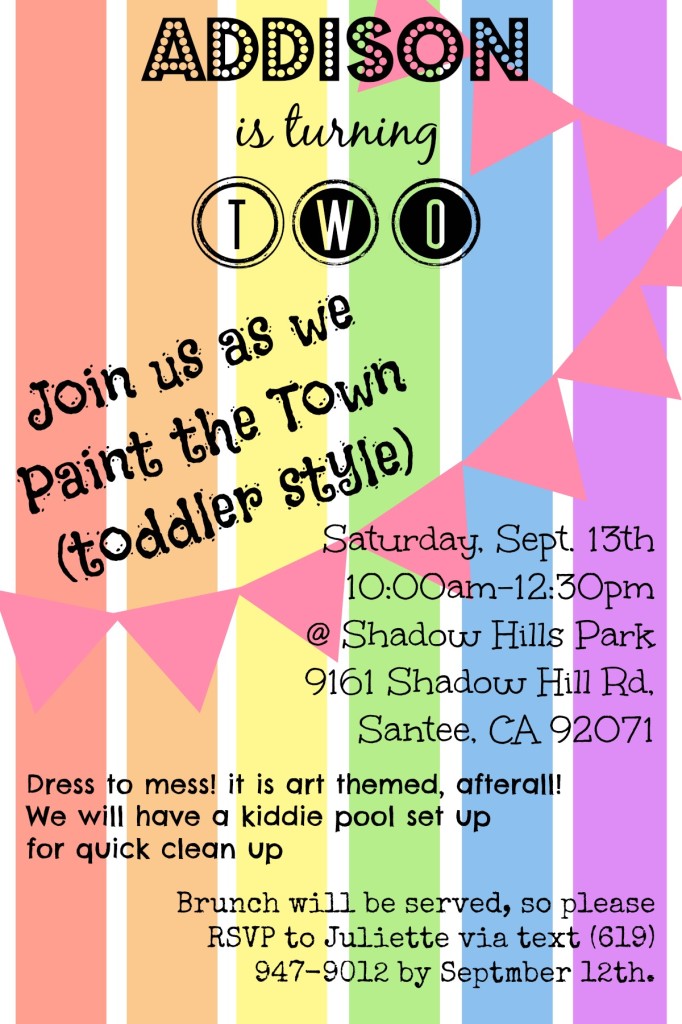 To create your own awesome invites and signs, go to PicMonkey.com and click on DESIGN!
Please bare with me… I brought my amazing camera to take fantastic, blog worthy, photos! And I took a bunch! Then I realized there was no memory card in said amazing camera. So all I have is iphone pics taken after everything started 🙁 trust me, I am kicking myself in the foot for such a rookie mistake!
Toddler Yogurt Canvas
Needed: a Twister board flipped to it's back or other white plastic surface
Tape to tape it to the ground
A lot of yogurt! get the creamy stuff, Greek yogurt will be way too thick
Food Coloring
Paint Brushes
Clothing you don't care about
Use the different colored yogurt as Paint, and if they eat it, it won't kill them! It gets a little gross, but it all washes off. And they love it!!!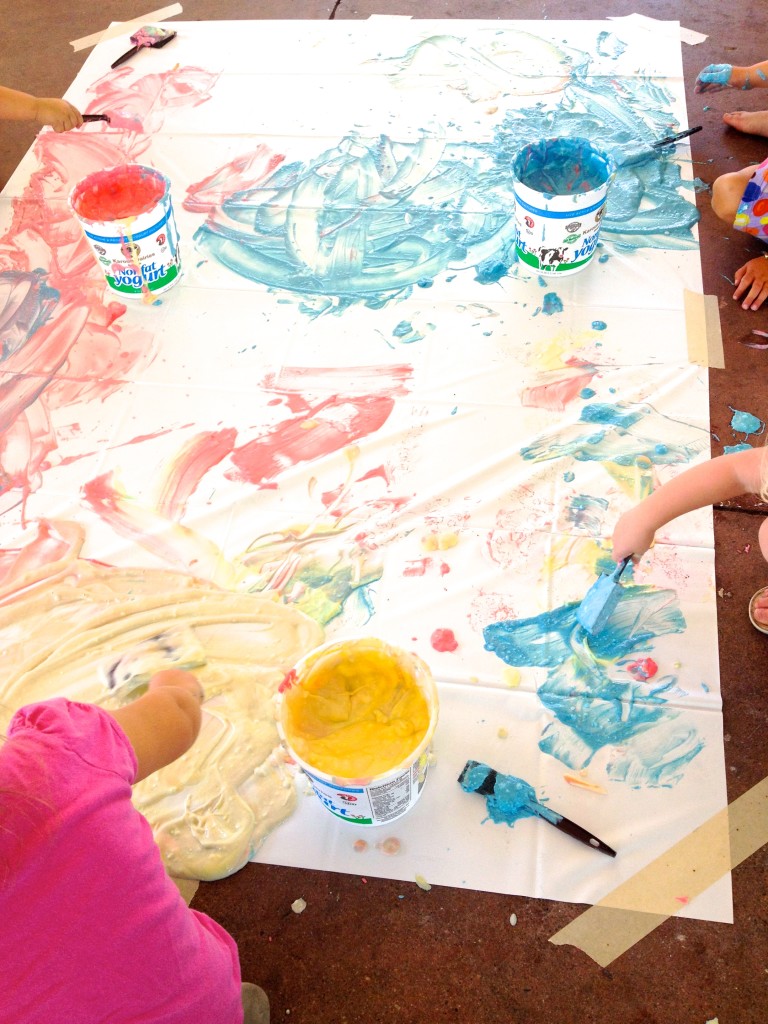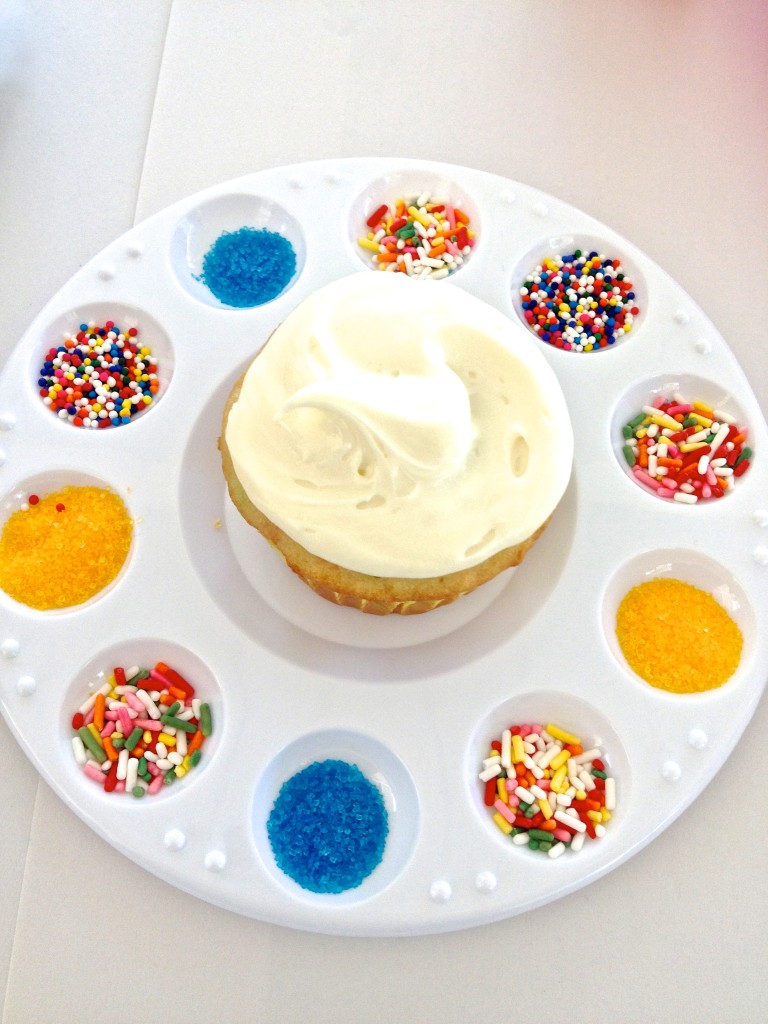 Painters pallets are .99 cents at Michaels! Fill the paint slots with sprinkles, and a blank cupcake in the middle. The kiddos loved being able to decorate it themselves. The older ones at least, the 1 and 2 year olds just handfull'd the sprinkles into their mouths! Whatever, that's what birthdays are for, right!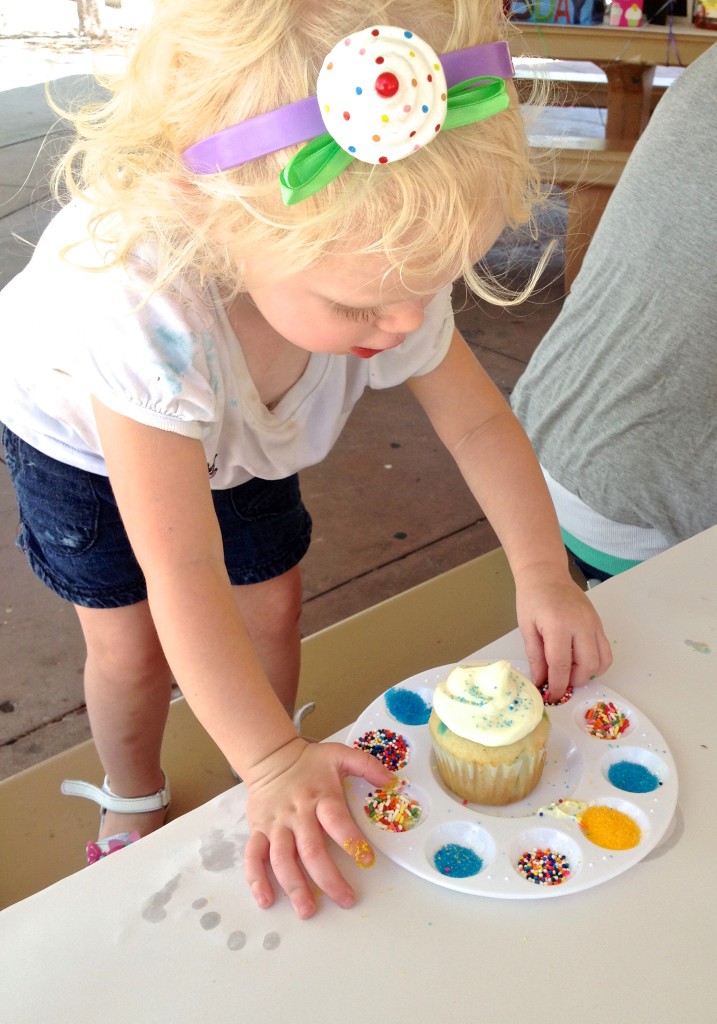 With the party being in the "toddler happy time" of day, which for us is in the morning… I didn't want to serve anything too heavy. So we did brunch food- pastries, bagels, fruit, and a Build your Own Juice Bar!
Free Printable: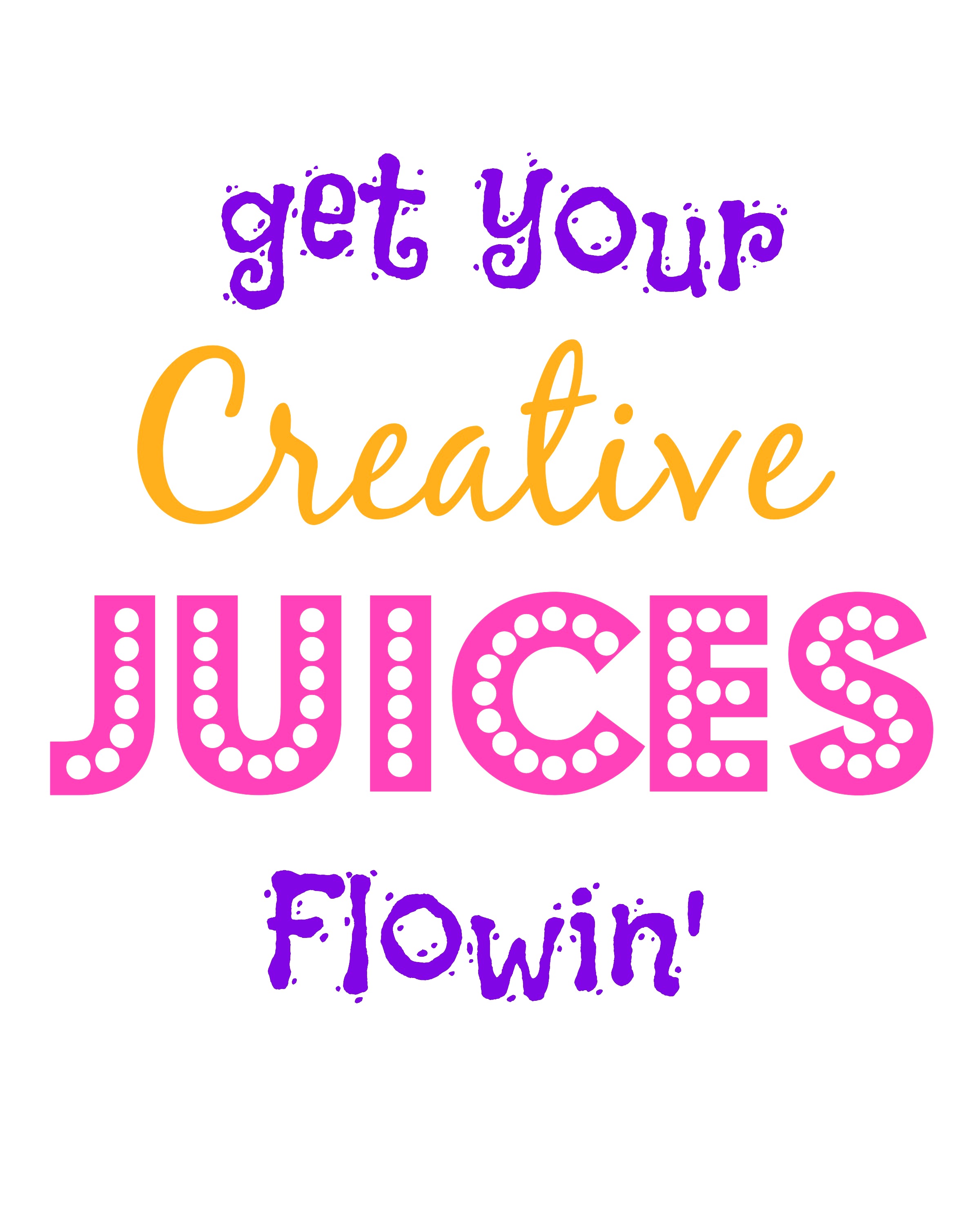 Like I said before, the pictures were going to be SOOOO much better. all well!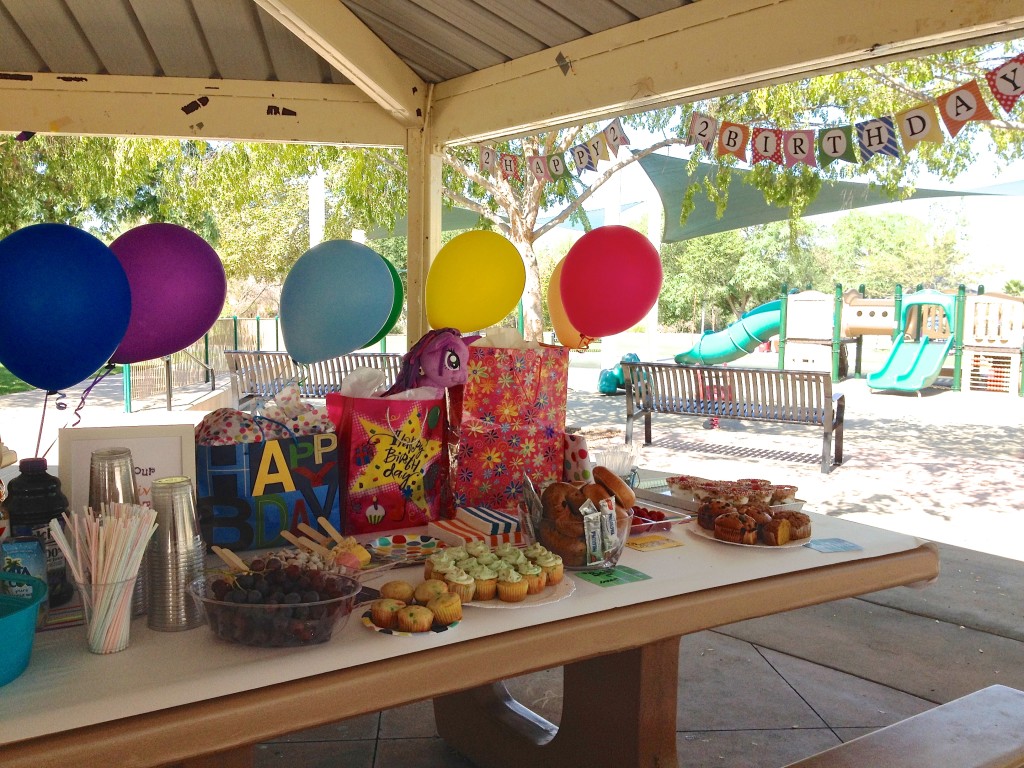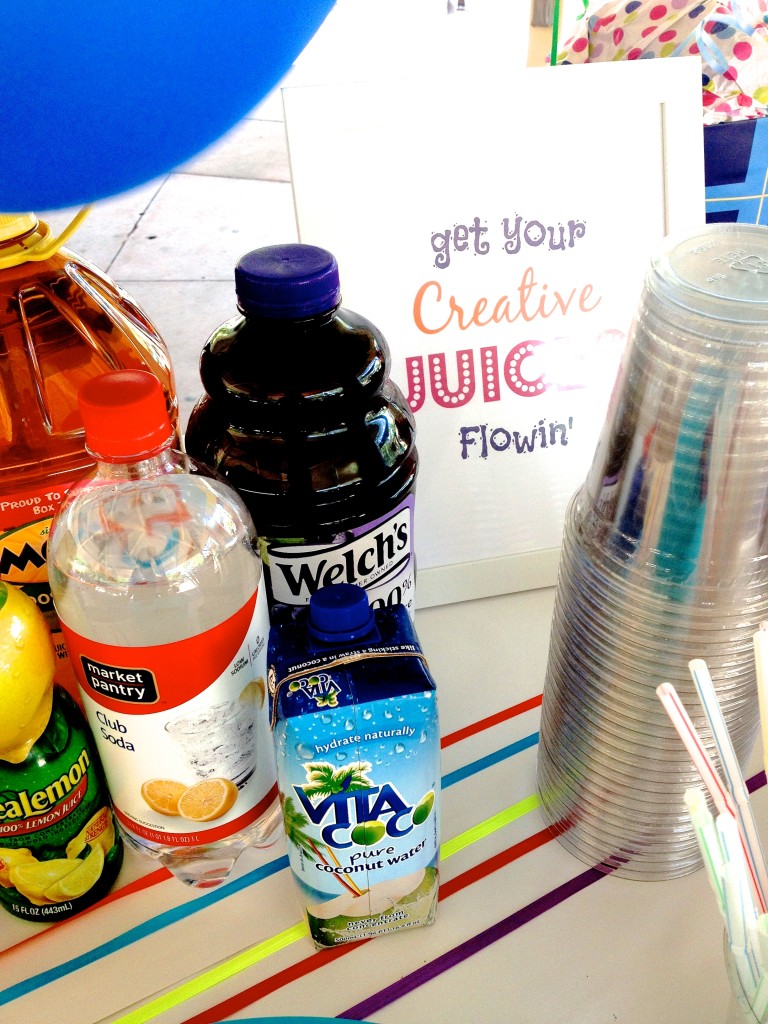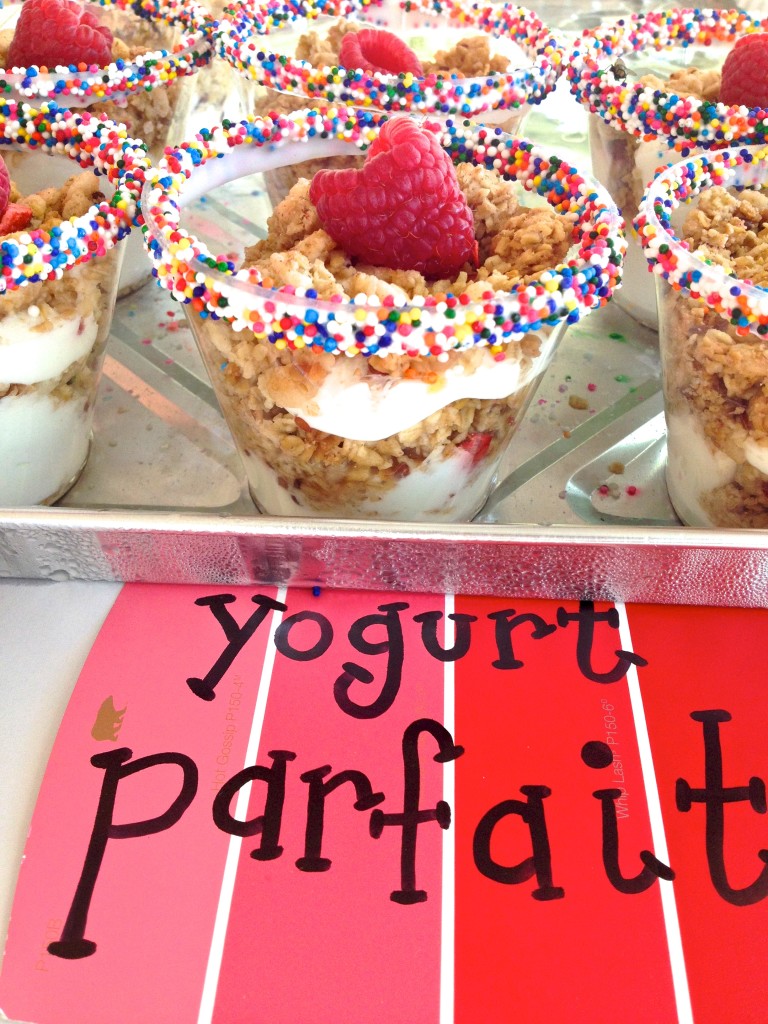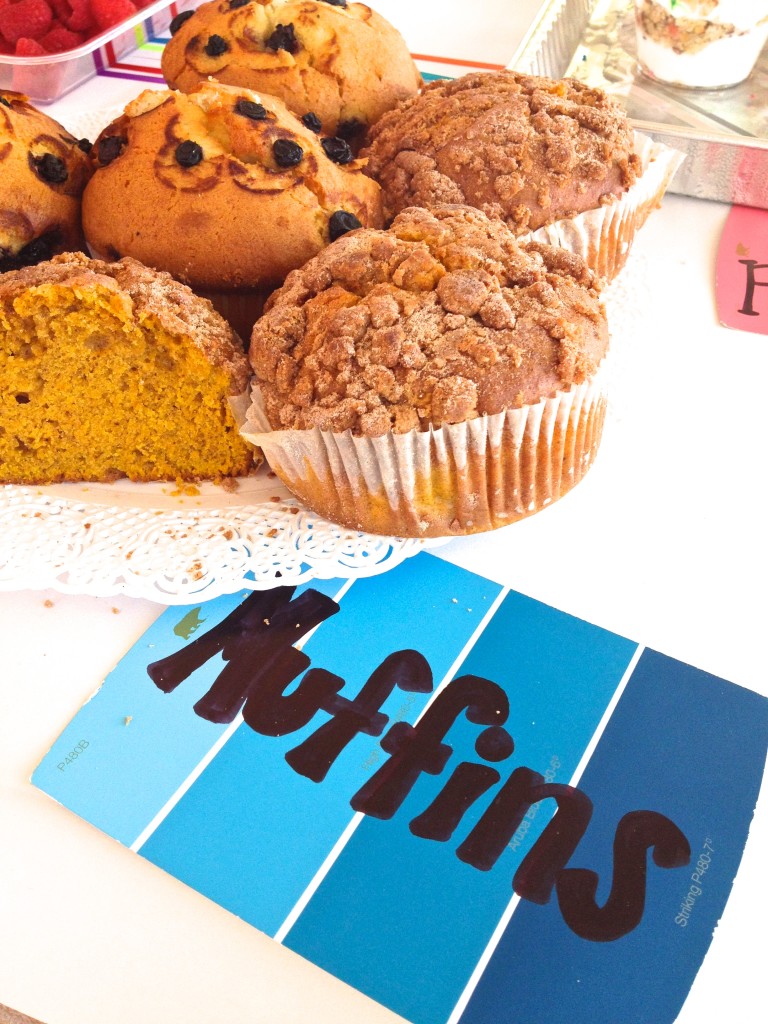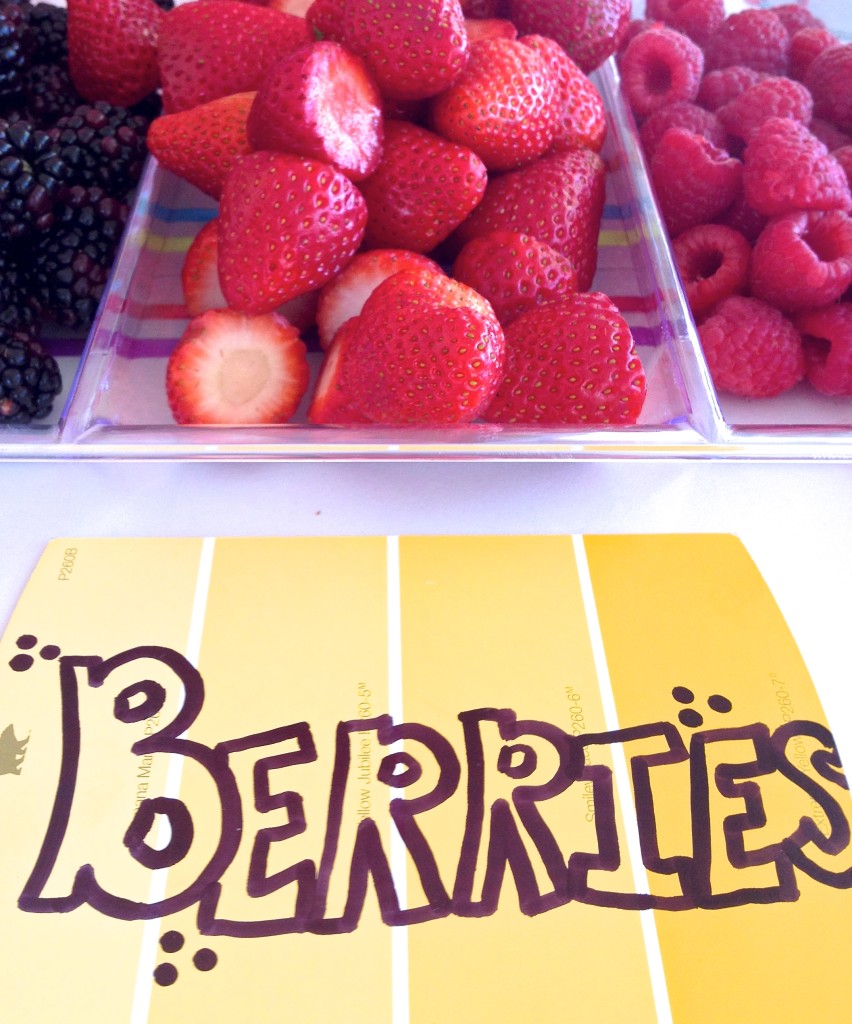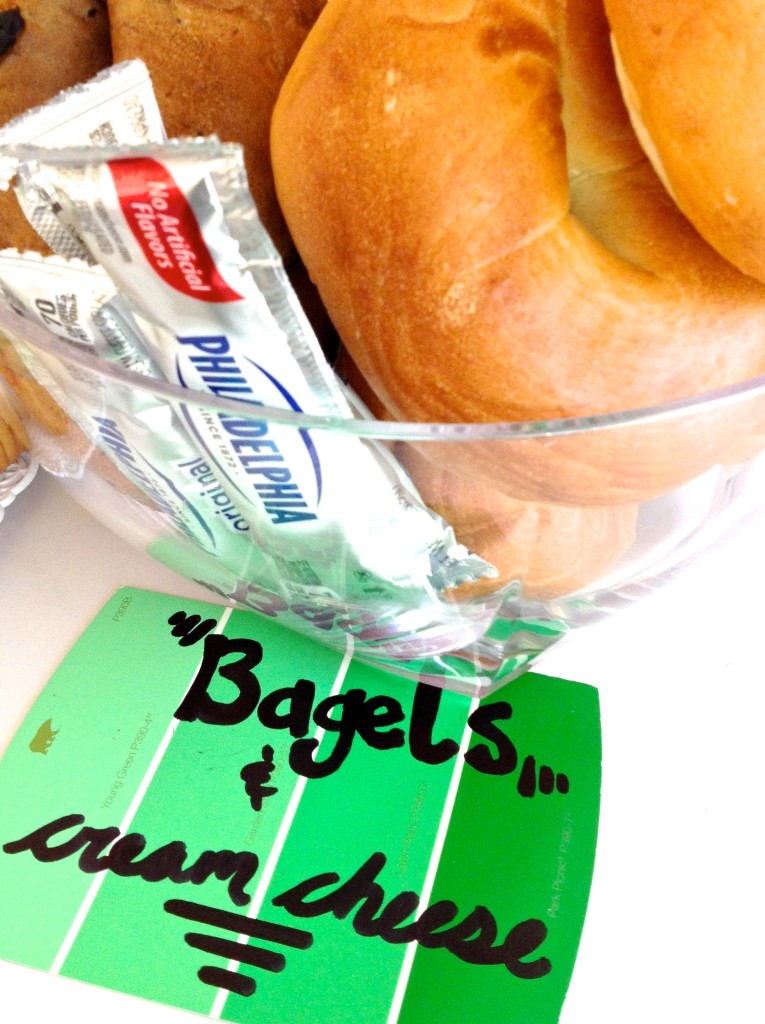 Paint Brush Rice Crispy Treats, and Muddy Buddies!!!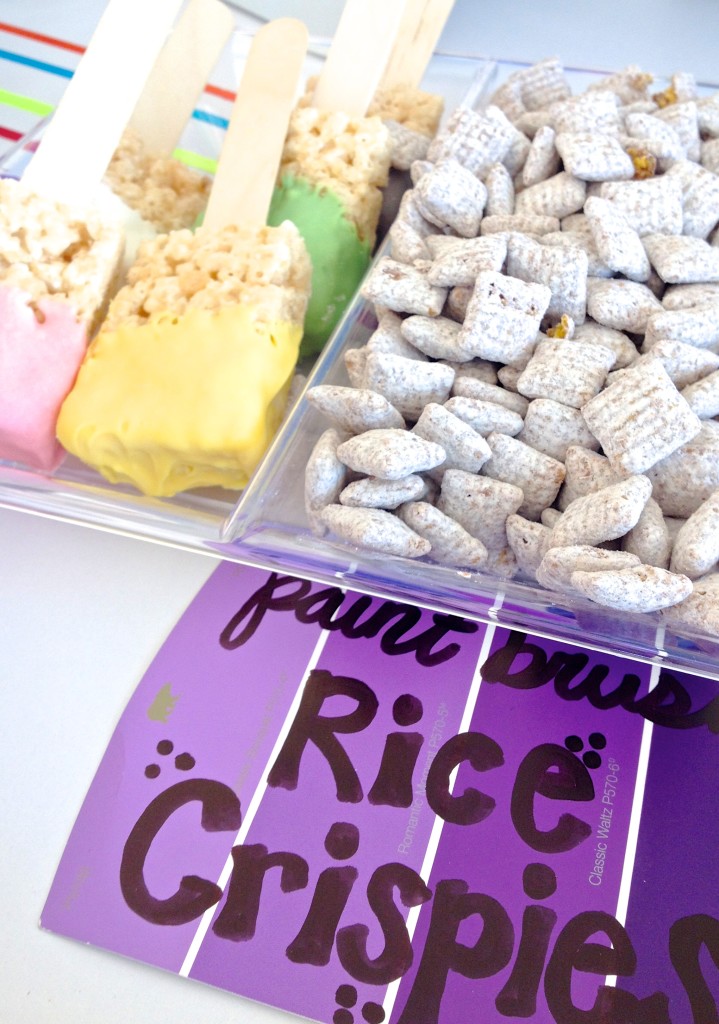 I will always have a blast planning her parties, but I think next year we might just go to Disneyland!
Simply Elegant Weddings will soon be Simply Elegant Weddings and Events! Do you have a birthday party, company party, holiday party, baby shower, or bridal shower to plan? Let us help you make it professional and unforgettable!