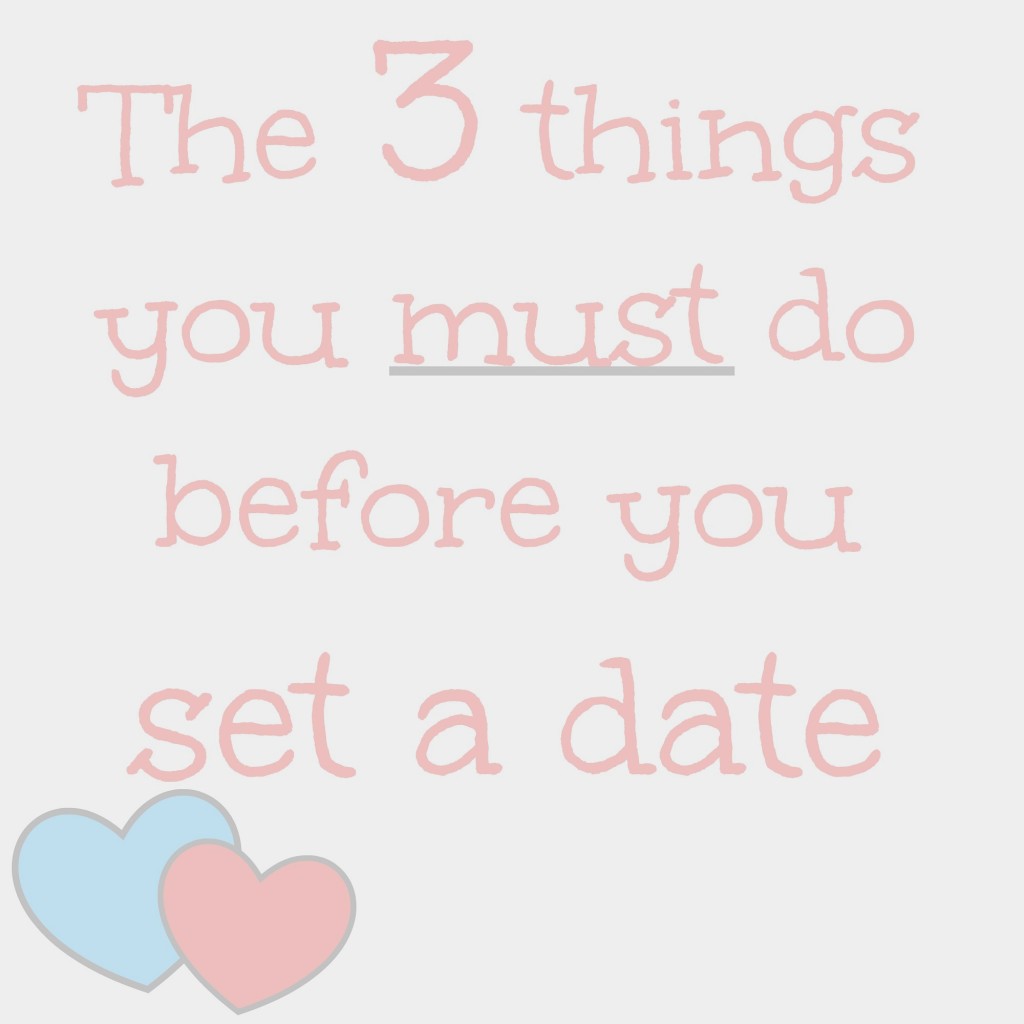 Congratulations! You just got a new ring 😉  The question everyone will immediately start asking you is, "so, when's the wedding???" So naturally, you will think that the first thing you need to do is Set a Date. HOLD ON A MINUTE! There are very important steps that come before you circle a date on the calendar. First thing you need to do is enjoy the fact that you just got engaged to the person you have been dreaming about your whole life! Enjoy this blissful state for a few days, weeks, months (whatever you feel comfortable with), then move onto these 3 crucial first steps you have to do BEFORE you set that wedding date!

Uncomfortable as it might be, you have to get this established before you do anything else. If you end up on a smaller than average budget, opting for a Sunday or Weekday to host your event will save you some serious cash. Also, if you elect a month that is considered "off season" for your particular climate, vendors will be more willing to play with the idea of discounts! If you jump the gun and choose a Saturday in the middle of June as your date, the demand is high, and you will find that vendors will have a hard time justifying a discount. Of course there are perks to that time of year, and a lot of perks to choosing a Saturday date. However, weighing the pros and cons on this list come after figuring out how much money you have to work with! 
Figure out who is willing to help with the expenses of the wedding. Hash it out with your parents, your fiance's parents, grandparents, and your partner! Figure out a ball park estimate of how much you will have to spend, and who you can expect to be writing the check. Don't feel discouraged if it ends up being you and your love! Many a wonderful wedding have been paid for by the couple. If this is the case, take the opportunity to make it completely about what you guys want! Your own money, means that you have 100% decision making power! If other people want to offer their two cents when it comes to what food you should serve, or what you should wear, then they can do just that (offer their two cents + how ever much their opinion is going to cost the budget!) For more help on how to create your wedding budget, read the article here, or Pin it and read it later!

At the budget talk with your parents, ask them for their list! This is a list of family members, and family friends that your parents would like to be invited. Combine these lists with your own list of family and friends that you want there. At this point, you can take a pencil to the list your parents gave you to make some edits, but refrain from permanently marking anyone off the list until it gets closer to the time to send out the invites, just trust me on this one! You may have not seen your second cousin twice removed since you were two, but for some reason your mother thought of her. This doesn't mean you have to invite everyone on the list right now! Once you get into the real planning, you will find things that will restrain the number of guests that you can actually invite (venue capacity, per person costs, etc). Let those issues be the reason you have to make "sacrifices" to the guest list.
For now, you just need a rough estimate. Gather your lists, pencil out the people you don't think will make the cut, temporarily edit the people you don't think will travel, and highlight your top 10% (your VIPs). When setting your date, you want to take into account what you know about your top 10%'s schedules. If you know that you want your brother to be your officiant, you better take into account that he starts his year abroad at school in London on September 3rd. I am NOT telling you to take into account everyone's here and there's, You will drive yourself crazy!  Only look at your top 10%. You won't be able to please everyone, it's virtually impossible!!! So don't beat yourself up about it, and DO NOT let anyone guilt you. It's not their wedding! At the end of it all, what matters is that you and your fiance get married and are happy!

Venue's schedules fill up fast, especially in San Diego. There are some that book 2 years in advance for Saturday dates! Before you start your search, narrow the style of venue you are looking for. What is so amazing about San Diego is that there is so much variety. Do you want your toes in the sand? or do you want woodsy wonderland? or maybe a rustic ranch complete with horses and hiking trails? Choosing the right location can minimize the amount of decor you need to supply. There are so many naturally beautiful venue's to choose from, so don't feel confined to a hotel ballroom or meeting hall. Once you have narrowed down your choices, contact the ones you are interested in. Inquire about availability! Price and maximum capacity are also good things to ask for up front. This information will also help you to narrow your search. The venue should be the first thing that you book! 
Once you have the venue booked, then you know your wedding date.
It is always good to narrow down your date selection to a season, or a couple of good months that would work for you. But be open to different dates until you put down your first deposit! That's the key! If you have a specific date set before you do the above 3 steps, you may be making phone calls and announcements to let everyone know that the date has changed. There are those family members who will buy a plane ticket at the first mention of your wedding (you know who they are!). So spare them the hassle of having to reschedule their travel plans, and when they ask, "So, when's the big day" just say, oh sometime this fall, we'll let you know when! 
A warm WELCOME to all newly engaged ladies and gents! This blog is specifically designed to help you plan your wedding. I post frequently about tips and tricks to help you along your planning journey, helping you to save some money, and DIYing things in the process. If you would like to be included in my newsletter (0nly once per month, I promise) please fill out the email form below. Also, I didn't mention it above, but now is also the time to start looking for wedding planners (if you want one). My services are designed with the DIY bride in mind, and still allow you to have a hand in planning your wedding, while receiving the guidance of a professional wedding planner. Please contact me if this is something you are interested in learning more about!
As always, Happy Planning!!!