Archive for January, 2017
So every once in a while I have a church ceremony that ends way earlier than the guests are supposed to arrive at the reception venue for cocktail hour. You know, the ceremony time at the church is from 2-3, but the bar doesn't open at the venue until 5pm. For me and most other planners, its an immediate panic attack, cause we just KNOW that the guests are just going to go straight to the venue, and be trapped outside, cause we can't let them in, nor is the venue even done being set up by 3pm (cause as far as the venue is concerned, it's not supposed to be done till 5pm!) So my brain goes straight to panic mode AHAHAAAAAAH! Because my set up rule ALWAYS is to not allow any guests to see any set up happening EVER. Now sometimes, we have absolutely no control over this. I can't control Aunt Carol from showing up 2 hours before the start time of the ceremony, just cause she doesn't want to be late! I get that, and no matter what is happening or what is going wrong, we try our darndest to keep our cool around Aunt Carol so that she doesn't feel like she needs to help in any way! But if all 100 guests are done with the ceremony, and they have no where else to go except straight to the venue, you better make sure to move up the start time of your venue to include that gap hour. Or have a really smart coordinator who knows ways to detour the crowd. Now I'm going to tell you best thing that I've learned to do, when there is a gap of time between the 2 big events.
I make these cards, and it usually buys me some time to get everything set up by the time the guests arrive.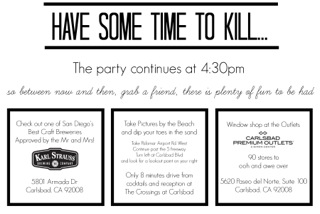 I ask my clients what other things they enjoy doing in the area. Is there a restaurant they frequent? A place nearby that is significant to their relationship? These are awesome suggestions to give to your guests. Maybe they get to see for themselves the spot that he proposed. Or a place that like to go to on a regular date night. Give them an added glimpse into your lives together. They will want to go, and it will buy some time so that they aren't bored and at the venue for way longer than they need to be, getting tired and hungry!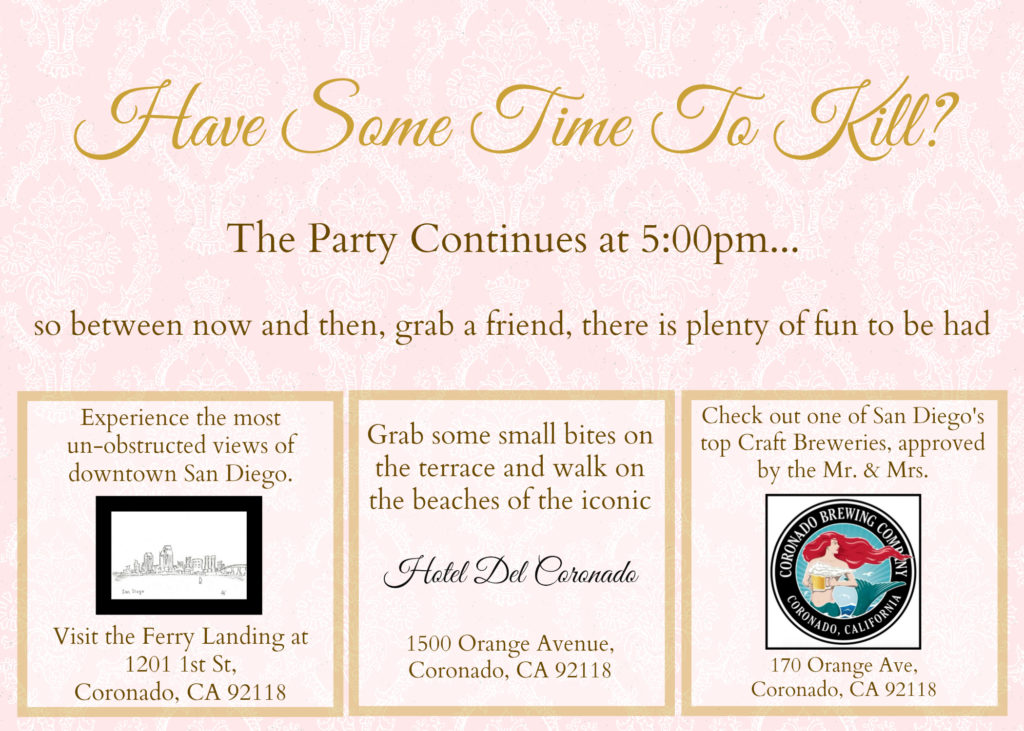 My top things to do are these, if you need some help thinking of ideas for your guests to do:
1. A restaurant, brewery, or bar close to where the second venue is, so there is limited driving or a very short shared UBER ride. A popular one in Carlsbad is the Karl Strauss Brewery. Or in Coronado there is the Coronado Brewing Company. Maybe it's a place to get amazing wings, or a good brew, or good wine. But either way, they have something to do.
2. Always include a kid friendly option, for the parents in the group, or those who just need some good wholesome fun in their day! There's plenty of time to eat and drink later, right! Is there a park on the way? Is there a restaurant with a good arcade near by? In Point Loma, you have the Corvette Diner, they can go in, get a milkshake, and spend some time playing their awesome arcade games!
3. Is there a fun ice cream or frozen yogurt shop in the area? Or maybe a bakery? Your guests will enjoy being able to satisfy their sweet tooth and feel a little naughty by eating dessert before dinner! In Kearny Mesa, there's Bing Haus, and awesome and super swanky rolled ice cream shop. Super fun, simple, and a pure slice of heaven!
4. A quick little stroll on the beach? A quick trip to a iconic landmark? Is there a beach or good view point some where between your ceremony and your venue? Have them go take a selfie with a view of downtown or beautiful La Jolla cove in the background, and #yourwedding!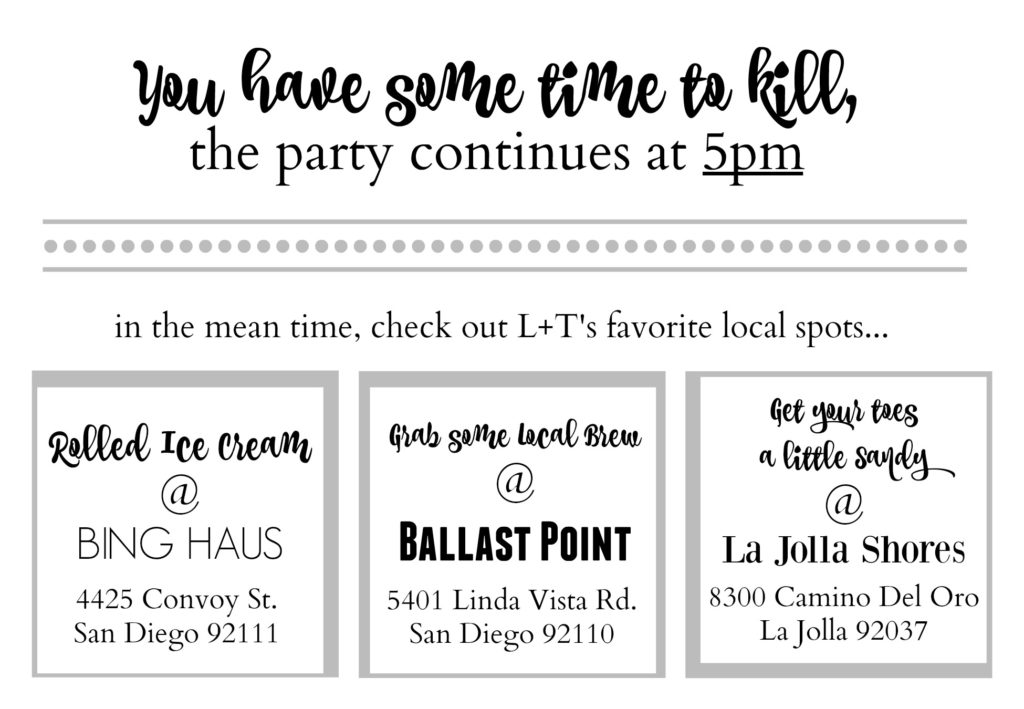 Most importantly, get the word out. Have this hand out printed for your Ushers to hand out at the ceremony while they seat people. Have your wedding party or coordinator handing them out and talking it up before/after the ceremony. Make sure to mention that the BAR Don't Open till 5pm!!! That should keep people away, haha!
Include a copy on your wedding website, so people know ahead of time!!! And can make plans ahead of time if they want to!
Hope this helps close the time gap!
Happy Planning!
xo,
Juliette

Why does a wedding cost so much?
I get asked this question ALL THE TIME! Mostly from family members, parents, and friends of a newly wedded couple who spent a small (sometimes large) fortune on the wedding of their dreams. Most engaged couples have already done their research before they get around to booking a planner, so I don't hear it much from them. Until they are asked to sign contracts and put down huge down payments, then it becomes real. And rightfully so!
In 2015, the average cost of a wedding in San Diego was around $36,000 (based on The Wedding Report, Inc.). That's as much as a down payment on a starter home!
Why?
Let's look at real life equivalents for a sec. If you walked into a crowded restaurant of 100-200 individuals, and shouted at the top of your lungs, "hey everyone, drinks and food are on us! Have the kind of night you'll remember forever!" first, I hope that I am sitting at one of those tables. But for real, you're not going home with a just couple hundred out of your account. More like $10,000 or even more, depending on how much they drink, and how good the food is! But wait, you don't want to get married in a crowded restaurant, cause you want to party! So you want to add that party atmosphere by setting up your own decor, in your own style. Basically creating the dining room of your dreams. Whether that be in a hotel ballroom, or a private estate, you are still looking at a space rental ($2500-$6000). But you don't just need the space, you need it to be set up for you… add in rental companies and staff members to set up/clean up/and manage your event. And that is just dinner…
Average cost of a ceremony (complete with space rental, musicians, professional officiant, flowers, chairs, arch/chuppah) is about $2500.
Average cost of a florist (centerpieces, bridal bouquet, wedding party & family flowers, boutonniere, light ceremony decor) about $2000.
Average cost of a wedding photographer in San Diego ranges anywhere from $3000-$5000.
Videographer average in San Diego is $2000-$4000
Average cost of a DJ/MC is $1200
Planner: $3000-5000
Wedding Cake: $500-$700
Wedding Dress: $1300
Invitations/Stationary: $500
Etc.
Etc.
Etc.
And you are looking at a grand total of: your first born child or $30,000+. I wish it weren't true, but it adds up real quick!
So what can I do to NOT spend than much?
For starters, Throw out the Pinterest expectations! I'm not saying that you can't have a beautifully styled wedding! But be realistic about what things cost. There are some blog images that cost 1000's of dollars to create just one table. So be realistic about what you can afford. DIYing crafts will help you, but it still doesn't mean that your $10,000 budget is going to get you what you see on the front page of Style Me Pretty! Be okay with it looking different than the picture, and put your own spin on everything (it's YOUR wedding after all, right?)!
Look for discounts. Here in San Diego, we LOVE our Military! So if you are in, or marrying into the armed forces, start throwing that weight around and take advantage of the saved cash! If you aren't that fortunate, sign up for newsletters, LIKE your vendors pages on social media, and look on their Yelp pages for special offers.
Coupons are awesome, whether you're getting married or stocking up on dish soap!
Cut the guest list! If your parents start complaining, just tell them that if they want to invite aunt X, Y, and baby Z, then they need to pay for those additional guests. To put it into perspective, about 60% of your budget is based off of per person amounts. More people = More money, it's as simple as that!
For more tips and tricks to save you money on your wedding, just keep reading! I do my best to help stretch your budget as far as it can go… I love saving money!
Happy Planning!
<3 Juliette