Archive for January, 2016
Why would someone want to hire a wedding planner, when they already know what they want and how it should look on Pinterest?
There is so much more to planning an event than just picking out the right color swatches and DIYing all your own decor. There are vendors to hire, money to organize, etiquette to follow (or not follow), and more opinions from your friends/family than you ever thought possible. So here are just some of the things that we will help you with! 
Get you Started:
Beginning to plan a wedding is like trying to clean up a disaster zone. You can stare at the pile for hours before you even know where to start. That's why looking to someone who has done it before can be so helpful! When you look to an experienced wedding planner, you gain the benefit of our knowledge and past experiences. A good Planner can tell you what you need to know when interviewing other vendors. We can even go with you on those meetings to help screen out the good, from the just okay. An educated planner can look over your contracts with other vendors to make sure you are not paying for things you do not need or fees that were not agreed upon. Most planners have a preferred list of vendors that they have worked with in the past. We know that those vendors are worthy of your money! Planners have also worked with vendors that are not so good (unfortunately)! We remember what happened in the past, the mishaps that they (the planner) had to make right. We can warn you to stay away from these troubled vendors, something that Yelp reviews may not always be able to do.
Save Time:
Time is money, and when there is a deadline, it is a stressor! There is no need to spend 24/7 researching how to's or stressing over what flowers would make your bouquet pop against your white dress! A planner can do that for you. Save your beauty sleep, and schedule a meeting with your planner. We will research anything that you have a question about! Then we will present you with a few options based on your vision and all you have to do is say "I want this one."
Rescue your Relationships:
When you are engaged there can be a lot of family input, from both sides. Being a patient and kind bride will help to start your relationship with your in laws on the right foot. It is important not to step on anyone's toes and not hurt any feelings. Part of a planners job is to act as a buffer, between the couple and their relatives. A planner can help smooth over any differences that you may have with your immediate or your future family. Also, We can help to prevent a case of "Crazy Bride Syndrome" from occurring a week before the big day. Our goal is to keep you as calm and as relaxed as possible, because the last thing anyone wants to deal with is a case of "The Freaked Out Groom"! Grooms: yes, your bride has a lot of things to deal with at the moment. no, they are not going to stay this way once you are married! Weddings do have a tendency to cause temporary insanity. Spare yourself and let the planner be the one to go through it.
Save you Money:
Although it seems counter productive to spend money on someone who can save you money, it really isn't, I promise. Wedding Planners are expert bargain hunters. Even working with the most outrageous of budgets, a wedding planner is still faced with the obstacle that our clients don't want to spend more than they have to. It is our job to find the best price possible. San Diego is consistently ranked one of the most expensive cities in the country to host a wedding. In 2014, the average budget in San Diego was $32,941! That's a lot of pressure for a bride on a tight budget. Wedding Planners have the knowledge of the city and we can give you pointers on where to shop for the best prices! Working with a planner can help you find reputable vendors in the price point that you are looking to spend. Vendors on a planners preferred list will often either give a discount to the couple or will give the planner a kick back for setting them up with the job. **At Simply Elegant Weddings, we ALWAYS pass this on to the client in the form of a discount from the vendor, or a discount on our services to make up the difference! And we never choose vendors just for this reason, they have to be good at their job for us to want to work with them!
Make your day about You:
Wedding Planners are trained to notice (and fix) the details. You want your guests to be focused on you and your partner, not on the boxes behind you that someone forgot to move out of sight. But if you are getting dressed and having your hair and makeup done, who is going to look after these last minute details. This is the job of the Day-of Wedding Coordinator. We are there to make sure that every wrinkle gets unwrinkled, that every stray thread gets plucked, that every piece of glass is fingerprint free! Day of Coordinating is the most affordable form of wedding planning, and in my opinion is the most important. You can not be everywhere on the day of your wedding, it's impossible. You will be getting hair and makeup done at the same time that vendors will be arriving to the venue to set up. You need to be focused on what is important, the major fact that you are getting married to the love of your life in a few short hours! It is a Wedding Planners job to make sure that the vendors arrive on time and that everything looks the way that you envisioned it would.
Many major wedding venues (like hotels and catering halls) come with the service of an 'Events Manager' or 'Venue Coordinator'. These guys are great, but they are not your personal wedding coordinator. The role of an events manager or venue coordinator is to take care of what the venue is in charge of (tables, chairs, linens, place settings) and to make sure that your event stays within the rules of the venue. Often times, that is where the service stops. They do not coordinate activities during the event and they do not set up (or clean up) any personal decor that you have to incorporate in your wedding or reception.
Fix what needs Fixin':
JLo had an utility belt. I have a Mary Poppins bag full of last minute emergency fixes. I am sure that I haven't seen it All, but I have seen a lot! Everything from blood on the wedding dress to broken boutonnieres, suit coat buttons that are missing to wipes for your face after a good cake smash. I've got you and your guests covered, all day long. Think of me as hands-on insurance! But we don't just fix things on the wedding day, If you have a tiff with your future mother in law and you need to be reassured at 2am that going through with the wedding is the right thing to do, I'll answer your call! If your DJ makes you angry by playing a song that you hate, I'll take care of that too! My job is to make sure that you enjoy getting married and that you celebrate it with no stress attached!
Wedding Planners are a necessity for weddings. Maybe I am biased, but I really do think that hiring someone to take care of plans and logistics is essential to being able to relax and enjoy your special day. I think that the idea of hiring a planner or even a Day of Coordinator has become associated with being a Luxury expense when it comes to your wedding budget. However, when you factor in what a planner can save you, through connections with other vendors and shopping for the best deals, it can pretty much even out the price of their services. Plus, you get all of the other perks of having a planner, an extra set of hands, and the knowledge from their previous experiences.
So are you are still on the fence about whether to brave the process yourself or hire a planner? If so, I encourage you to schedule a FREE start up consultation! This is not a commitment ceremony, it's Just a meeting. There is no charge, and it will help get you organized and focused! We will go over the different services that we can offer you and different ways that we can help that will fit into your specific budget. It's not just a sales pitch though! We will also give you checklists and worksheets that will help you throughout your planning process, whether you decide to hire us or not!
Happy Planning!
-Juliette
So last week I showed you part one of Beth and Andrew's beauty and the beast inspired wedding. So here is part two!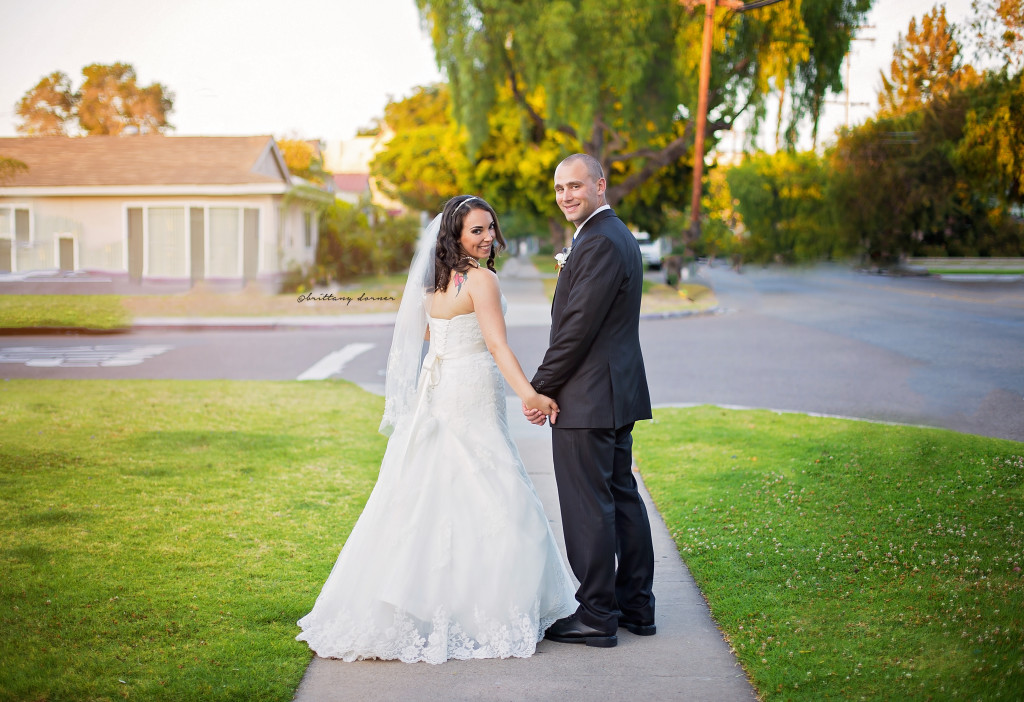 The Bride had a great vision for her bouquet! She wanted to carry it in a basket, just like Bell in the beginning of Disney cartoon. I love this look, it's beautiful, simple, yet so unexpected! And this wasn't the only great idea that she had for her bouquet. She wanted to be able to share it with the very special women in her life. So this basket actually held 6 different mini bouquets, one for each of the women in attendance whom she treasured. Since it was such a small and intimate affair, she opted out of a bouquet toss, and instead took the time to share a piece of her bouquet with them and acknowledge her gratitude for their support and love throughout her life. The flowers were created by the oh, so, talented San Diego Floral Design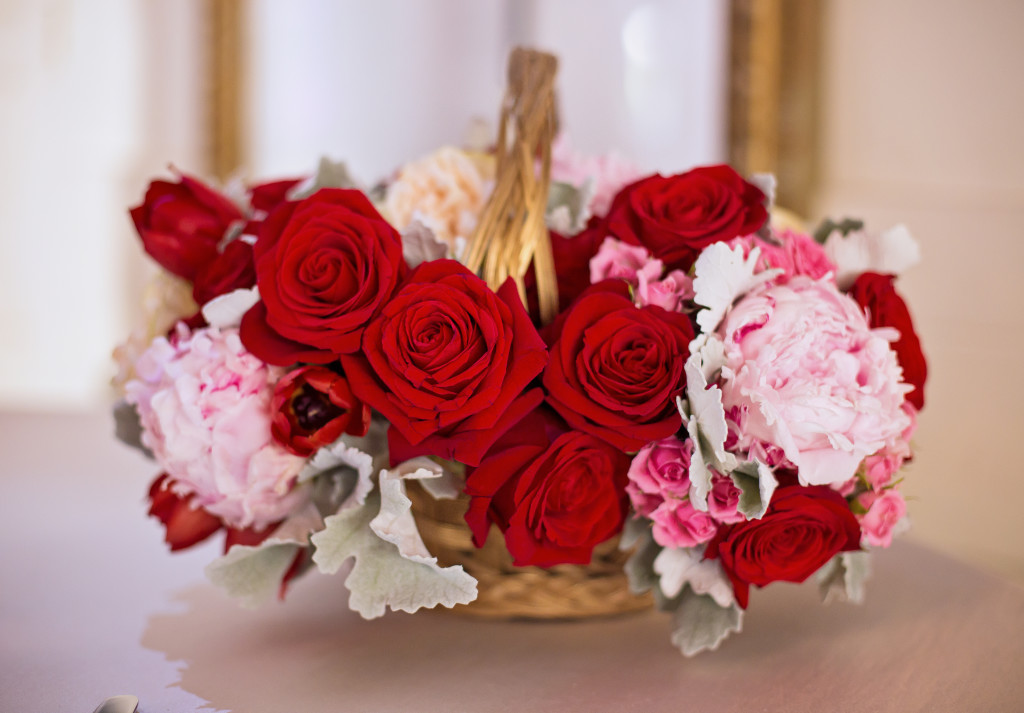 Keeping with the Beauty and the Beast essence, Red Roses were a must. The Bride DIY'd this amazing floating rose for their sweethearts table.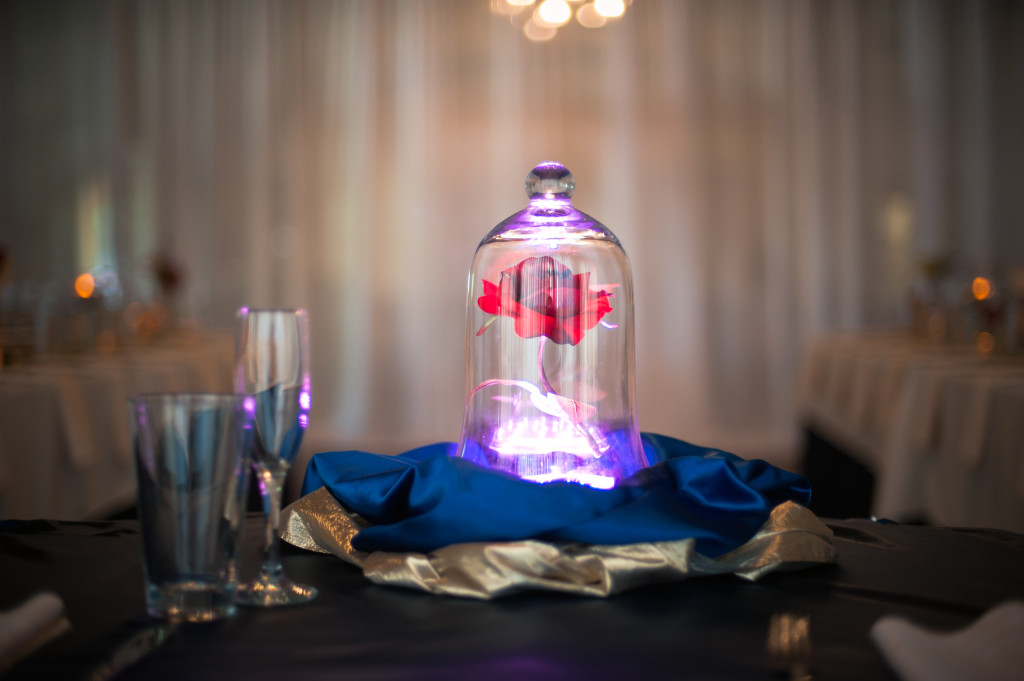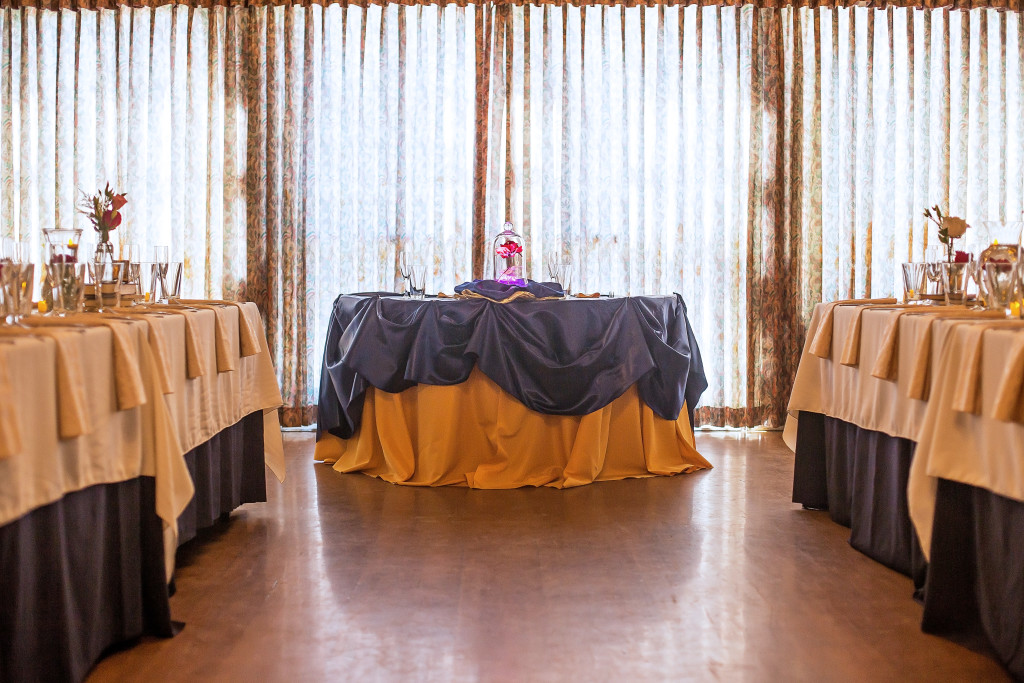 Not only was it important to have red roses, she also wanted flowers that looked like they were picked straight from the french countryside to decorate the tables. Knowing that I had to marry the two looks together (pardon the pun), I picked up a bundle of red roses on my way to the venue, brought some mini but vases from home, and added tiny pops of red to the tables. This tied everything together, and the outcome was exactly what the bride didn't even know that she wanted!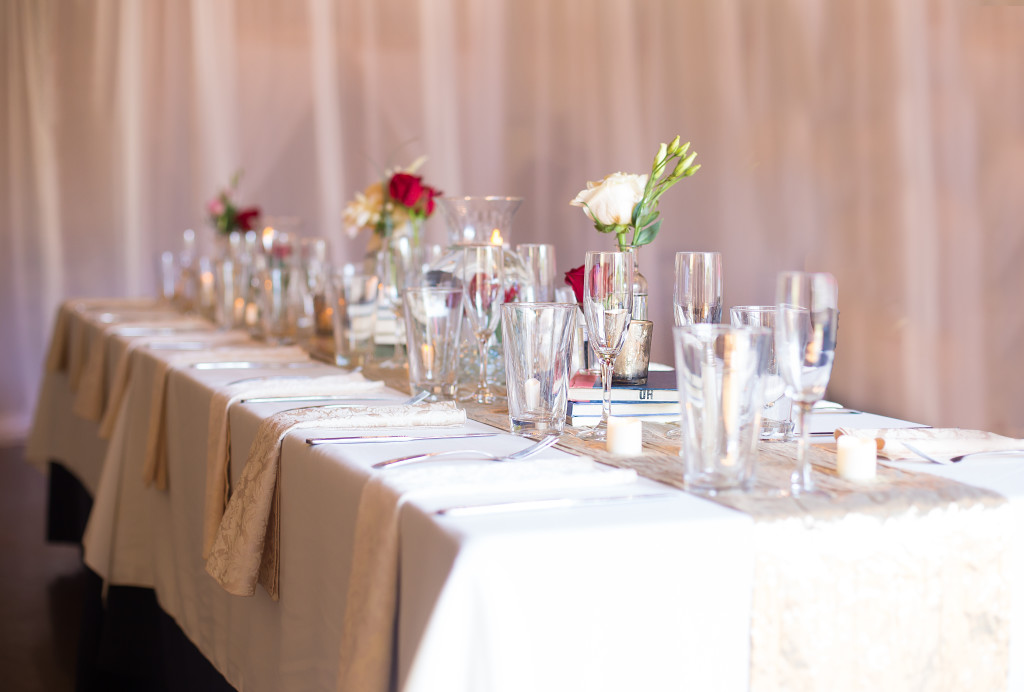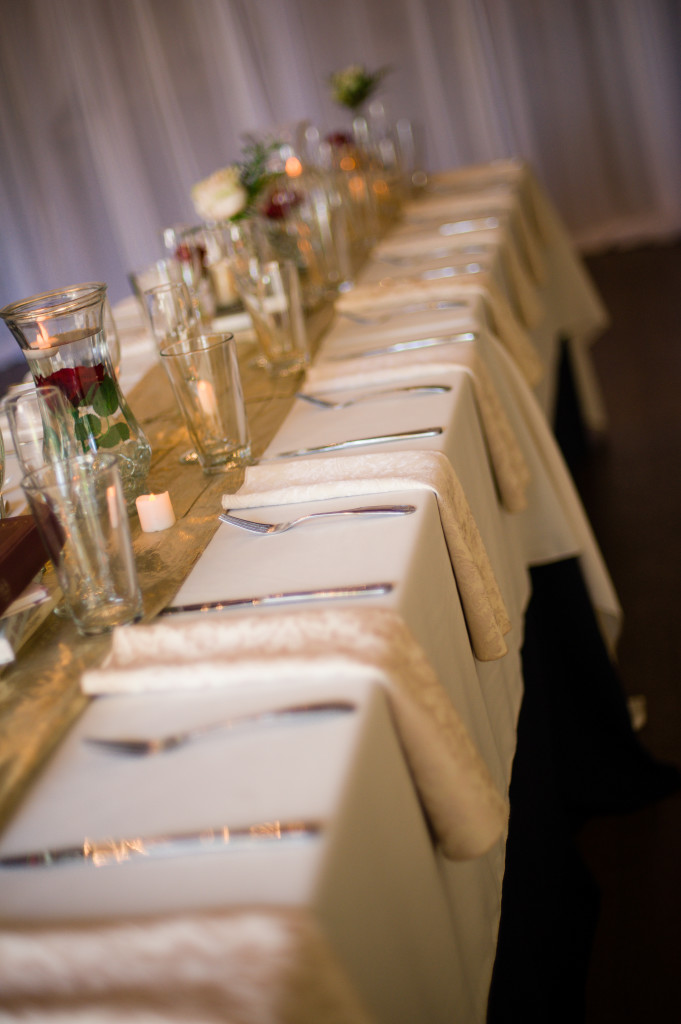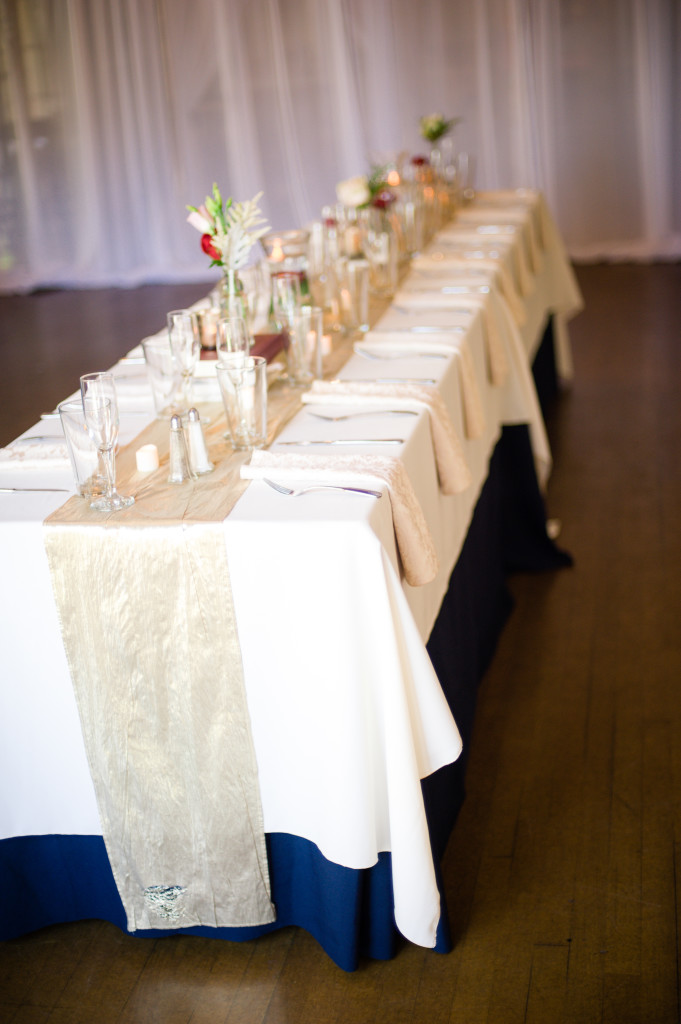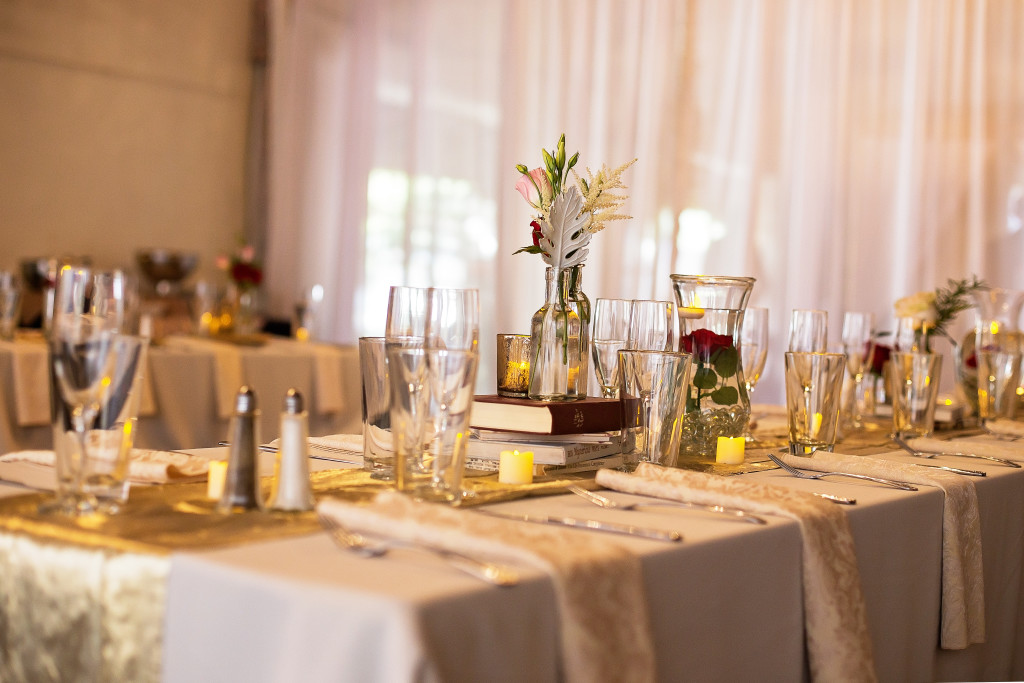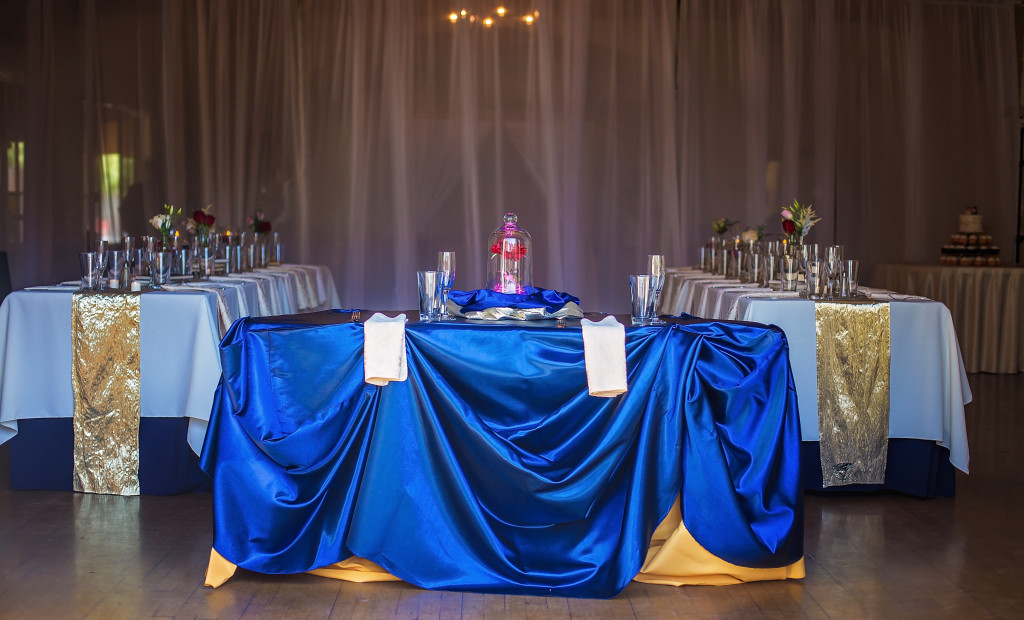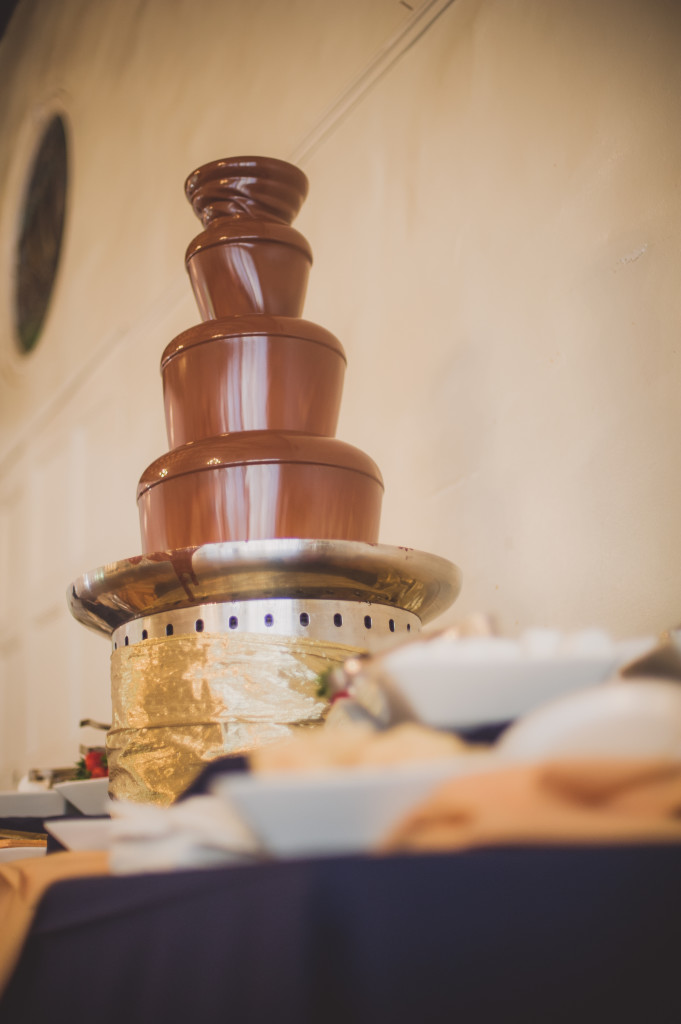 Splitting one large room in half can be tricky, especially when you still need the whole space after the ceremony is over. We came up with the idea to add pipe and drape directly in the middle of the space. We couldn't break it down during the short cocktail hour, when the guests would be outside, so instead we split it in the middle and created a pulled curtain look allowing the guests to see into the "ceremony" half where the dancing would take place later that evening. This mimicked the arch that the couple built together to use as their ceremony arch. (you can see the photos here: http://simplyelegantweddingplanning.com/beauty-and-the-beast-wedding_part1/)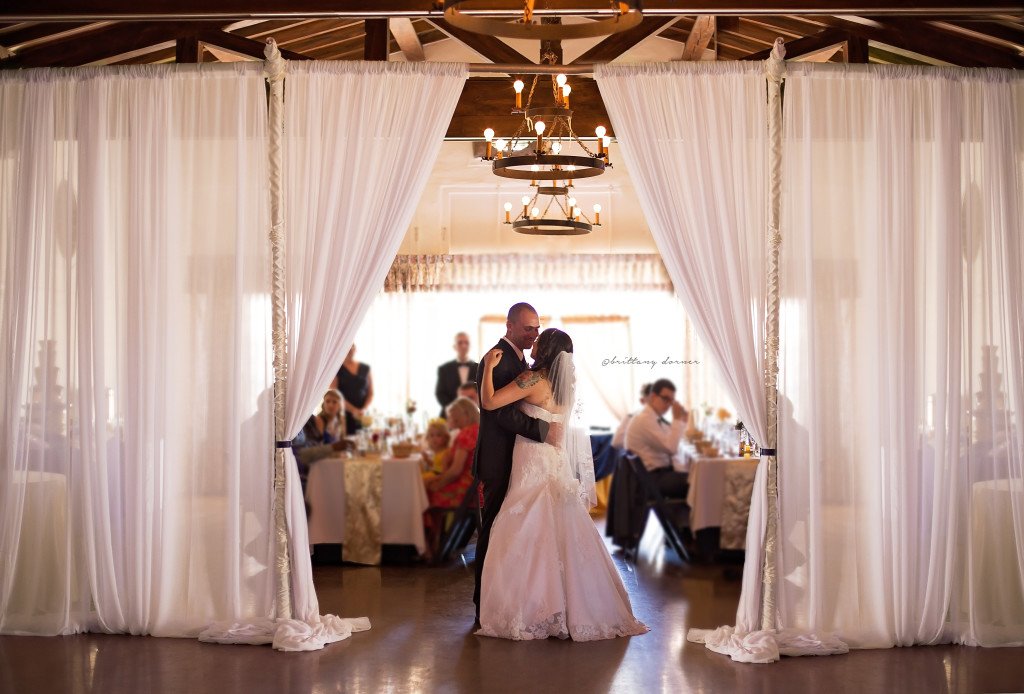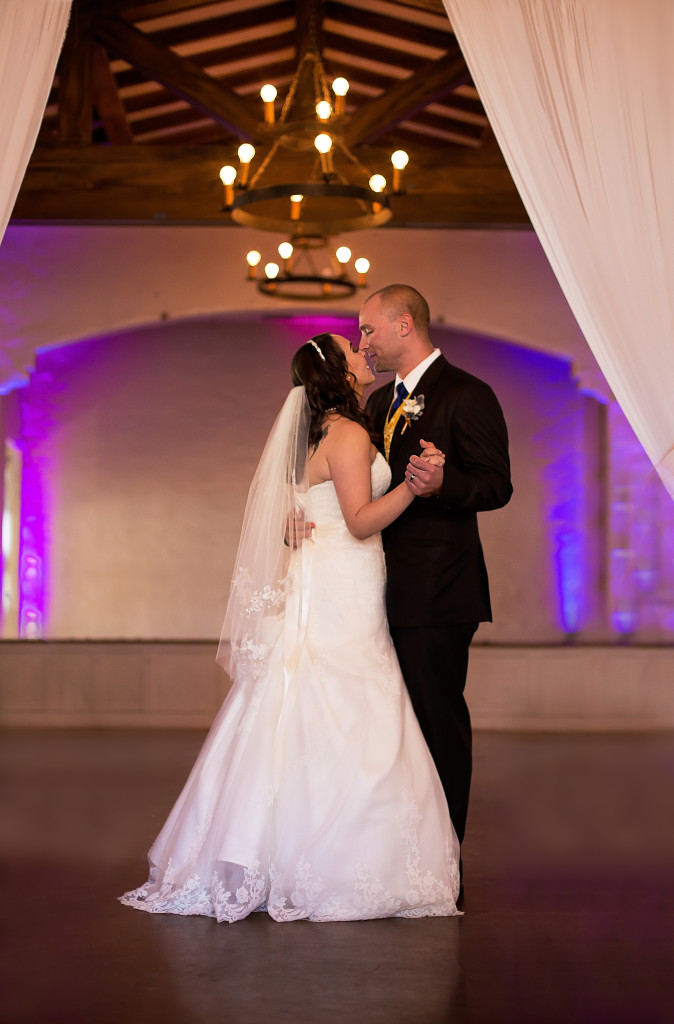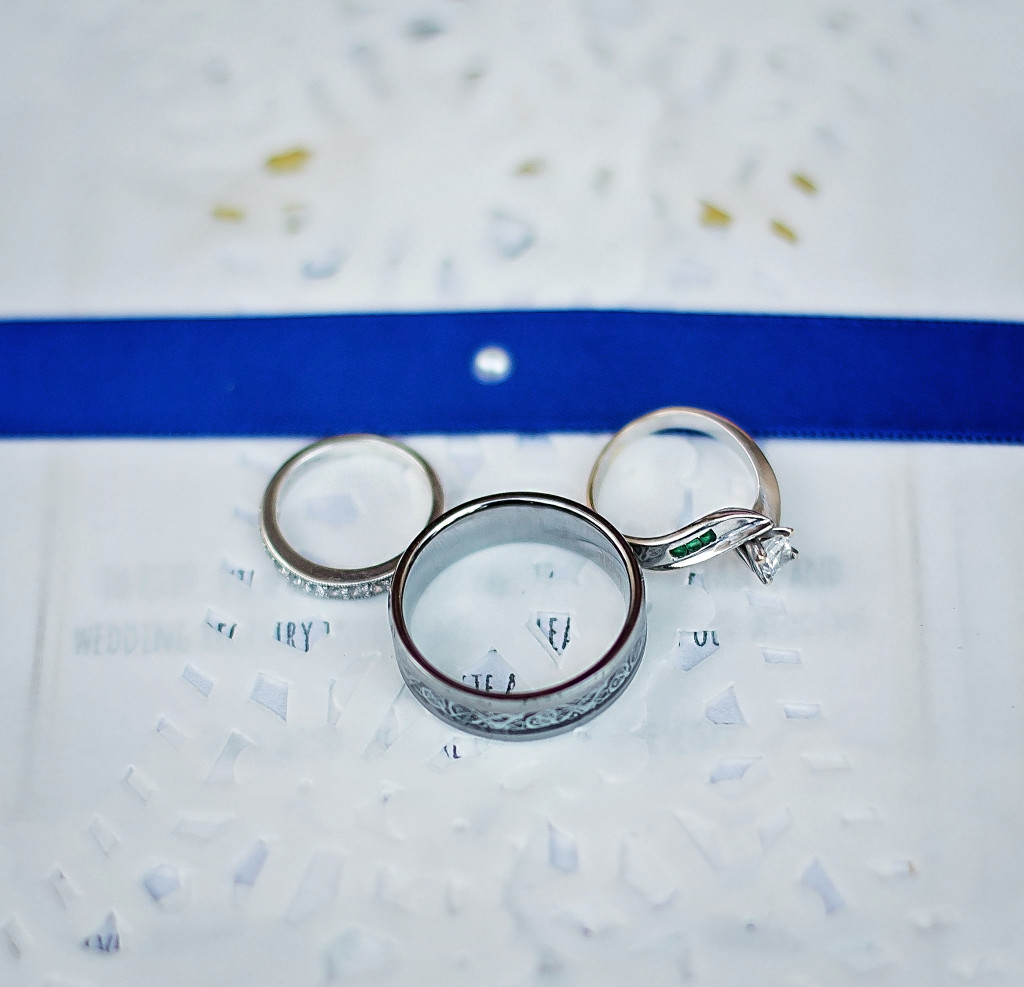 Vendors Credits:
Photography: Brittany Dorner Photography
Flowers: San Diego Floral Design
Invitations: DIY by the couple
Design/Planning: Simply Elegant Weddings
Linens/Catering: Ranch Events
Venue: Chula Vista Women's Club
Uplighting/DJ: HVK Entertainment
Happy Planning!
-Juliette
I remember the very first email I ever received from Beth! Her bubbly voice shined though the computer, and I knew this was going to be an amazingly fun couple to work with. However, I was definitely hesitant when I kept reading and realized she wanted a Disney inspired, totally princess-ed out wedding! If you know me well enough, you know that this is pretty much the opposite of my personality, and even though I can appreciate a good cry from a rom-com marathon, and I always get sappy during toasts and first dances during weddings, the Disney fairytale has just never hooked my heart. At least not the same way that it had with Beth! But I reserved judgement, and went to meet her with an open mind! Thank goodness I did! She made me a believer. And once she told me that she wanted it to be inspired by Disney, and not a literal Disney take over, I knew I had to help her and Andrew pull it off!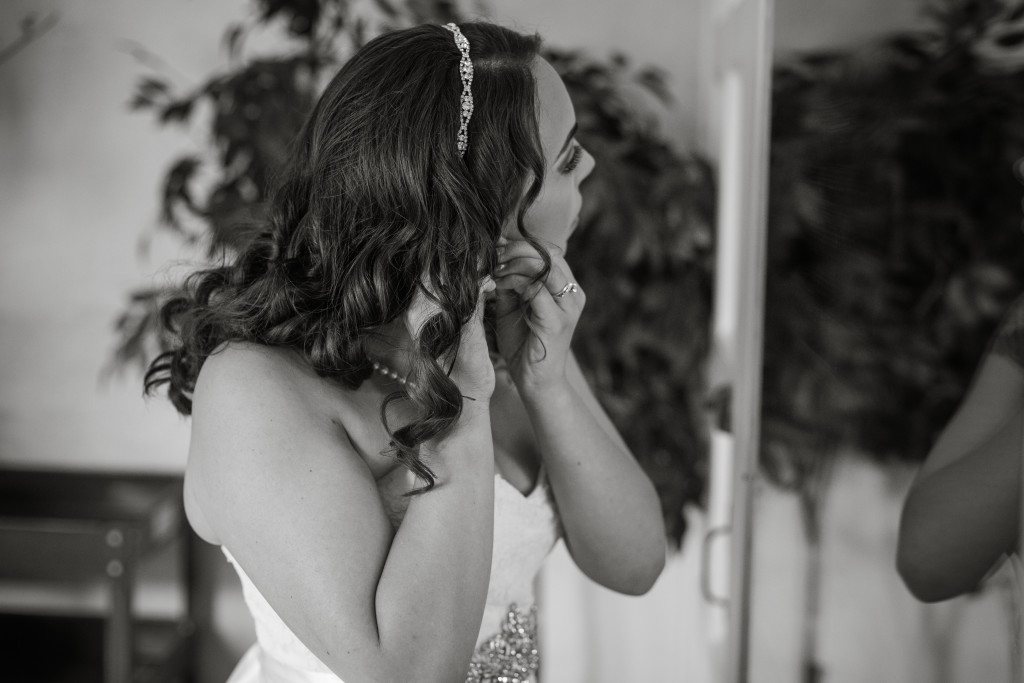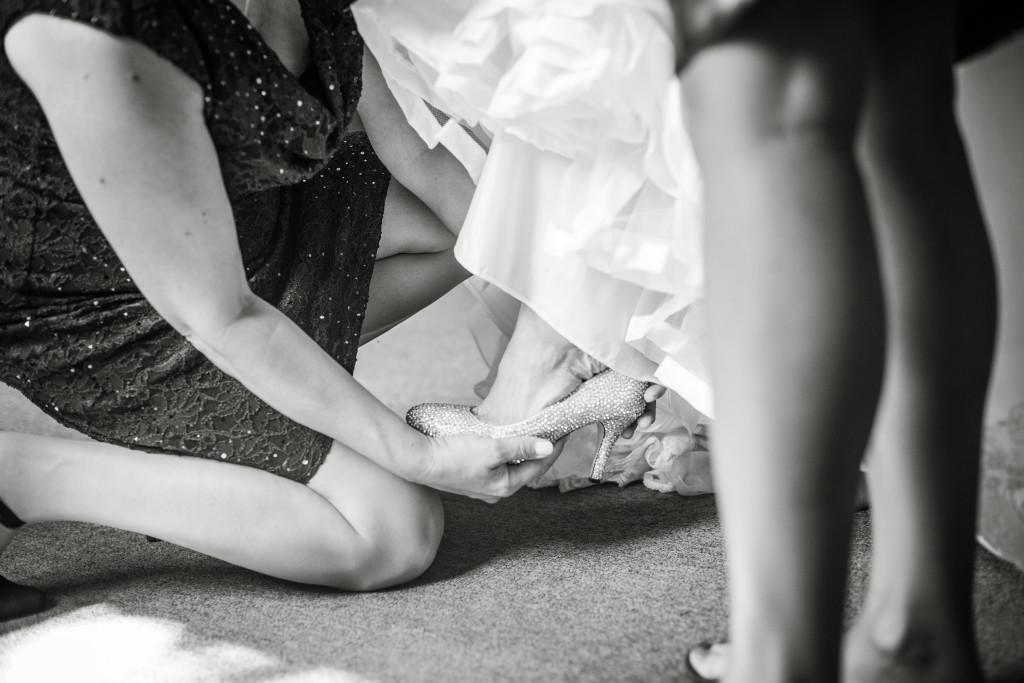 Complete with the most b-dazzled cinderella shoes I've ever seen! Enjoy scrolling through these beautiful images by Brittany Dorner Photography.  There is lots of wedding inspiration to be had, and most of the decor was DIY'd by the adorable Bride and Groom.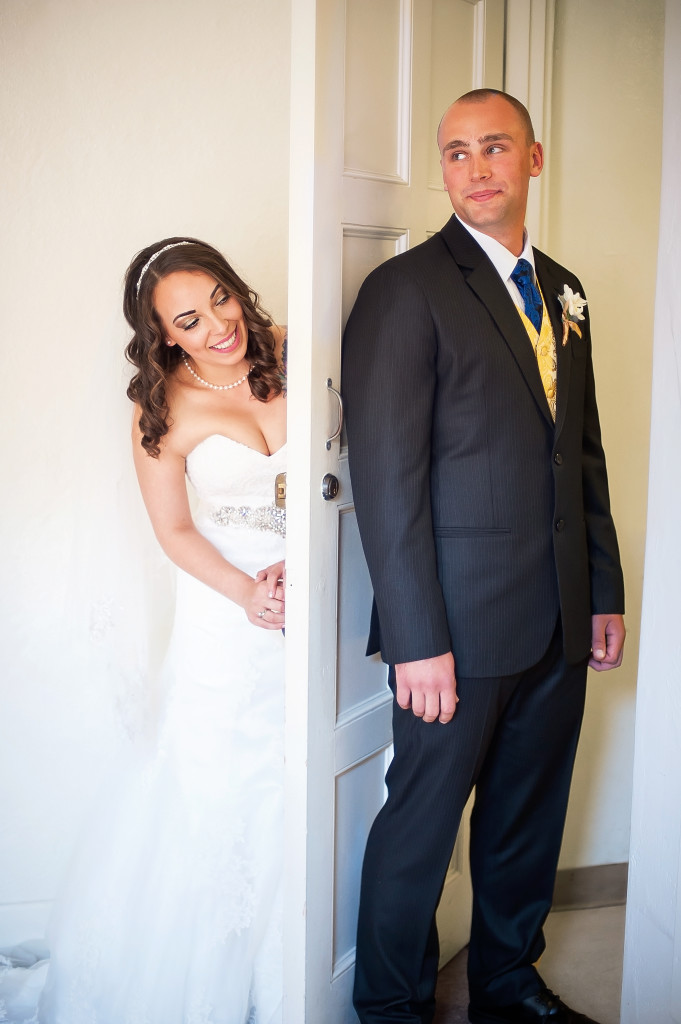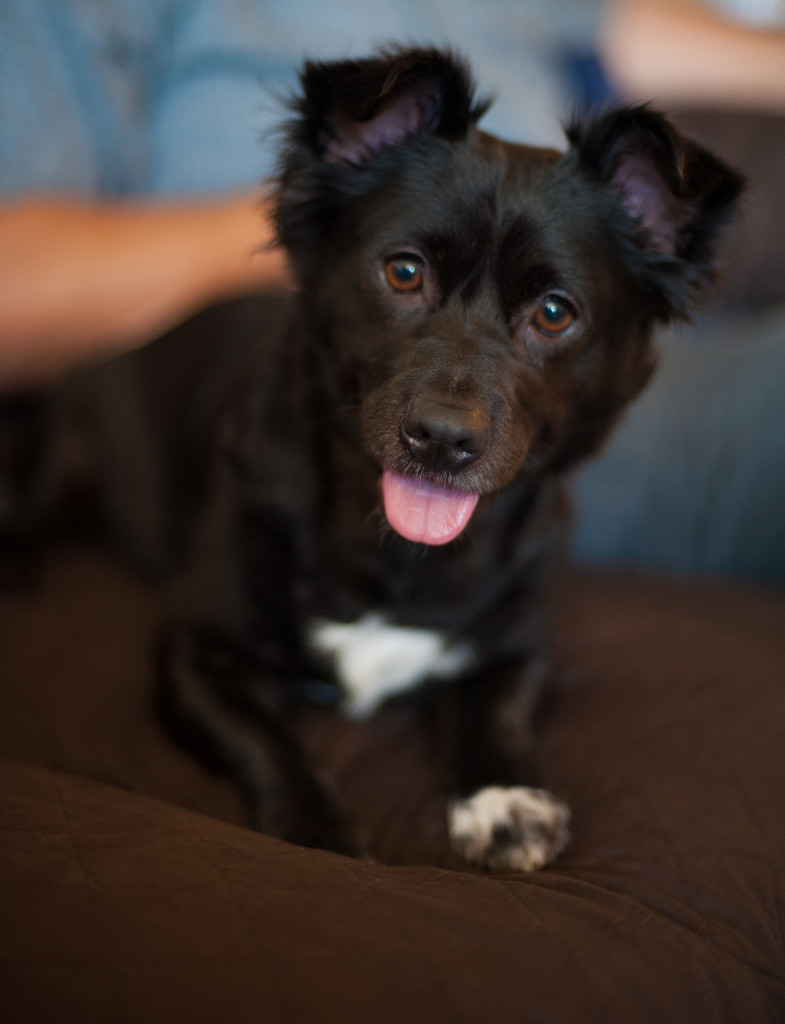 Oren, the couple's fur baby was involved in nearly the whole day! He had to the high responsibility of being their doggy ring bearer. And even got a special dance with his mommy later in the evening before his bed time! My team did not mind playing babysitter to this adorable little guy! #thatface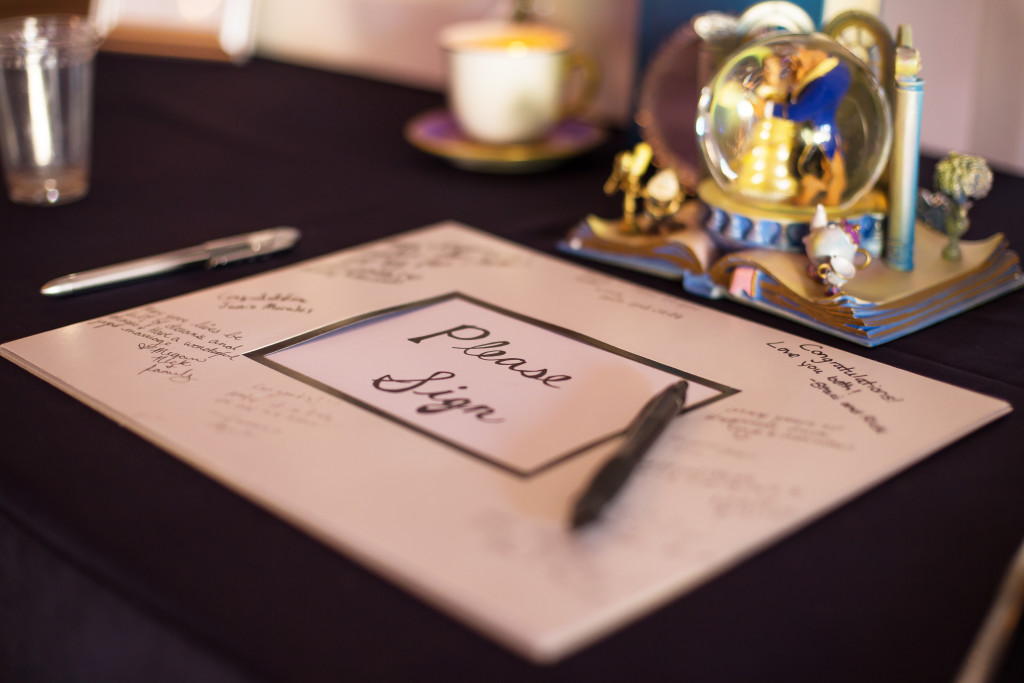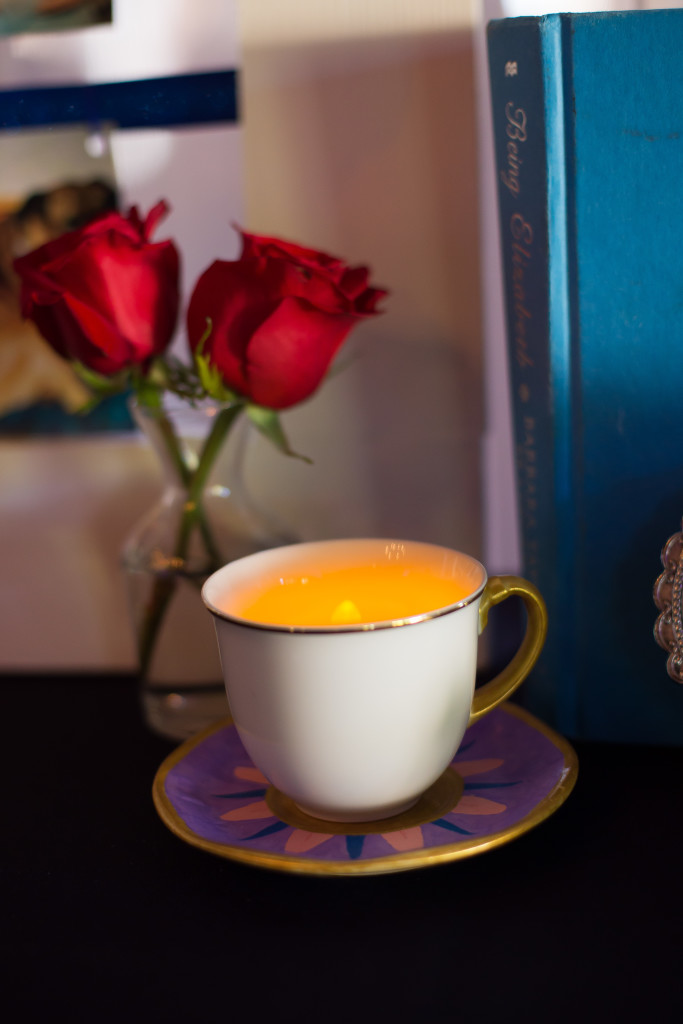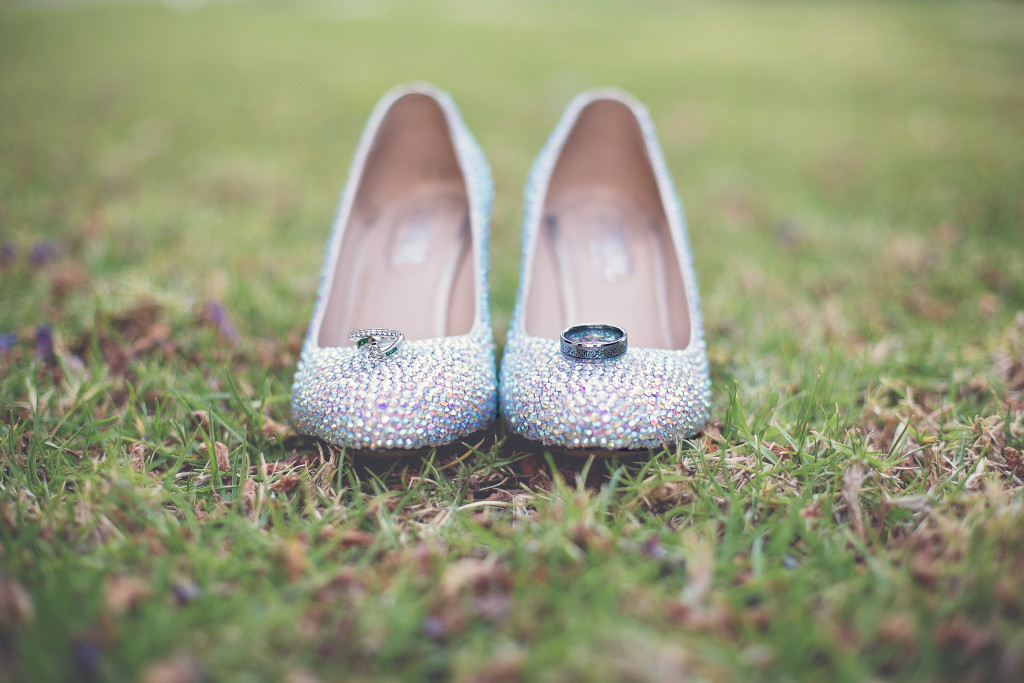 Staying true to what Bell would do, Beth thought to have her bouquet in basket. As if it were all picked fresh from her french country garden! The thing weighed a ton, but goodness it was stunning! She even had the bouquet tied as several smaller bouquets, and instead of doing the traditional bouquet toss, she took the smaller tied bouquets and gave them to the important women in her life! Everyone was so surprised, and it was such a touching moment to see the bride recognize each of the women whom she looks up to and admires! The flowers were done by San Diego Floral Design, with some added touches by Simply Elegant Weddings to help the whole look tie together. We make a great team!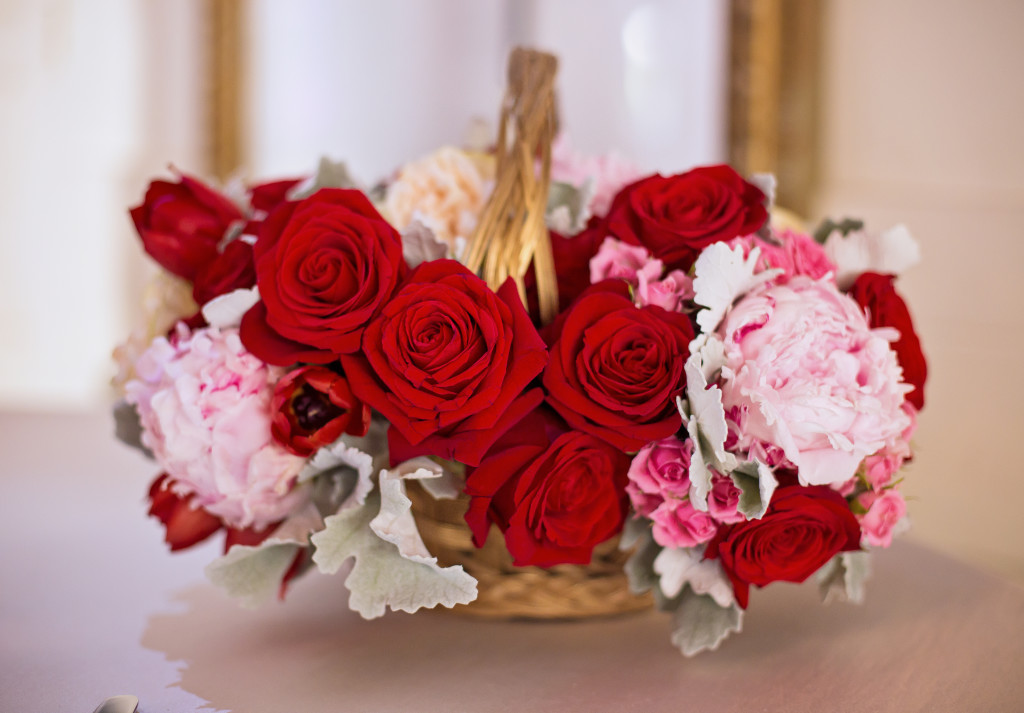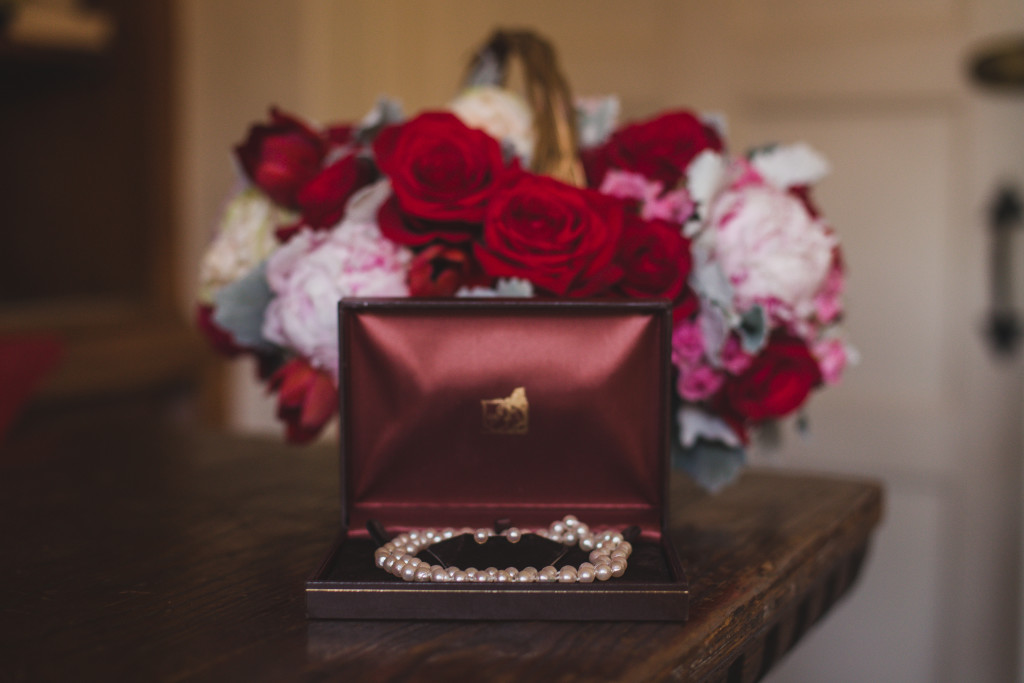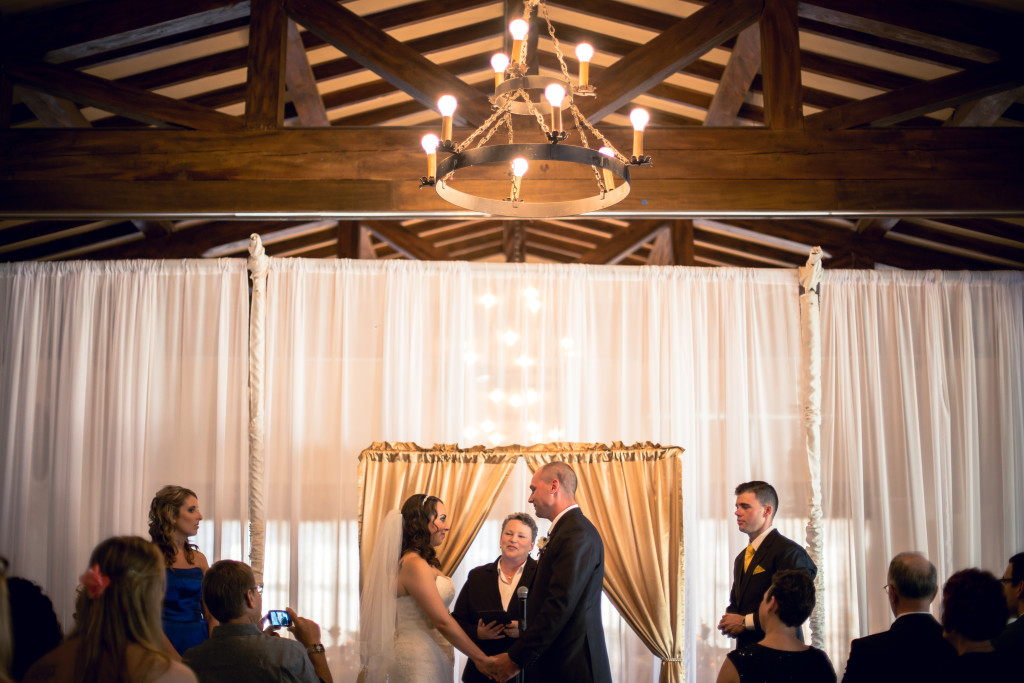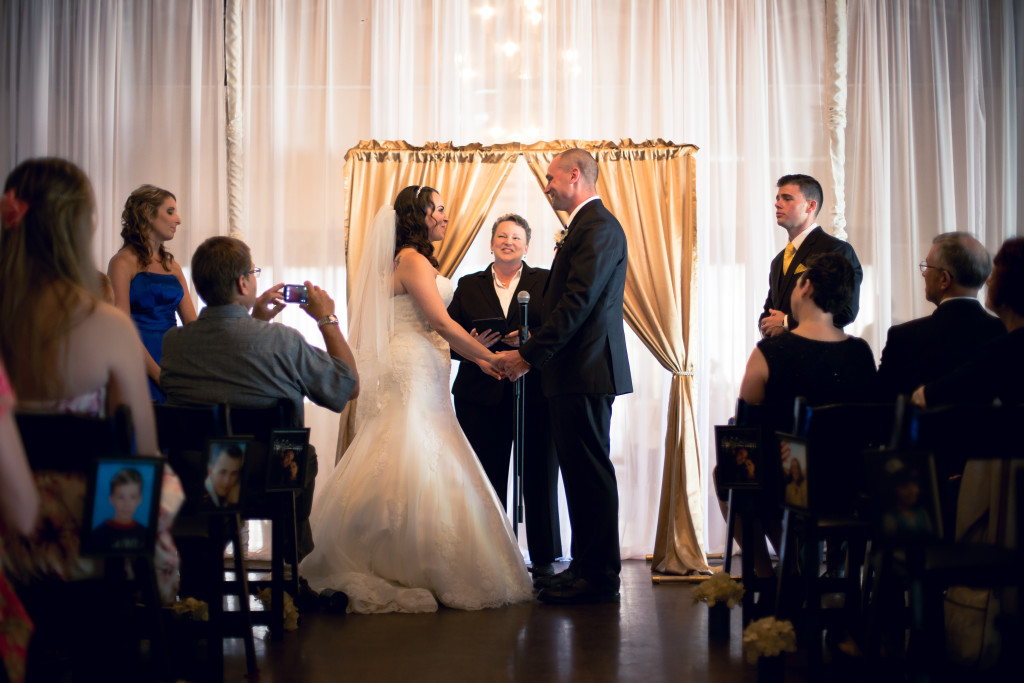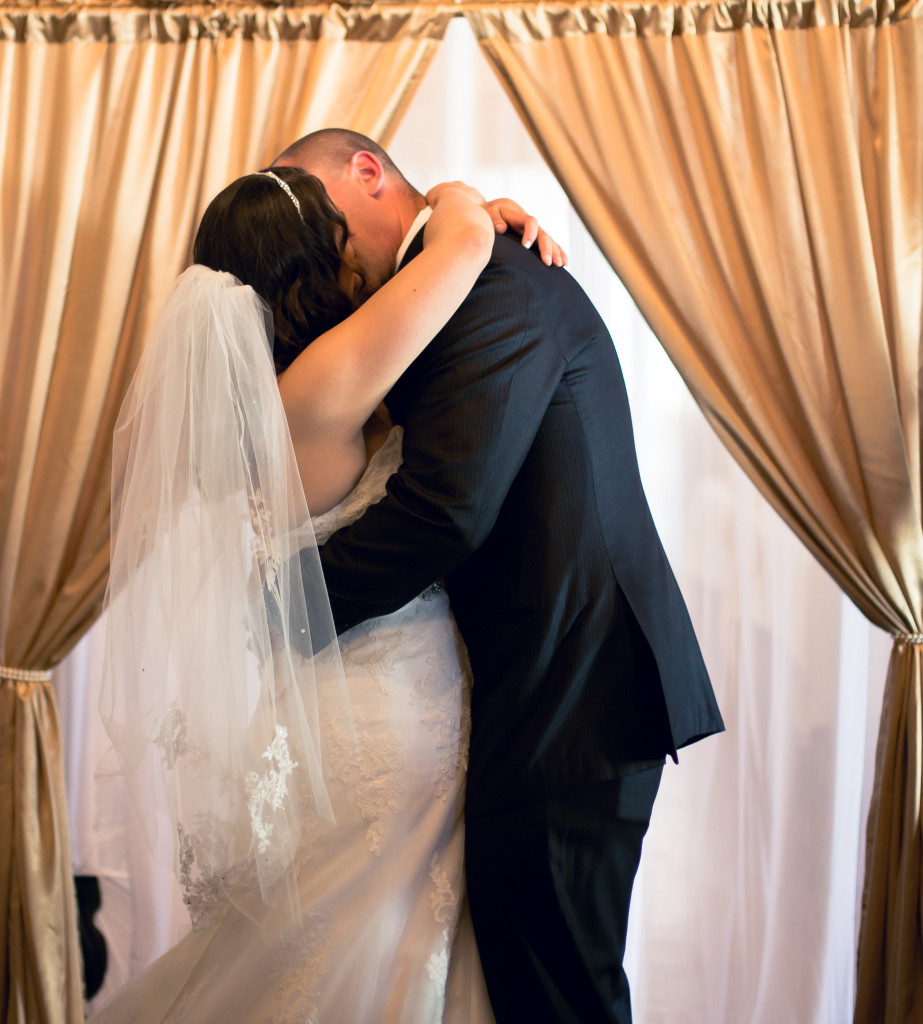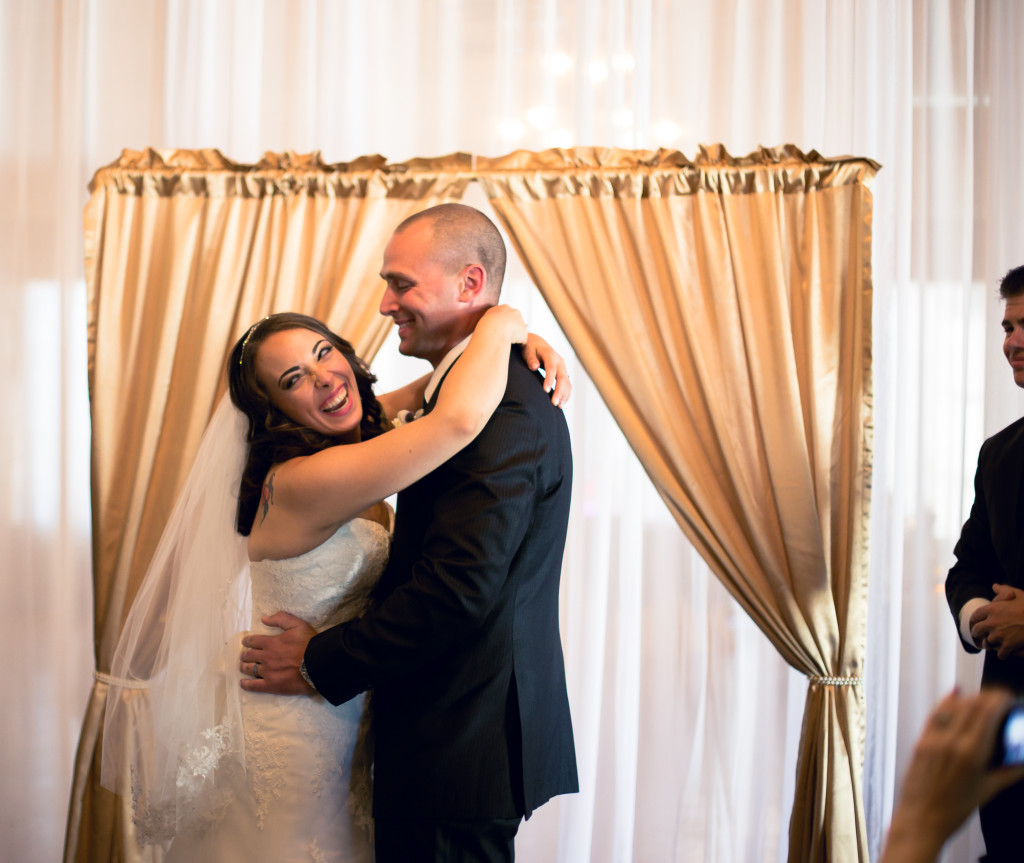 And even though they went with a Disney inspired theme, they still remembered to make it personal! They lined the aisle with photographs of them as children, young adults, and eventually their engagement photos, as a symbolic reference to the journey that had got them to this point in their lives together.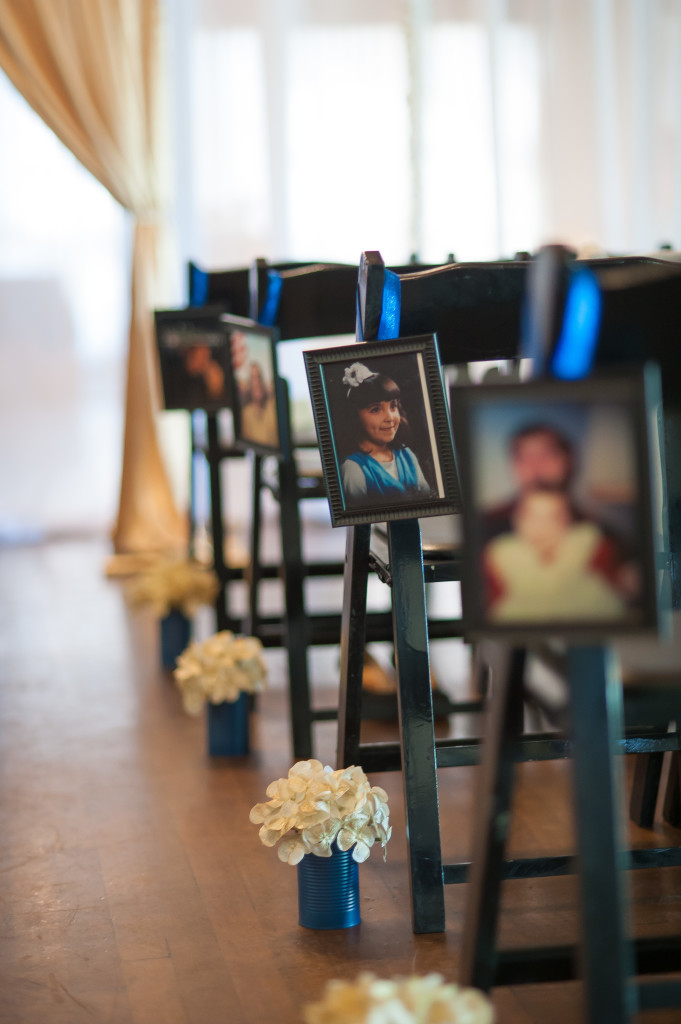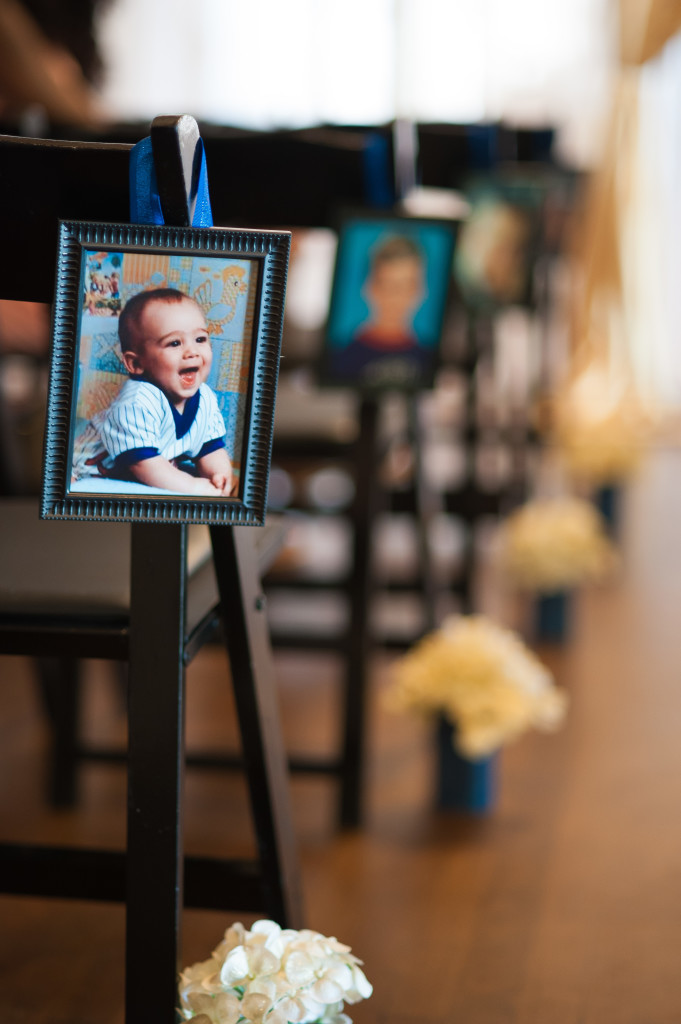 In a couple days, I'll reveal the second part of the wedding! So stay tuned to the blog to see the rest of the fun (and design!)