Archive for August, 2013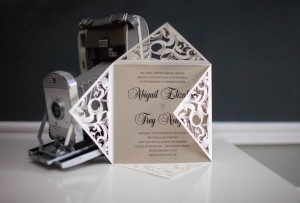 Invitations can be tricky things. They are the first impression your guest has of your event. The style of them alone tells your guests what kind of wedding it will be. Will it be a formal affair, if so, the invitation should be formal, double envelope and all. Will it be a casual and fun evening, make sure your invitation reflects this personality.
There is so much to think about, and the #1 thing that couples think about first is Price! Think about postage (x2 for the Return envelope and the whole invitation. Remember that the more weight of the invitation, the more postage it will take to send it.) You can eliminate the cost of the return postage by setting up an email for people to send their RSVPs, plus 1 information, and food choices.Wedding Websites are also a great way to open the lines of communication between you and your guests. Check out TheKnot.com and WeddingWire.com for free and super easy to use websites!  But remember, this brings down your points for formality and tradition, if that is what you are going for! Also, if you do set up an tech savvy RSVP, be sure to include a phone number for the old school Great Aunt Betty who may not have internet access to respond with.
Timing is also important. As soon as you know the Where and When, start looking for invitations! Order them as soon as possible. Allow extra time for them to be printed, made, and shipped to you. Invitations should be sent no later than 6 weeks before the event date. An extra 2-3 weeks (8-9 weeks total) should be added if the event is happening on a Holiday weekend, during the Summer, or if guests will be traveling extensively to get there.
Let's talk Guest List. If a strict head count is needed, sort your guest list into 2 categorizes, an "A" list and a "B" list. The A list should be the people you cannot leave out! Family and close friends are in this category. The A list invitations should be sent out first, with a earlier than absolutely necessary RSVP date. Once the majority of the A list RSVP's are in, you can start thinking about the B list, your back ups! The people that would love to be there, but maybe you don't know them as well as you'd like to (co-workers, childhood friends you haven't seen in years except for on Facebook, your mother's second cousin once removed, etc.). If you have some "With Regrets" sent back from your A list, you can then fill those seats with people from your B list. Think of it like this, if you invite everyone you know and everyone who wants to come all at once, but your venue only has room for 150 people tops, you might be up a creek without a paddle if 200 of those people decide they will make it. Just what ever you do, DO NOT tell anyone what list they are on! A polite way to deflect a "where's my invitation?" confrontation is to just little white lie it and say that you haven't gotten the invites out yet, or that there was a mix up with the typographer and your working on getting the second half of them out soon.
If you and your groom are tight on time, just go online. Online shopping is GREAT for the busy working couple. You can work on your invites at midnight, and no one can say that they are closed! A good place to go is Inviting Invites or Paper Source Stationary. However, if you do do this, make sure to request a proof or samples before actually ordering the invites. There are many types of printing and different kinds of paper to choose from! So if you don't already know your Letterpress from your Offset printing, you should probably make an appointment to have a consultation with a stationary company. May I suggest Seaside Papery in Coronado. They can explain the different styles to you and show you examples on site.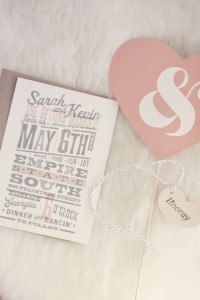 The Following excerpt is from a very helpful email I received from InvitingInvites.com. I hope it will be helpful to you as well!
"In general
Make sure you do your research. Before you schedule your invitation appointment or begin your purchase online, look through bridal magazines and online invitation stores to get a feel of what's trendy at the moment.  Do you like classic, modern, pockets, ribbon, bright colors, die cut shapes letterpress?  As you start looking you will start to see that you are drawn to a certain style of invitation.
Know what you do and don't want. If you hate ribbon or script font, keep that at the forefront of your mind when beginning the selection process. Don't waste time on anything that includes an element you dislike. If you have no clue about what types of stationery you like, use this pre-purchase time to figure out how your wedding theme and colors can be used within your stationery suite.
Decide if you want to go the DIY route or the professionally printed route. If you know for a fact that you want letterpress invitations, don't waste time researching cardstock prices and pocketfold options. Instead, use your time wisely and spend it investigating different types of letterpress invites. The same goes for DIY brides — there's no need to take up a wedding consultant's time if you have always wanted to whip up your own unique wedding invites.  Just keep in mind that DIY invitations can take time and a bit of experience with paper, printing, and cutting.
Remember your timeline.  No matter if you order online or through local stationery vendor, remember that you must send out your wedding invitation suite no later than six weeks before your wedding (ideally, you'll want to mail them out around eight weeks, especially if your event is around a holiday or you have a lot of guests that are traveling). Give your invitations plenty of time to come from the stationery vendor or online vendor — glitches in the system do happen, and you don't want to be that bride who doesn't have her invites because of poor timing.
If you're purchasing professionally printed stationery, I recommend making an appointment.  That way, you will ensure that a knowledgeable stationery consultant will be there to speak with you (and not the new person who's still in training) and he or she will be prepared to spend time with you. This first consultation should occur three or four months before your wedding to give you time to make a decision and to give the store time to place your order.
Don't rush the appointment. You'll want to set aside at least an hour to talk through pricing options with your consultant, as well as look through the many options the store will offer. Give yourself time to think over what you're seeing. If you feel overwhelmed, make another appointment, preferably with the same consultant. Keep the appointments close together so that your reactions to the stationery pieces are fresh in your mind.
When you're ready to purchase, always pay for the proof. Most stationery consultants are extremely meticulous when it comes to writing down and entering the information, but they are human, and mistakes can be made. The proof comes from the stationery company, not the store you purchased from, and usually costs around ten dollars per item. It is a small price to pay for the assurance that your invites will be perfect.
Limit the number of people you bring to the appointment. Too many opinions create confusion. I recommend bringing (at most) two people with you, as any more people creates a crowded, frustrated environment."
Have an awesome day, and Happy Planning!
-Juliette