Archive for July, 2013
Because I didn't have a blog when I did this wedding in Nov. 2011, I will dissect it for you Now!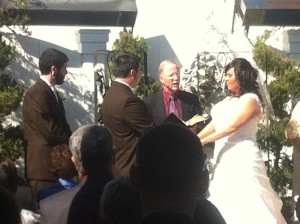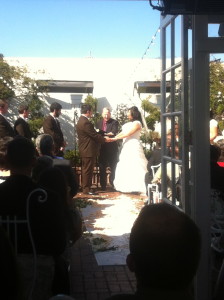 Joyce Kuklis and Eric McGinnis were married on November 5, 2011. They held both their ceremony and reception on the patio of Old Venice Restaurant in Point Loma, CA. With enough seating to fit up to 100 guests, the couple's 85 guests had plenty of room to mingle. Joyce worked with me on planning her ideal rustic-chic themed event. Joyce frequented several wedding blogs through out her planning process. The blog that rewarded the most inspiration was Rustic Wedding Chic.  Music for the ceremony was performed by two violinists, setting a very romantic atmosphere to the already charming venue.
After the Ceremony, guests were ushered into the bar area for cocktails and appetizers. Mean while, the chaos began on the patio where the super excellent event staff of Old Venice and I transformed the entire space. The Patio went from an aisle and rows of chairs TO tables, chairs, linens, place settings, centerpieces, and multiple personal touches in approximately 50 minutes. All in a days work, right?
The Centerpieces were a mix of tree slices and old hard bound books. On top of those items were beautiful centerpieces created by Pretty and Pink Flowers.
Now for this next section I should warn you, I feel that providing the absolute truth to perspective clients is absolutely necessary. Therefore, when something is disappointing about a vendor, it is important for future brides to know about what has happened with that vendor in the past. It is my hope that I never need to report anything negative on my blog, since it is always my hope that All Vendors would always strive to put their best foot forward. That being said… The cake was provided by the European Cake Gallery. They did create a beautiful cake, and it did taste delicious, once it thawed that is! It was frozen when it arrived at the venue. This made putting flowers in it very difficult. The majority of the cake, except for the biggest tier, did thaw for the most part by the time the cake cutting happened, thank goodness! Also, about 2 weeks before the event date, the bride asked me to call and change that the cake be stacked on columns, but rather just be stacked one tier on top of the other. I did call, but was shot down by the girl that answered the phone, saying that it was too late to change it. Was the cake already made (two weeks in advance)? Both the bride and I were very puzzled as to why this change could not be made to the order. It seemed to me that the client should be able to get whatever they wanted, so long as it hadn't already been finished. But maybe that's just the way I do things.
The giant tree slab cake base was found on Etsy. It created a wonderful touch of rustic to the beautifully chic looking cake.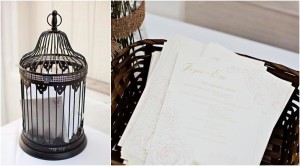 We used a birdcage to house cards on the gift table. And woven baskets to hold things like the programs and favors.
The bride made burlap pillows with her and her grooms initial on them for the backs of their chairs.

The wooden 'Just Married' sign was created by yours truly, as well as the other signs that were placed outside the venue to greet the guests as they arrived.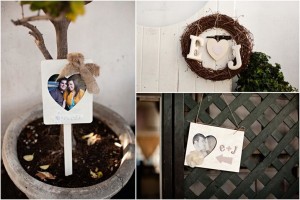 The Favors were made by the bride and groom as a personal thank you to each of their guests. See's candies wrapped together with ribbon and a hand stamped note.
And I cannot forget to mention the wonderful photographer, Krys Melo! She is an old friend of the bride who lives in LA now. She traveled down to do the photos as a wedding present. There is always someone that you know that will help you out for your big day. Take advantage of the people you know, it will save you money!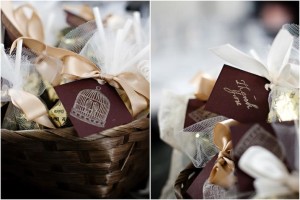 I loved working with this couple. Their hearts are so full of love, it was hard not to get caught up in the romance of the day. Everything turned out perfectly! The bride and I still get together and she still raves about how awesome her wedding was. That's how it should be, a day that you remember for the rest of your lives! and That's why I do what I do, it's a constant reward knowing that you helped make someones day turn out perfectly!
Have an inspired day, everyone!
Hello all! Let me introduce myself, my name is Juliette Fagerwold and I am a Wedding Planner in San Diego, CA. I am the proud owner of Simply Elegant Weddings. This is my story…
A little over 7 years ago, I had my first close friend (my sister) get married. I gladly excepted the offer to be her bridesmaid. I was even more excited when she asked me to organize an open house reception that would take place in San Diego, a couple weeks after her wedding in another state. This reception would be for the many friends and family members that were not able to make the trip to the actual wedding. I will be the first to admit that I did not know what I was doing then! I learned a lot! One of the most important things that I learned was that I LOVED IT! I loved every minute of planning and executing the event, even the usually dreaded clean up! From there, I continued to help friends with their weddings and I became more and more fascinated with every aspect of events. I continued on my course work to complete an art degree, and later decided to complete a certification from an online program called The Wedding Planning Institute. In 2010, I started this company. This is my dream come true, to do something where I can help other's lives be better while being able to set my own schedule (more or less). When people ask if this job is stressful I say, "sometimes, but it is even more rewarding". In 2009, I married the love of my life, John Fagerwold. The past 4 years have been an amazing adventure for us! Last year, We had our first child, Addison Catherine. She has filled our lives with so much joy and love, and we are so grateful for the amazing opportunity to be parents to such a crazy little girl!
In this blog, I hope to be able to reach both engaged couples looking for help and ideas and other wedding professionals looking for relatable advise. I have never blogged before in my life, nor did I ever think that I would! Thank you for going on this journey with me, it should end up being a ton of fun!
-Juliette